Explore These 6 New Veined White Quartz Countertop Designs From Cambria
Introducing Cambria's latest drop
Written by Angela Johnson
Cambria recently announced six new white quartz countertop designs that feature veining in a variety of shades, from delicate brass detailing to bold blue waves that arch across a cool white backdrop.
Cambria's depth-defying NEW QUARTZ DESIGNS embody harmony in motion. Inventive combinations of organic movement, inspired accents, and balanced undertones become a visual symphony in these elevated new offerings that deny convention, refuse formality, and reenvision modern beauty. Intrigued? Let's explore …
Windsor Brass Satin Ridge
This stunning new quartz countertop design features warm brown veins and honey shading woven across a warm white background. Playing off the trend of rich, warm tones, the shades of brown featured in this quartz design play against delicate debossed veins that add texture and depth.  Radiant brass complements this stony canvas with subtle warmth, smooth movement, and unmatched sheen.
Shown above on this kitchen island and wrapped RANGE HOOD, Windsor Brass Satin Ridge™ is complemented by something we're seeing in high-end interiors—more metal. The cabinetry is paneled in unlacquered brass with a slight patina. This is complemented by an additional brass accent incorporated into the fabrication of the kitchen island. These unifying elements are counter-balanced by dark-colored perimeter countertops like Cambria's Charlestown, and a deep wall color like Benjamin Moore's Durango, a stylish brown paint with golden olive tones.
To maintain cohesiveness, the brass is carried through to the faucet and light fixtures for a contemporary look that manages to be unusually serene and calming. A more linear light fixture would work just as well.
Not ready to commit to the moodiness of this full effect but still love Windsor Brass Satin Ridge? That's okay because this quartz design also pairs well with white or natural wood cabinetry in a range of wood stains. For lovers of this lighter fare, you could showcase a Windsor Brass Satin Ridge island with Cambria's BERKSHIRE BRASS™ or WHITE CLIFF™ quartz designs on your perimeter countertops and Benjamin Moore's DECORATOR'S WHITE or SILVER DOLLAR on the walls.
The glamour and glitz of these alloy accents and chocolate tones also permeate Cambria's WINDSOR BRASS™ only with the silky smooth-to-the-touch feel of our high gloss finish.
Windsor Steel Satin Ridge
This bar space capitalizes on an appreciation for darker interiors and also speaks to the dark notes in the Windsor Steel Satin Ridge quartz bar/island. Alive with bold movement and balanced texture, the steel-toned colorways of this design ebb and flow like waves against warm honey sand. Steel alloy traces each crest like gleaming sunlight, while cool charcoal contrasts the warm-white debossed veins.
A wall of antiqued mirror panels adds some brightness and vintage character to this modern space and juxtaposes with the ultra-modern rope light and concrete flooring. A fabricated edge profile of rounded layers on the bar top provides some visual softness and interest while continuity is maintained by carrying the quartz surface down all exterior-facing sides of the bar/island. This allows lovers of this design, or any Cambria design, to have an extra moment to show it off—particularly in a smaller space.
Inverness Swansea
Taking a step back from the moodiness of dark interiors, this dreamily tonal kitchen features Cambria's Inverness Swansea on the island, perimeter countertops, and a full-height wall treatment. This marbled design dares to go bolder by merging neutral tones, debossed veins, and smooth textures to create an artfully combined, warm-meets-cool design with undeniable sensory interest.
The custom quartz fabrication on the ends of the island allows for some playfulness with the design's pattern. The subtle chic of white cabinetry above transitions into a little deeper honey finish on the lower cabinets and then on the herringbone patterned white oak flooring. Glass front cabinet doors offer endless opportunities to add color and dimension through displays of various dish and décor collections. The elongated height of the upper cabinets provides some grandeur to the space. And the ornate ceiling detail combined with a more modern light fixture ties everything together into a truly transitional space. Finishing touches include a semi-professional style sink faucet, paneled refrigerator, and euro-inspired brass-trimmed range hood. Explore more wood cabinet and white countertop inspiration.
Inverness Everleigh
Statement meets subtle in this movement-rich design that features cool gray and warm, sand-honey tonalities, combining bold patterns and soft, tone-on-tone design with delicate debossed veins. It looks amazing in this space paired with cabinetry enameled in a tone that proves green kitchens are still a thing. This particular paint color leans into a more desaturated sage green that complements the ¾-height backsplash topped with custom quartz shelving. Placing unexpected artwork on open kitchen shelves like these is another design trend we're loving.
A skilled quartz fabricator can also create a unique edge profile like the one on this kitchen island. More open shelving on the island gives a visual layering effect that is also functional for storage and more décor. More white oak plank flooring and mixed metal fixtures complete this understated, yet elegant space. Check out these other green kitchens featuring Cambria quartz countertops.
Inverness Bristol Bay
For lovers of bold design, this stunning surface incorporates stormy-blue waves that surge against a cool white backdrop, cloaking translucent gray colorways with soft ripples and pronounced spires of saturated cobalt. It also has delicate debossed veins, adding subtle texture.
As an amazing focal point in this kitchen, Inverness Bristol Bay ensures the uniform styling and clean lines of a modern space that isn't boring. Visual balance is achieved with concrete flooring, smooth cabinetry, and a concealed range hood over an inset range that allows the dynamic movement of the quartz design to truly take center stage.
The interesting angular fabrication of this kitchen island perfectly marries the linearity of modern interior design with an of-the-earth aesthetic captured by the quartz surface. A playful modern light fixture adds a pop of emphasis without competition. And the versatile HALE NAVY cabinet color from Benjamin Moore anchors the space. Discover more blue kitchen inspiration.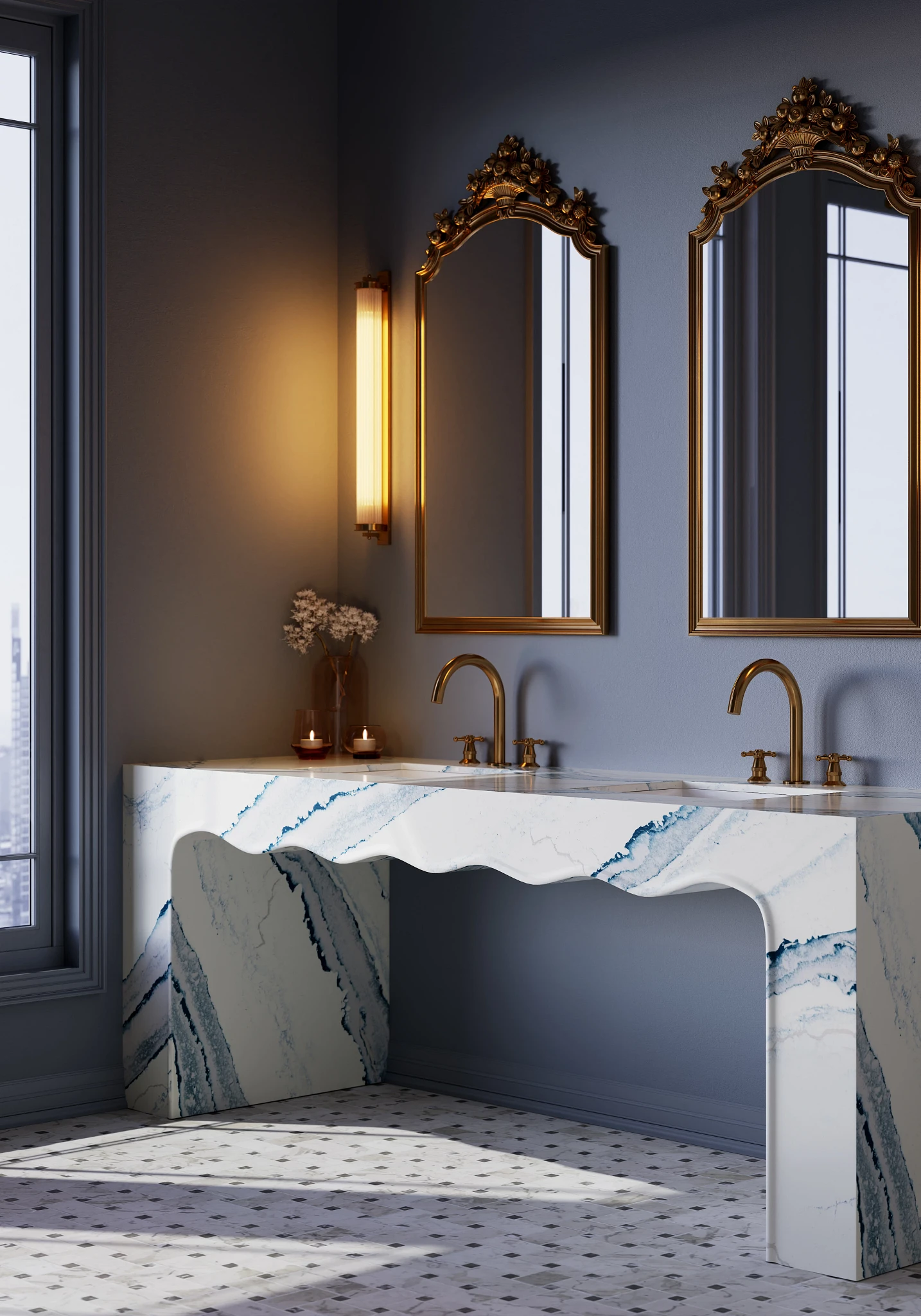 Cambria design shown: Inverness Bristol Bay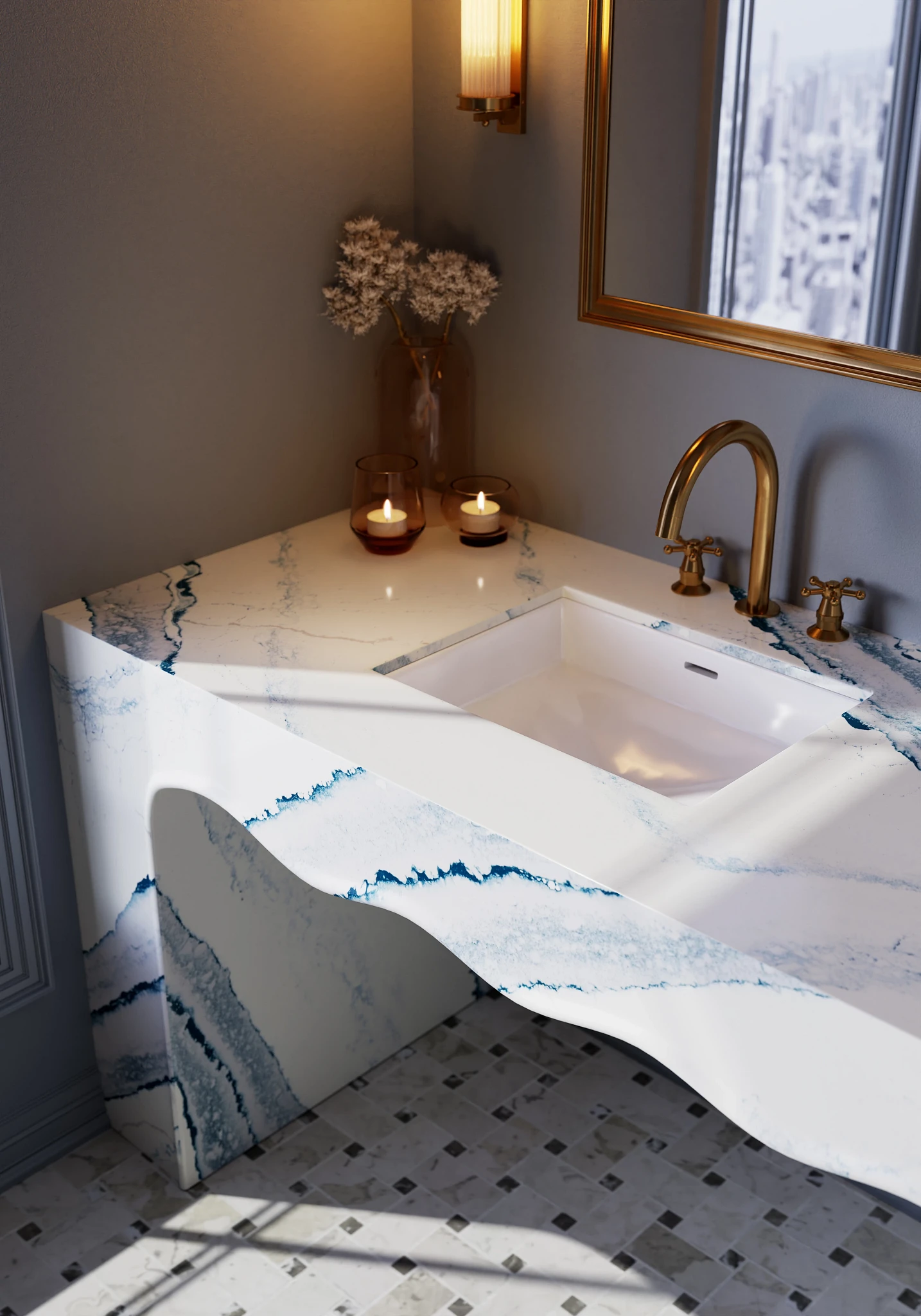 But guess what! Inverness Bristol Bay also looks amazing in a more traditional space. The custom scalloped fabrication of this bathroom vanity lends an old-world charm to this brand-new quartz design. The room is feminine and gentle with vintage-inspired mirrors and a basket-weave tile floor pattern. This combination of patterns between the floor and vanity work well together when you're careful to coordinate the color scheme.
The walls in this space are painted in BENJAMIN MOORE'S MINERAL ALLOY with its heavy dose of gray giving this midtoned blue a calming, saturated hue. Because although Inverness Bristol Bay works well in both modern and traditional interior design, deviating too far outside the blues in this quartz design when decorating your space would likely overwhelm the senses. By keeping materials in the same color family, these spaces exude sophistication. Find inspiration for your next project with these five blue bathroom ideas.
Order a sample to see how these new quartz designs might fit into your next project.