Top 6 Cambria Designs for Soapstone Alternatives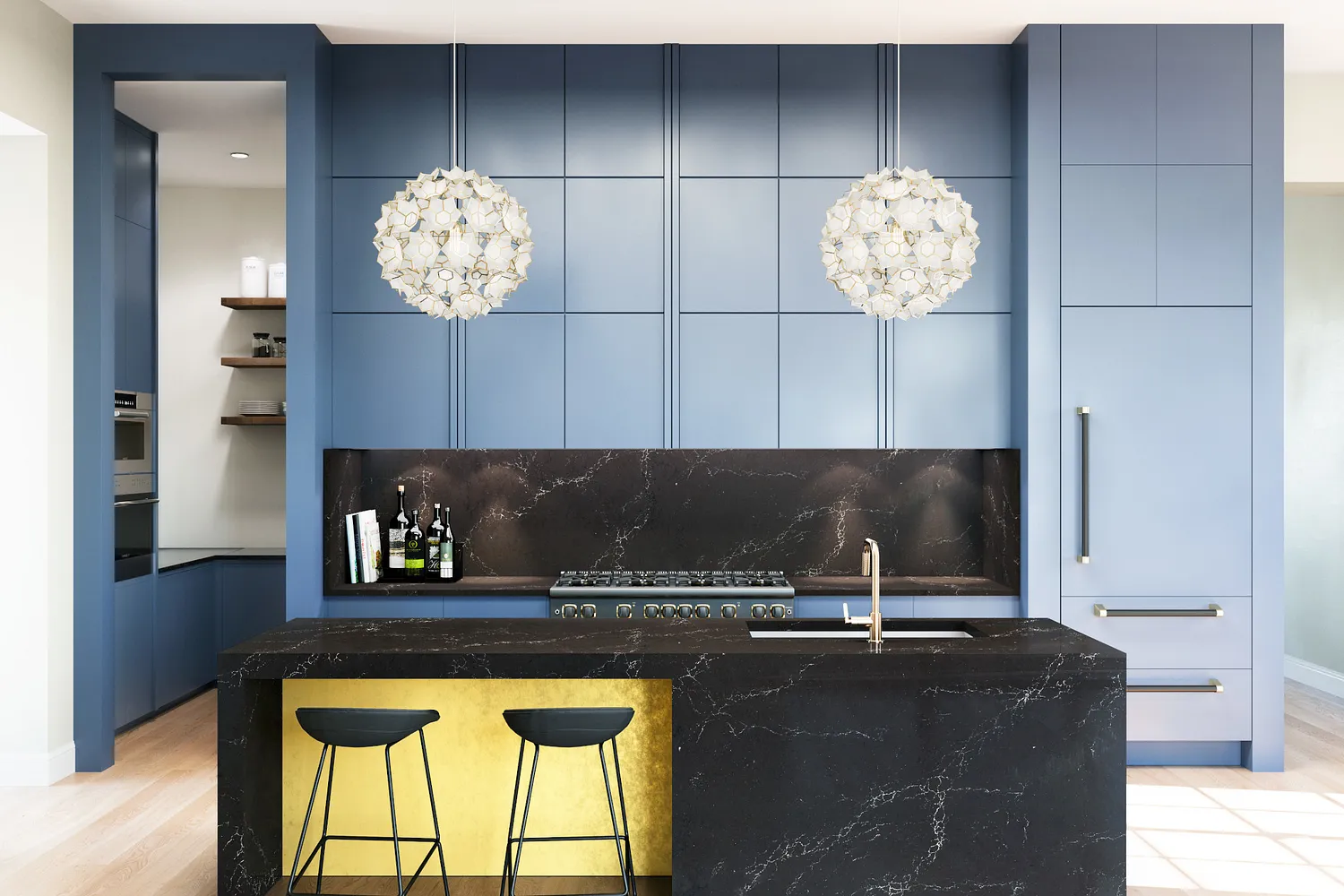 Seeking a soapstone look for your space but worried about the drawbacks? Cambria's American craftsmanship and industry-leading innovation let you love the soapstone look for your kitchen countertops and other surfaces without sacrificing performance.
Black-inspired Cambria natural quartz surface and countertop designs, like Charlestown, Woodcroft, and Blackbrook, elevate the look of soapstone and the Cambria Matte low-sheen finish perfectly completes the aesthetic.
"Dark and moody is coming on strong in design environments and with a non-sheen," said Summer Kath, EVP of product development at Cambria. "More and more we are seeing so many options in matte black and charcoal in plumbing fixtures, appliances and cabinets, and Cambria has several black and dark styles to choose from."
Soapstone countertops need consistent upkeep. Whether you choose high gloss or the low-sheen Cambria Matte finish, Cambria does not require sealing or polishing, and cleaning it is as simple as warm water and a soft cloth. Mild soap is optional.
And soapstone's soft surface makes the stone susceptible to damage from dropped glasses or cookware and can actually even damage your china and glassware if the finish has not been properly smoothed.
You'll also notice when selecting soapstone that you will be given limited color choices and that the stone darkens as it ages, so it must be treated regularly with mineral oil to ensure that it darkens evenly.
Don't forget that soapstone is a porous material, whereas Cambria is nonabsorbent and will not draw in moisture that can harbor harmful bacteria or leave stains. And, unlike soapstone, Cambria offers scratch- and chip-resistance, providing peace of mind for anything life throws your way. Cambria is always professionally installed, warranty-protected, and maintenance-free.
All that's to say, Cambria is an intelligent alternative to soapstone with beautiful natural quartz designs to suit any aesthetic and performance that no other stone can match. Here, a few of our favorite designs.
Charlestown
Looking for a bold and dramatic statement? The dark and dramatic charcoal gray surface of Charlestown should do the trick. Its subtle white veining atop a black backdrop lends the design to any aesthetic, whether paired with lighter hues or mixed with other dark tones.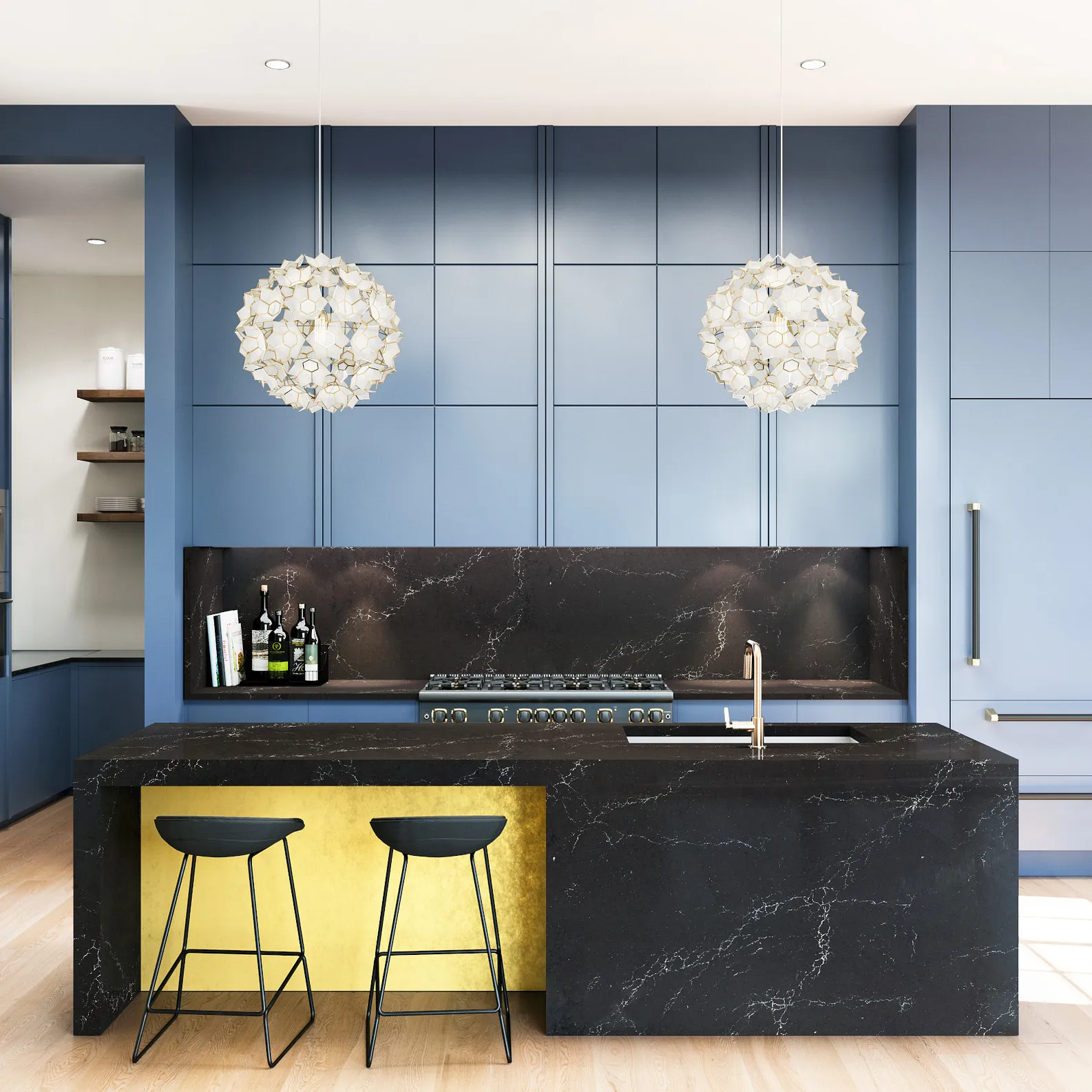 A bold kitchen featuring Charlestown™.
"Charlestown represents a new refined look of iconic soapstone," said Kath. "Charlestown in matte finish with its very subtle light gray veins is organic, yet easy on the maintenance."
Woodcroft
Woodcroft is bold and black with sparkling golden lightning strikes and paler metallic streaks that drizzle like rain against a window pane.
"This design is really playing into what is coming," says Summer Kath, Cambria Executive Vice President of Business Development. "If you get close into these really beautiful, organic veins you're going to see a surprising delight. I love the shimmery gold, I've never seen it before and I'm really proud that we were able to achieve such a masterpiece."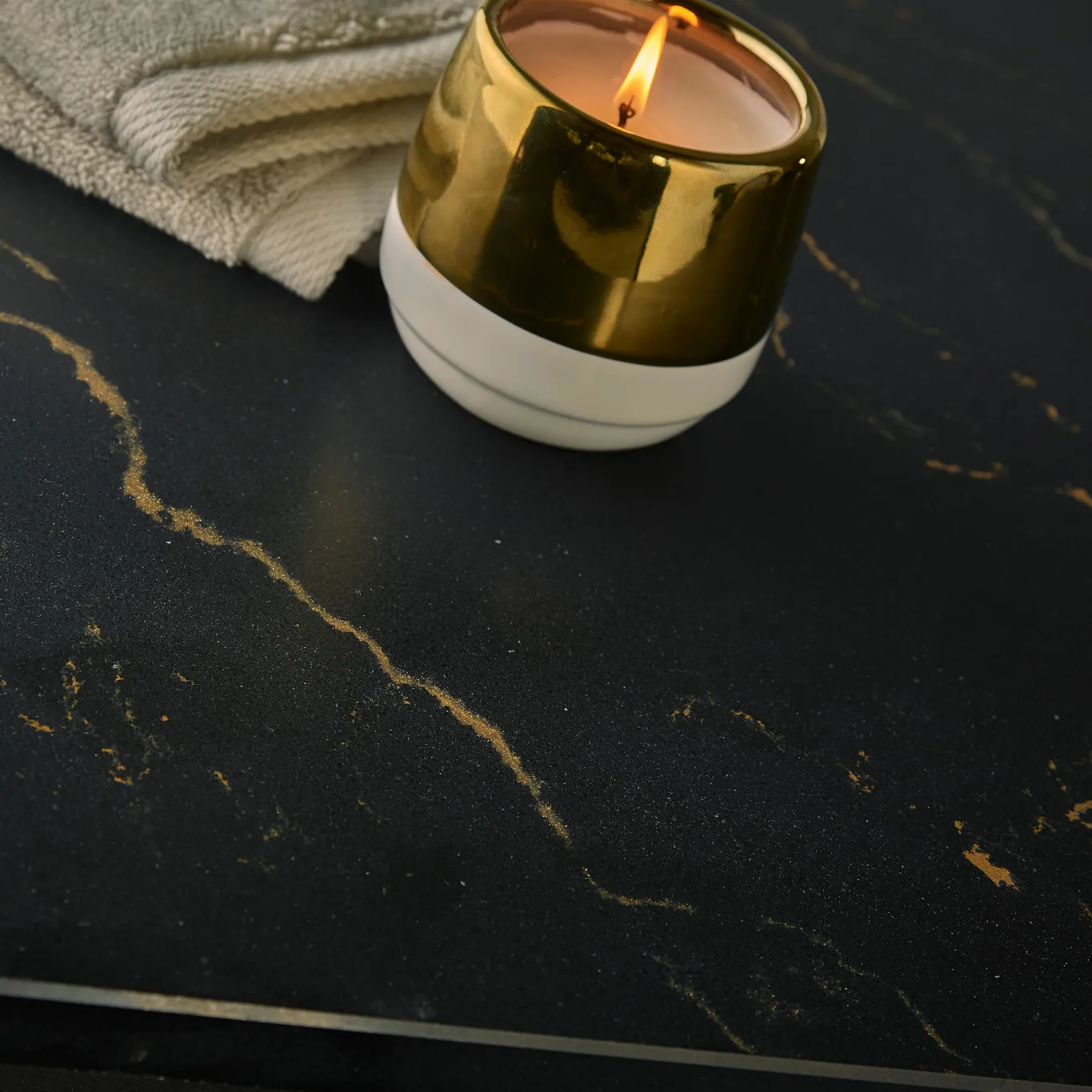 Cambria's Woodcroft™ design provides a bold and organic surface, fit for any space.
Blackbrook
White lightning strikes dramatize a smooth black background in Blackbrook. Stark and chic, this high-contrast design is powerfully modern and elegantly simple.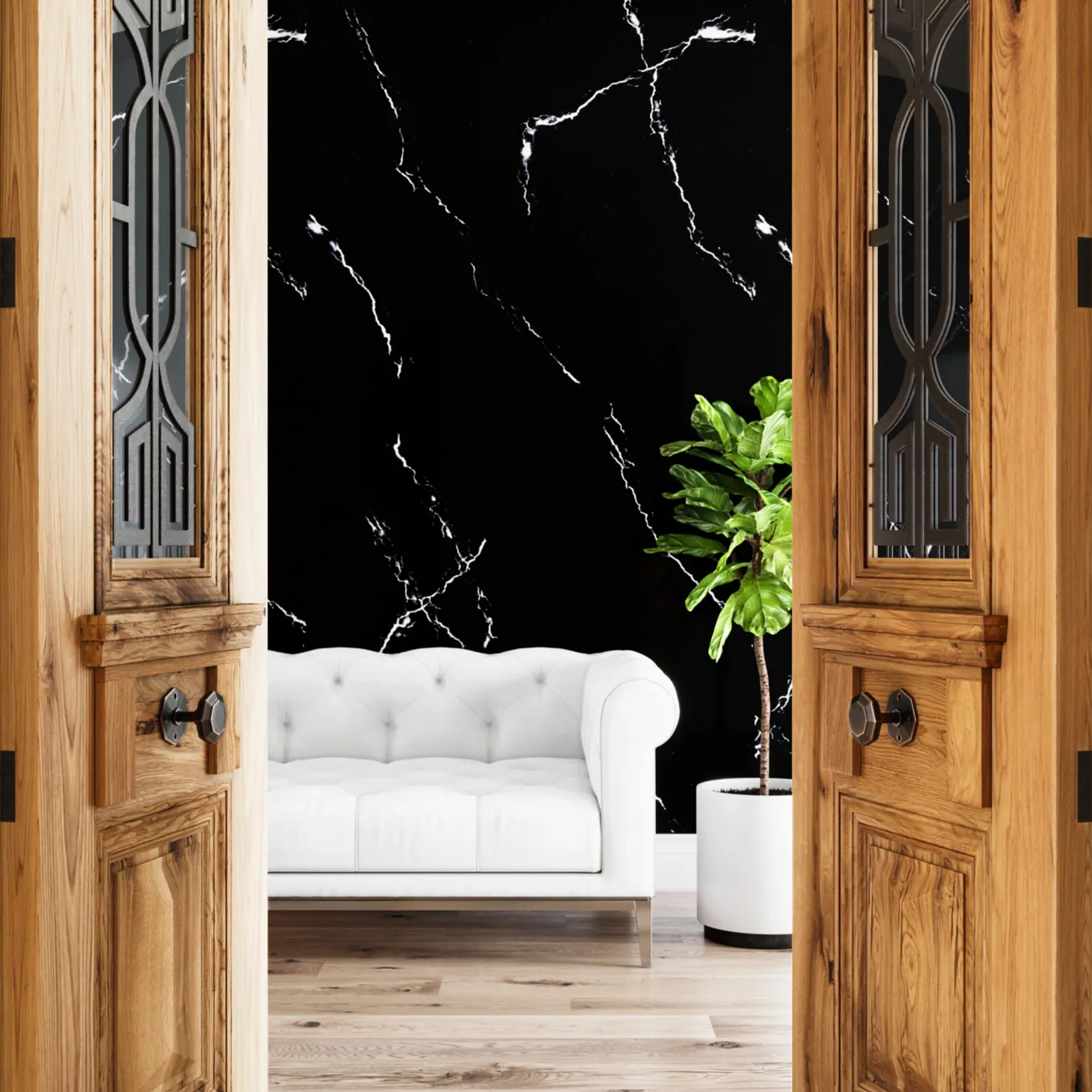 Cambria Blackbrook makes a stunning statement wall.
Imagine a dark black sky during a powerful lightning storm, this is Blackbrook. The highly saturated black background contrasts beautifully with super white veins throughout.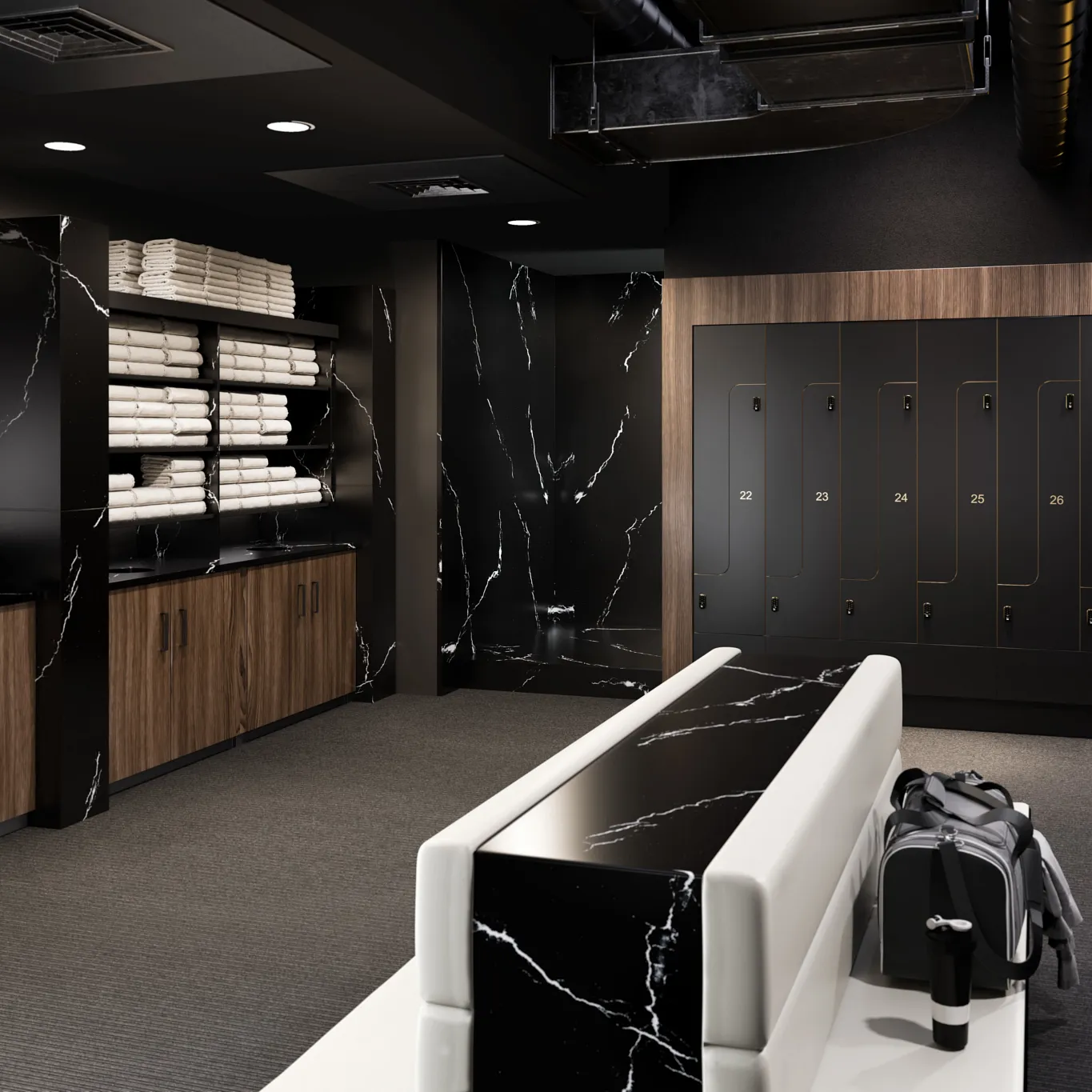 Cambria Blackbrook™ in a modern fitness studio locker room.
Blackpool Matte
The powerful Cambria Blackpool Matte design is the darkest ebony with a stealthy silken Cambria Matte finish that absorbs light.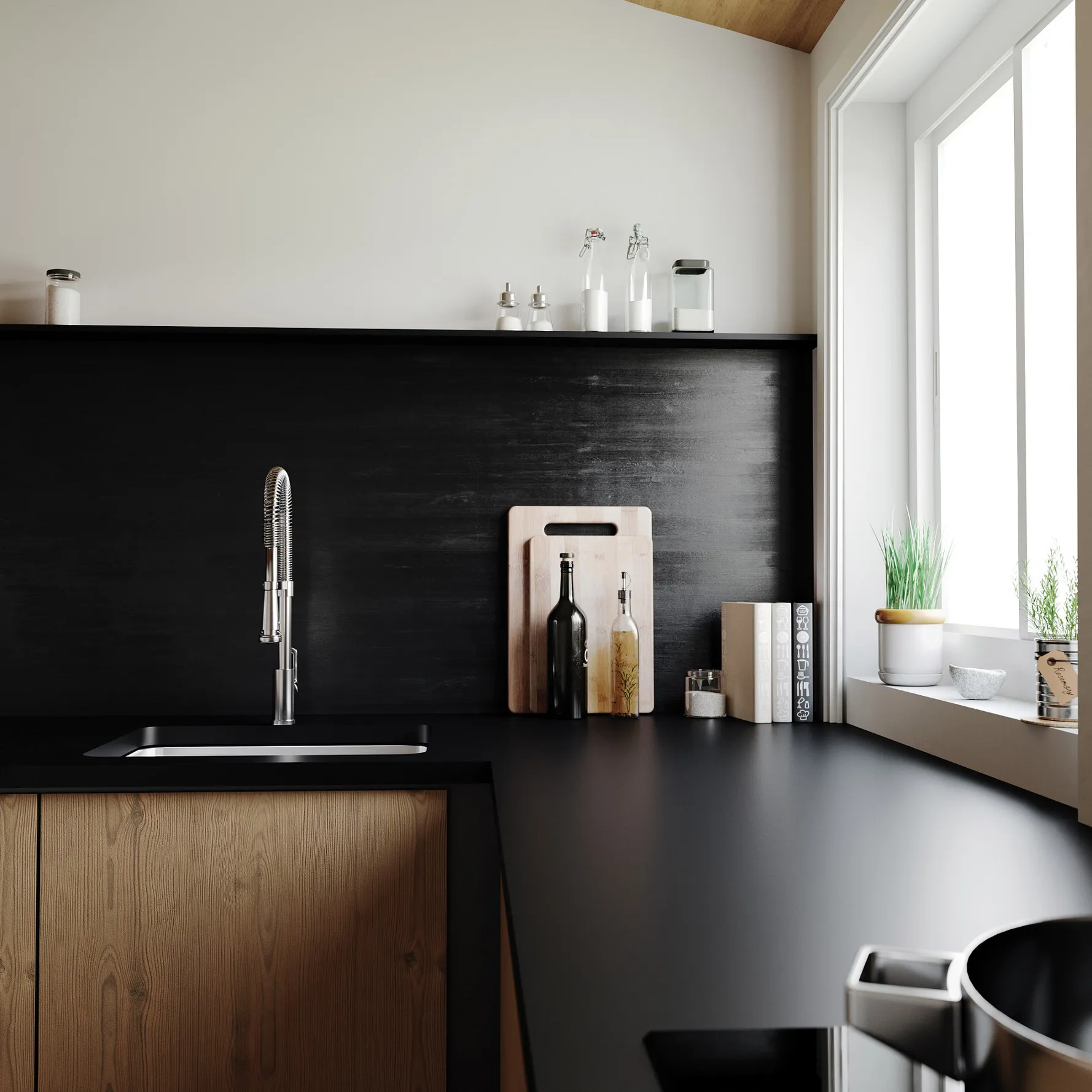 Cambria Blackpool Matte™ in a modern kitchen design.
Our 2020 trend forecast highlights mixing metals, and we love how designer Christopher Peacock added a brass metal band around the edge of Blackpool Matte countertops in the 2019 Kips Bay Decorator Show House kitchen to bring the space together.
"I like to push the envelope a little bit," he said. "The metal detail on the island matches the shelving and hood canopy detailing."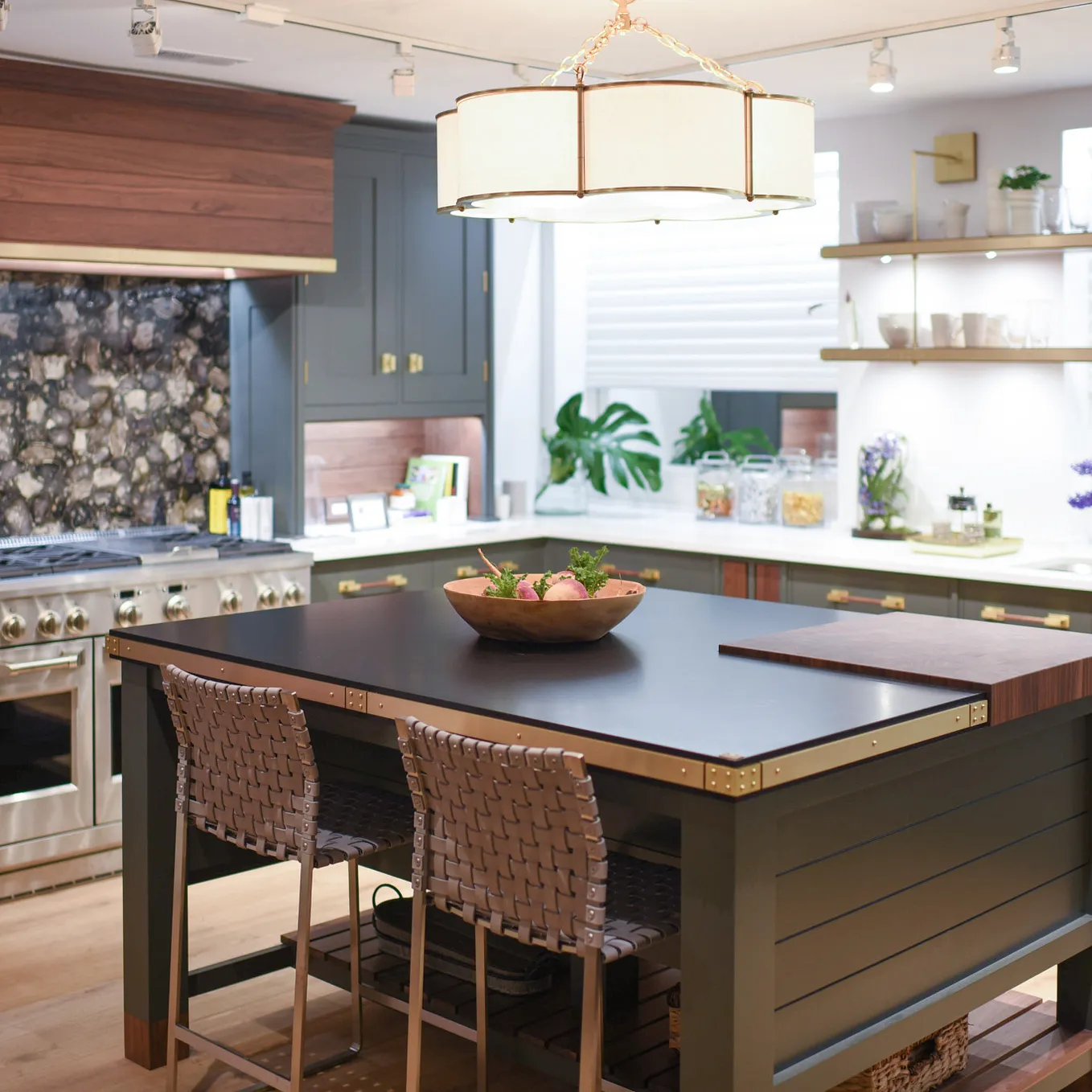 Cambria Blackpool Matte in the Kips Bay Decorator Show House kitchen.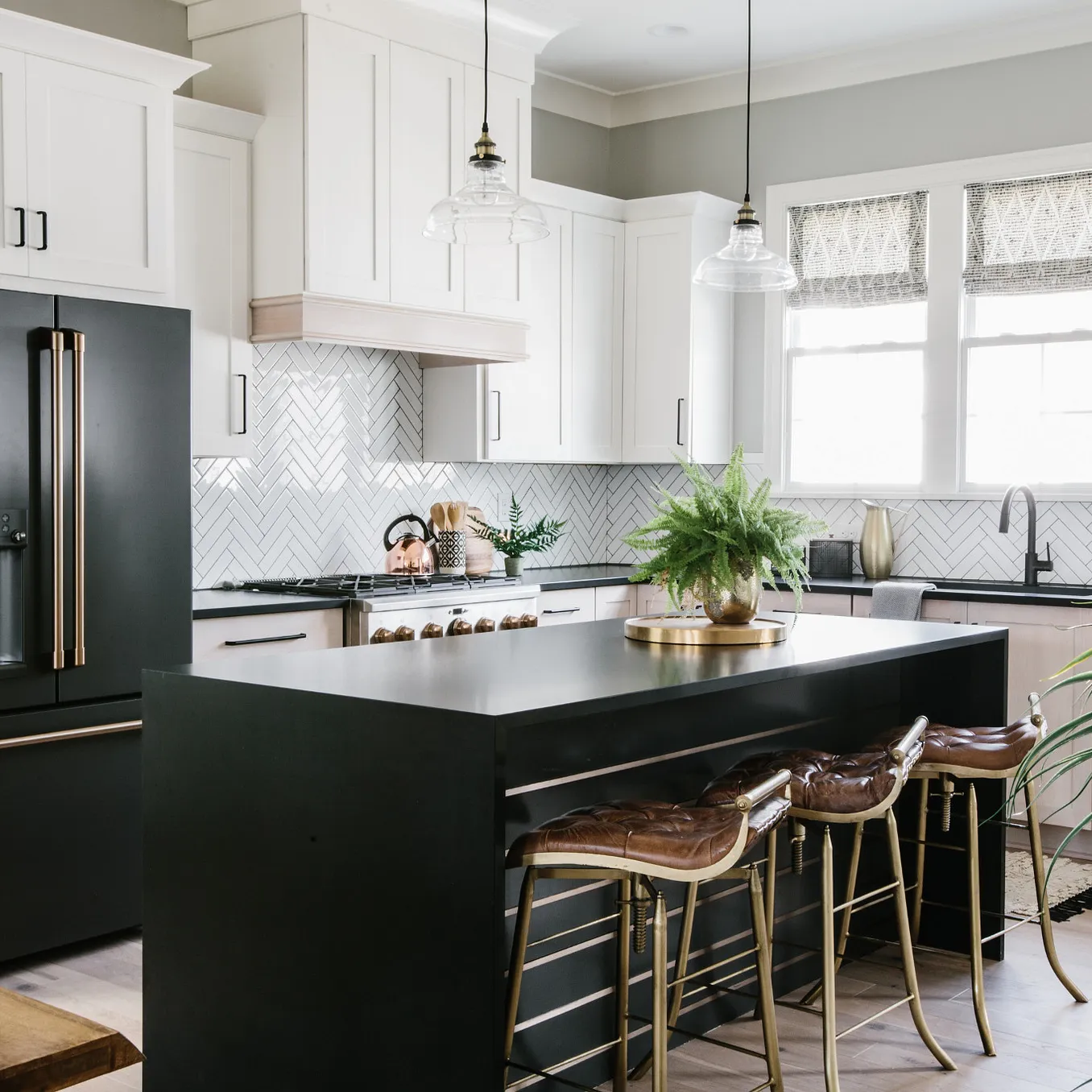 A standout waterfall kitchen island in Blackpool Matte.
Sharpham
Icy, crisp, and cool like the dry white wine England's Sharpham Vineyard is known for. The Sharpham design's white veining against a dark gray backdrop adds drama and class yet remains comfortably neutral.
Kath swooned over this men's closet island featuring stylish Sharpham, calling the closet a perfect opportunity to showcase your style and take more risks than you might in another space. A Cambria natural stone countertop is ideal for laying out style choices, using retail inspiration to showcase accessories, and keeping essentials at hand.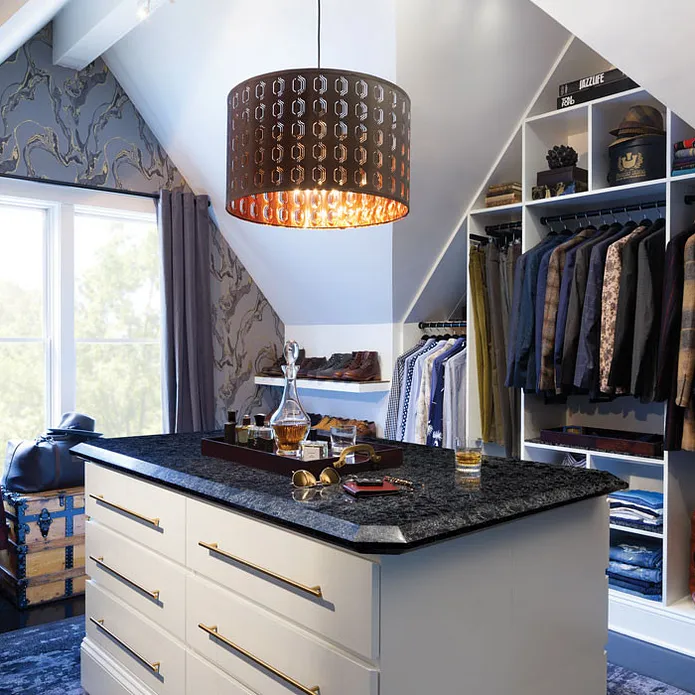 A men's closet island featuring Cambria Sharpham™.