5 Traits of a Well Designed Kitchen Including Designs and Tips
Dreaming of a designer kitchen? According to award-winning residential designer Jane Lockhart, a beautiful and functional kitchen is worth the investment – and attainable.
There are many ways to bring elements of luxury into your kitchen, no matter what you're starting with.
Here are five characteristics Lockhart recommends that will bring your kitchen to the next level.
The right kitchen layout
Many designers and contractors say nailing your kitchen's layout is the most important step in a renovation project and it's the first thing you should do. Your kitchen's layout affects nearly every aspect of the renovation going forward, from where you put cabinetry to where you place your appliances.
The school of thought on layout has evolved over the years. For decades, the gold standard was the "working triangle." Its rationale is simple: Keep the distance between the refrigerator, sink, and stove between 12-26 feet for maximum cooking efficiency.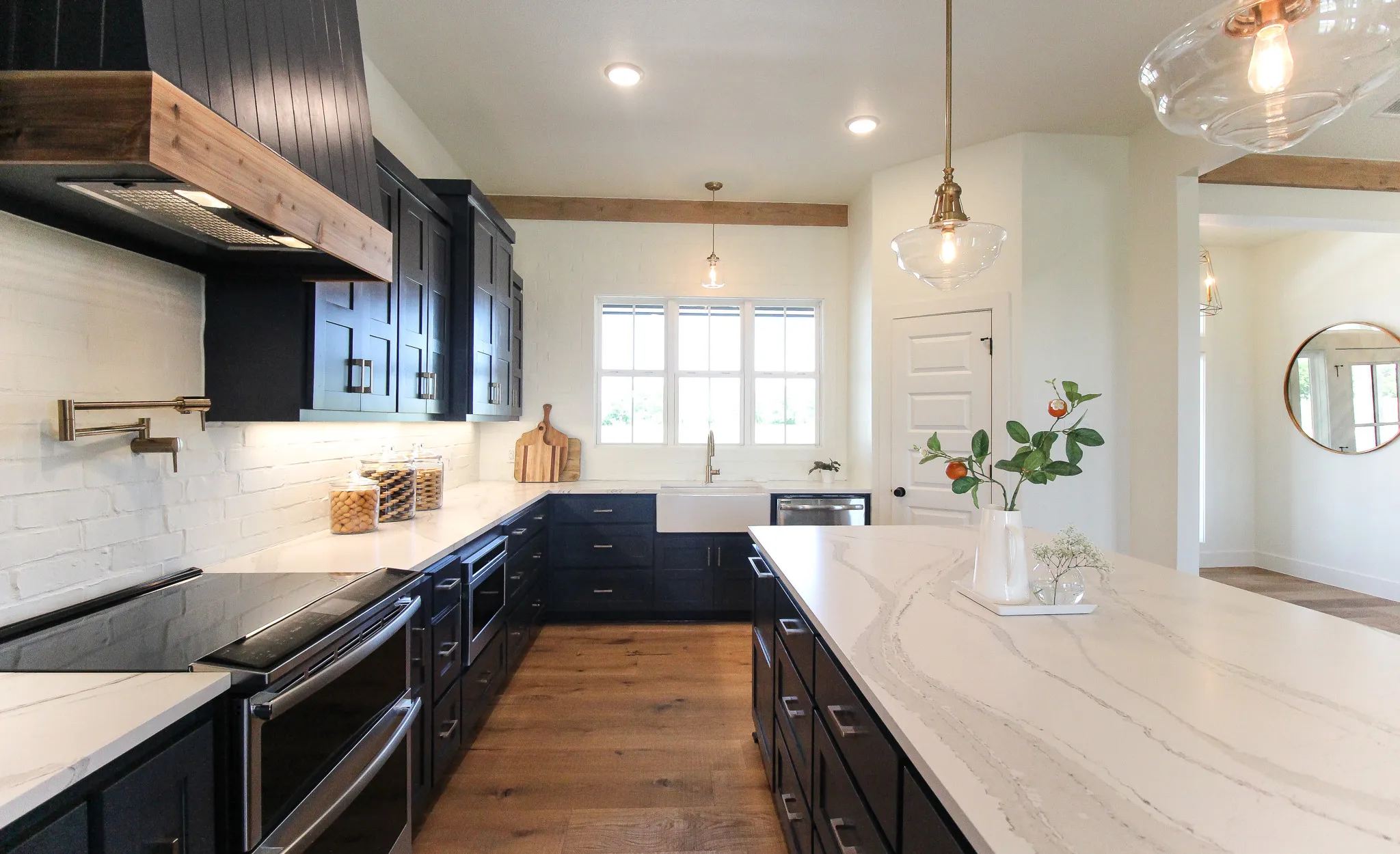 An L-shaped layout with island offers distinct cooking, prep, and cleaning zones with Brittanicca Matte™ countertops, a durable marble alternative. Space by: Brandon Whatley Homes. Photo: Legacy Lane Photography.
But we use our kitchens for more than cooking these days. Breaking your kitchen up into zones is becoming the new gold standard. Depending on which designer you talk to, you will break your kitchen up into at least two zones, a "hot zone" for cooking and a "cold zone" for prep and storage.
But ideally, there will be a zone for each task: a cooking zone, a prep zone, a cleaning zone, a zone for keeping your dishes, and a zone for keeping your food. You can expand from there and create zones to suit your unique needs.
Quality features
The word "shortcut" doesn't exist in a well-designed kitchen. Investing in the right materials and products saves you money and hassle in the long run. Appliances and materials should be the highest quality you can afford, and they should match your home's character and style. If you're buying new appliances, opt for stainless steel. They are timeless and a huge selling point.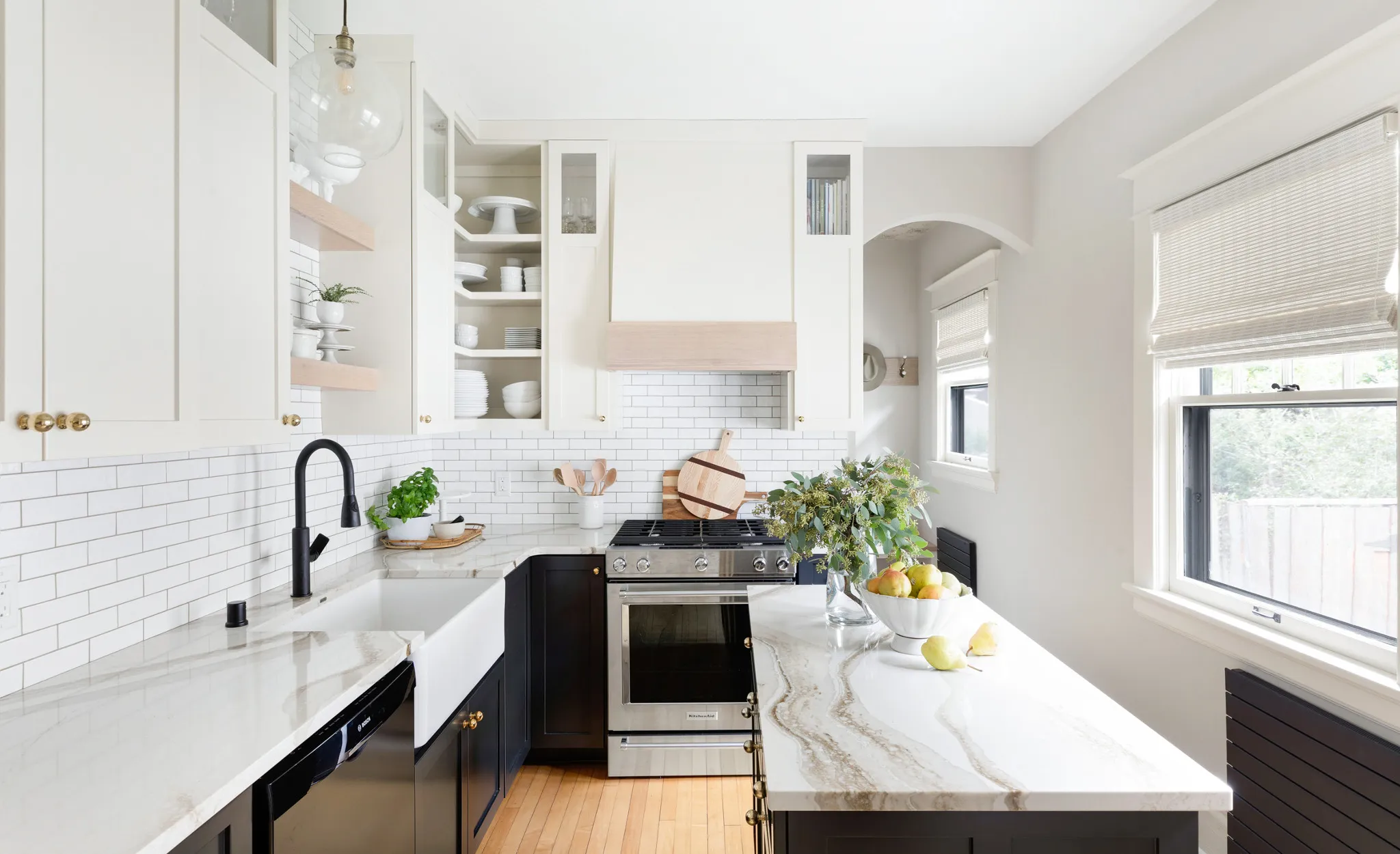 If you're installing new countertops, Cambria is a wise choice They're maintenance free, they won't stain or trap germs, they're durable, and they're protected by a Full Lifetime Warranty. And with an extensive design palette, there's a design for every style.
For flooring, go for engineered hardwood or a durable tile material like porcelain or Cambria. These materials handle kitchen moisture, everyday wear and tear, and are a positive investment.
Correct color combinations
"The hardest thing about color is making a decision," says Lockhart. "Because people get so much information from so many people."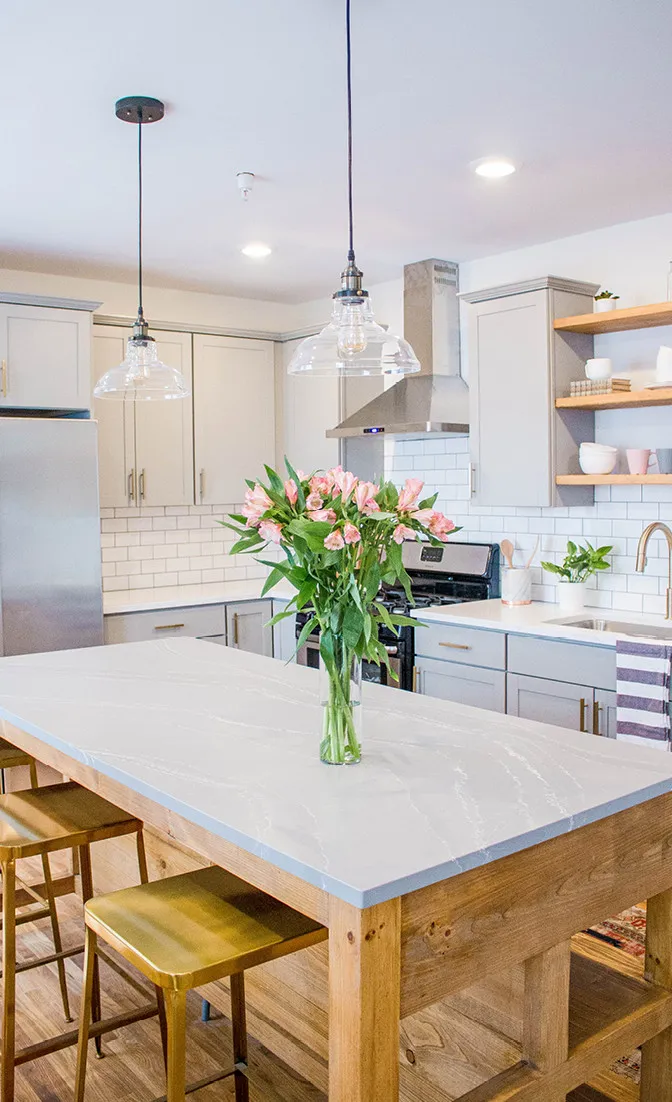 A great way to choose colors is to decide the colors for the elements that won't change first. Start with flooring because it transitions between rooms and takes up the most space. Then decide cabinetry color. They can either blend or contrast with the flooring. Use the countertop color as an opportunity to tie the flooring and the cabinetry colors together.
To add continuity, decide how many colors you want in the space, and reuse those colors in various ways. If you have gray cabinets, consider a countertop with hints of gray like Brittanicca™ or Torquay paired with subtle gray accents around the space.
"Maybe the countertop and the backsplash are the areas that are at eye level that you really want to zing," says Lockhart. "And that's the kind of thing where you really want to see the color. Keep everything else, like cabinets and flooring, neutral."
Need some kitchen color palette inspiration? Explore ideas for designing with gray, green, matte black, wood tones, and coastal hues.
Lighting that enhances
"The only mistake you can make with lighting is not putting in enough," says Lockhart. "If you don't need it, you simply don't turn it on."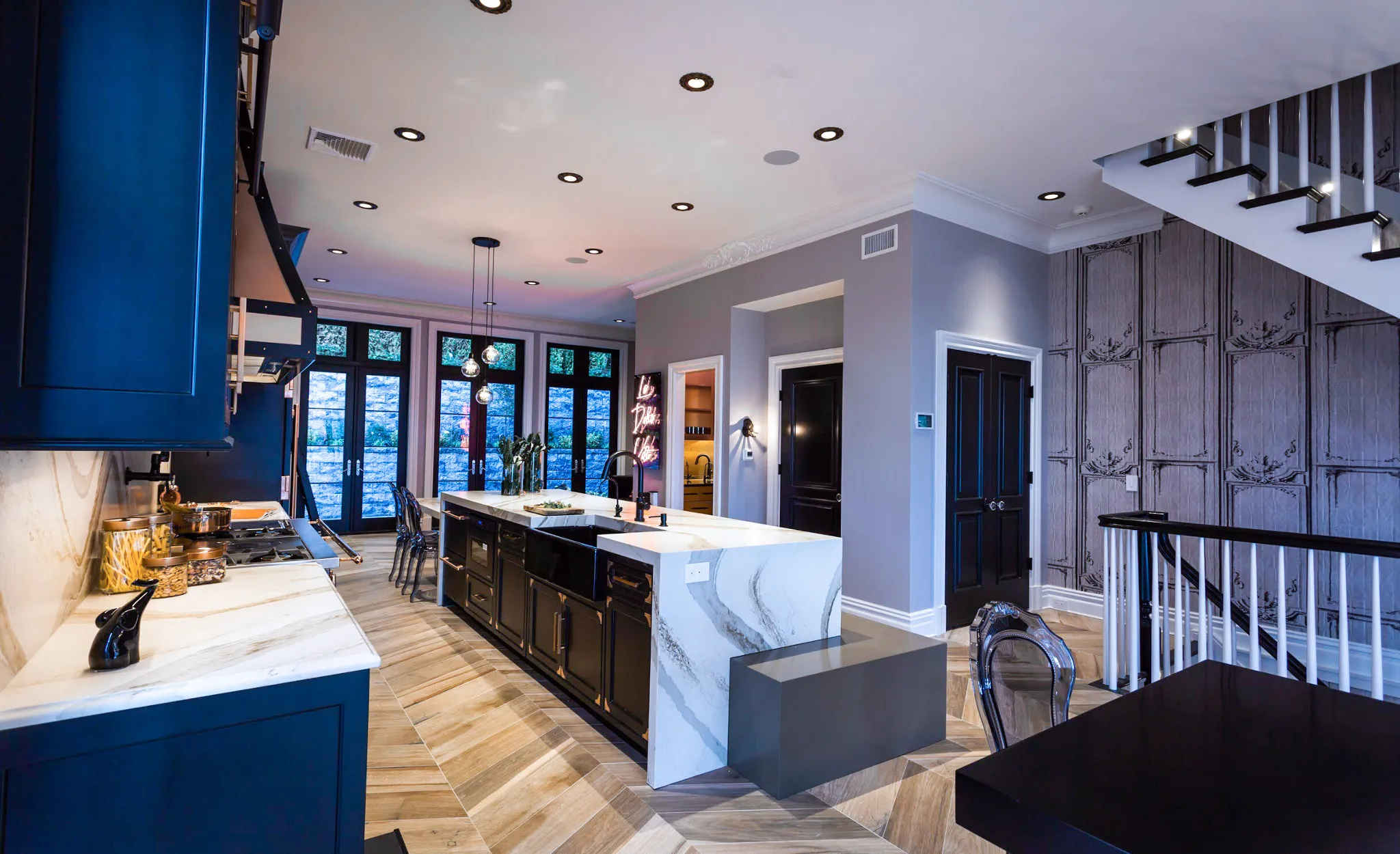 There are three types of lighting you will put in your kitchen. First is general lighting. This is basic lighting that will illuminate the entire space. It is typically recessed lighting spread throughout. The second type is task lighting. This lighting helps you work safely and efficiently. Task lighting can be under cabinets, over the range, or even in the pantry. And the last type is accent lighting, which highlights design features. This could be LED lighting around a wine rack or beautiful pendants.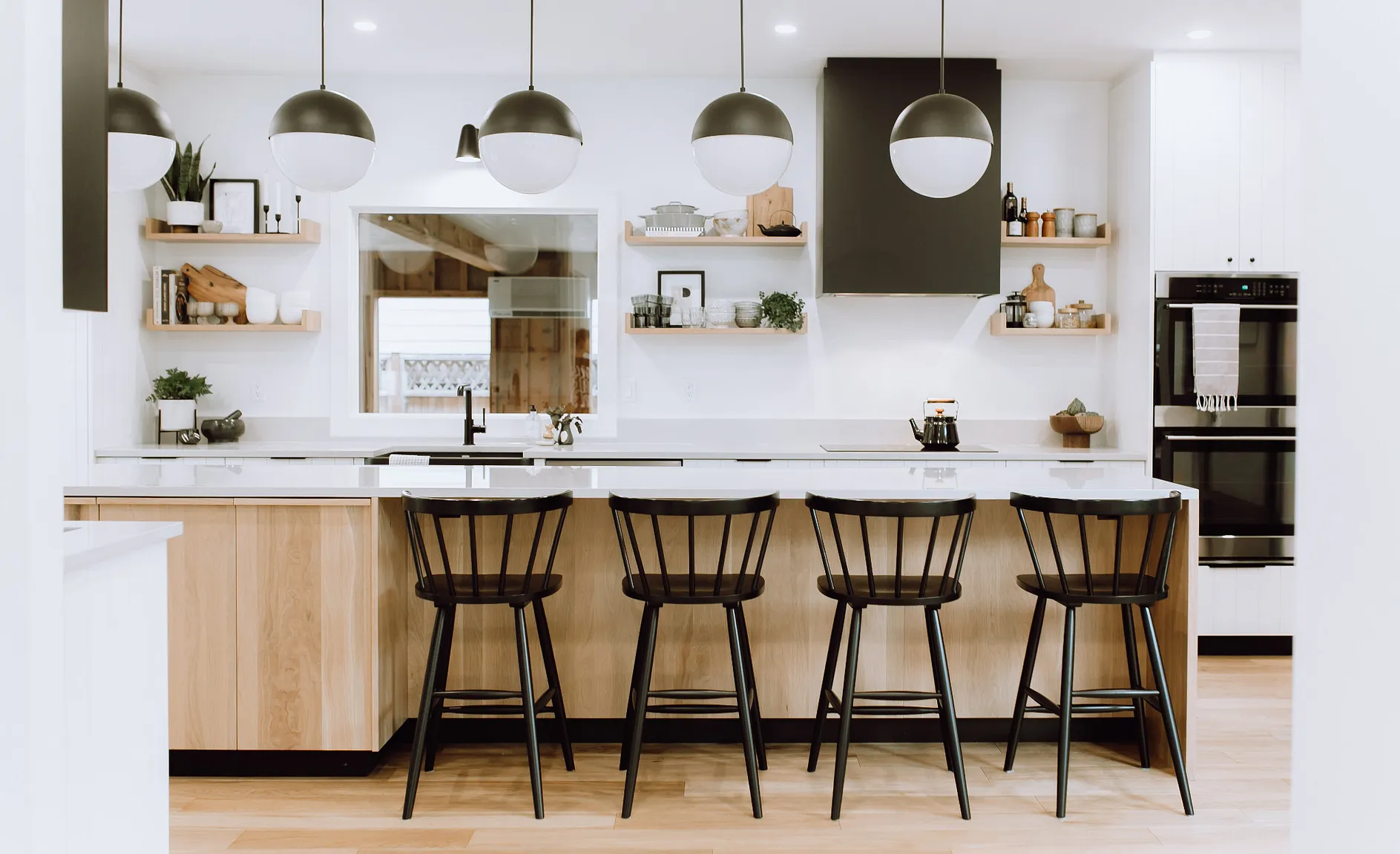 Before you start installing lighting, make sure to work with a designer to create a reflected ceiling plan (RCP). This is a document that looks just like a floor plan, but has the placement of each light to help you visualize where and which types of lighting to put in the space.
The details of a well-designed kitchen
What really sets a well-designed kitchen apart from the rest are the details – the little touches that add elements of surprise.
USB outlets in an island are a great way to keep your phone and other gadgets charged without having to hunt for an adaptor. To keep the design clean, pop-out and hidden outlets can ensure you always have power where you need it, when you need it.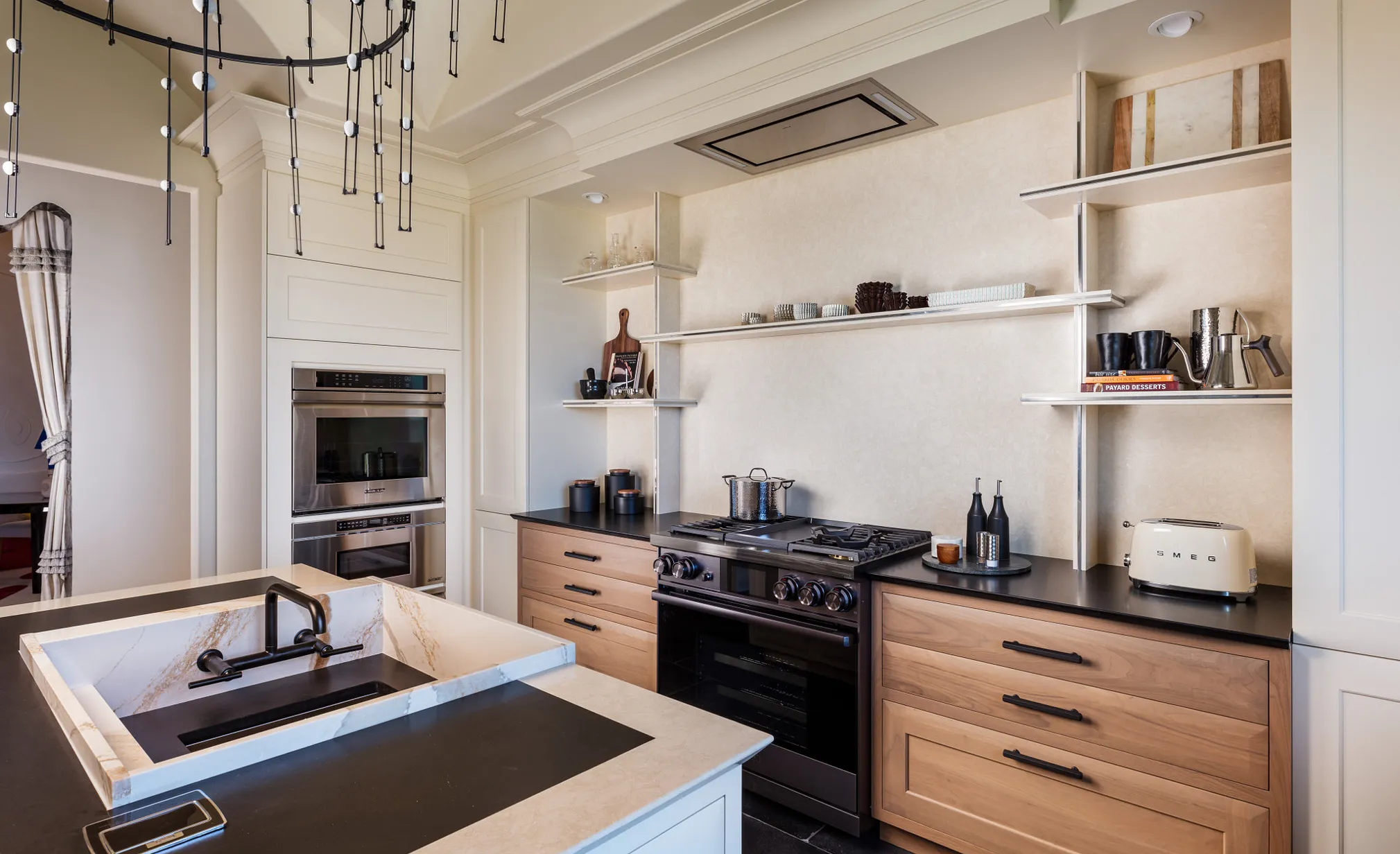 Stainless steel is nice, but if you want your appliances to fall away in the space, wrapping them in panels that match the aesthetics of the cabinetry is the way to go. Many designers love panels because they come in a vast array of styles and colors and can help maintain openness and clean lines in the room. See more about the hidden appliance trend.
If you're installing Cambria, explore edge profiles. They come in many styles, from the chiseled to square edge, and add a sense of finish. Playing with the thickness of countertops can add to the drama too. Try doubling the thickness to create a lasting statement.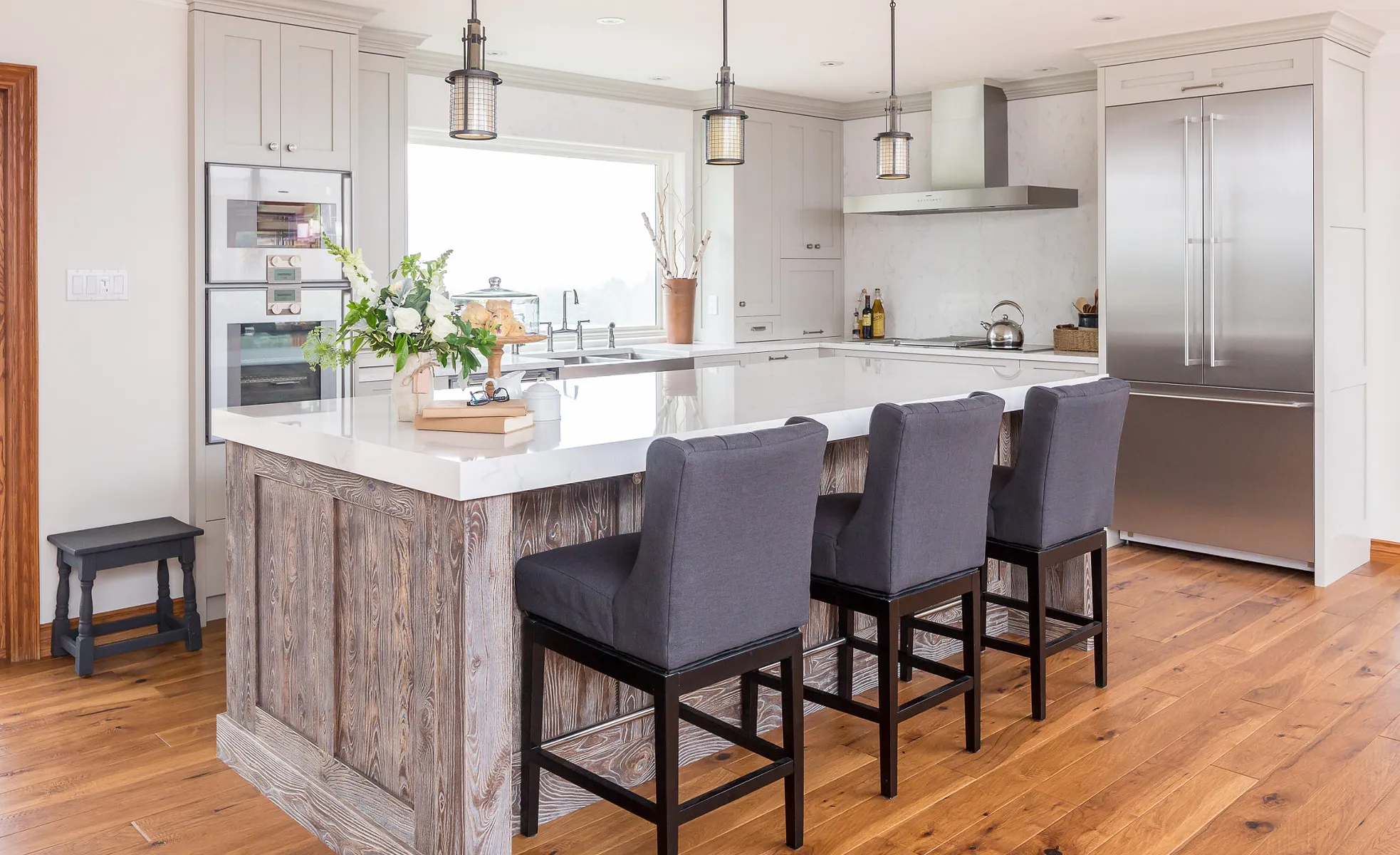 Ultimately, your kitchen is a representation of you. Incorporating some of these ideas will ensure it's designed to the highest level and a smart investment.
Additional resources for your kitchen remodel
Read on for more advice and planning resources for your kitchen remodel: