LIVABLE LUXURY WITH CAMBRIA SHOWER WALLS
TIMELESS DESIGN, ENDURING QUALITY
From public places to residential spaces, easy-care design materials leave more time for the things that matter—and that's what Cambria quartz surfaces can deliver.
As a luxurious and low-maintenance material, Cambria is perfect for a number of applications, including shower walls. No tiles, no grout, no mold, no mildew, no complicated cleaning—just the simple beauty of Cambria quartz surfaces.
ELEGANT AND EASY-TO-MAINTAIN
Cambria shower walls offer the best of form and function, bringing spa-like luxury and a lifetime of easy care to bathrooms everywhere.

HYGIENIC
Cambria quartz surfaces are nonporous and do not support the growth of mold, mildew, or bacteria.

GROUT-FREE
Say "goodbye" to unsightly, hard-to-clean tile grout lines. Each piece of Cambria is cut to fit perfectly, creating a visibly seamless, grout-free shower surround.

LOW MAINTENANCE
Cambria shower walls offer the simplicity of soap and water cleaning—and no sealing or reconditioning is ever required to maintain the product's performance.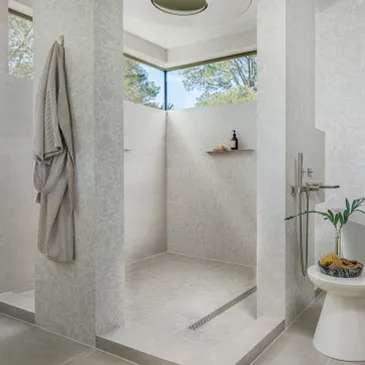 FOR HOMEOWNERS
Clean lines, clean designs—minimal cleaning required. Bring the beauty and durability of Cambria quartz shower walls into your home.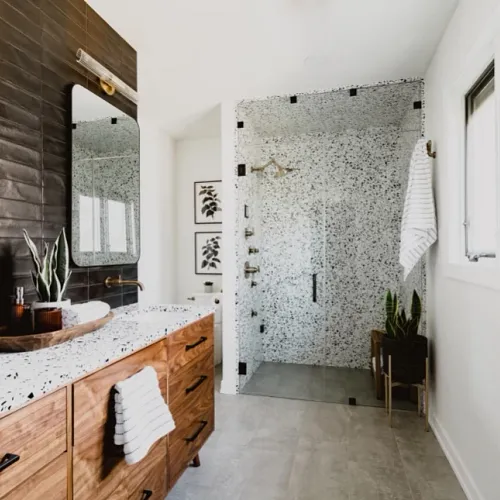 FOR PROFESSIONALS
With industry-leading support, a made-in-America promise, and a reputation for luxurious low maintenance, Cambria shower walls are for pros who desire turnkey, easy-to-sell surfacing solutions.