Showstopping Quartz Shower Walls
Prioritizing health and wellness is at the forefront of our minds, and choosing Cambria for your bathroom means your home will feature a healthier and more hygienic space. Cambria can be installed as bathroom vanities, flooring, countertops, shower walls, shower curbs, shower casings and jambs, and overhead applications.
We love the look of a Cambria quartz shower, which makes a true design impact with a beautiful aesthetic that becomes the focal point of the bathroom. Choose from Cambria's industry-leading design palette, made with the finest craftsmanship. Easily transform your space with one-day installation.
Cambria is perfect for showers: it's nonabsorbent so absolutely no moisture, mold, mildew, or bacteria will ever seep through; there's no grout to clean or joints to caulk or to cause leaks; it's maintenance free; and it requires no cleaners or sealant.
Cambria backs its product with robust service and support and a transferable Full Lifetime Warranty, so you know the process will be a luxury experience from start to finish. Here we share five stunning shower installs that showcase how Cambria showers are just as beautiful as they are functional.
The Colton Choice
In this primary bathroom, homeowner Jaclyn Johnson and interior designer Ginny Macdonald paired Cambria Colton countertops with a Colton shower surround to ground the design scheme, which also features glass, tiles, concrete, terrazzo, leather, cane, wood, and an abundance of greenery. The effect is at once both subdued and eclectic.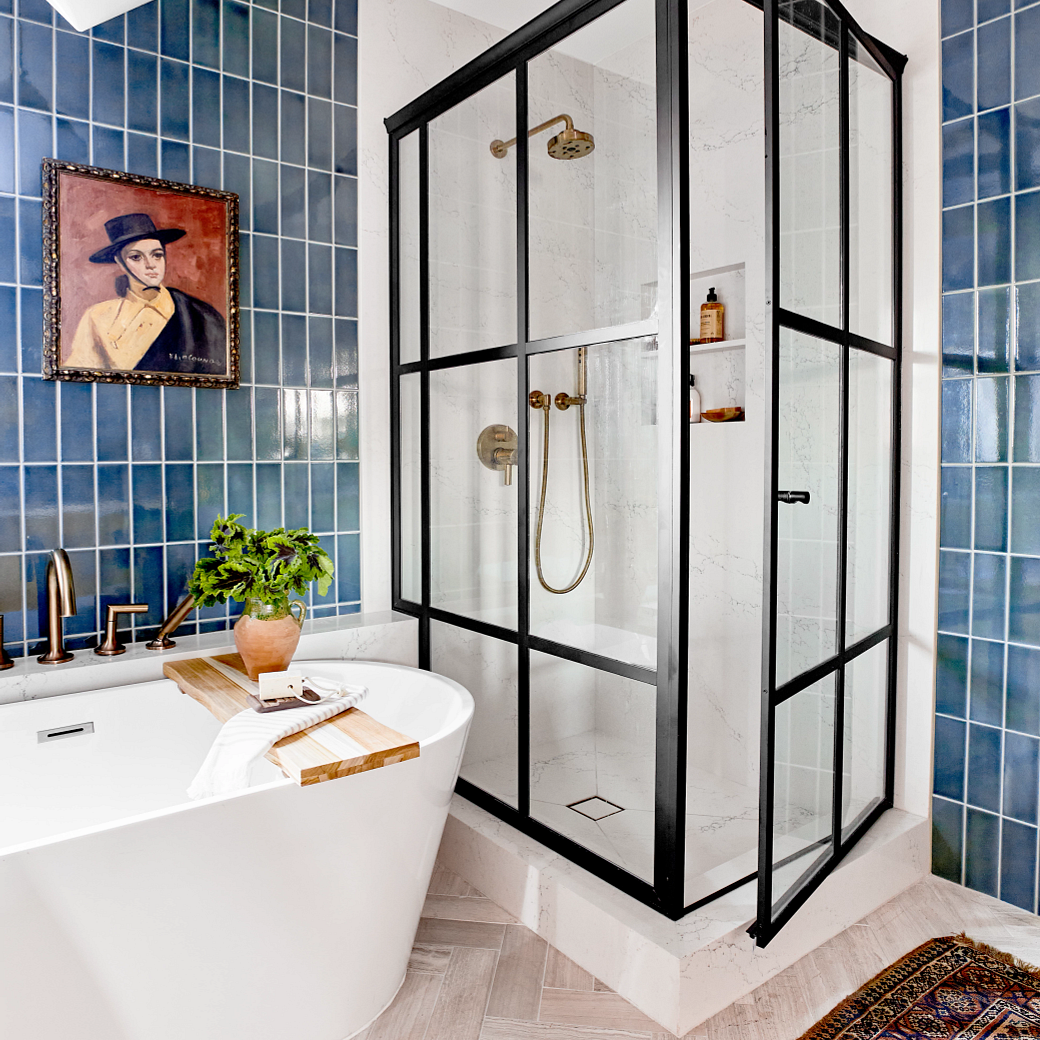 We love how the full-slab material creates a clean look in this shower.
Architectural Digest describes the space as "inspired by the spirit and aesthetic of Napa, Palm Springs, and Tulum" with a "predominance of black, pink, beige, and white."
"Our house has a lot of 'moments,' a lot of distinct rooms with their own personalities, which I think reflects my style," added Johnson to Architectural Digest. "It brings a smile to my face!"
A Brittanicca Beauty
In this soothing primary bathroom for Canadian TV host Scott McGillivray, Cambria Brittanicca cladding on the walls and tub deck and in the shower draws the eye throughout the spacious room.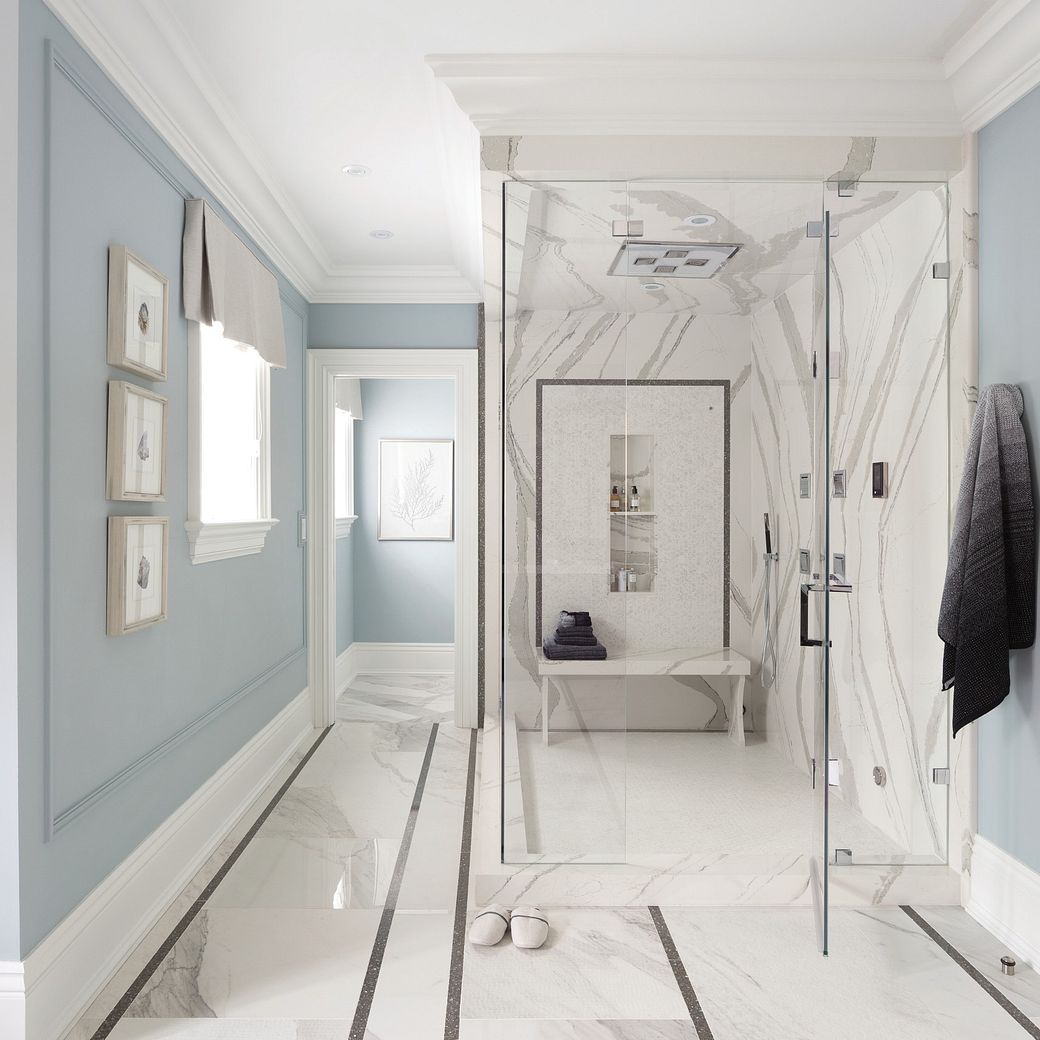 Full-height Cambria lends drama to this monochromatic bathroom.
The full-height Brittanicca helps create a true spa-like oasis in the space.
A Vail Village Vanity
Omorfia Designs, an interior design firm based in Sioux Falls, South Dakota, describes its mission as "bringing beauty to your home." The design team achieved that in this bathroom space, which features coordinating Vail Village vanity countertops and shower surround.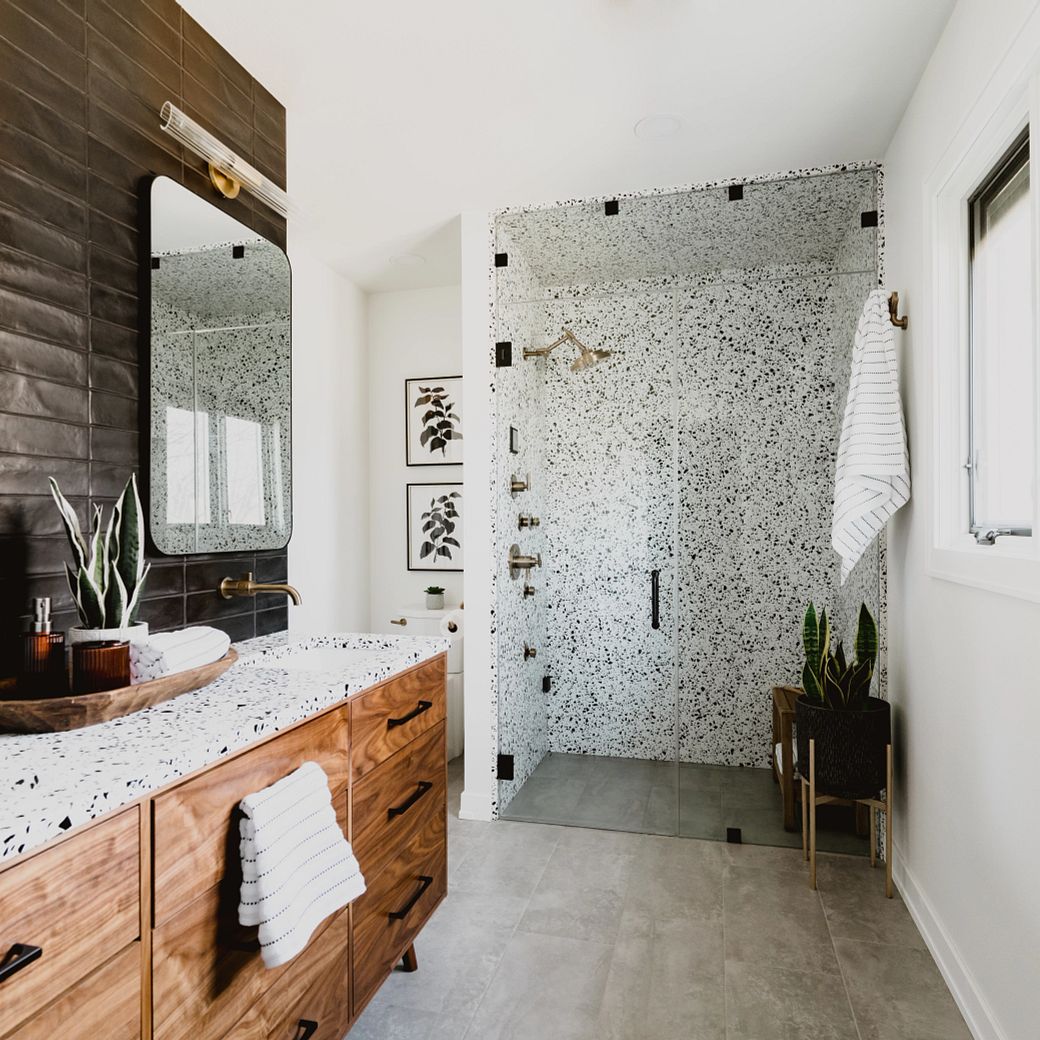 Make a design statement in your shower with Cambria.
Using the same Cambria design in the space ensures continuity and also lends drama to the classic wood and black-toned elements.
Ready with Rose Bay
O, the Oprah Magazine creative director Adam Glassman believes in the impact of great style, so much so that he put an emphasis on both beauty and function during the renovation of his weekend home in the Hudson Valley of New York.
"I wanted everything to be uncluttered and effortless to maintain," says Glassman to Cambria Style. "But I also wanted the style to make me smile when I walked into any room."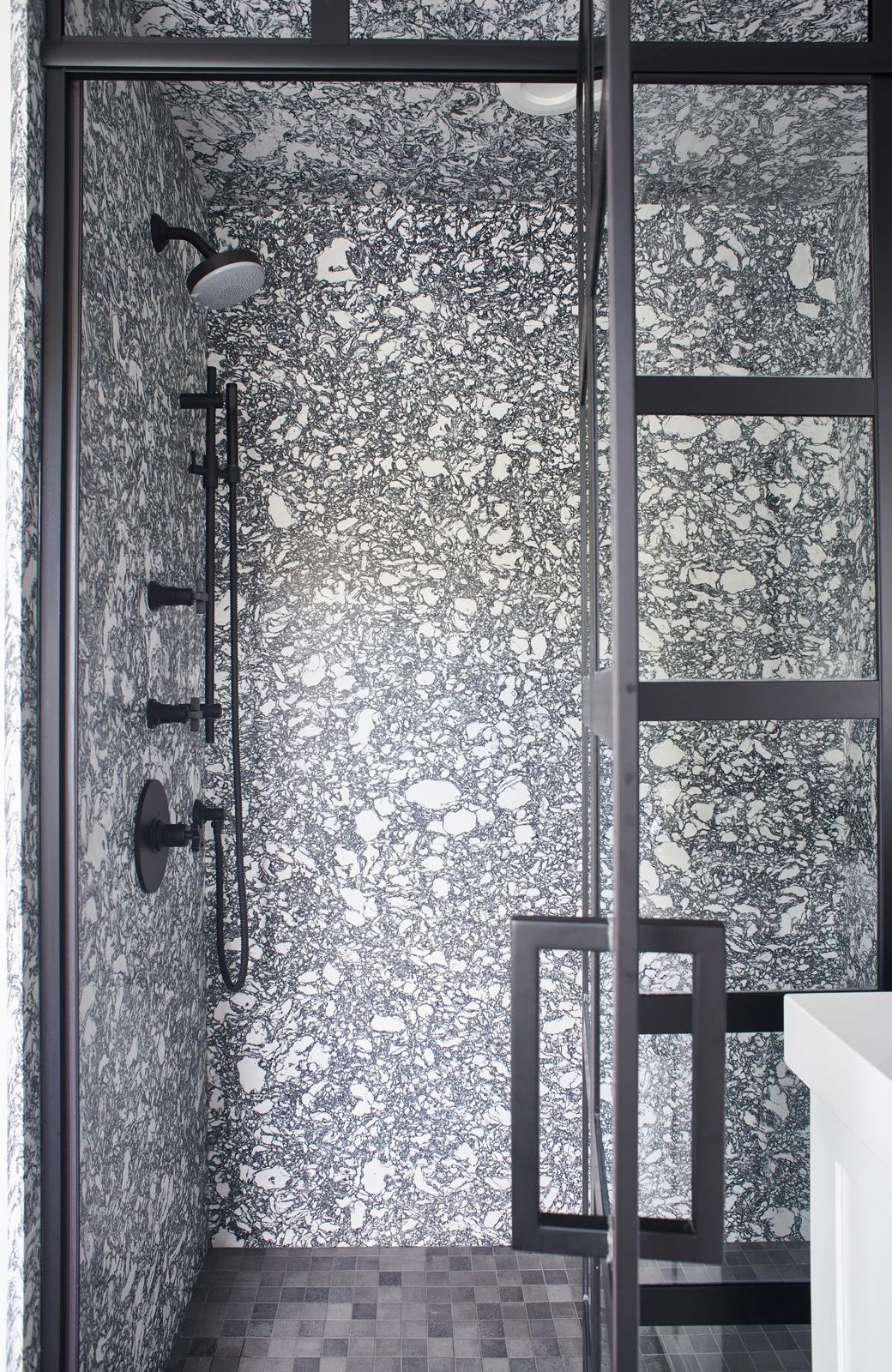 Glassman swathed the walls from floor-to-ceiling with Cambria Rose Bay Matte and complemented the bold design with versatile Cambria White Cliff Matte on the vanity countertops.
In the primary bathroom, Glassman created a bold aesthetic fit for a man of style with a mix of Cambria Rose Bay Matte and Cambria White Cliff Matte, a pairing that combines for a one-of-a-kind oasis.
Bold Bentley
In this bold bathroom, Michigan-based creative consultant, designer and editor Michelle Adams blended Scandinavian style elements (think clean lines, lighter wood tones, and high function) with showstopping accents, like a Cambria Bentley shower surround and corresponding vanity countertops.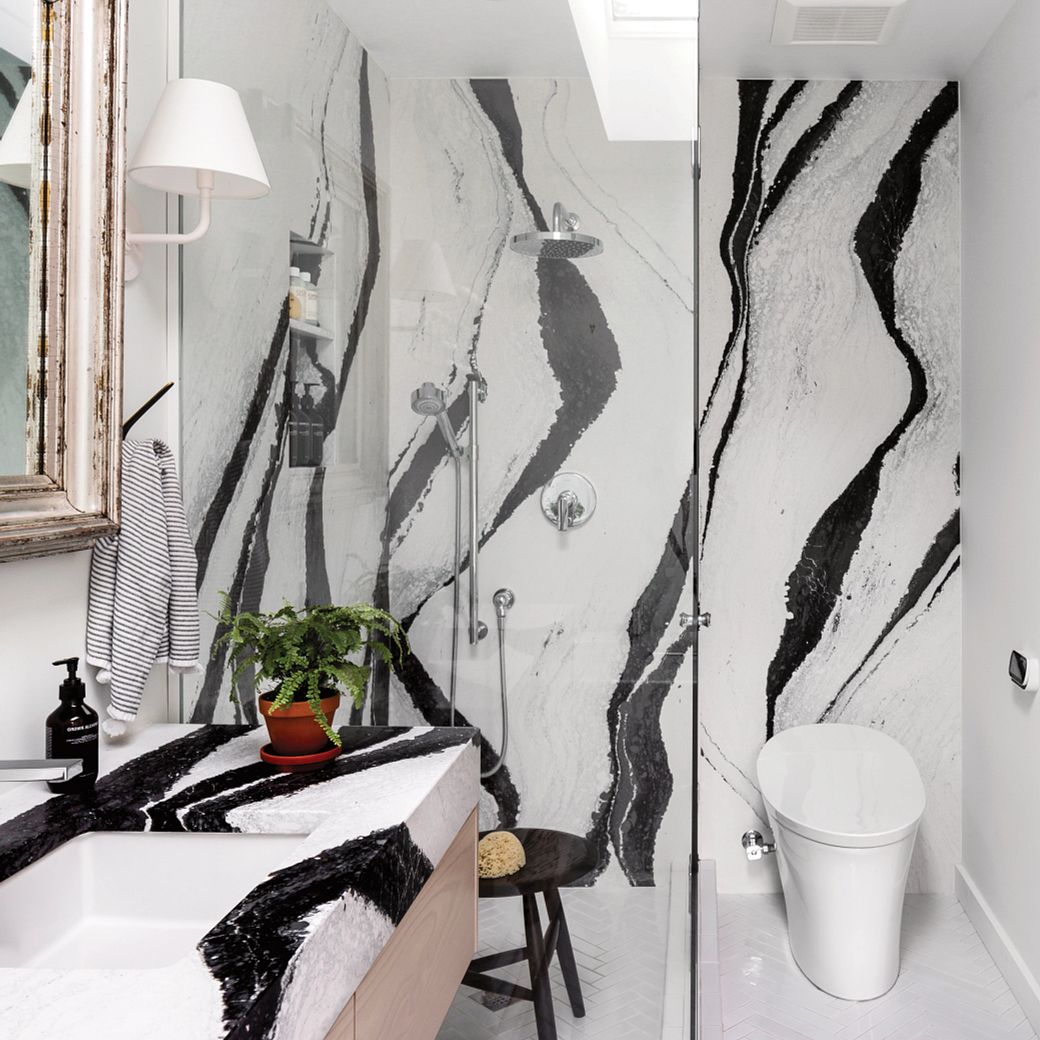 With Scandinavian style, less is more, but designer Michelle Adams still had fun in her bathroom with bold Cambria Bentley elements.
"Cambria's Bentley quartz's high contrast pattern is a showstopper," says Adams. "It immediately became the dominant design element in my bathroom. To balance the look, I paired it with streamlined cabinetry, crisp white walls and floors, and an antique mirror to juxtapose the room's modern aesthetic."
Get Your Quartz Shower Walls Today
Find more inspiration on Cambria quartz showers and follow Cambria on social media with #MyCambria for more standout designs.
For more information on Cambria, including performance data, product specifications, and certifications, see our Professional Resources.
Interested in creating a showstopping design project with Cambria? Buy a sample, find a dealer, or call 1-866-CAMBRIA (1-866-226-2742) to be connected with a market representative in your region. Or visit our website to set up a virtual design consultation.