Cozy Up With Cambria: Quartz Fireplace Design Ideas
Can Quartz Be Used for a Fireplace Surround? Yes!
If you're ready to turn up the heat in your space, consider utilizing the same surface you love for your kitchen countertop and cozy up with a breathtaking QUARTZ FIREPLACE SURROUND. A Cambria quartz fireplace surround elevates a living room, den, or bedroom, whether you're building a new space or updating an existing fireplace that doesn't suit your style. With a striking selection of QUARTZ DESIGNS with UNMATCHED DURABILITY, Cambria ensures your fireplace will be a swoon-worthy centerpiece to enjoy for years to come. We've rounded up some of our favorite quartz fireplace surround ideas to help you find the perfect match for your next project.
QUARTZ Fireplace Surround Ideas
1. A Granite-Alternative Fireplace Surround
BERWYN™, one of our favorite GRANITE-ALTERNATIVES, adds elegant texture and tones for a subtle contrast in this light living space. "We found that Cambria had the nicest color options to work with our beachy blue-gray theme," says Andi Wheelband of Two Birds Design. "We kept most material white with only soft blues and very little gray as accents and Berwyn fit the bill perfectly."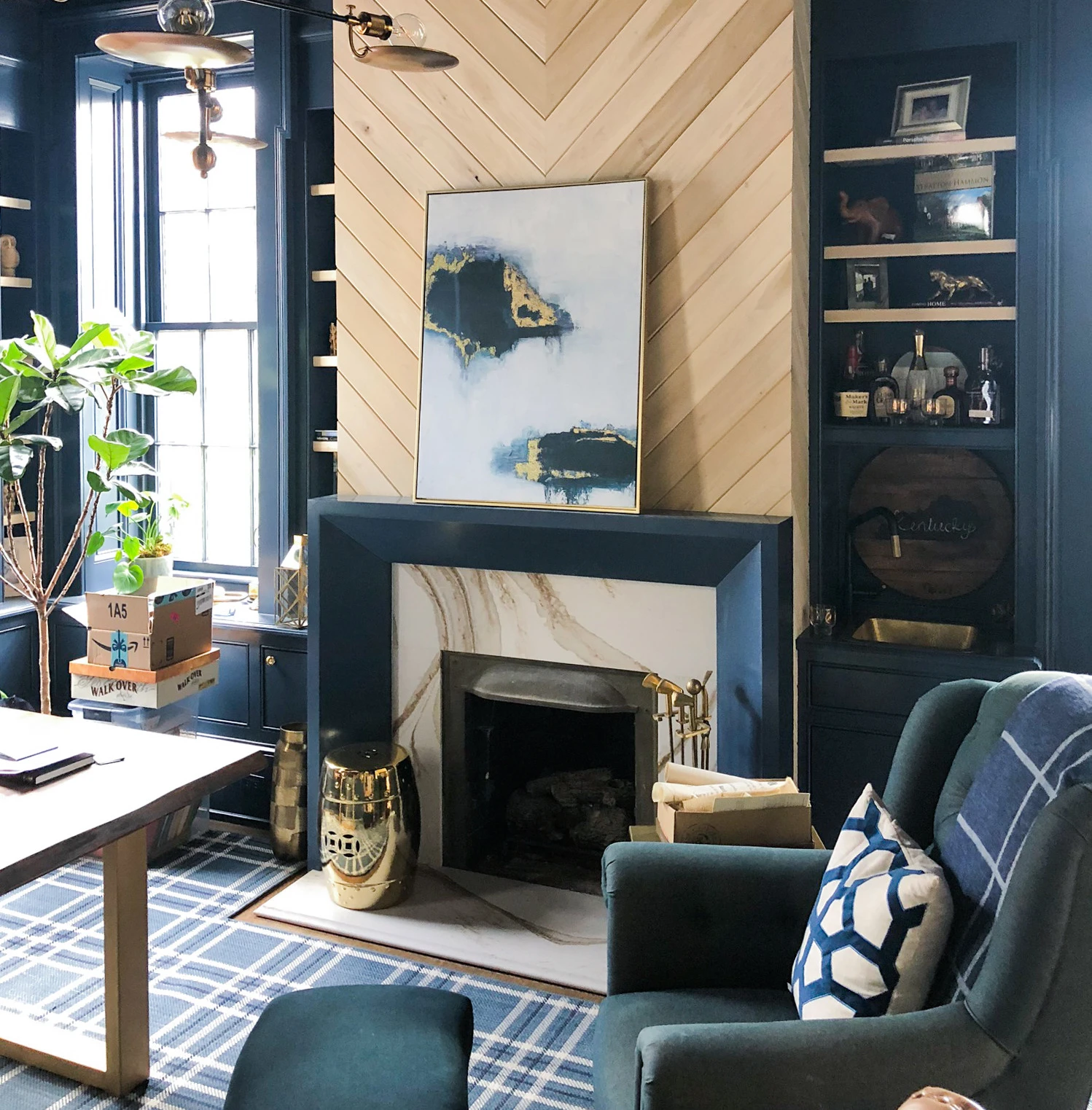 3. A Matte Black Modern Fireplace Surround
This lake home is cool and contemporary with a CAMBRIA BLACK MATTE™ fireplace surround offering chic contrast in the light-filled living area. "I use Cambria for 90% of my countertop and hard surface needs. The variety of style and colors makes it unique to each design I do for my clients," says Megan Gaerte, interior designer/principal at West Central Home LLC. "For this home, I wanted to do a clean and modern lake home design. I chose the Cambria Black Matte to pull in a casual texture needed for the space to add comfort without overwhelming the shiplap."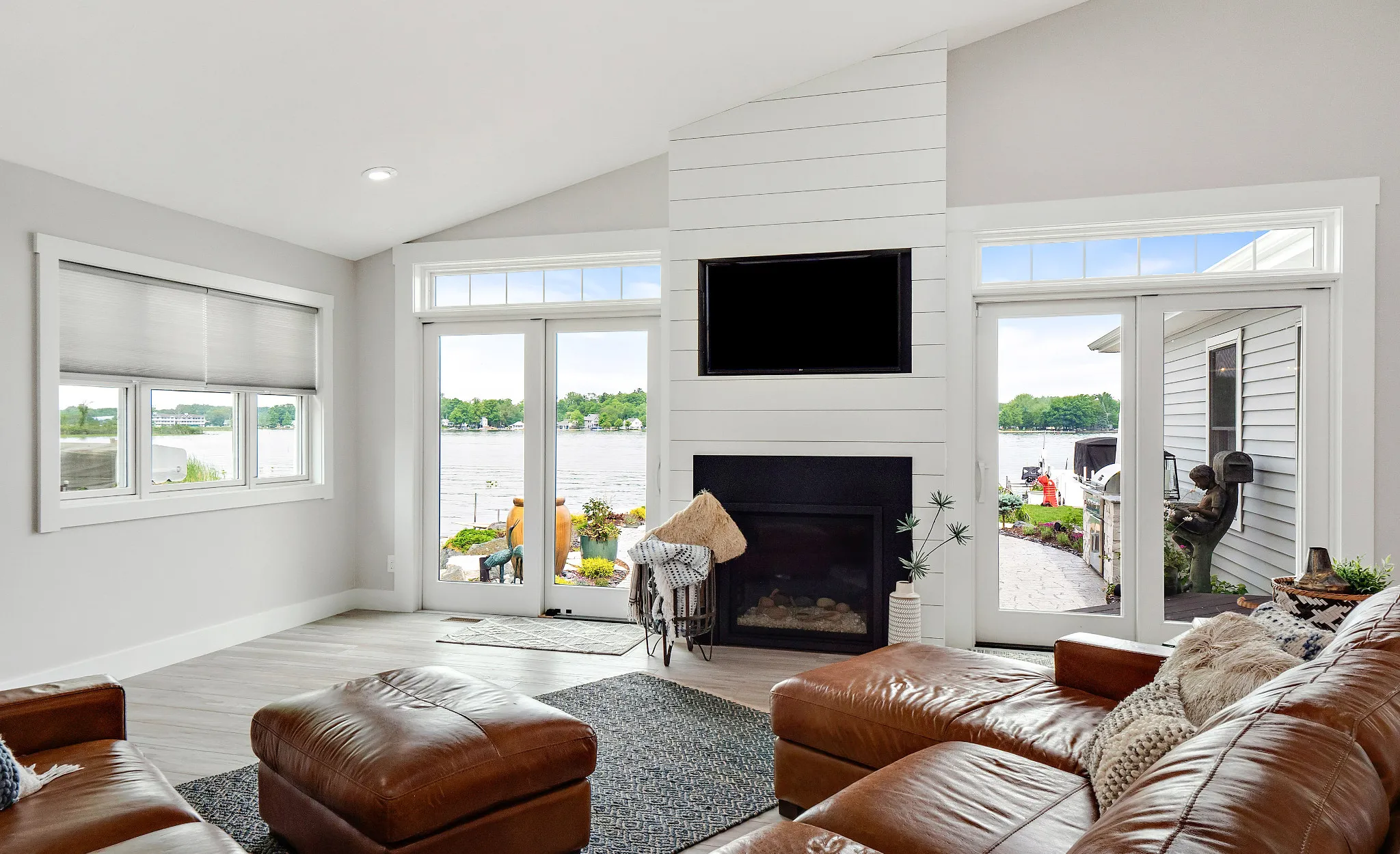 Find more ideas for incorporating MATTE BLACK into your space.
4. A Sleek Concrete-Looking QUARTZ Fireplace Surround
Sleek gray CARRICK™ adds contemporary contrast to this traditional master suite. Love this gray aesthetic? Explore more of CAMBRIA'S GRAY QUARTZ DESIGNS for other possibilities.
5. A Contemporary QUARTZ Fireplace Surround with Brittanicca Gold Warm
The organic gold tones and flowing waves of Brittanicca Gold Warm pair with vibrant abstract art for a contemporary fireplace surround design.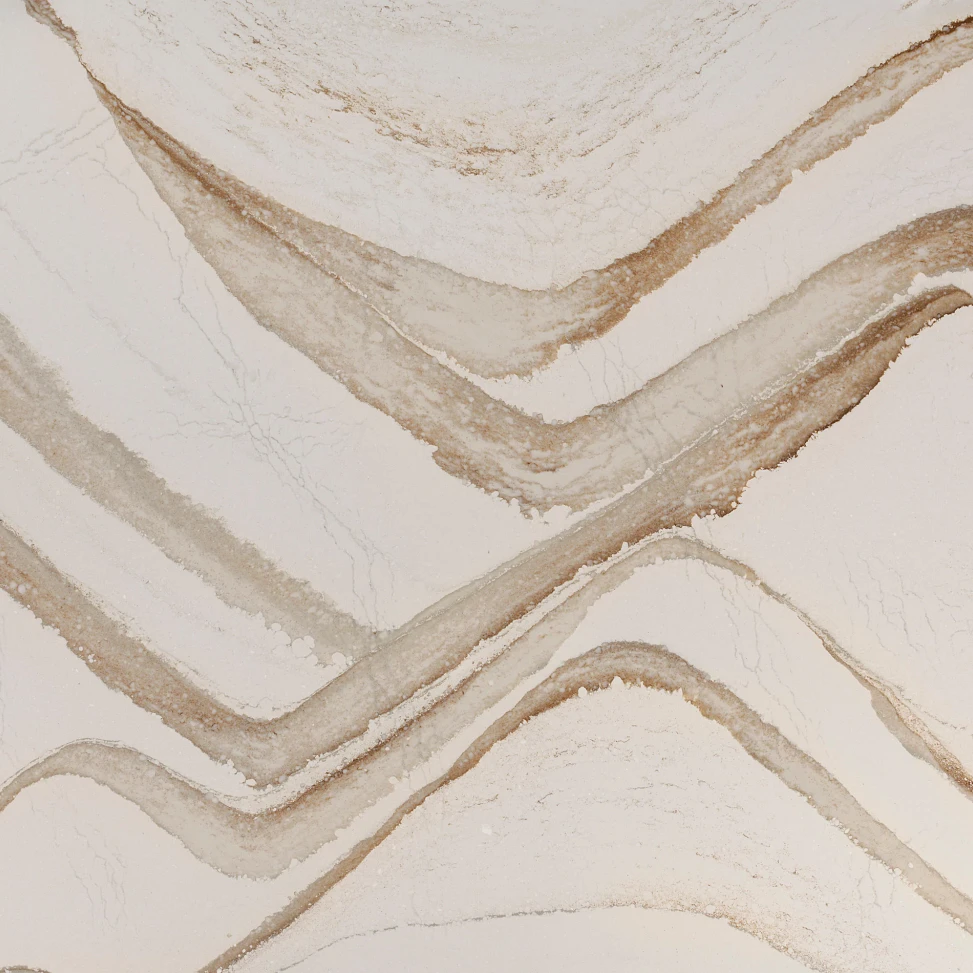 Brittanicca Gold Warm design detail.
6. A Vertically Veined Fireplace Surround
The vertical movement of Brittanicca in this full-height fireplace surround complements the rounded details of this canopy armchair. We love this look for a contemporary living room or a commercial lobby or lounge.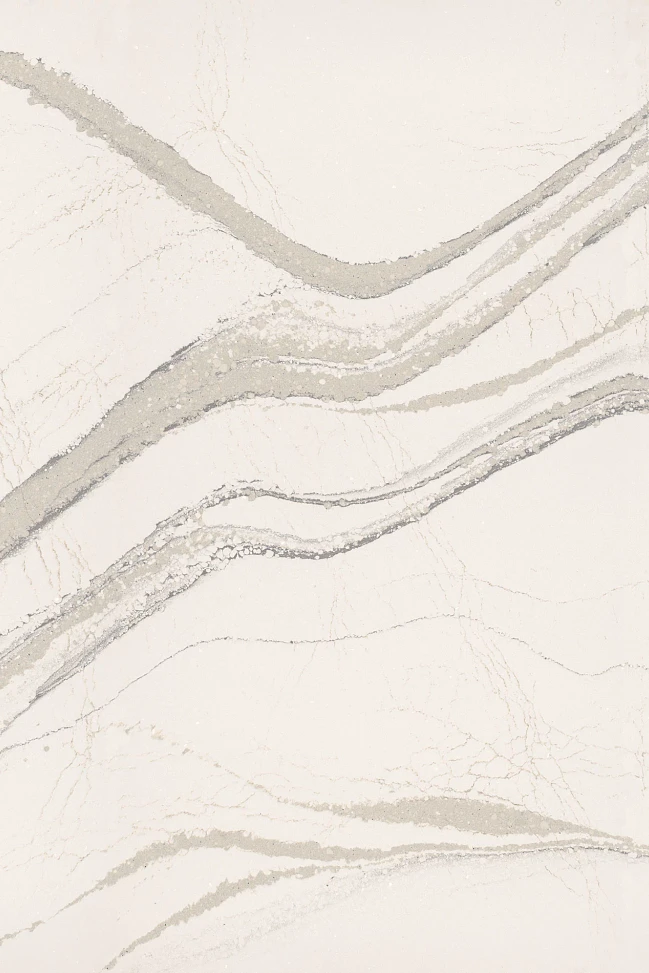 Brittanicca design detail.
Benefits of Installing a Quartz Fireplace Surround
Beauty of quartz
As one of the hardest minerals around, quartz is a popular and reliable choice for everything from kitchen countertops to shower walls and fireplace surrounds. Cambria quartz surfaces offer an expansive design palette with beautiful and unique designs with the highest available concentrations of pure quartz to ensure both beauty and brawn. The best part is that it's extremely easy to clean with just warm water, a soft cotton cloth, and mild soap, if desired—no fancy or harsh cleaning solutions or high-maintenance remedies are required to keep your quartz surface looking as beautiful as the day it was installed for years to come.
Durable surface
Who said elegance and toughness can't exist together? Cambria quartz surfaces are as durable as they are gorgeous—and vice versa. Our quartz is stronger and more durable than granite, marble, concrete, or any soapstone options, which makes it an ideal scratch- and chip-resistant surface for your fireplace surround.
Cambria's Transferable Full Lifetime Warranty
At Cambria, we offer a lifetime of superior performance. This means that you can get the best out of your space and rest peacefully knowing Cambria's got you covered, protecting you from any manufacturing defects. We pride ourselves on our product's quality to ensure you're getting the finest-cut material you can get your hands on.
Design Your Next Fireplace Surround Featuring Cambria Quartz Surfaces
We hope these quartz fireplace surround ideas have you eager to start your next project! As each fireplace is different, you'll want to confirm with your fabricator and refer to the fireplace manual to ensure Cambria can be used successfully in your project. Cambria's transferable FULL LIFETIME WARRANTY covers manufacturing defects, not installations, so we recommend working with your fabricator to make sure the proper installation guidelines are used. Contact a CAMBRIA DEALER NEAR YOU to get started.
Explore more breathtaking vertical applications of Cambria quartz surfaces to enhance your next at-home project.
Please call 1-866-CAMBRIA (1-866-226-2742) to confirm design availability.