Artistry Everywhere
Our favorite spaces from recent Kips Bay Decorator Show Houses offer endless inspiration
Modern Mood
Designer Chad Dorsey's signature attention to detail shines through in every inch of this sleek, atmospheric kitchen from the 2020 Dallas Show House. Custom-crafted cabinets in a warm gray finish pair a minimalist profile with simple—but rich—detailing along the cabinet door edges and island perimeter. Cambria's Charlestown design on the counters and backsplash makes a deep, grounding statement. Warm wood and metal accents complete the inviting, upscale space.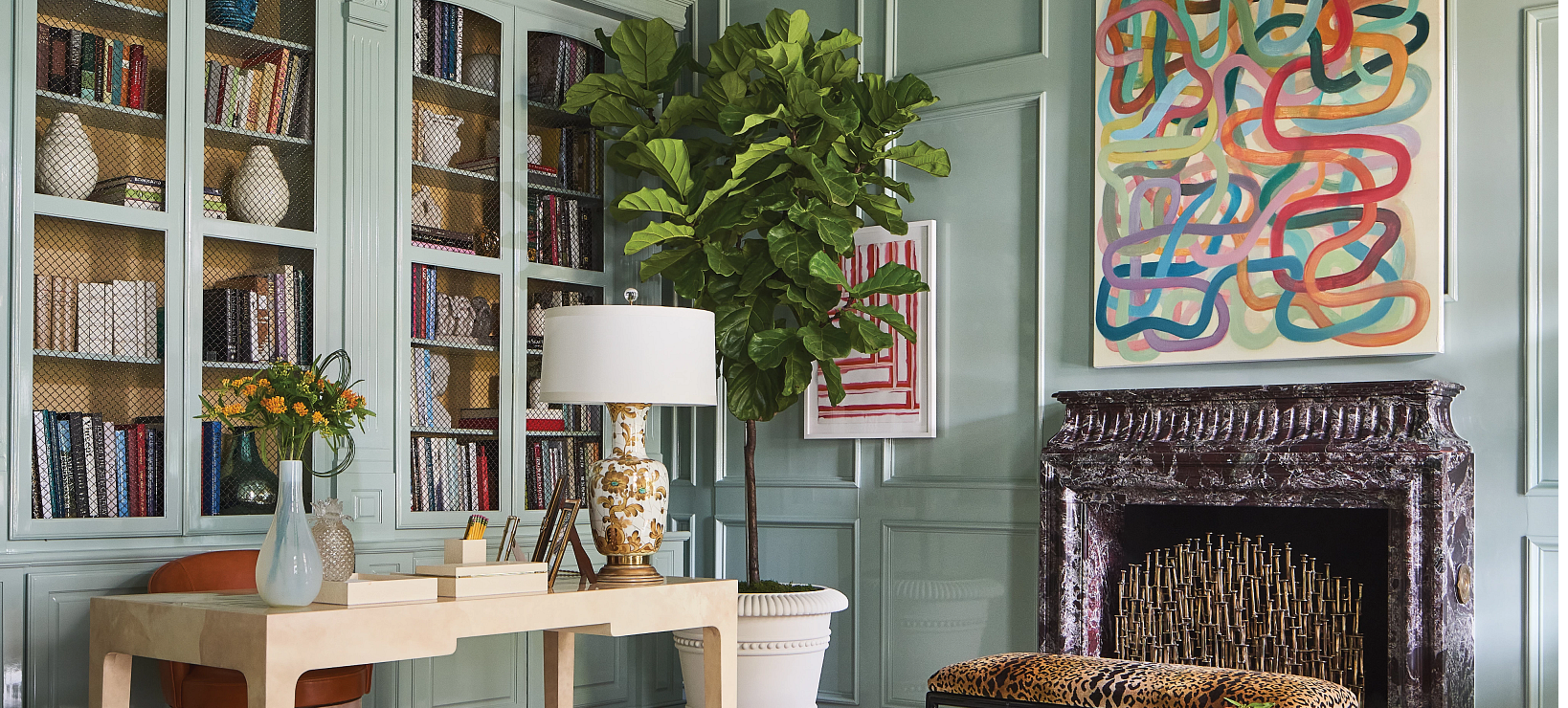 Photography by Stephen Karlisch
Color Study
In the library of the 2020 Dallas Show House, designer Jan Showers upended expectations, treating the richly detailed, highly traditional space to a fresh, pastel palette. A vibrant collection of paintings, sculptures, and furnishings—all with bold lines and patterns—create a collected, personal effect.
Design for good
The Kips Bay Decorator Show Houses in New York, Palm Beach, and Dallas have an important charitable mission. Since 1915, the Kips Bay Boys and Girls Club has been serving the at-risk youth of the Bronx in New York. Today, the organization offers a range of after-school academic, athletic, and arts education in nine locations—and a summer camp—to more than 10,000 children. "Most of the kids we work with live in single-parent households or have two working parents, so Kips Bay gives them a safe, supervised haven after school," says Jim Druckman, President of the organization's Board of Trustees. "We provide activities, meals, and a sense of direction and self-worth. Having that support can truly be life-saving."
Like most community organizations, Kips Bay Boys & Girls Club relies on the generosity of individuals and corporations to make its tremendous work possible, and on key fundraisers like the annual Kips Bay Decorator Show House. Launched in Manhattan in 1973 (and more recently expanded to Palm Beach and Dallas) the showhouses tap top talent to create a true design destination—with all proceeds benefiting Club programs. Cambria has been one of a handful of corporate sponsors since 2017. "The designers love working with the Cambria product," says Druckman. "And more than that, the company is generous, understands the mission of our organization, and has a genuine desire to help children. We're very lucky to work with companies like Cambria."
To see more of Cambria's philanthropic partnerships, go to CambriaUSA.com/CambriaCares.