2023 Design Forecast
Discover what's on the horizon when it comes to interior design
Interior design decisions can be deeply personal. Whether you're building or renovating a home, your spaces are a reflection of what you love and how you live—an emotional as well as financial investment in materials, furnishings, and finishes that in most cases are meant to be more enduring than passing fancies. That's why our thoughtful interior design forecast goes beyond kitchen trends to encompass overarching aesthetic themes sure to remain in vogue for several years to come. Whether you lean into modern or traditional styles, these sustainable ideas allow you to layer trending touches into your spaces to keep them current yet personalized.
Decorative Range Hoods
Your RANGE HOOD is a hardworking appliance, but it's also becoming more and more of an artful focal point in modern kitchens. So don't overlook the creative possibilities of a quartz-clad range hood. A Cambria-clad range hood would complement any kitchen design style, whether you choose sleek modern cabinetry and handleless appliances or prefer elegantly paneled cabinets accessorized with metallic hardware. And Cambria's extensive design palette means you can extend your favorite design ideas beyond your countertops and backsplash to your range hood, or choose a complementary design.
Paneled Appliances
For more than a decade, the commercial vibe of stainless steel appliances made every home kitchen look like restaurant prep space. But while cooking shows are still fun to watch, being an accomplished home cook doesn't require being surrounded by the chilly sterility of stainless steel. Think of an encapsulation of your overall design with paneled APPLIANCES that fit seamlessly into your vision.
Mix in Metals
Finally, you are free from the limitations of any one "in style" finish when it comes to your faucets, lighting, and cabinet hardware. Although more silver and chrome tones are making a comeback, it is not only acceptable, but even desirable, according to 2023 design trends, to combine two or more of your favorite metal finishes. Cambria is out in front on this trend with its sophisticated and timeless Alloy Collection™ and INVERNESS™ design options making it uniquely possible to spread the subtle shimmer of metal across your countertops.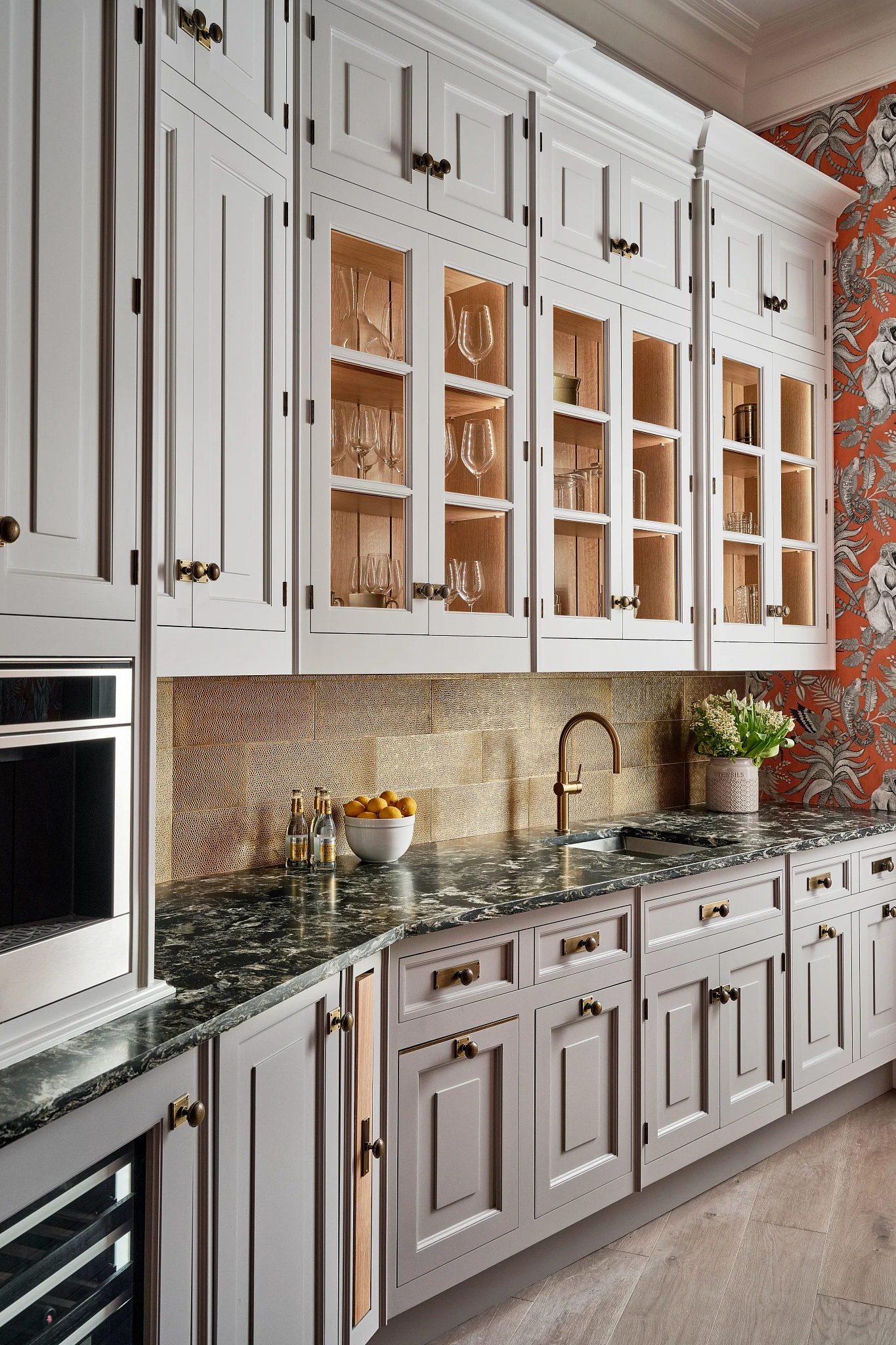 Cambria design shown: Hollinsbrook Matte™
Mind the Mess
If you have the room, why stop at a walk-in kitchen pantry? Thoughtful planning can put you on the path to bigger things and less visible messes with a butler's pantry. Historically designed to store valuable serving pieces, particularly silverware, contemporary butler's pantries go beyond storage to providing surfaces as staging areas for meal preparation as well as a place to keep messes (and your collection of small kitchen appliances) out of sight. Now, you can relax with guests in an otherwise tidy kitchen and dining area.
In-Home Spa
The pandemic prompted many changes in the way we live, particularly when it comes to creating home sanctuary spaces. And who wouldn't love a spa-like experience at home after days now spent back in the office? Freestanding soaking tubs are becoming bathroom design centerpieces complemented by walk-in showers with seating and multiple shower heads. Cambria's nonabsorbent and maintenance-free quartz surfaces are the perfect material for creating LUXURIOUS SHOWERS and vanities without any grout or worry over mold and mildew.
---
Please call 1-866-CAMBRIA (1-866-226-2742) to confirm design availability.