Six Tips To Keep Your Home Organized
Master your mess with these helpful home organization solutions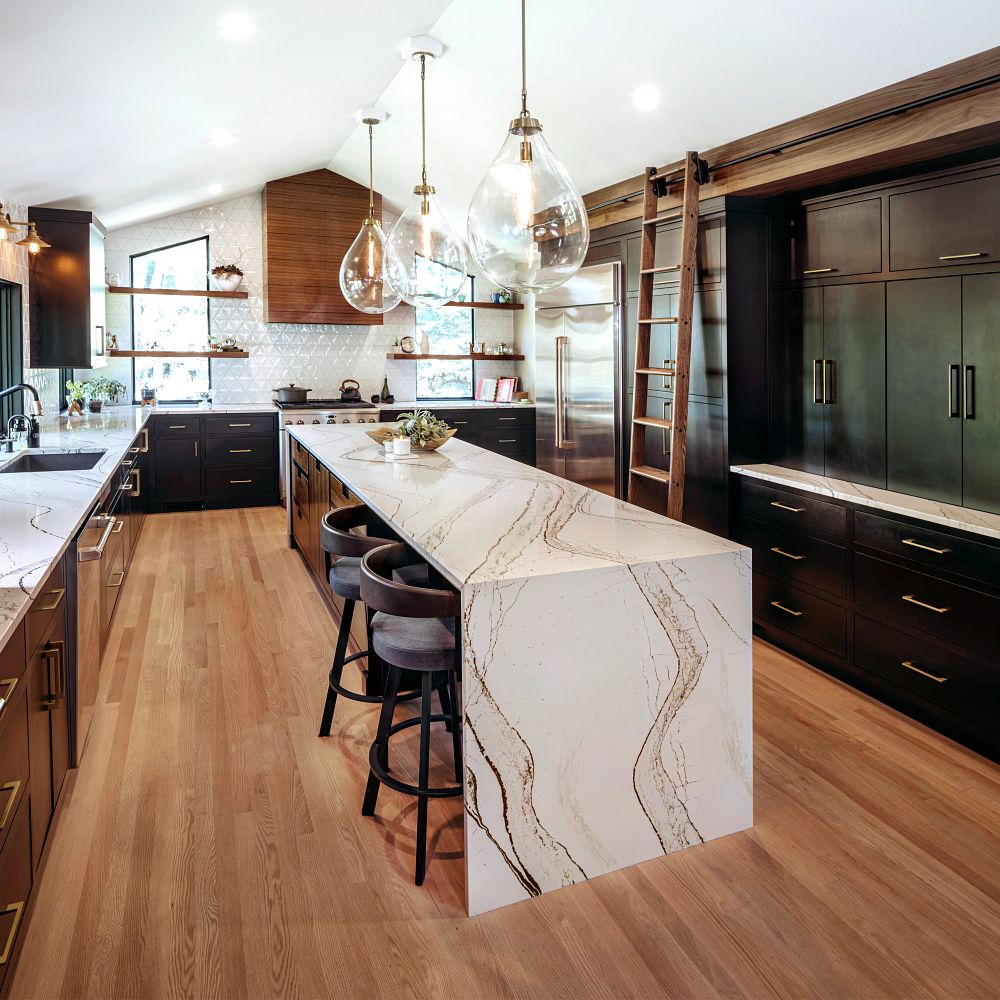 Organized cabinets equal clutter-free countertops like in this kitchen designed by Ashley Dupert of Omorfia Designs. Photography by Sabrina Johnson; Cambria design shown: CLOVELLY™
In a recent Cambria Style feature titled Elevate Your Space, we discuss the importance of establishing organizational systems while devising any building or remodeling plans, and how organizational systems can be customized at the beginning of a project depending on how you plan to use your space(s). But, once you've settled into your home, it's typical to continue the search for new organizational magic to prevent clutter from piling up. Whether you're all in on feng shui, sparking joy with Marie Kondo, or you just need a few mess-clearing solutions, we reached out to professional organizers for some practical home organization tips.
1. Imagine the energy shift
Having a hard time getting started? Try thinking a few steps ahead to envision what a clean, clutter-free room would look like and how it would make you feel. "Living in a disorganized home affects the energy in the room in a negative way," says Tanisha Lyons-Porter, founder of Natural Born Organizers. "Imagine the energy shift once the organization is improved." You'll surely feel better about being able to see and show off your beautiful and clutter-free CAMBRIA COUNTERTOPS.
Lyons-Porter defines organization as the ability to find what you need exactly when you need it, and lists the effects of not being able to find things: increased anxiety and stress, inefficient use of time, and wasteful spending on re-purchased lost items. She adds, "When you are organized, you're simply in a better, less anxious headspace."
2. Pause + strategize
Diving right in without a plan, whether it's remodeling your kitchen, or trying to organize it, is a recipe for disaster, according to Lyons-Porter, who recommends that the first thing you do before touching a label maker is pause and think about how you need your space to work. "This is a step that most people skip and just jump straight into DECORATING and buying products," she says, adding that it's exactly this disconnect between how we need our living spaces to function versus how they actually are. "After functional needs are determined, you can begin accessing your items according to those functions," says Lyons-Porter.
3. Forget perfection
"All of us would like our homes to be places of serenity and peace," says Tânia Lourenco, founder of Homganize. She adds that the current state of a home reflects our current state of mind, and the stress of striving for perfection can take the wind out of your sails before you even start. "We should not turn the need for organization into a quest for perfection," says Lourenco. "Organization should strive to achieve balance and be just enough for you to be able to feel comfortable in your home while simultaneously knowing where each item belongs."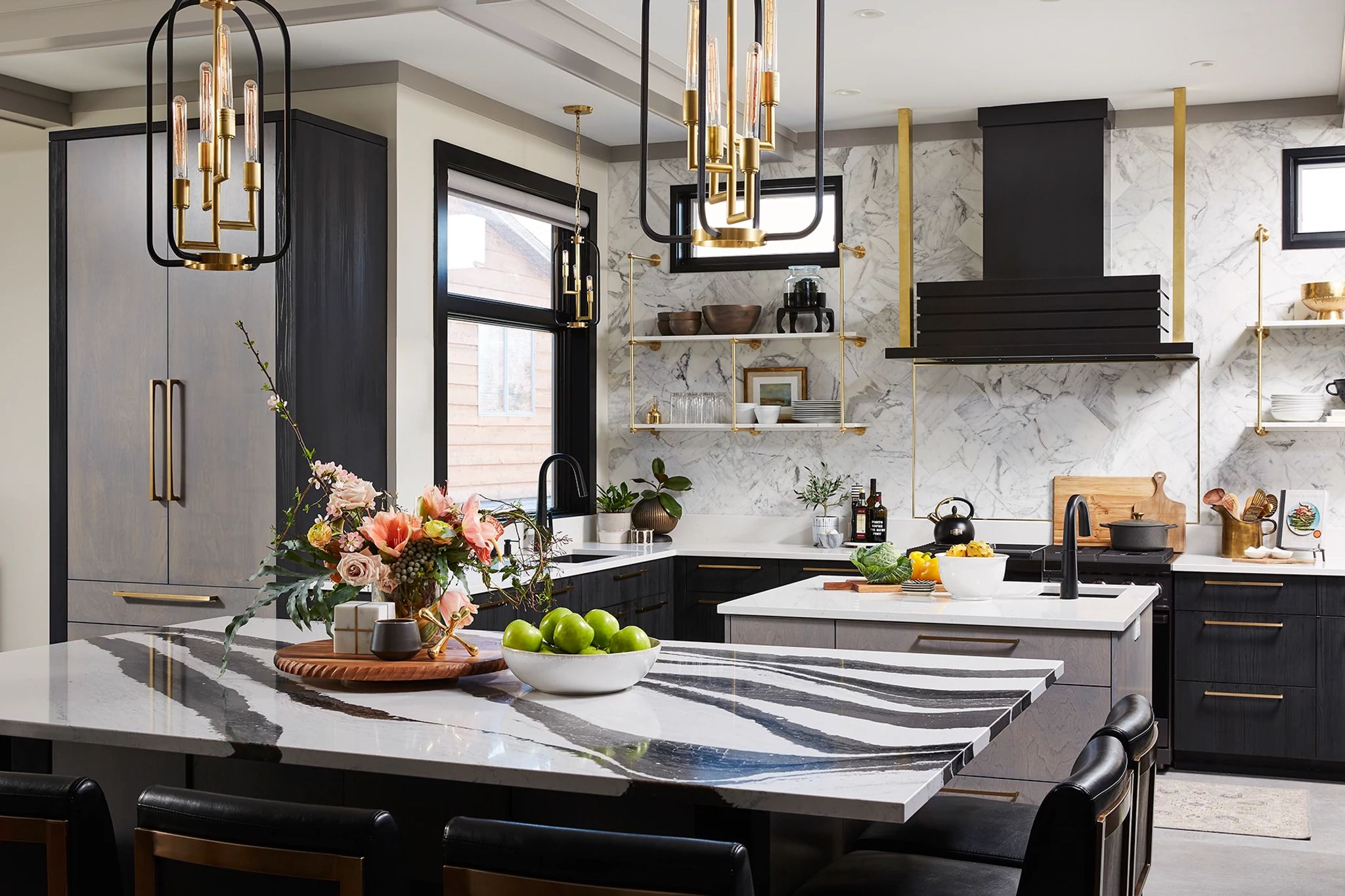 Stay organized by dividing countertop spaces into zones for specific tasks. Cambria design shown: BENTLEY™
4. Turn your kitchen into a collection of "zones"
Kitchens are Lourenco's favorite spaces to transform from chaos to classy. First, she recommends sketching out zones within the space—for example, a prepping zone, cleaning zone, storage zone—that make sense to you, your family, and your routines. "This allows us to have things handy and work smoothly in the kitchen," she says, noting that even smaller spaces can adopt this philosophy. "The secret is to be selective," she says. "You get to enjoy what you have and not be distracted with multiple options."
5. Adopt the right tools
Help your space help you. "[Lazy Susans] for jars, oils, vinegar, and condiments are game-changers, especially in deeper kitchen cabinets," says Lyons-Porter. "Also, place items you use daily and weekly on easy-to-access shelves and place everything else higher." This organization hack also works to maximize the depth and height of bathroom cabinets, too.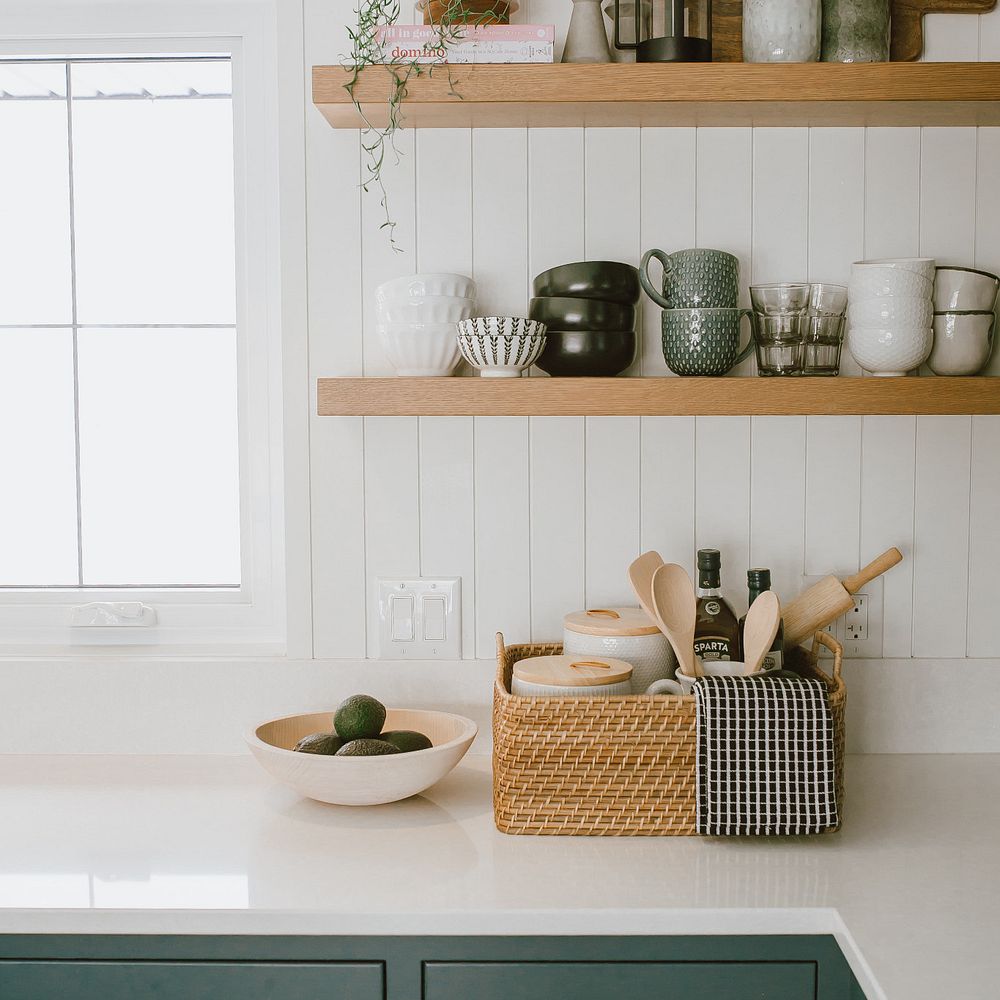 Bins and baskets remain a great way to keep organized while keeping clutter out of sight. Cambria design shown: NEWPORT™
6. Make bins and baskets your BFFs
"A tidying trick is finding bins or baskets to allow for grace on open cabinets by hiding content inside, so all you and your guests see are seamless, chic, and aesthetically pleasing bins," shares Lyons-Porter.