The Straight-Up Guide To Whiskey
Welcome to the Whiskey Renaissance. It's been the pour of legendary writers, fought over in early times, and fueled Mad Men types for decades.
Written by SUSIE EATON HOPPER
Photography by STEVE HENKE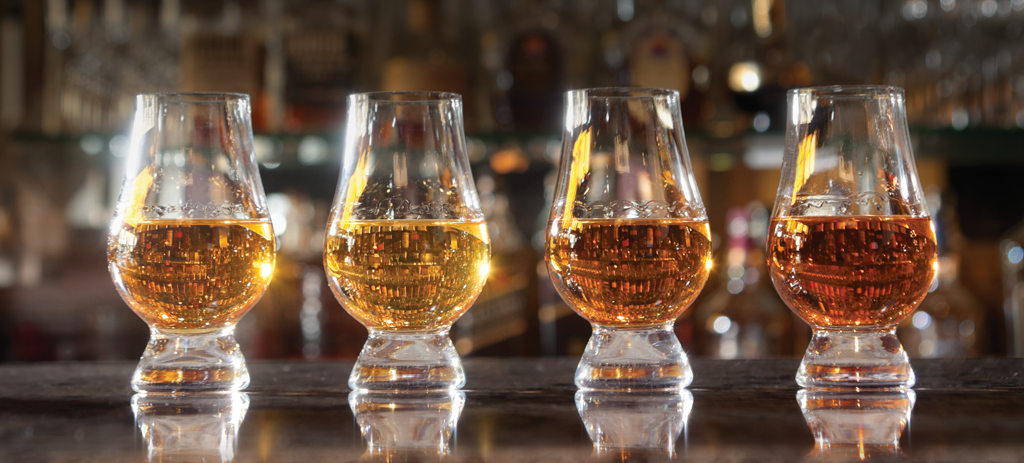 It's been the pour of legendary writers, been fought over in early times, and fueled Mad Men types for decades. Last year, whiskey surpassed vodka in U.S. sales, proving without a doubt that the spirit is now a movement. Call it the comeback of the cocktail culture. Bars, restaurants, liquor companies, and craft artisans have lured newcomers to this big, complex family of brown spirits. From bourbons to ryes, blended to single malt Scotches, Irish to Canadian, whiskey to whisky—drinkers are developing their noses, talking mouthfeel, and arguing body and finish. We've put together the perfect primer to help you know your whiskey, do a tasting, and talk about the spirit like a boss.
Where should we start with whiskey?
Start with an open mind and the confidence to know that there is a whiskey for every palate. American whiskies, for example, tend toward the robust, sweeter, and big aromatic notes, while Scotch is a bit dryer. The idea is to understand your own taste—everyone's is different—and then find a whiskey to suit your unique palate. Modern, curious whiskey drinkers play with different styles, ages, ice, water, and even cocktails. Even after a decade as an expert and a book (Whisk(e)y Distilled: A Populist Guide to the Water of Life) under my belt, I'm still being told how I should drink it, which makes me laugh. Don't pay attention to the whiskey "rules." Have fun!
Is it better to taste at a bar or at home?
Start at a bar with a friend, and order different whiskies from one of the big whiskey producing regions: America, Ireland, Scotland, or Japan. Tasting an American whiskey against a Scotch whisky back-to-back will answer the palate question almost immediately. For at-home tastings, make a list to try, get your friends together, and each buy a bottle. Taste with some appetizers. In my book, I give suggestions for which whiskies to buy for any budget and what food to serve with your home tasting.
Why are women joining the whiskey rush?
Actually, women have been there all along. Some of the greatest distillers in the world were women and have been running whiskey companies, too. Female distillers have grown up around whiskey, which makes it very funny to them that the rest of the U.S. is now "discovering" whiskey. Whiskey consumption in general has grown tremendously in over the past decade, so women are swept into that trend.
Is there a difference in the way men and women experience whiskey?
You cannot generalize when it comes to either sex, other than women are great "nosers" (smellers of whiskey notes) biologically. The difference I see is that many men come in with a set of "whiskey rules," which can be hard to change. Not only myself, but even distilleries are trying to change those old myths, like "Don't you dare add ice to my whiskey!" or "Older is always better!"
Are there specific drinks that feature whiskey that you would recommend?
There are so many! Mint Juleps (not just for the Kentucky Derby anymore), Old Fashioneds, Manhattans, Sazeracs, Whiskey Sours, and Punches of all sorts are my favorites. I have recipes for all of them in my BOOK.
How do you know when your palate is evolving?
What are the tastes, smells, and routines that determine a more advanced whiskey drinker? Your palate is already highly evolved, believe it or not! Women have an incredible nosing ability, which goes back to our mate selection process. It's biological: We're great at it. The tricky part is to start paying attention to that, and to add names to what you smell in a whiskey or wine. Women can really tap into that strength. I host classes and events around the world and am always stunned when a whiskey newbie says "I smell honey, vanilla, and cinnamon." I think, "Yes!"
Know Your Whiskey
Bourbon
Flavor profile: Sweet, woodiness with vanilla notes
Aged: 2–8 years, at least 2 years in new charred oak barrels
Great with: Smoked Ribs
Signature Drinks: Mint Julep, Old Fashioned
Canadian
Flavor profile: Light bodied and versatile
Aged: 4–6 years, at least 4 years in new or used barrels
Great with: Chocolate
Signature Drinks: Seven & Seven, Ginger Whiskey
Irish
Flavor profile: Sweet, toasty, honey
Aged: 3–12 years, at least 3 years in bourbon or wine casks
Great with: Seafood
Signature Drinks: Irish Coffee, McGlashan
Scotch
Flavor profile: Variable, smokiness with layers of fruitiness
Aged: 2–30 years, distilled 2+ times and aged at least 3 years in oak bourbon or wine casks
Great with: Steak
Signature Drinks: Rob Roy, Rusty Nail