Having It All
Emmy-winning actor Bryan Cranston has built a new California dream home that encompasses beautiful design and world-class sustainability. Naturally, Cambria plays a leading role in both
Written by L. MORGENSTERN
Photography by G. HOLZ & S. HENKE
Bryan Cranston is in a good mood as he swivels in a cushy Roche Bobois chair in the living room of his beach house north of Los Angeles.Why wouldn't he be? With every spin, he gets a panoramic view of the glittering Pacific Ocean, blue-green waves curling and breaking forty yards away. A fishing boat bobs offshore. The muted crash of the surf plays in surround-sound and a light breeze wafts through the patio doors. There isn't a cloud in the azure blue sky.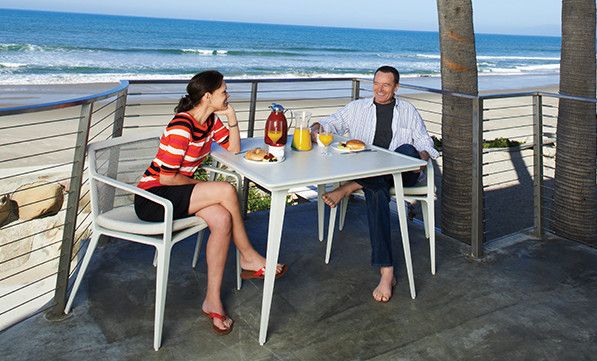 Viewers of the critically-acclaimed AMC show Breaking Bad might not recognize this happy fella as Walter White, the chemistry teacher turned crystal meth kingpin. That stooped guy, with his pinched face, and squinty eyes, bears little resemblance to the trim, relaxed man in the chair. And at the moment, he is a very long way from the rusty RV that served as a makeshift meth lab on the show, which begins to air its final season in August.
His new house was completed in January 2013, a five-year process that took Cranston and project designer John Turturro of Turturro Design Studio through dozens of revisions. It all started simply enough. "I just wanted to build a beach house for my family," explains Cranston who, prior to Breaking Bad, was best known as the lame dad in Malcolm in the Middle, and as Jerry Seinfeld's certifiably insane dentist. But once he bulldozed the '40s-era surf shack off the property (he drove the 'dozer) he started to see the possibilities. "I thought, 'I can't wait to turn this into something quite beautiful and efficient' and then it sort of mushroomed from there."
There is plenty to showcase in his 2,400 square-foot, three-bedroom, four-bath house, named "3 Palms" for the majestic Mexican fan palms on the site. For starters, the structure is now targeted for LEED/Passive Platinum certification, the highest awarded by the U.S. Green Building Council, which requires adherence to the most stringent standards in sustainable site, materials, indoor air, water use and energy. The design avoids the block-like effect common to contemporary design through the use of the three titanium cylinders that now rise from the stucco exterior. They are the first feature a visitor sees, ascending 28 feet into the air, and gleaming in the sun. These towers also create curved walls in the interior stairwell, living and dining areas, softening the space. One of the linchpins of green design is to use only materials that will last, and titanium certainly qualified. "In this idea of sustainable buildings, durability is critical, and that's especially important near the beach, where sand and salt are a factor," says architect John Turturro. "Yes, it's more expensive, but you don't have to paint, repair, or replace. It's a one-time cost." That tenet, along with net-zero energy (the house makes energy to spare) and choice of eco-friendly materials, were the guiding principals.
"We wanted continuity throughout. So virtually wherever we used countertop, It's Cambria. We wanted it to be harmonious." —Bryan Cranston
Sustainable, natural materials take pride of place, Cambria among them. "I said, 'I only want to be involved with companies that have a sense of living responsibly,'" explains Bryan. "We loved the choices and the variety of Cambria, of course, but we also loved that it is manufactured in the U.S. People don't realize the environmental impact and carbon gases used to ship that stone from Europe or Asia. I wanted to use as local venues as possible." Dressed casually in jeans and a blue-striped linen shirt, Bryan pads barefoot to the taupe-gray kitchen counter (Cambria's Devon, from the Desert Collection) and slides his hand over it. "Another thing we like about Cambria is how easy it is to clean," he says. "It's one flat slab, which means no grout lines to stain, and no food particles to clean out with a toothbrush. The fewer chemicals you use to clean, the better." Cambria was used everywhere in the home—as bookshelves, as closet ledges, and in all the baths.
Elsewhere in the house, Bryan again took his cue from nature and chose recycled glass mosaic stones for shower walls, and cut beach pebbles for their floors. In the kitchen, the Wolf induction cooktop only heats when magnetic cookware is placed on it. The amount of heat use is minimal and it cools the second the cookware is removed. The dual-compressor refrigerator operates on the power of a single 100-watt light bulb. Throughout the house, subtle LED strips take the place of fluorescent or incandescent bulbs, using a fraction of the energy and casting a warm glow.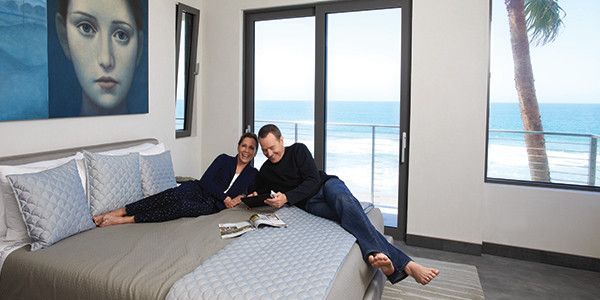 The house also harnesses the passive energy of the lowest technology there is: sun and wind. Its concrete slab floors and natural plaster walls absorb solar heat gain during the day and release it back at night. (The walls are also backed by CertainTeed AirRenew drywall that wicks noxious chemical compounds from the air.) The shape and placement of the super-efficient windows create cross-ventilation in every room, negating the need for any significant air-conditioning. Even the rain doesn't go to waste: 600-gallon tanks beneath the house collect rainwater for outdoor showering, cleaning decks and watering xeriscaped plants.
A soothing palette of warm grays, splashed with orange cushions and stools, renders the main living area at once sophisticated and playful. And personal. Bryan proudly points out a plush corner nook with a killer view, inspired by a similar alcove in his aunt and uncle's house where he played as a kid. "Lie down," he teases a visitor, who obeys at once. "Let me get you a blanket," as he mimes pulling it up. Similar ingenious pocket spaces abound; hidden drawers filled with board games ("all the essentials," quips Bryan); a compact computer station under the stairs. "It's like a ship," says Bryan's wife, Robin Dearden, who tackled the interior decor decisions, "trying to fit everything in." In a media room that doubles as guest quarters, a stainless steel ladder leads to a queen-size loft bed tucked overhead. It comes in handy since the Cranstons' 20-year-old daughter Taylor, is a frequent visitor, often with her college friends in tow. "We can sleep nine in this house in their own beds," Robin says proudly. Upstairs, the master bedroom reflects the sea and sand in a color scheme of celadon, pale taupe, and ivory (all fabrics in the house are natural fibers and blends, selected for their durability). In the master bath, Bryan chose Cambria countertops in sandy Templeton (Desert Collection), as he did for the other upstairs baths. Cambria is also versatile enough to use for entry hall shelves, an upstairs hall cabinet, walk-in bedroom closets, and atop the washer and dryer. "We wanted continuity throughout," he says, "so virtually wherever we used countertop, it's Cambria. We wanted it to be harmonious." In addition, adds architect Turturro, "Cambria is less porous than granite, so it's going to last longer, and not be replaced or end up in a landfill."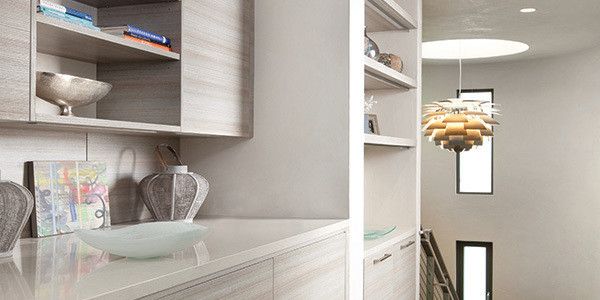 Suddenly, Robin enters and points to the ever-present Pacific, "Dolphin Alert!" Sure enough, four frisky dolphins are playing follow the leader a few hundred feet offshore. "We also see whales on their migration," she says. When they are not watching marine life, the family kayaks, surfs, and swims. The house is, after all, a vacation and weekend retreat; their primary residence is a far more traditional home in a Los Angeles suburb.
There is an irony in all this, however. When Bryan started 3 Palms, Breaking Bad was just beginning, and now, three Emmys and numerous awards later, the house is finished but he is almost too busy to enjoy it. Such are the sacrifices that come with success, although Cranston certainly isn't complaining. "Walter White is the best role I've ever played," he says. Being cast as CIA Chief Jack O'Donnell in the hostage thriller, Argo, was another stroke of good fortune, to put it mildly. When he saw the actors who had signed on for the picture—John Goodman, Alan Arkin and Victor Garber, in addition to director and star Ben Affleck—"I thought, 'the sooner I get in there, the better.'" Good move: the film won the Best Picture Oscar in 2013.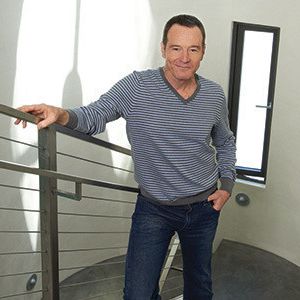 In the wake of his current success, Cranston now has his choice of acting projects, but he has no intention of repeating himself. He just completed shooting a big-budget remake of Godzilla in Vancouver, playing a father and engineer who is wise to a scientific anomaly that indicates…well, let's just say it's due out in May 2014. And later this summer, he turns presidential and heads to Boston to appear in the American Repertory Company's production of All The Way, by Pulitzer Prize-winner Robert Schenkkan. He'll portray Lyndon Baines Johnson, from his traumatic ascension to the presidency after JFK's assassination, to his landslide re-election in 1964. "I like the departure and I wanted to be open to whatever resonates with me," Bryan explains.
Clearly, the philosophy of living sustainably—and well—is resonating too, proof positive that eco-friendliness and aesthetics are perfectly compatible. At 57, Cranston is more philosophical now. "Our priorities have adjusted," he says. "As I get older, I want fewer things in my life, and more experiences. By having this place, we create the opportunity to have those experiences." Given the way he built his home, and the materials he used, 3 Palms could stand for 100 years. That's kind of the plan, says Bryan. "I have no intention of replacing virtually anything here," he says, spreading his arms wide. "This is it."