Great Getaway
Inside Michelle Boudreau's glamorous Palm Springs vacation home
Written by GEORGINA MCWHIRTER
Photography by JASMIN PARK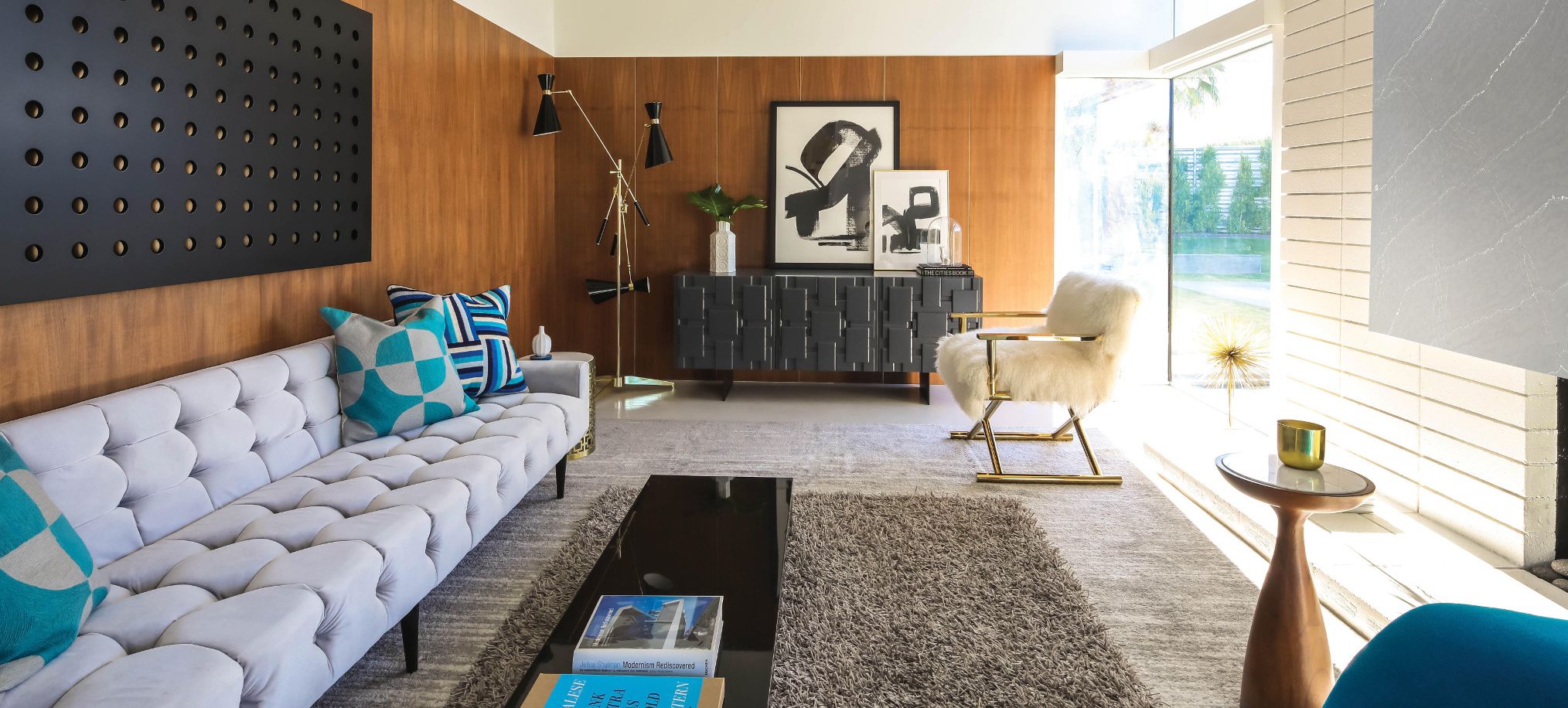 LIVING ROOM
Shag carpeting nods to the '70s in the living room of Michelle Boudreau's mid-century vacation pad in Palm Springs, California.
"I always make a playlist before I start a project," says interior designer Michelle Boudreau. "Choosing songs helps get me in the spirit of the design." For the renovation of her and her husband's weekend home in Palm Springs, California, that meant Rat Pack jazz and '70s surf rock. The melodies conjure up the golden-age heyday of the vacation mecca, when the desert city was the playground of Hollywood's rich and famous and poolside cocktail parties were all the rage.
The project began when Californian Boudreau and her British husband returned to Los Angeles after a decade living in London. "The first thing I wanted was to buy a mid-century home I could reinterpret as my own," Boudreau says. Palm Springs had long been a special city to her. "My grandmother took me there when I was young," she explains. "I just adored the glamour of it all; the cocktails, the parties, the flowing caftans and fabulous jewelry. It's magical!"
"I always make a playlist before I start a project. Choosing songs helps me get in the spirit of the design."—Michelle Boudreau
It was also where she fell in love with mid-century architecture, touring the city's myriad superb examples. (She cites Arthur Elrod's legendary party pad in the James Bond flick Diamonds Are Forever as top of the list.) When Boudreau found one of her favorite design typologies on the market, a classic mid-century William Krisel butterfly-roof home, she jumped at the chance to purchase it. As her husband is an architect by trade, the pair embarked on modernizing their vacation home together.
Their aim was to respect Krisel's vision but add personal details and contemporary flair. Aside from a lick of paint and a few other minor cosmetic changes, the house hadn't been touched in 50 years. The couple determined to keep the original floor plan but added on a master suite wrapped in an L shape around the pool. "It's our little escape at the end of the house," Boudreau says with a laugh.
Moving their master suite freed up space in the main house for spacious guest quarters—a must for these avid entertainers. In each guest bedroom Boudreau pays homage to an aspect of Palm Springs culture. There's the Pool room, defined by an aqua the color of the swimming pools in Slim Aarons' photographs of Palm Springs soirées. Then there's the Palm room, featuring palm leaves on the wallpaper, plus on the real-life trees—seen through clerestory windows—the couple had trucked in to grace the yard.
Structurally, the pair added glass sliders and windows to take advantage of views out to their newly designed pool and yard, which, with the help of a few desert-planting tomes, was transformed from barren rock to a lush oasis. As Krisel's mid-century bungalows tend to be small, around 1,200 square feet, the addition of all that glazing makes the home feel more spacious than it actually is.
For both interior and exterior, Boudreau selected a cool-neutral palette consisting of a soft mid-gray paint often used in 1960s homes and white, which shows up vibrantly under the bright Southern California sun, making it the perfect canvas on which to catch architectural shadows. In the courtyard, for instance, the couple removed the existing roof and added shade battens ("hubby's idea!" Boudreau credits), which cast syncopated shadows on the white-concrete ground. For furnishings, however, they didn't shy away from the occasional saturated hue; note the cerulean blue of a vintage Knoll Womb chair. ("Mid-century homeowners weren't afraid of color," Boudreau says by way of explanation.) "Being an interior designer is like having a blank 3-D canvas," she continues with passion. "You can shape the look and feel of an environment." Her modus operandi is to mix luxury materials, like the stone, tile, brass, and walnut popular in the '50s, '60s, and '70s, with contemporary abstract art and the clean, light elements of today's voguish designs.
"What I love about Cambria is its beautiful patterning and utmost durability. There's no worry about having to seal it or maintain it. It just works as is."—Michelle Boudreau
For stone, one of her central loves, she chose four Cambria quartz designs, including Clareanne from the Marble Collection™, a gray surface organically streaked with threads of white, and pale Whitehall, with minute flecks of gray. In addition to using Cambria on countertops, she fabricated a fireplace that makes an architectural feature of the quartz material, inspired by the way designers in the 1970s began to use stone more creatively. "What I love about Cambria is its beautiful patterning and utmost durability," she says. "It's impermeable. There's no worry about having to seal it or maintain it. It just works as is."
Brass is another material that crops up throughout, as "a pinch of Palm Springs sunshine." See the living room's Puzzle chandelier by designer-retailer Jonathan Adler—a name synonymous with retro-glam style. See too the Cedar & Moss globe pendants, offset and in different sizes, which soften the square angles of the kitchen. "Lighting is jewelry for the home," Boudreau says. "I'm obsessed."
Walnut, a typically mid-century wood, is much adored by the designer. She created paneling of the wood inset with thin brass strips at precise, regular intervals to snake through select rooms. "It was a story in itself to get that made!" she remarks with a laugh. "We were emphatic about every detail so we had to ensure the grain in every panel matched perfectly."
But back to that playlist. Alongside the aforementioned golden oldies, noughties electronica also made the cut. "We didn't want the house to be stuck in the past," Boudreau says. Take the sound system and other smart technology hidden in the walls; when the couple are away, everything is on remote control. Nothing old-fashioned about that. "It's all about mixing old with new," Boudreau says. "The challenge," she acknowledges, "is balancing the two appropriately."
Interestingly, the couple's Palm Springs home is entirely different from their Los Angeles house, which trends minimalist and European with "loads of natural textures and black." Boudreau's aim for every project is to infuse each dwelling with its own personality. And this house sure has character. Every weekend the couple can be found luxuriating by the pool in their mid-century home, martinis in hand, tunes blasting…perhaps the same Palm Springs playlist that started it all. Cin cin!