Design Spotlight: Ironsbridge Quartz Countertops For Your Home Interior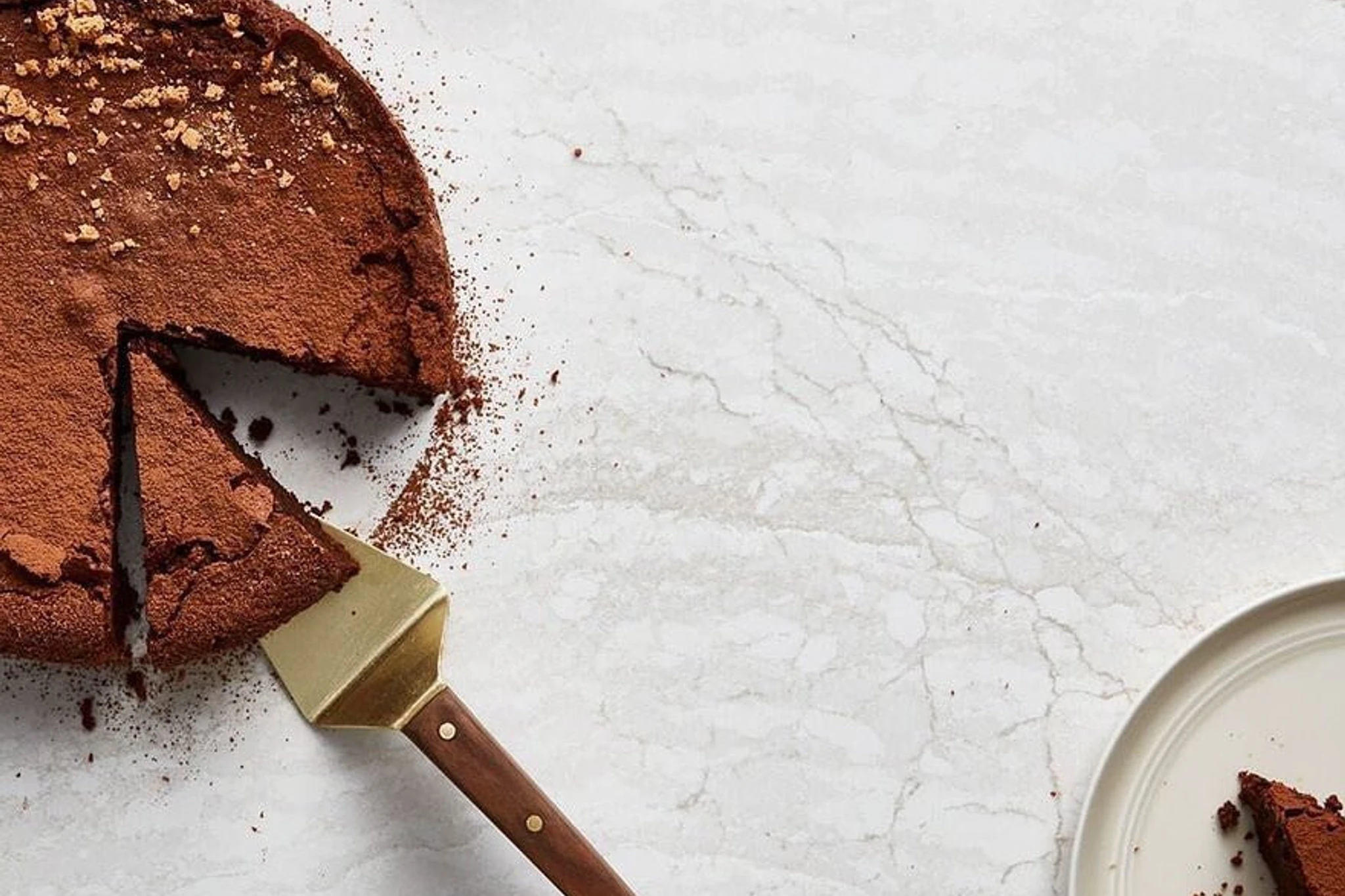 Interested in IRONSBRIDGE™? This sought-after Cambria design combines both raw strength and delicate elegance by harmoniously blending warm honey accents with cool gray, white, and cream patchwork. The tone-on-tone veining works seamlessly within any interior décor scheme or aesthetic, offering unparalleled versatility.
About Ironsbridge Quartz Countertops
Often used as a marble alternative, Ironsbridge provides the best of both worlds with a design that is just as gorgeous as it is easy to love—and care for. While pretty, marble requires regular maintenance and is easily damaged. Comparatively, Cambria's MARBLE ALTERNATIVES provide an elegant solution with durable, food-safe, and maintenance-free surfaces.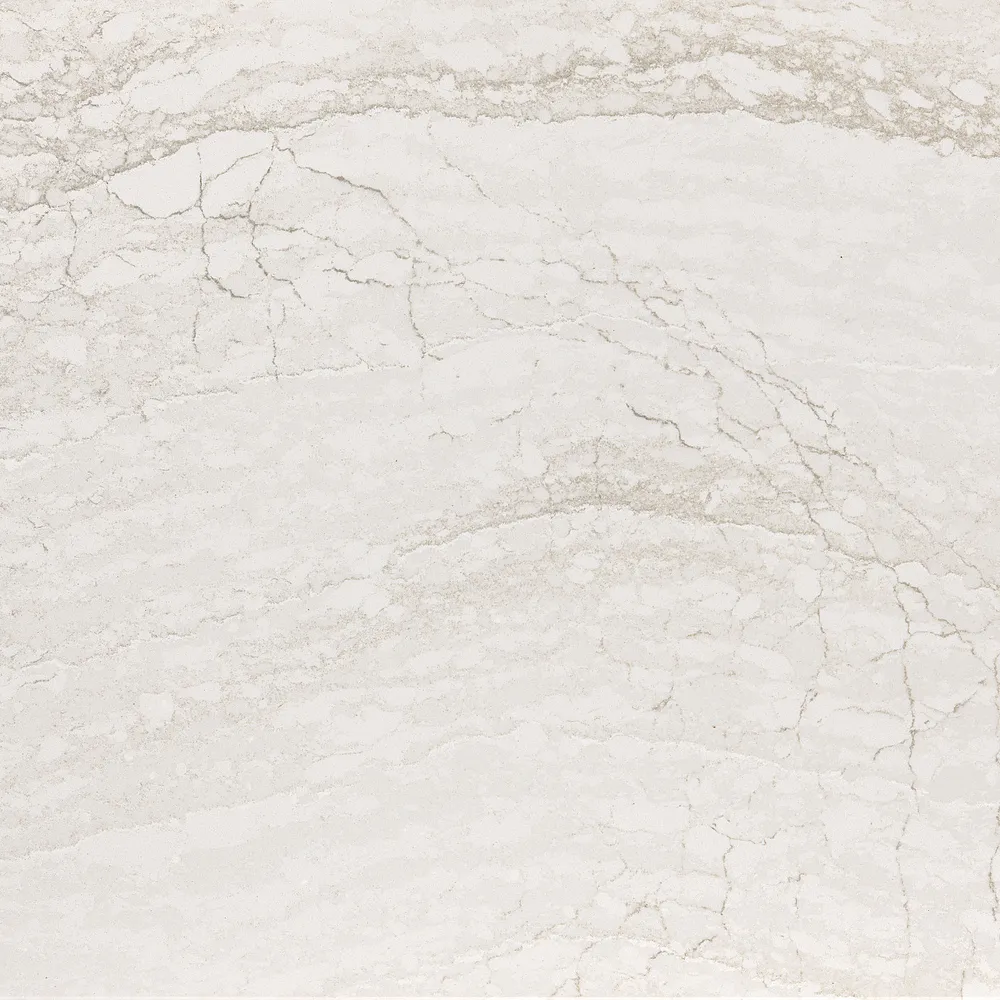 Ironsbridge mimics the look of marble with added durability.
That said, we love seeing Ironsbridge in standout kitchen designs, like the four inspiring interiors we have curated here from Kyla Herbes, Dorothy Tsui, JoJo Fletcher, and Julia Wong. The installations prove why Ironsbridge is every designer's best kept secret to a home as stunning as it is functional.
A Bold Ironsbridge Kitchen Design by House of Hipsters
When House of Hipsters blogger Kyla Herbes and her family moved into their home in the Chicago suburbs four years ago, she and her husband knew they'd eventually update the kitchen.
"I always said if we end up renovating, I'm going with Cambria," said Herbes. "I love the way they run their business, and they are the nicest people on the planet. Then, around this time last year, I started to want to expand my blog a little bit and go into sharing recipes, but I could not do that in an ugly kitchen. It was time."
She ultimately featured two Cambria designs with movement—CLAIRIDGE™ and Ironsbridge—in the remodel. Clairidge's graceful striations of tan, walnut-brown, cream, black, and gray flow in parallel layers with dark veins that cut across the grain on the space's waterfall island with a wood inlay—made to mimic the look and feel of brass—while the blend of liquid honey accents beautifully merge the warm and cool tones in Ironsbridge, which sits pretty on the perimeter countertops.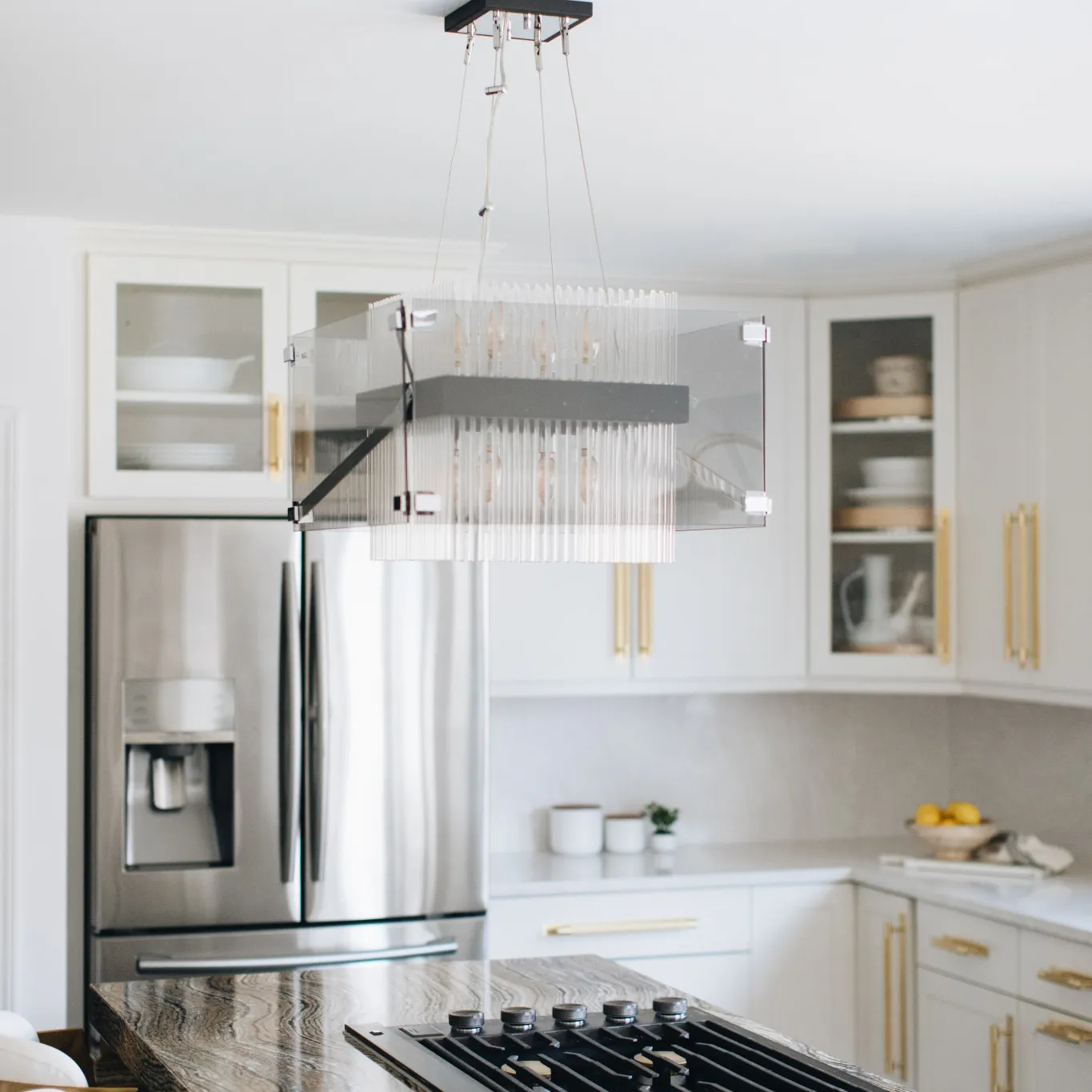 Clairidge and Ironsbridge pair perfectly in Kyla Herbes' kitchen.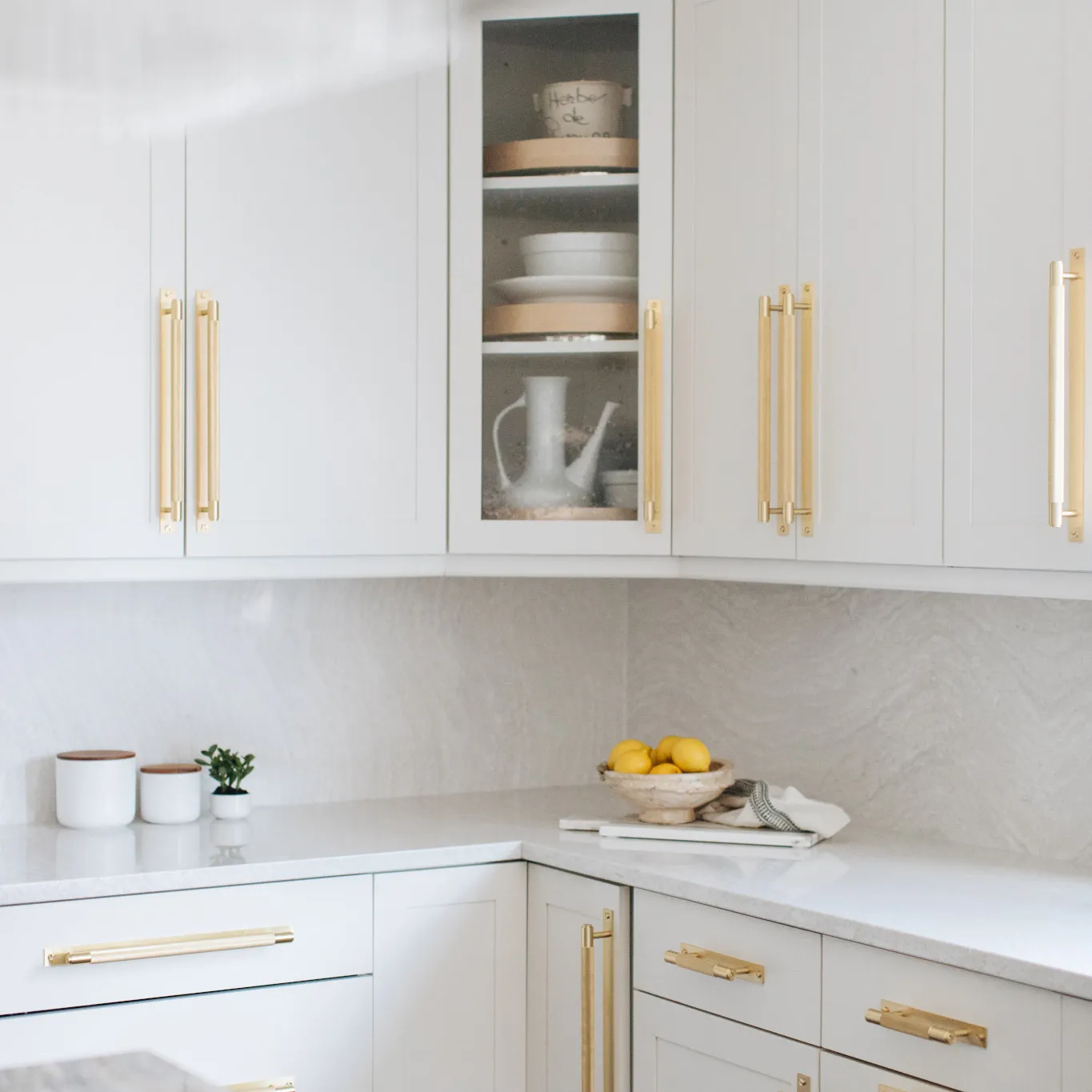 "We spend much more time in the space because it's so pretty but still comfortable," said Herbes. "We listen to music and cook family dinners, especially now. I can't wait to entertain and not be embarrassed about the old granite. I'm sure it was beautiful in the '80s, but I'm glad the kitchen is not black and glittery anymore. We want to show it off. We are really proud of it."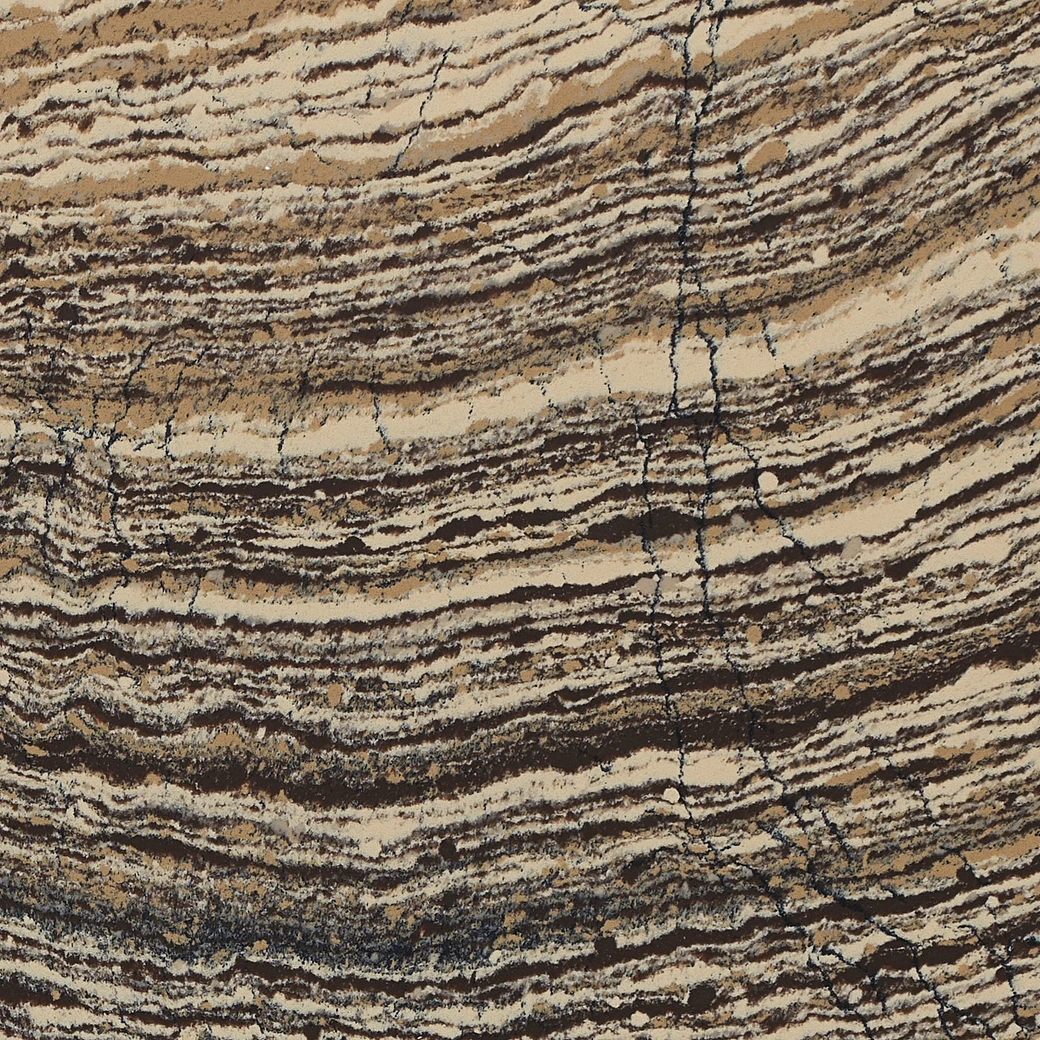 Cambria Clairidge design detail.
A Contemporary High-Contrast Kitchen by Dorothy Tsui
We love when kitchens break the mold with unique island shapes, and this contemporary high-contrast space by BOBECHE INTERIORS designer Dorothy Tsui does so in stunning style.
A standout prep island atop dark cabinetry by JH Kitchen Cabinets pairs with an expansive waterfall-edge kitchen island table with seating for six. The perpendicular orientation of the two-tier connected islands creates an intriguing contrast to the movement of Cambria SKARA BRAE™.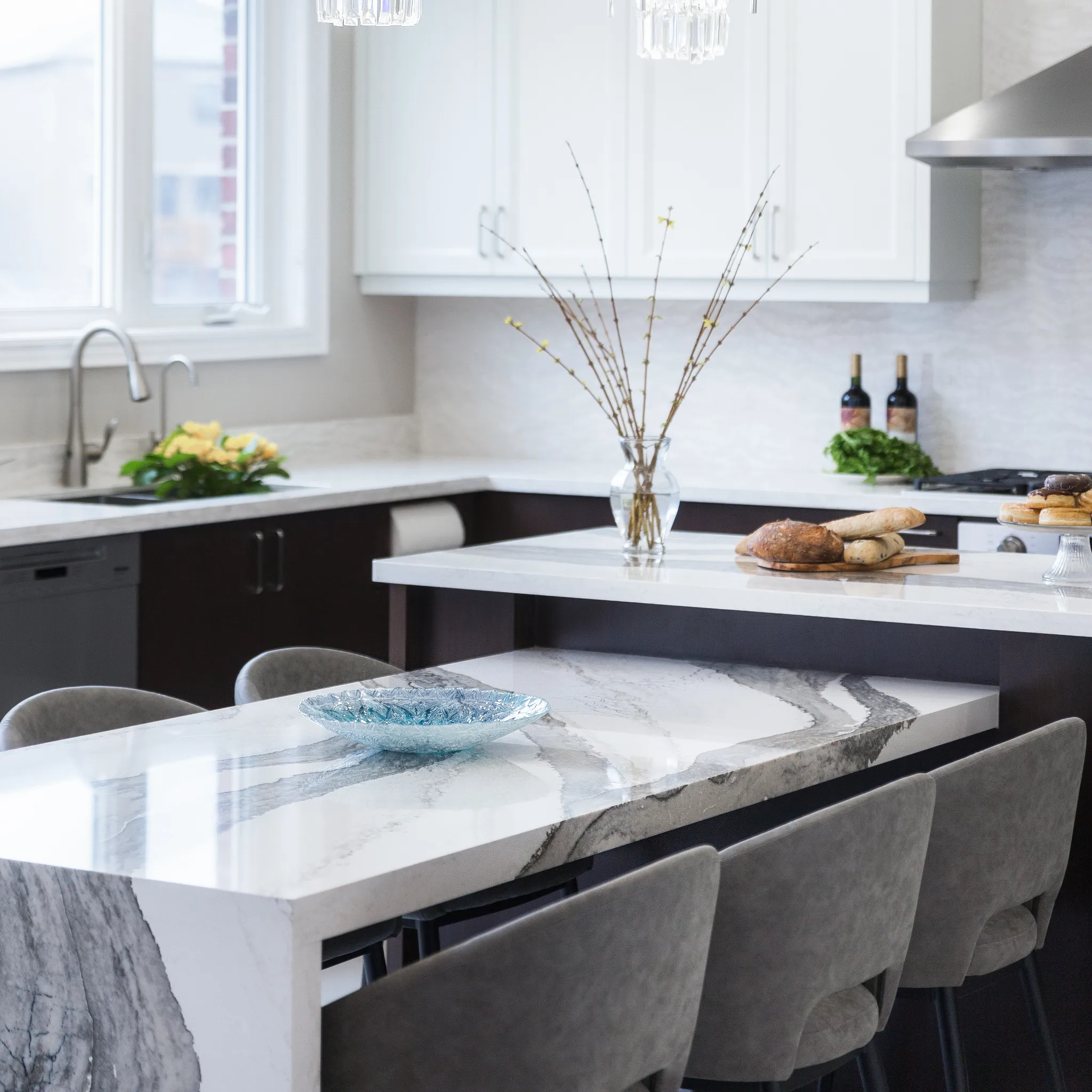 An Ironsbridge backsplash lets a two-tier Skara Brae island shine.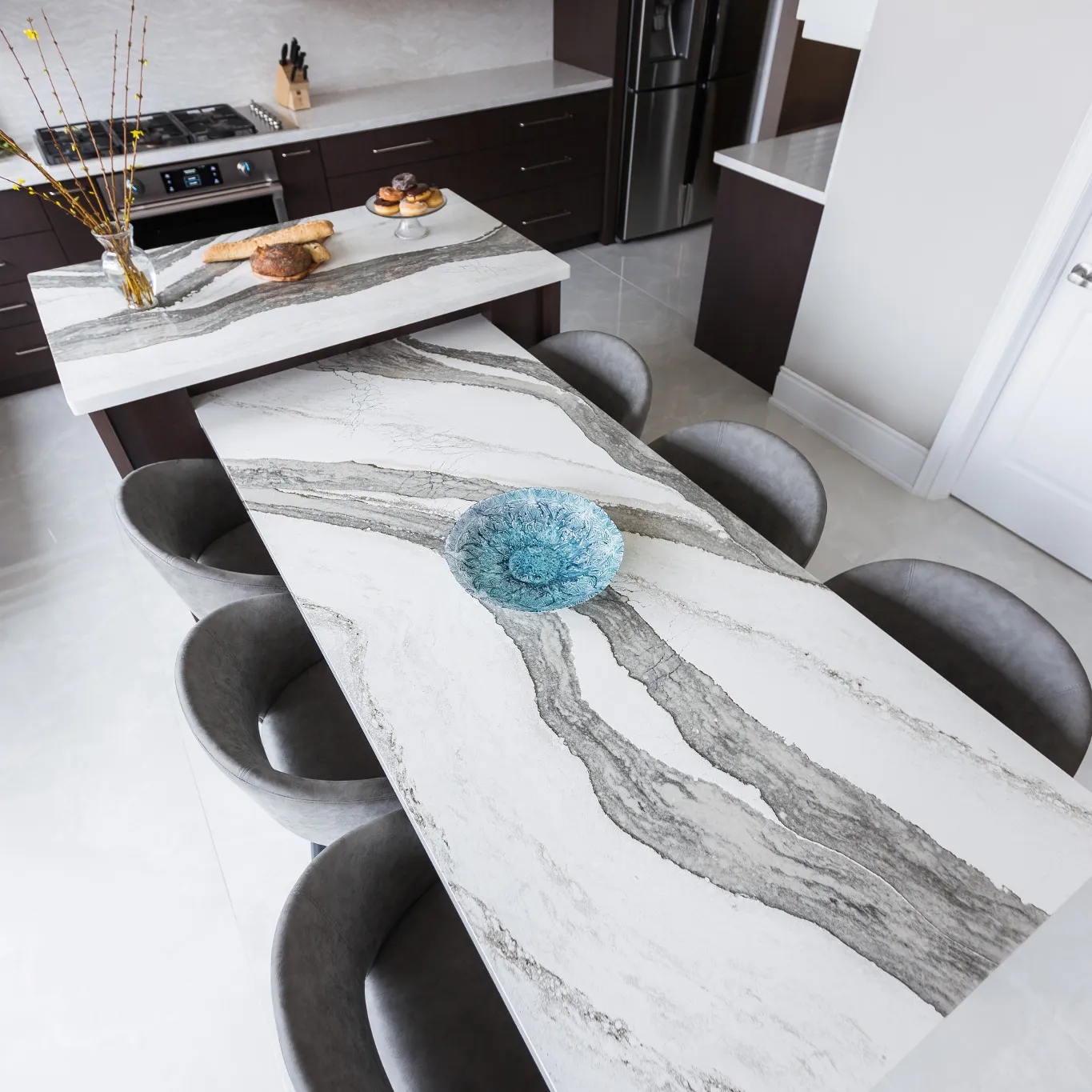 A Cambria Ironsbridge backsplash and perimeter lends an airy effect and allows Skara Brae to take center stage, even against the mix of dark and light cabinetry. Check out five ways a quartz backsplash can make a space HERE.
A Modern Farmhouse Kitchen by JoJo Fletcher
Before starring—and finding love—on ABC's The Bachelorette, Dallas, Texas, native JOJO FLETCHER made a career remodeling and flipping homes. When the time finally came to renovate her own home with fiancé Jordan Rodgers, JoJo relied on her design background.
Much like JoJo's own personal style, the FINISHED SPACE is the perfect blend of rustic and modern. In the showstopping kitchen, she added Cambria's Ironsbridge design to the perimeter countertops and on the waterfall island. The look plays nicely with the gold accents and natural materials in the space, and Ironsbridge introduces a dose of warmth and dimension to the room.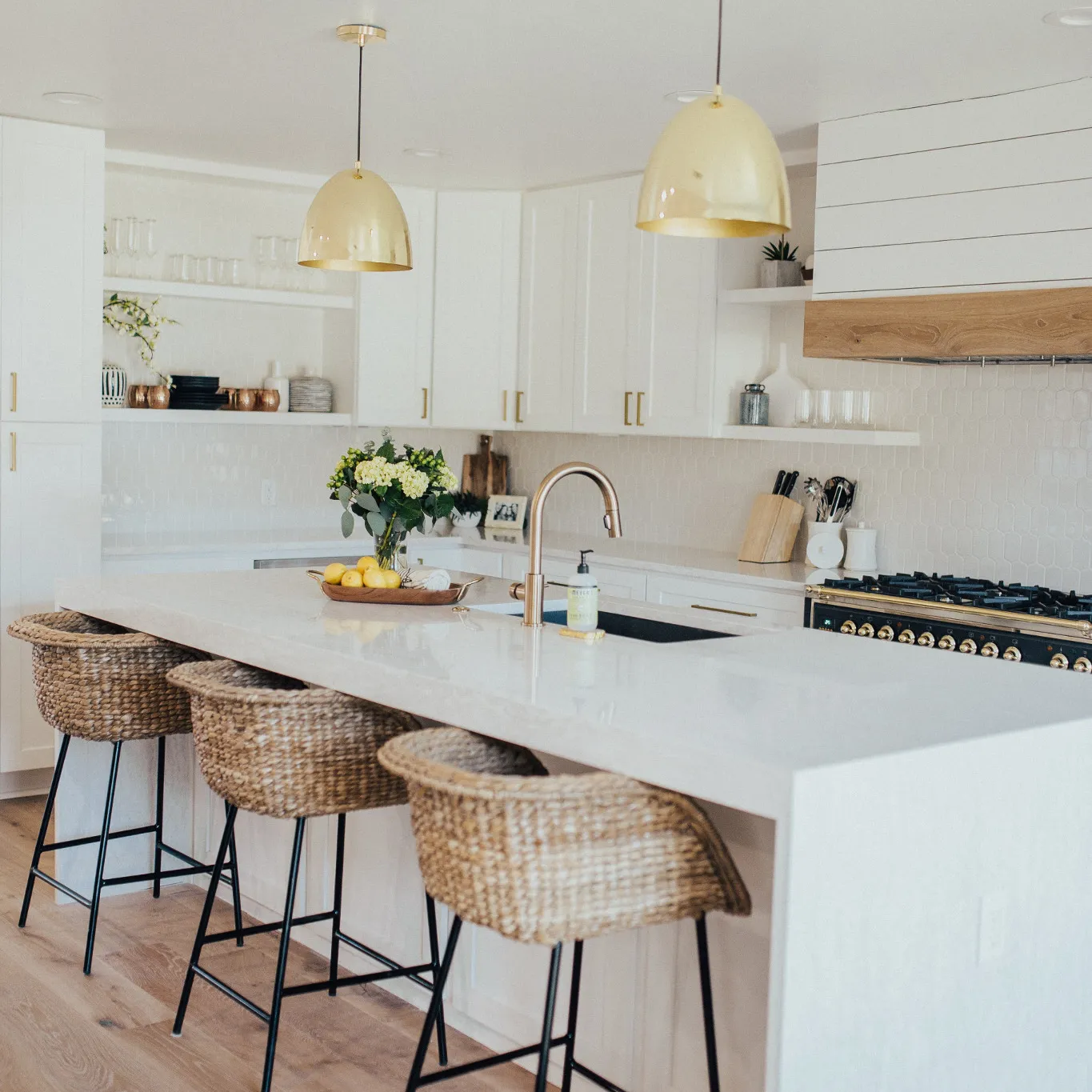 JoJo spotlights Ironsbridge in her beautiful kitchen.
"I think the most important room in a home is the kitchen," said JoJo in an interview with Architectural Digest. "It's where you entertain the most, and people see it the most. I would say, start in the kitchen or start in your favorite room—wherever you're spending the most time."
A Minimalistic Kitchen Design by Julia Wong
For the design of her Calabasas, California, home, LA-based interior designer JULIA WONG turned to Cambria.
Long recognized for her sophisticated and luxurious residential, hospitality, and retail interior designs, which have earned her an international reputation for beauty combined with functionality through tech integration, Julia referenced history, architecture, and fashion in her own minimalistic and monochromatic kitchen.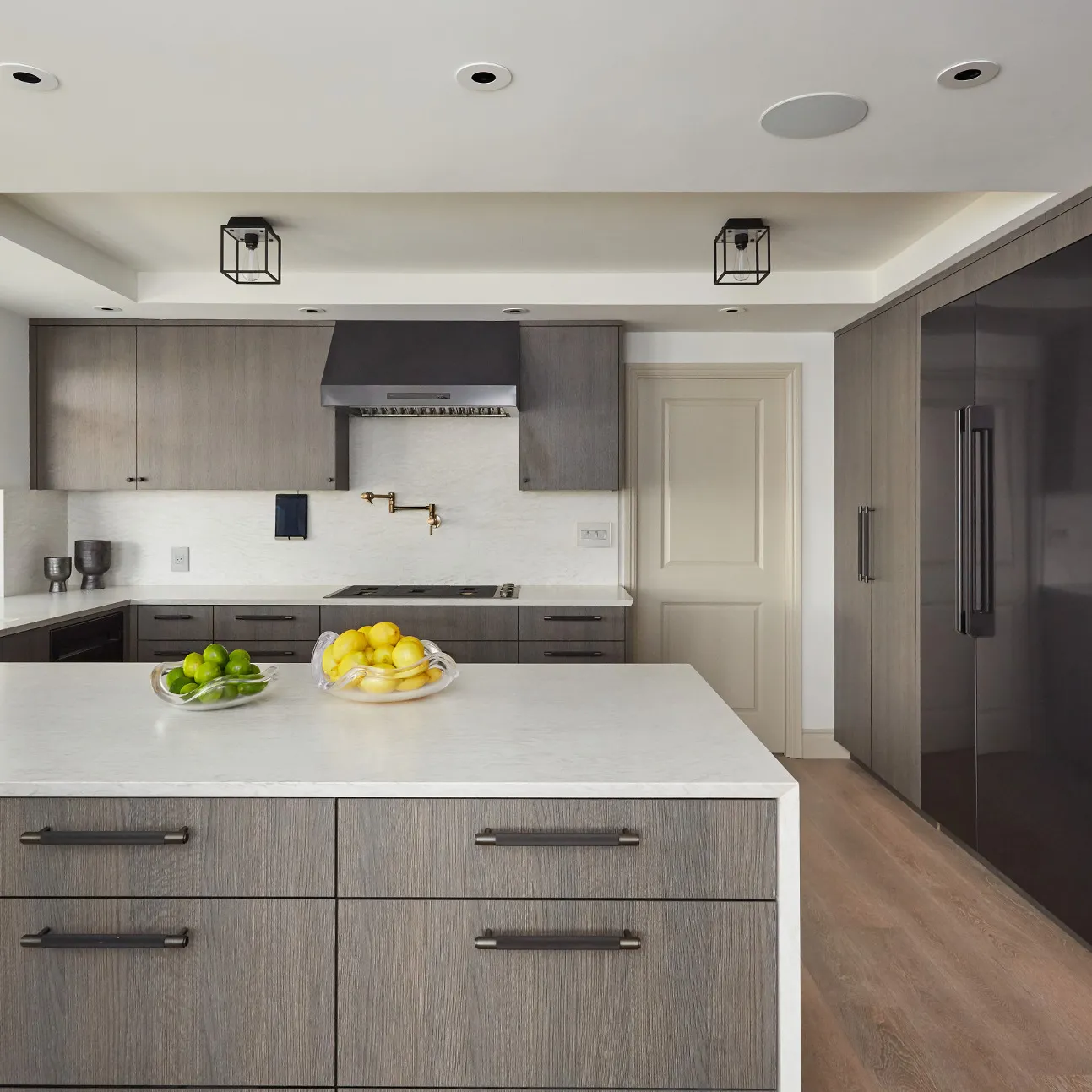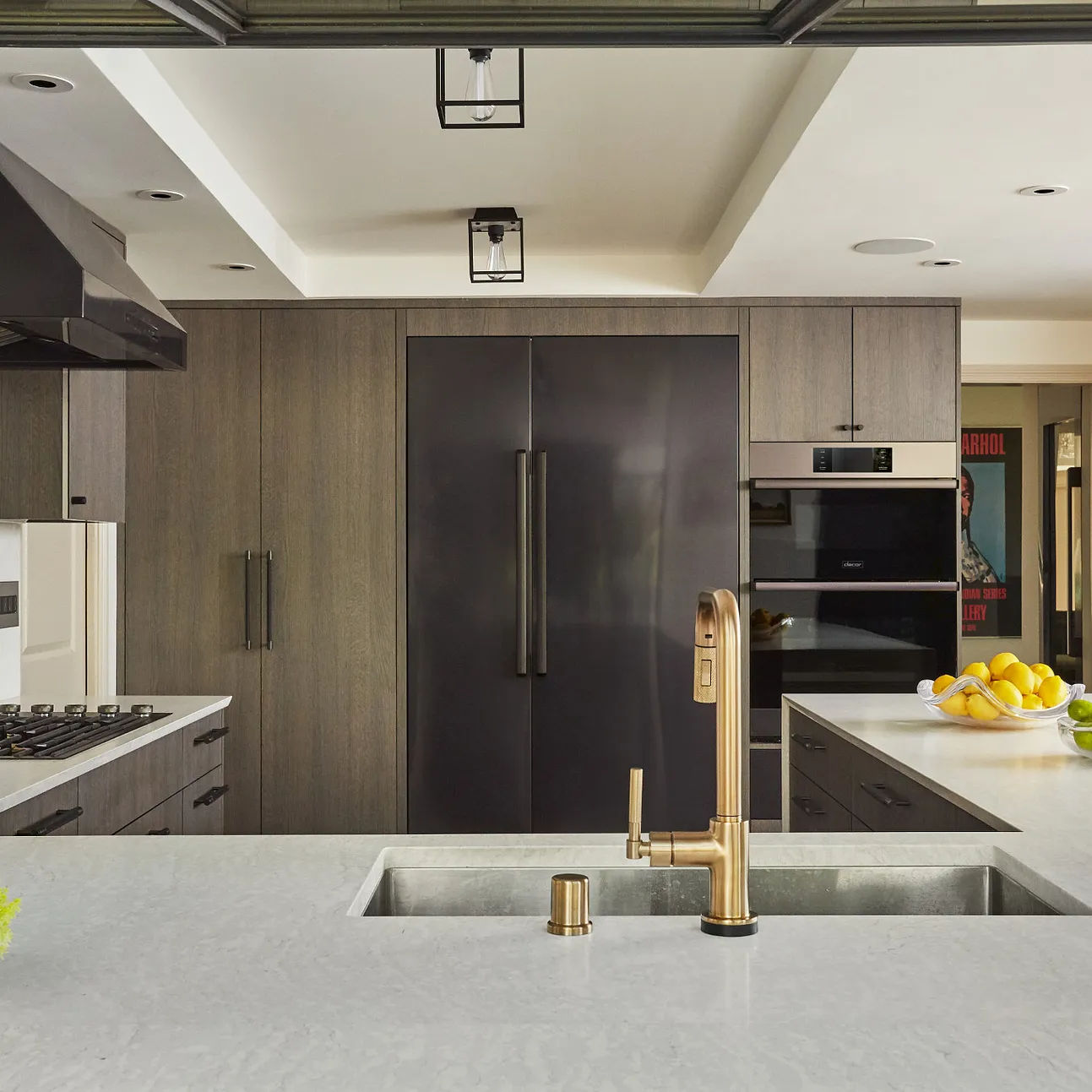 The Cambria Ironsbridge Matte countertops and backsplash pair seamlessly with flat panel gray-brown cabinets and matte black hardware for a low-sheen, crisp, and clean space. The design cultivates an organic, durable aesthetic, drawing in and connecting all of the elements in the space.
Get Your Ironsbridge Quartz Countertops Today
Follow Cambria on SOCIAL MEDIA with #MyCambria for more standout designs.
For more information on Cambria, including performance data, product specifications, and certifications, see our PROFESSIONAL RESOURCES.
Interested in creating a showstopping design project with Cambria? ORDER A SAMPLE, FIND A DEALER, schedule a CONSULTATION with a Cambria expert, or call 1-866-CAMBRIA (1-866-226-2742) to be connected with a market representative in your region.