Design Spotlight: Seven Beautiful Cambria Bentley Spaces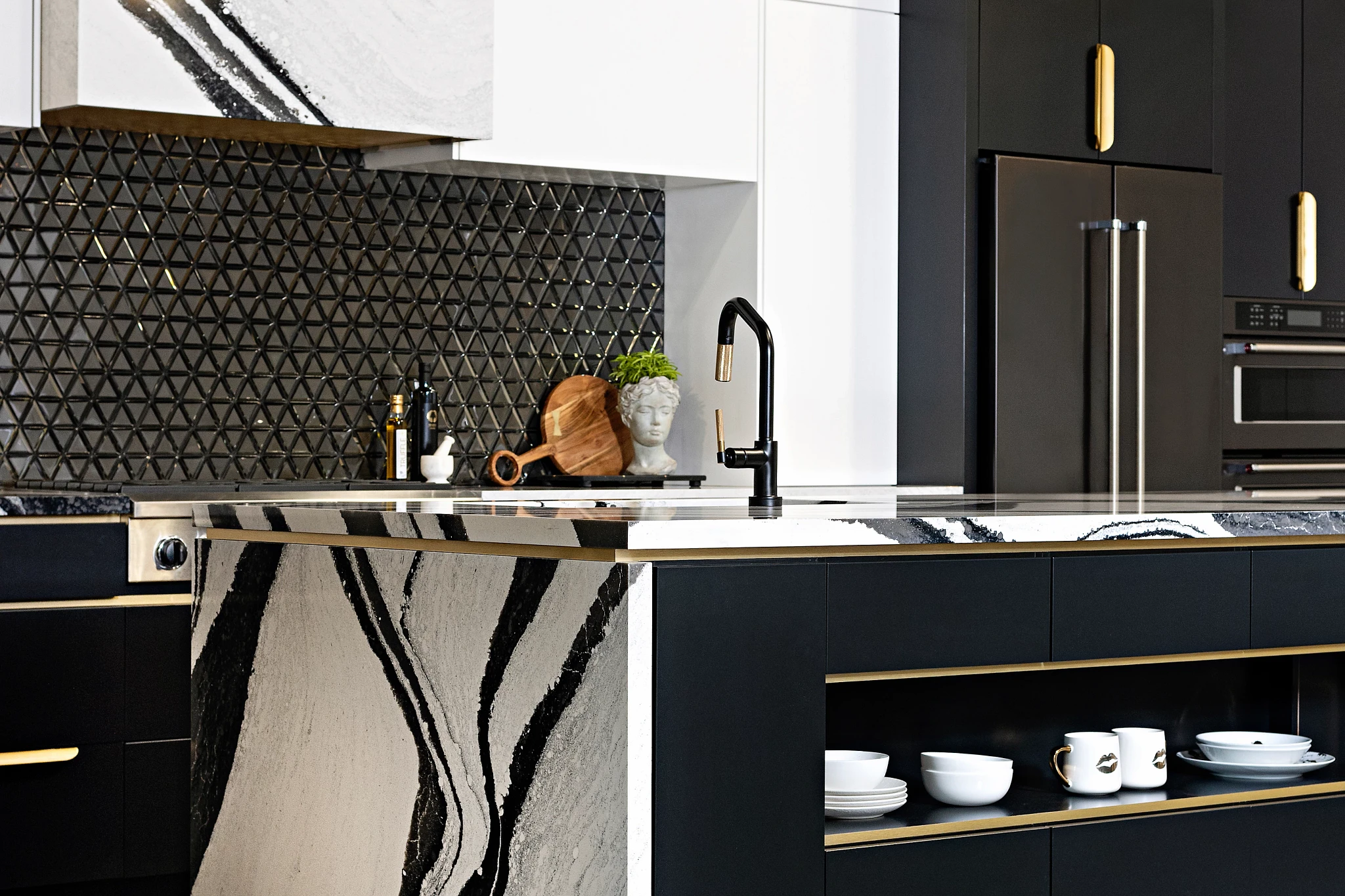 Have your sights set on BENTLEY™? This beautiful Cambria design features a white background intersected with bold, translucent black and charcoal veins along with muted light gray spatters throughout.
Cambria designs with movement and veining add interest and character to a décor scheme. Both bold and versatile, the iconic black and white Bentley design fits seamlessly into any interior design aesthetic and combines design and durability—Cambria quartz surfaces are nonabsorbent, scratch and stain resistant, and maintenance free—for a lifetime of beauty.
Here, we have curated seven beautiful Bentley spaces—from glam and elegant kitchens to offices and master bathrooms—that prove why Bentley is the industry's secret to a home as beautiful as it is functional.
Glam Kitchen by Soda Pop Design
In this kitchen by SODA POP DESIGN, a Bentley waterfall island with a gold inlay, brass and gold hardware details, black cabinetry, and a high-gloss, textured backsplash make for a bold and glamorous design.
Designers often use Cambria for unique applications separate from countertops and, in this case, the team also installed a custom vent hood with the Bentley design to match the space's countertops and island.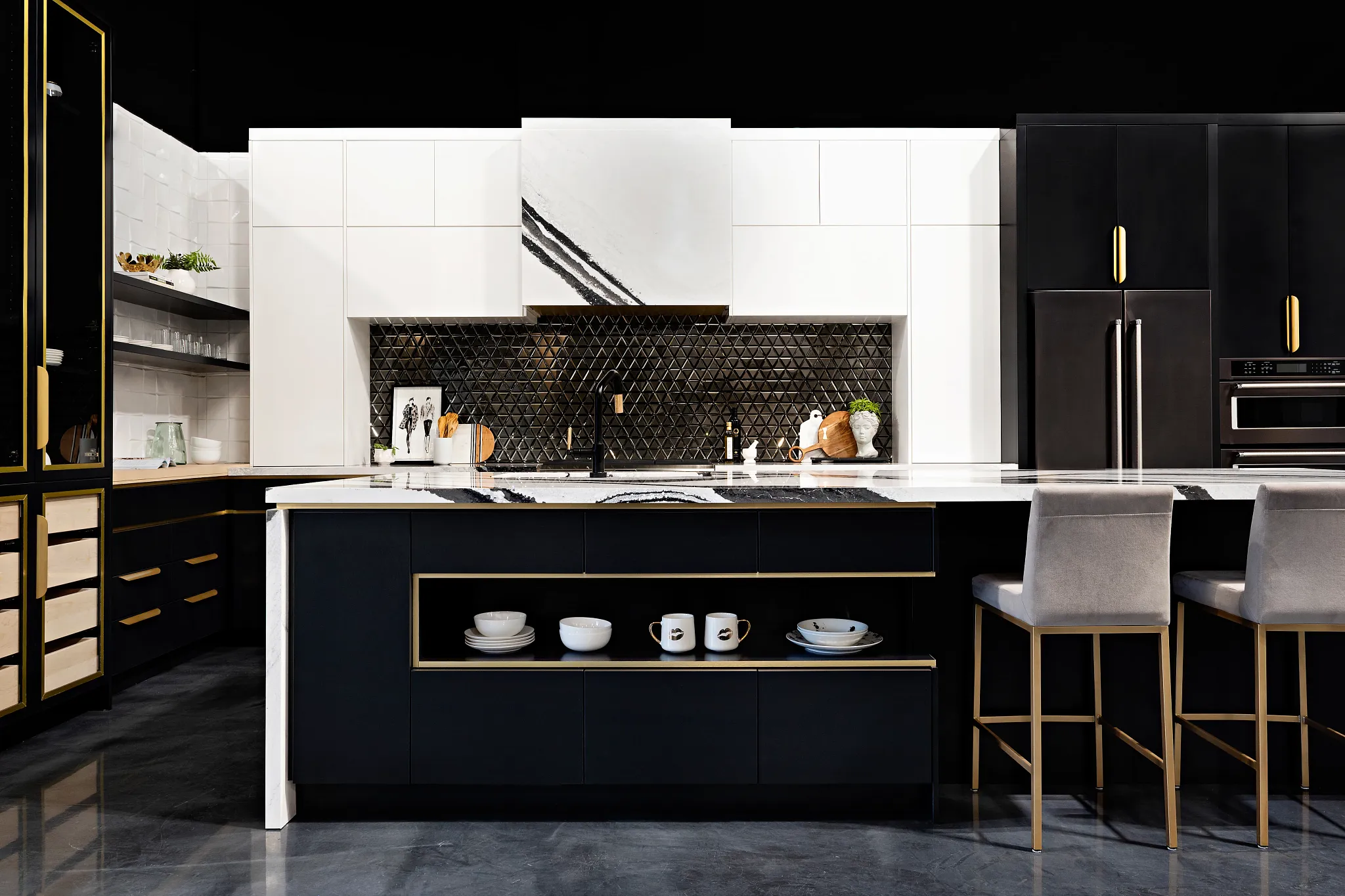 A glamorous kitchen design by Soda Pop Design featuring Bentley countertops and vent hood.
It all comes together for a chic and sophisticated result. Find more Bentley waterfall inspiration from BRIA HAMMEL INTERIORS and SUSTAINABLE 9.
Classically Elegant Kitchen by French & French Interiors
Known for their eclectically high-end designs that marry modern pieces with international flourishes, the husband and wife duo behind interior design firm FRENCH & FRENCH INTERIORS based in Santa Fe, New Mexico, created a classically elegant kitchen with the Cambria Bentley design.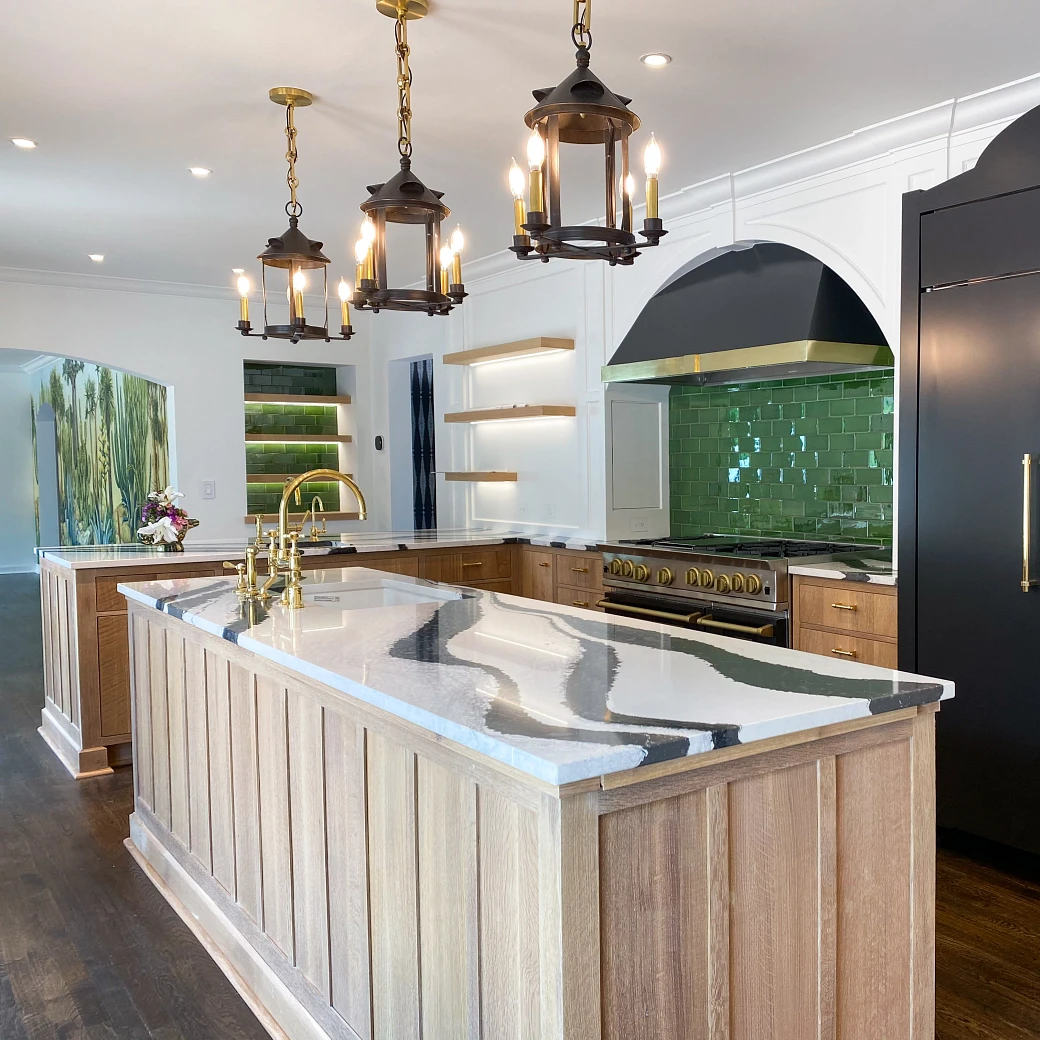 We love the scale and details considered in this kitchen design by French & French Interiors.
Throughout the space, the team relied on a standout Bentley countertop to contrast against the island's natural wood base with vertical architectural lines, to play with the oversized refrigerator paneled in matte black, and to highlight a shiny green tiled backsplash above the stove.
Bentley adds dimension without taking away from the kitchen's myriad bold details.
Bold Kitchen by Jeweled Interiors
In a kitchen design by decorator JEWEL MARLOWE for her family home, a standout waterfall island in Cambria's Bentley design, fabricated by Granite and Marble Express, features exciting movement and veining in a black-and-white pattern.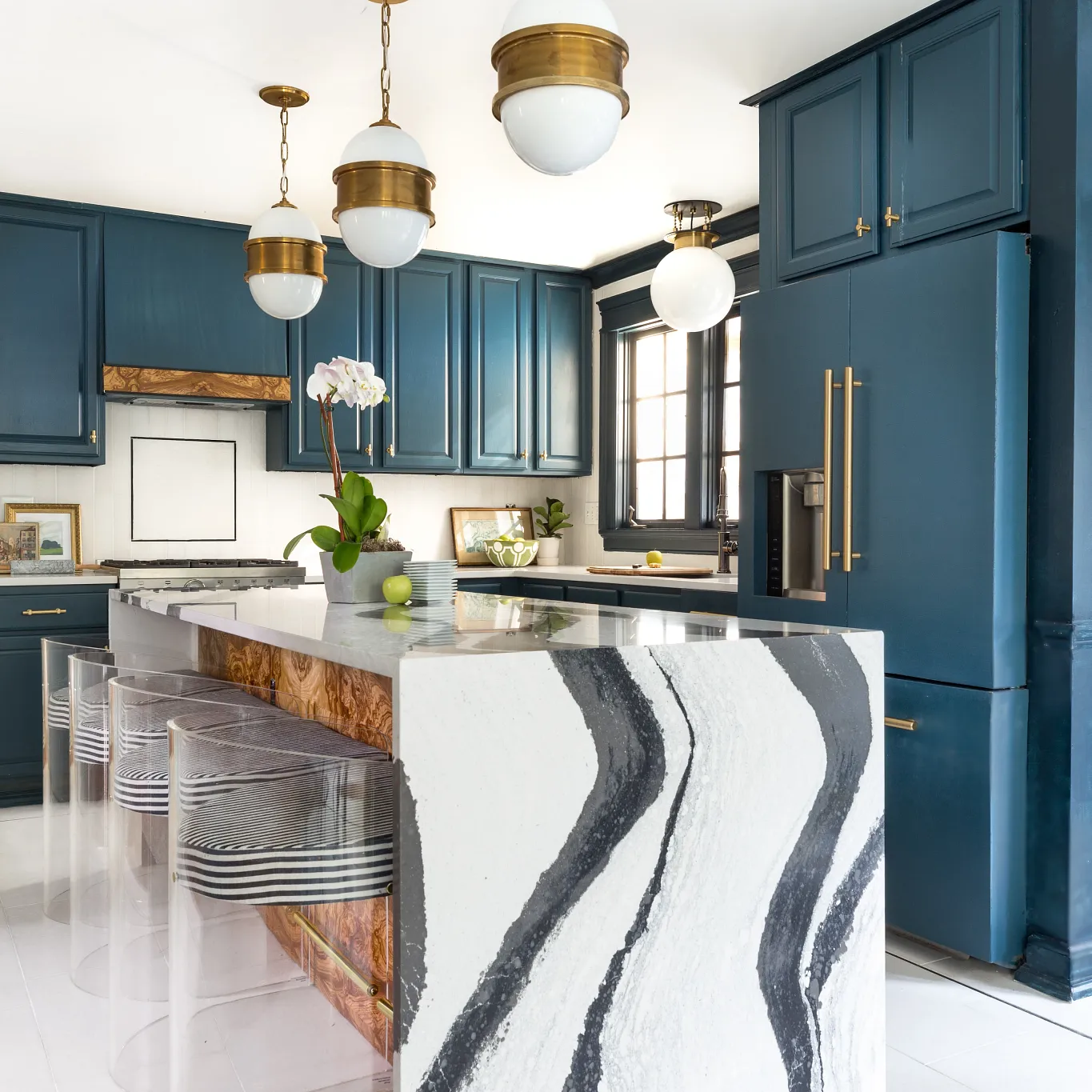 Interior designer Jewel Marlowe leaned into the bold aesthetic with a Cambria Bentley waterfall island and blue-hued cabinetry.
Instead of letting other elements in the space defer to the island, Marlowe added more bold elements, like blue-hued cabinetry, gold hardware and fixtures, a contrasting wood island inlet accent by Burled Co., striped stool cushions, and black window trim. The effect wows.
"To add continuity to the home, I have repeated the bold black-and-white theme of our Bentley island in almost every other room of our house. Black-and-white rugs, art, and wallpaper help the statement-making kitchen island feel so natural and consistent," said Marlowe.
High-Contrast Kitchen by Stackhouse Construction
STACKHOUSE CONSTRUCTION let Bentley be the star of the show in this high-contrast kitchen, featuring the design on an oversized island and then again as a backsplash focal point above the stove.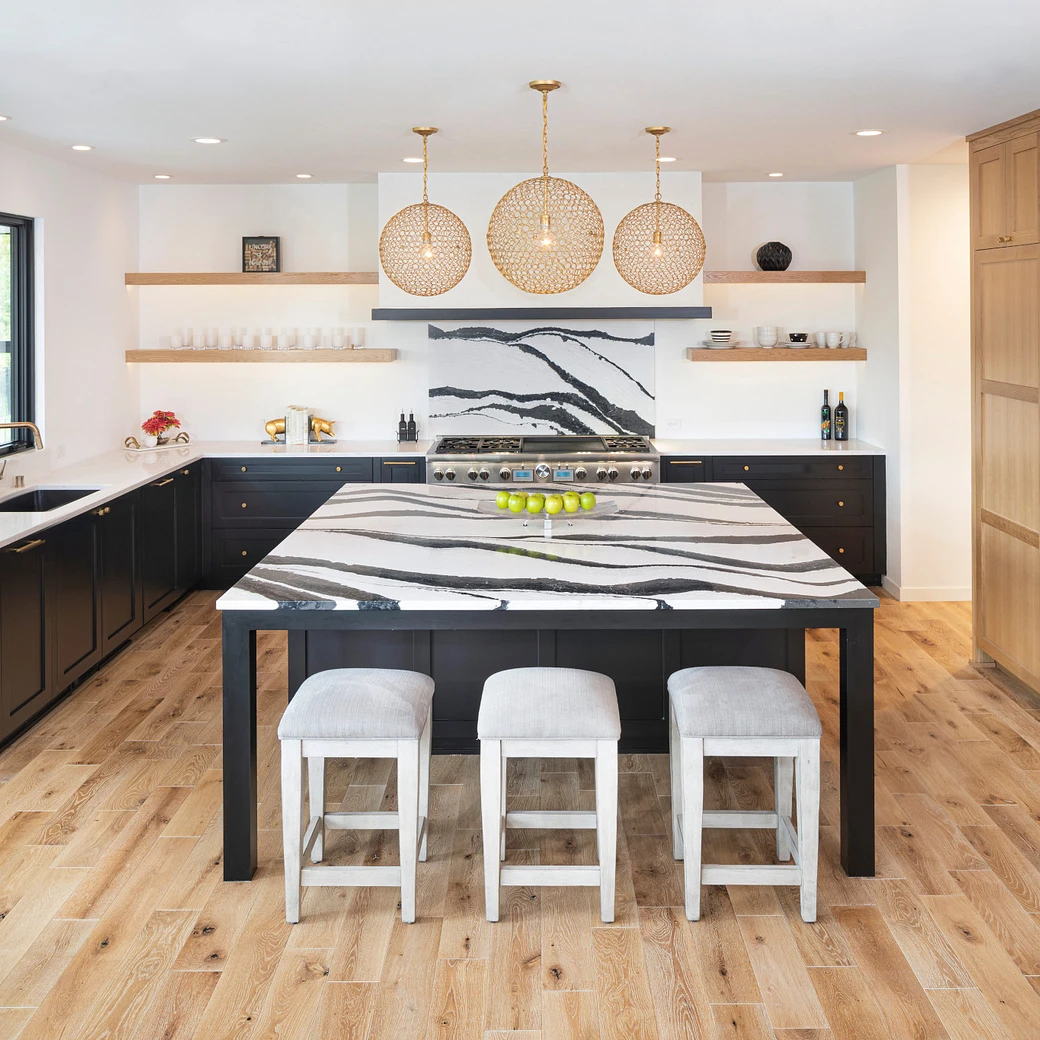 The oversized island in this high-contrast kitchen lets Cambria's Bentley design shine.
The black-and-white color palette marries the black cabinetry and window trim with the neutral white Cambria TORQUAY™ perimeter countertops. Natural wood accents on the flooring, built-ins, lighting, and shelving lend warmth to the space.
Serene Master Bathroom by Elizabeth Erin Designs
There is something both sleek and timeless about pairing black and white. Together, these two colors are stronger than they are on their own. In any form of art, positive and negative spaces are needed to create focal points and movement, and interior design is no different. Oftentimes, this is called high-contrast design and its style works wonders in any space.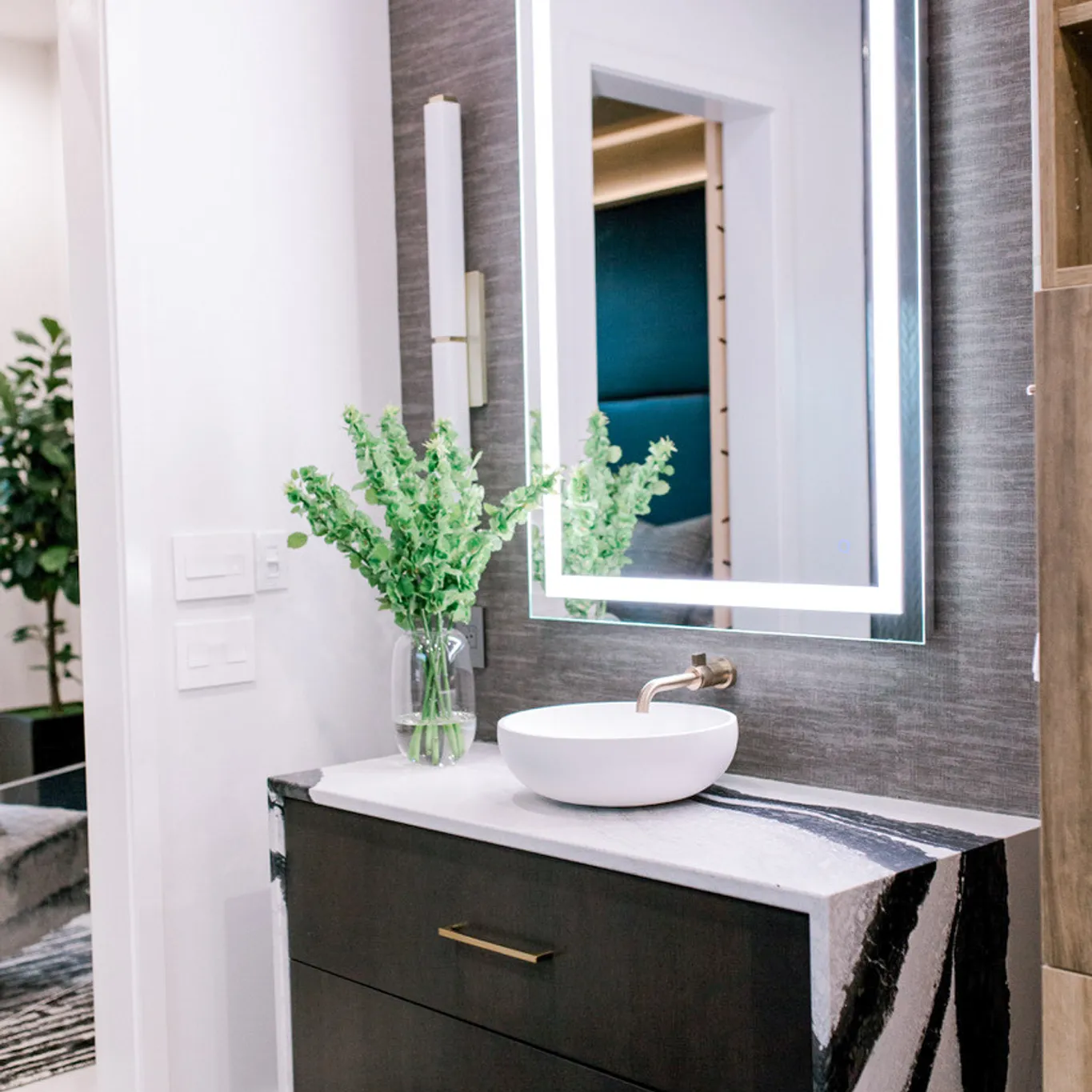 Elizabeth Erin Designs created a serene bathroom retreat with a Cambria Bentley vanity.
In this master bathroom by ELIZABETH ERIN DESIGNS and CKF, a high-contrast vanity with a Cambria waterfall edge is a stunning—and durable—alternative to marble. The thin profile and clean lines create a serene retreat.
See another stunning Bentley bathroom in THIS HOME by Sustainable 9 and Bria Hammel Interiors.
Modern Farmhouse Kitchen
This modern kitchen with a striking waterfall island in Cambria's Bentley design creates a contemporary version of the popular farmhouse aesthetic.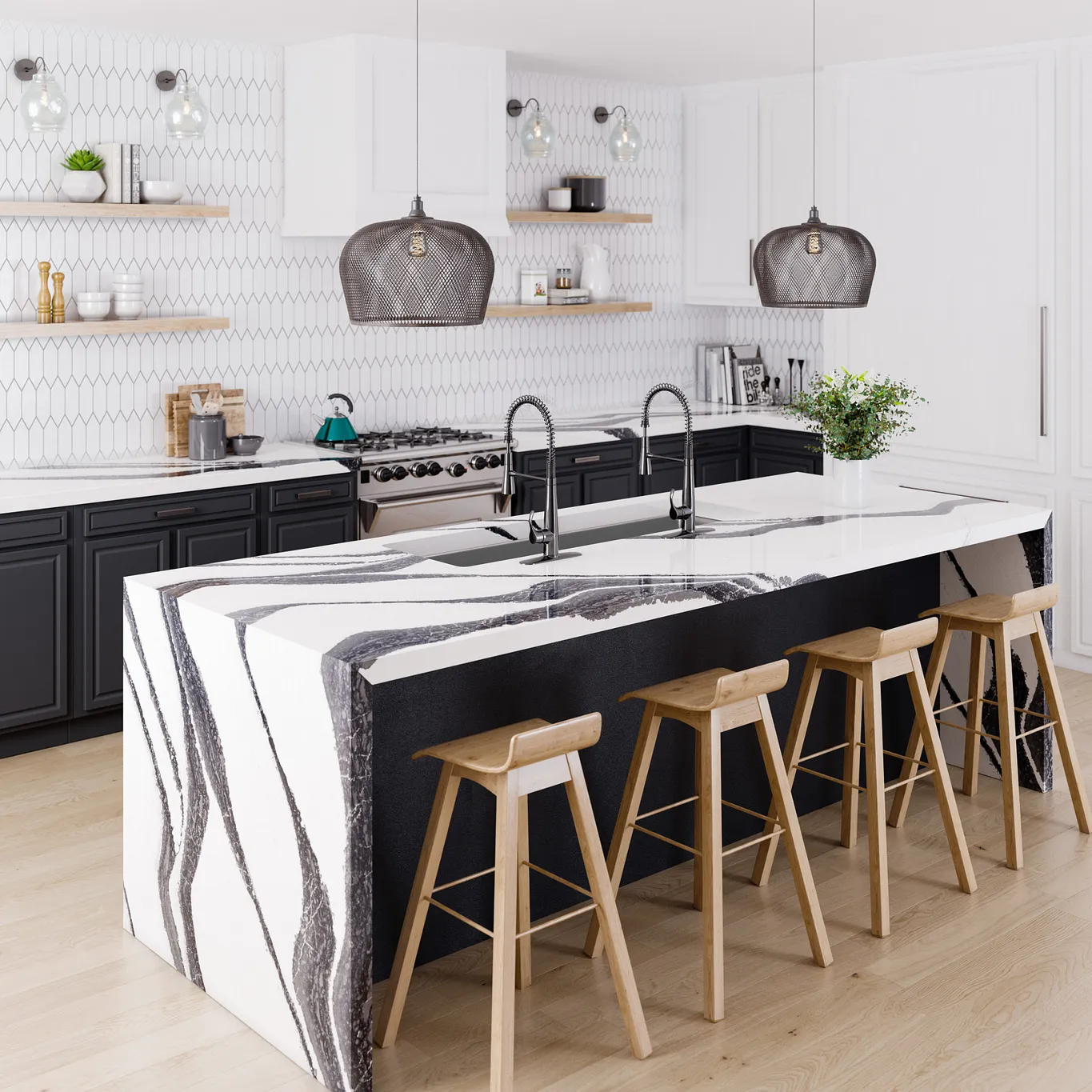 Standout design elements modernize the farmhouse kitchen.
When paired with black cabinetry, white patterned tile, Scandinavian wood details, and matte black hardware and fixtures, the result is a space that feels at once both approachable and highly considered.
Chic Office Space
In this chic office design, an extra-long shared table in Cambria's Bentley design provides enough space for socially distant work and is also both stain and scratch resistant and maintenance free to handle heavy use.
Cambria is much harder than granite or marble so it's able to handle just about anything without scratching or chipping. For high-traffic and COMMERCIAL areas, Cambria is the ideal surface.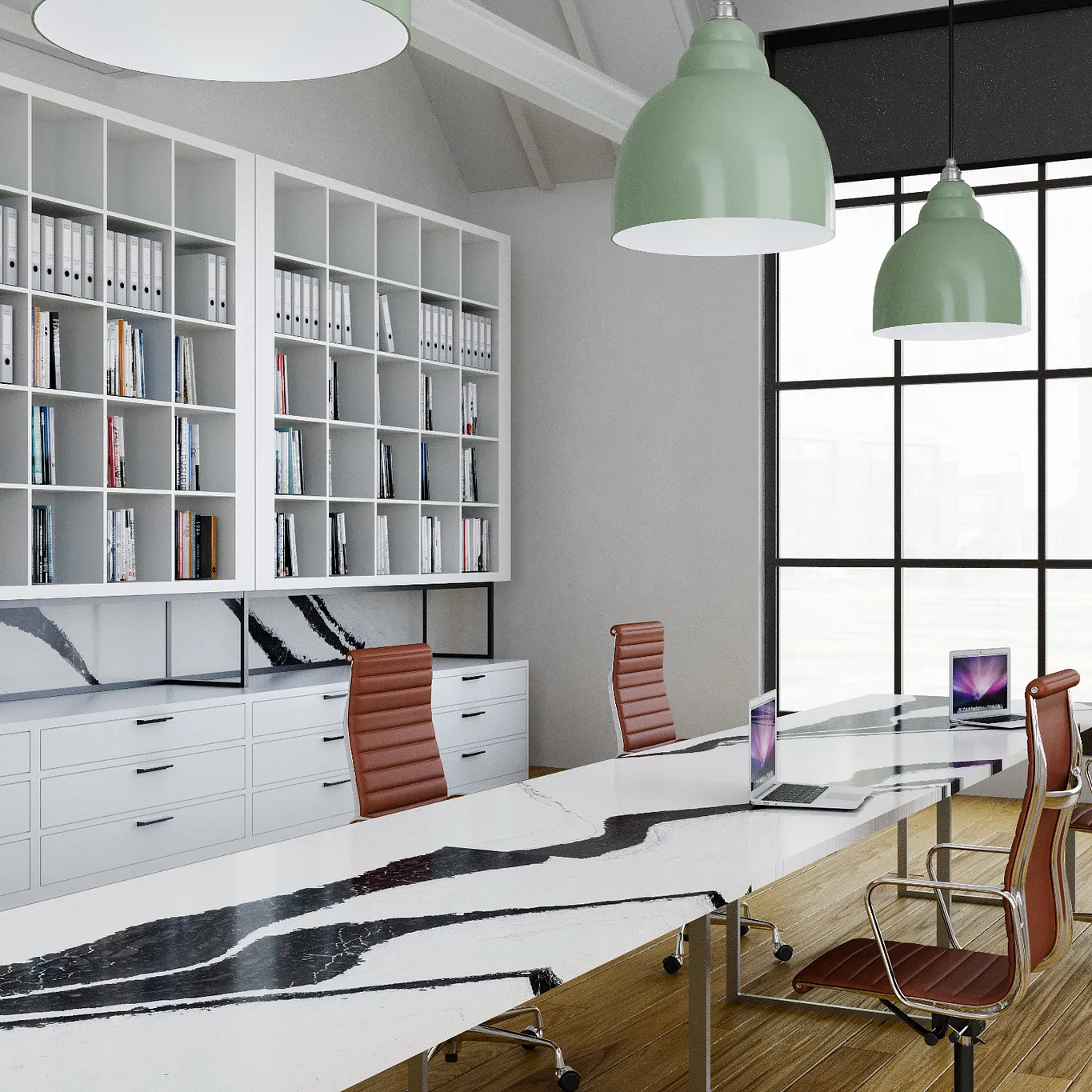 This office design sure beats working from home.
When paired with perimeter countertops and a backsplash in the same Bentley design, plush leather desk chairs, and funky mint green light fixtures, the result is a dreamy office design that inspires hard work.
Find more work space inspiration featuring Bentley from AVISSA DESIGN.
Get the Look
Follow Cambria on SOCIAL MEDIA with #MyCambria for more standout designs.
For more information on Cambria, including performance data, product specifications, and certifications, see our PROFESSIONAL RESOURCES.
Interested in creating a showstopping design project with Cambria? BUY A SAMPLE, FIND A DEALER, or call 1-866-CAMBRIA (1-866-226-2742) to be connected with a market representative in your region. Or visit our website to set up a VIRTUAL DESIGN CONSULTATION.