Closet Couture: Carly Zucker's Dream Closet Design with Cambria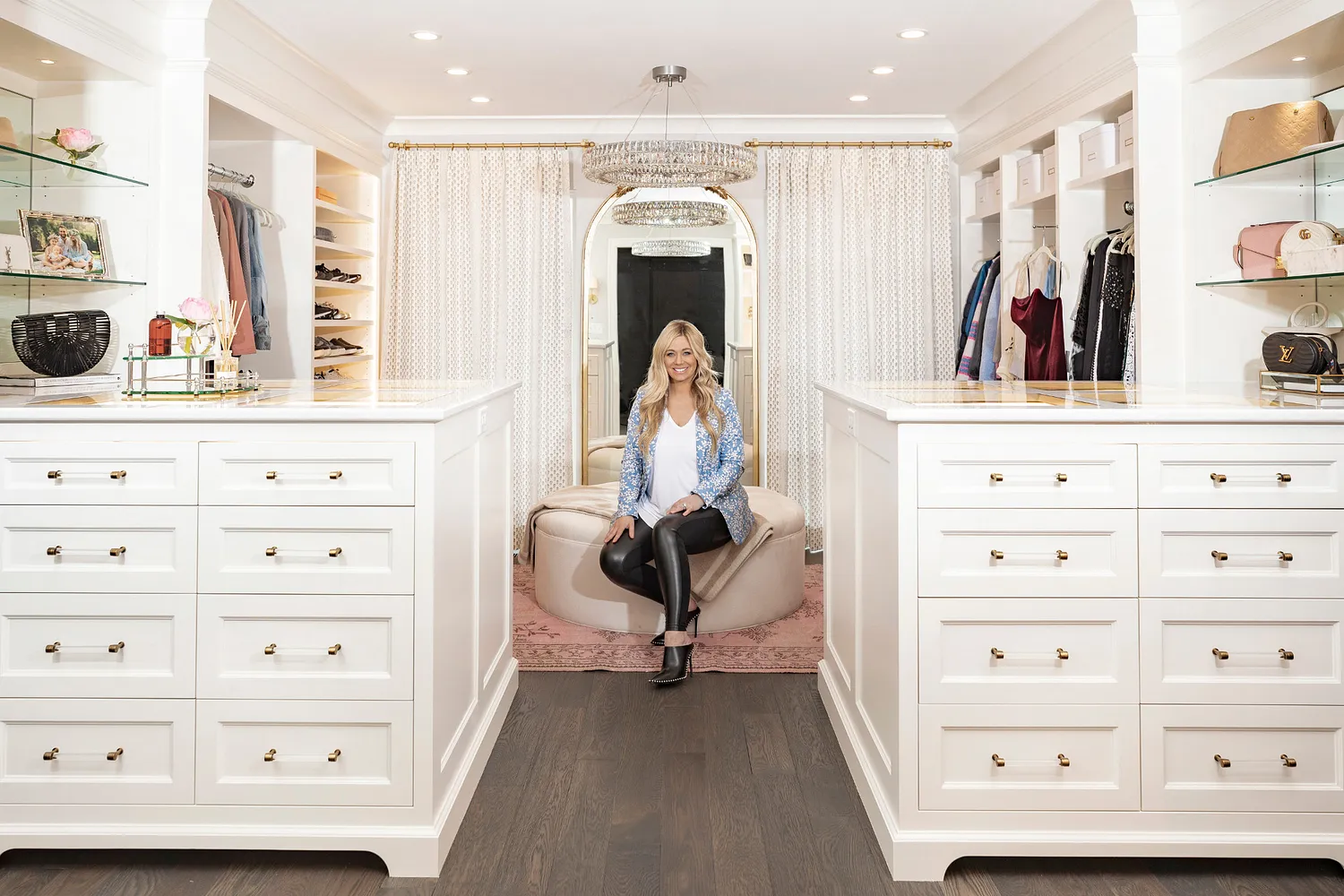 A beautiful closet design offers more than simply wardrobe storage. An addition to her home above a three-season porch made room for Carly Zucker to create her dream closet. As a busy sports journalist and host, wife (husband is Minnesota Wild's Jason Zucker), and mom of three, Zucker craved some calm to the chaos. Find out how this space by John Kraemer & Sons, Cambria, and Bria Hammel Interiors came together and all the practical and pretty details that make up this serene retreat.
Inspiration for a new walk-in closet
"My husband basically kicked me out of our closet because he's extremely organized and my side was always a disaster," says Zucker. "When we started to remodel and do this addition, we had this extra space and he said 'Why don't we build you a closet so you can be disorganized somewhere else?'—so that was his inspiration."
However, with a clear vision and smart plan, disorganization disappeared in the new space. "Now I get to be organized because there is a home for everything," says Zucker.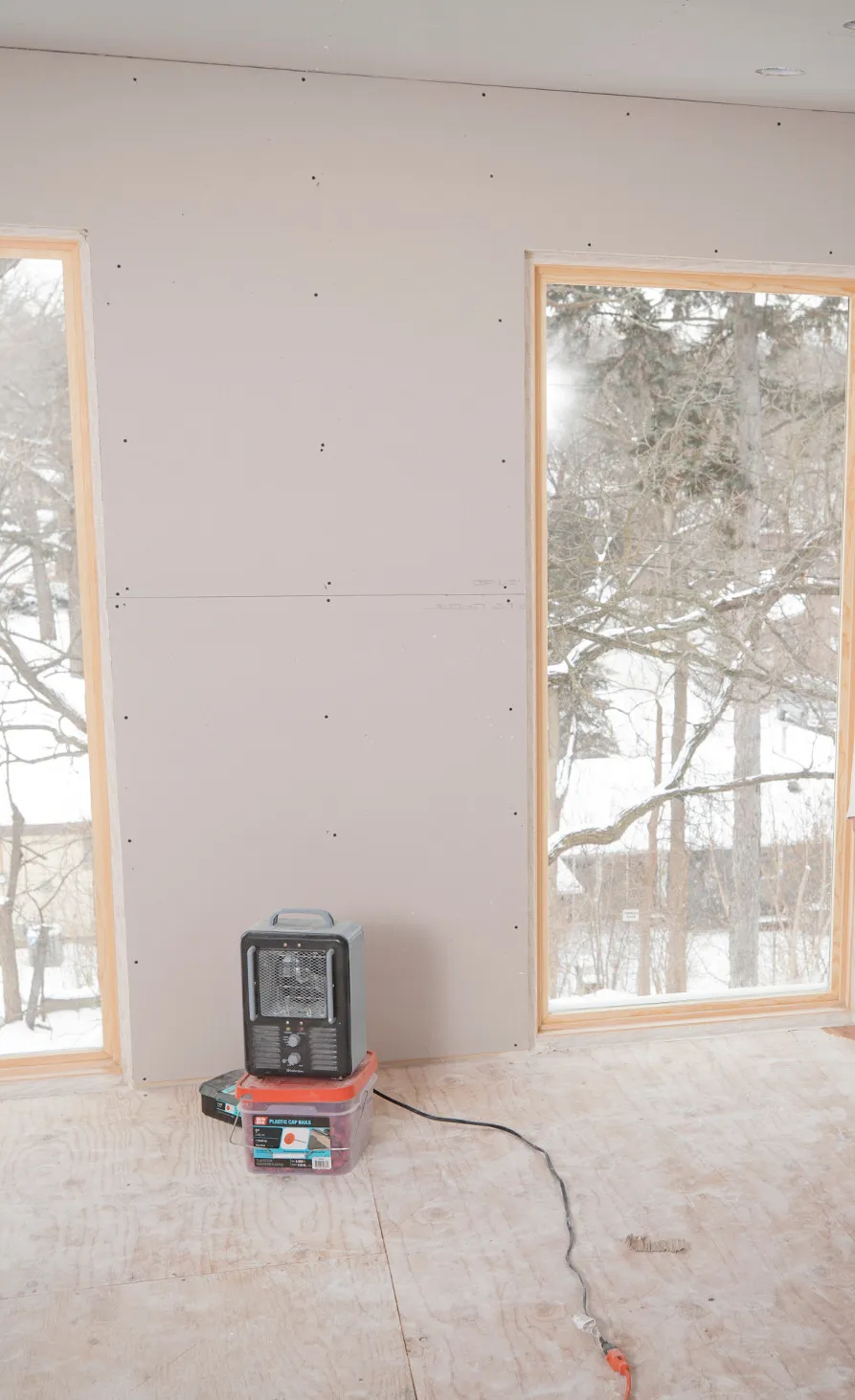 Carly Zucker's closet during construction offered a blank slate with a lot of natural light.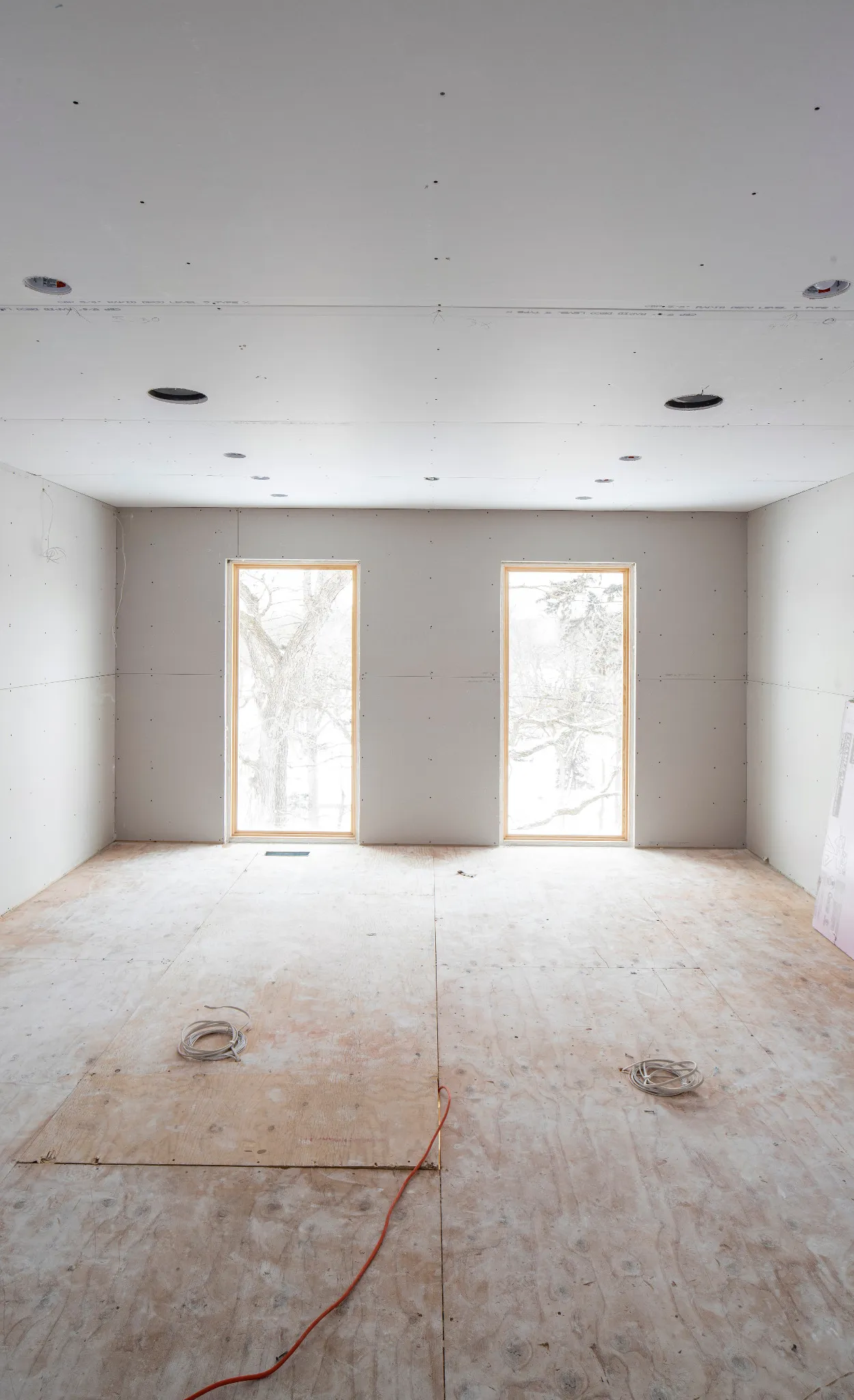 Vision for the dream closet design
Exploring on social media helped Zucker refine her vision. "It was really nice for me to find people that I was inspired by, [including our] builder, John Kraemer & Sons, [and] Cambria. You can go on social media and see all of their work—what they had done in the past really inspired me. Pinterest is [also] a wonderful way to be inspired."
At the top of Zucker's list of #closetgoals? Lighting, double islands, and a vanity. "I wanted a lot of natural lighting, so having big open windows at the end of the closet was in my head right away," notes Zucker. "I knew I wanted two islands. I wanted to keep it open and have your eye flow all the way through the space. And then also a vanity—[a place] for me to sit, get ready, [and] have all of my items organized."
"It sounds very cliché, but it is more than I could have hoped for," adds Zucker. "I went in with a very clear vision of what I wanted the closet to turn out like and it is even more beautiful than I could have hoped. This is like Instagram heaven!"
Two Cambria closet islands
While many closets feature one centralized island, two islands with Cambria Delgatie gave Zucker the look and functional space she desired, allowing a clear path to her dressing area and uninterrupted light. "Carly really wanted natural light so she put floor-to-ceiling windows in and did two islands instead of one," says John Kraemer, vice president and director of Sales and Marketing, John Kraemer & Sons. "A lot of closets that we see have one center island that you have to walk around or gets in the way. Here, you can walk right from the bedroom all the way through to the back without being impeded by [a] center island."
Zucker worked with John Kraemer & Sons' in-house cabinet designer for a truly custom design. "For me, [in terms of] functionality and organization, I want to be able to see what I have right away," says Zucker. "Having these cutouts was something that [the cabinet designer] brought to the table. It's little decisions that can make a huge difference in the design of the space."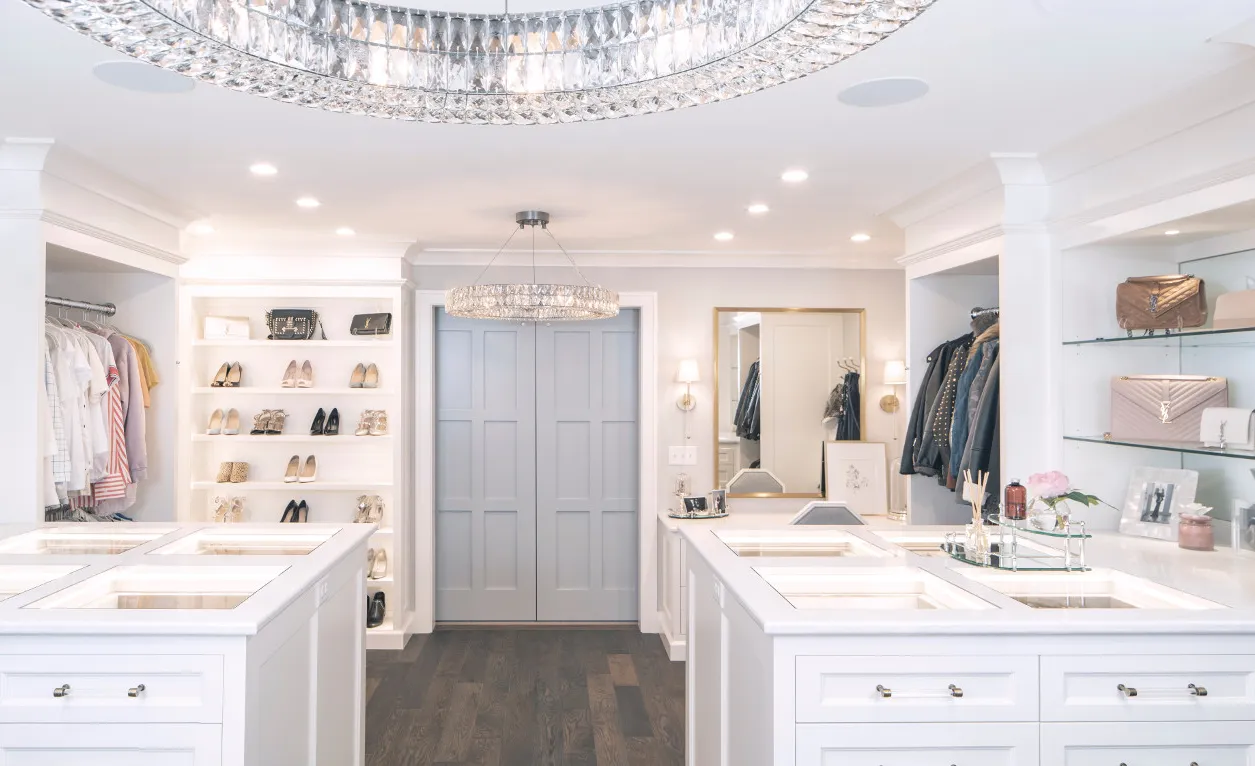 A pair of identical islands with inset glass panels and jewelry drawers
The cutouts also reflect the nearly limitless possibilities when fabricating with Cambria, a durable stone surface made from natural quartz. "The craftsmanship and the attention to detail showcased in these islands is pretty great," says Kraemer. "[Each island] has a Cambria countertop with four different cutouts with glass for display. They [feature] enameled poplar cabinets with dovetailed drawers [and] wonderful hardware. When you open [the drawers], they have felt inside to protect everything as well."
Cambria Delgatie countertops for a marble alternative
After quite a bit of deliberation, Zucker selected Cambria's Delgatie design for an elegant and maintenance-free alternative to white marble countertops. "The only reason it was a hard choice is because Cambria has so many great options—it is almost like adding a piece of art to a room." Zucker explains. "I ended up choosing something that was a little more subtle, a little more classic, but still has a lot of movement and very beautiful. I think it's so impressive when you see it."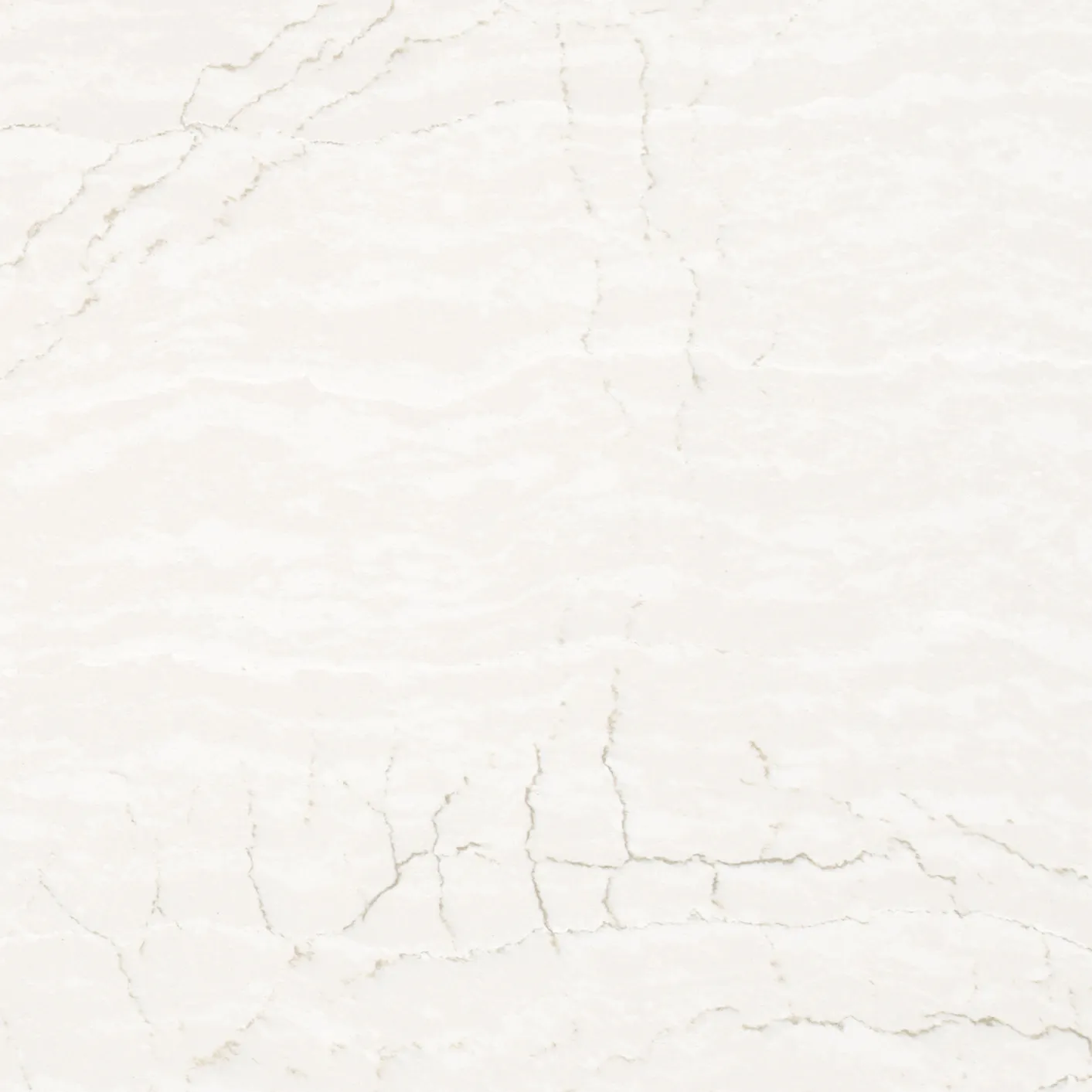 Delgatie offers subtle marble-like beauty with flowing white-on-white tonality and warm cross veining.
"I kept going back to Delgatie because it felt so soft and calming," says Zucker. "I wanted this space to be, at its bones, very clean, very serene. You're adding so much color with clothing, handbags, and other items." To complete the look, Zucker opted for a subtly rounded Summit edge profile. "Choosing the soft edging was kind of a no-brainer," she adds.
Planning the closet
John Kraemer & Sons assisted Zucker from the project's concept to completion. "We brought an architect in to draw the plans for the second story addition and then Carly worked with our in-house cabinet designer, Mona, to design all the cabinets in the space," says Kraemer. "They had several meetings and got into the fine details like: Are you left-handed or right-handed?, What do you want displayed?, How much hanging space do you need?, Do you want to display your shoes or sunglasses?"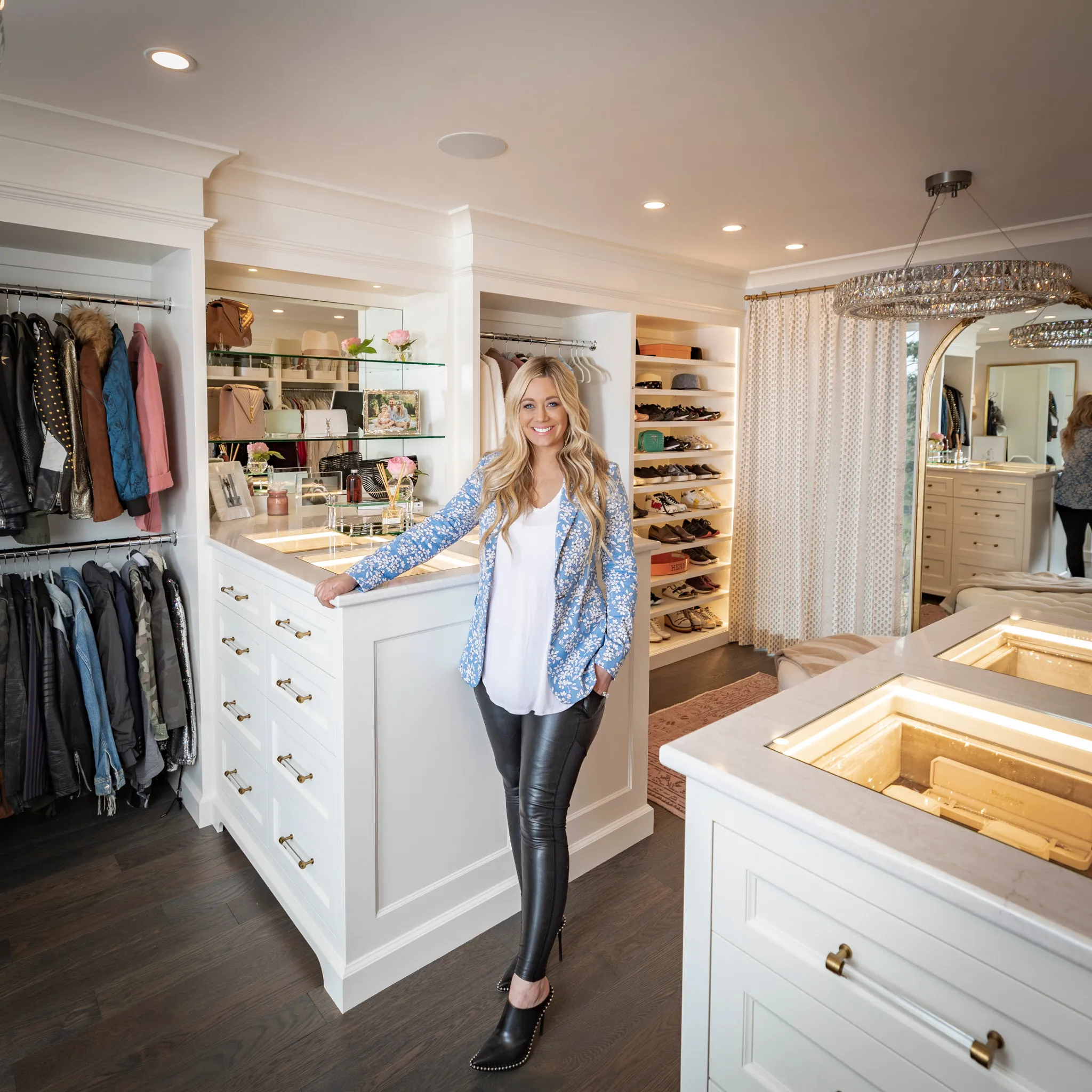 Featuring Cambria-topped islands with light-up jewelry drawers, Zucker's closet makes it easy to stay organized.
According to Zucker, the extensive planning resulted in her being "1,000%" more organized. "I need it to be functional—I need it to be easy to stay organized," says Zucker. One thing she loves is how everything from sunglasses to hair products now have a home. "For me, that means everything. It is busy enough to take care of three kids, the house, and work. I don't want the headache of trying to find items."
Closet islands with retail-inspired display drawers
Intentional details like felt-lined drawers and uplighting in the double islands give the space chic jewelry-store vibes. "These islands went from just islands to being display cases and to showcasing some of my favorite things. That's a small perk of this closet that I absolutely adore," says Zucker.
In the top drawers, Zucker displays jewelry that is meaningful to her. "There is a ring in here that was the stone from my mother that she gave to Jason, my husband, to have set into a ring for me. Before it was just boxed somewhere and I didn't even know where it was. Now it has a home which is super important to me."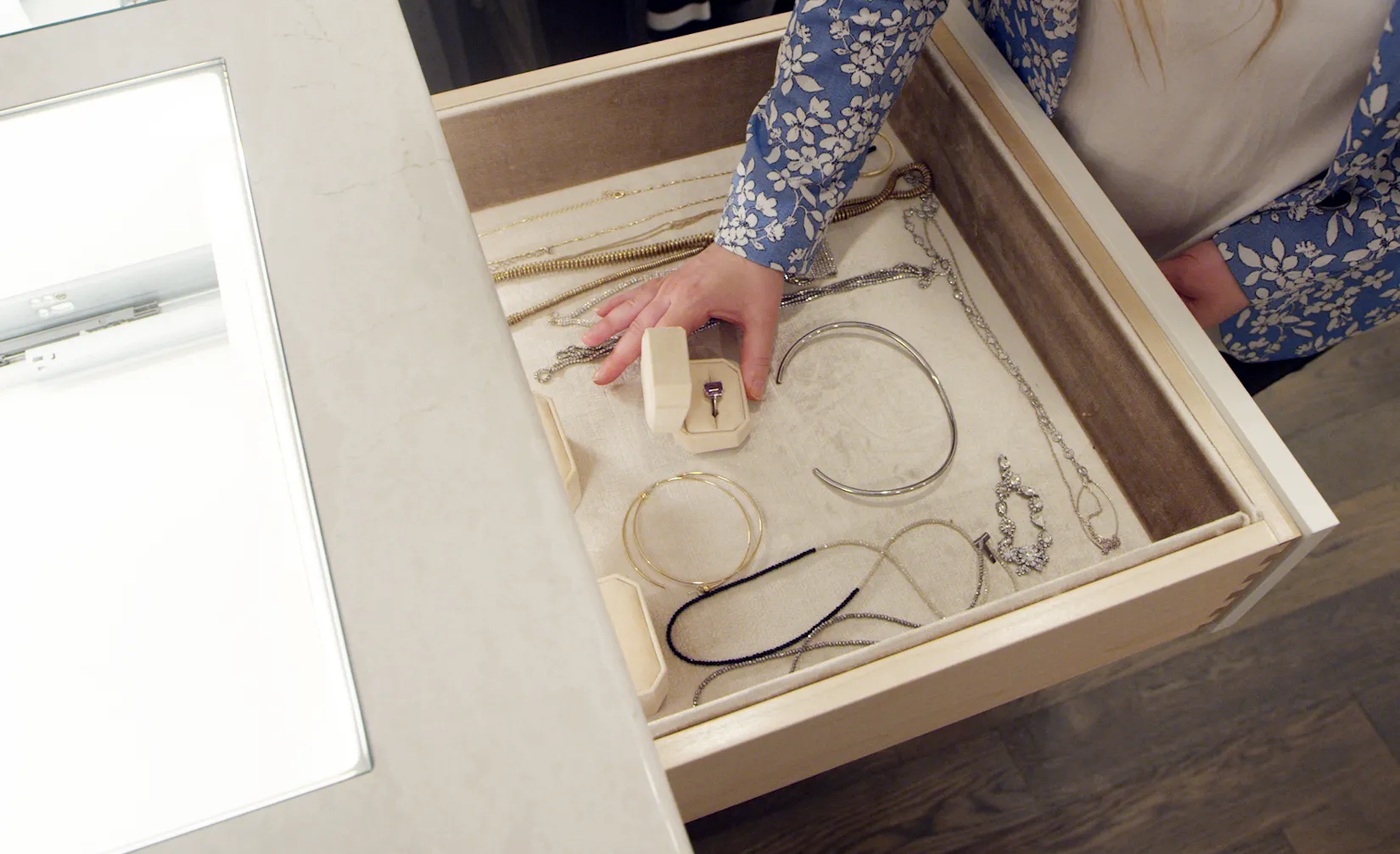 Retail-inspired display drawers provide an elegant home for treasured items.
The closet has also become a cherished space for Zucker to spend time with her daughters. "It's fun. My oldest is nine now and she comes in here and she plays dress up. And I think that is so sweet. We did a whole shoot doing dress up together. That was a really fun memory for us to have," notes Zucker. "It's really meaningful for her to come in and we talk in here. It's just a safe, nice place where we can spend time together. So, I hope we have the same thing with Stella, [my youngest]. She loves to look at all of mom's things and play dress up."
Closet vanity with Cambria countertops
Zucker's vanity features a Delgatie countertop to coordinate with the islands, but its benefits extend far beyond aesthetics. "We selected beautiful, white quartz from Cambria instead of marble or wood because of how indestructible and timeless it is," says designer Bria Hammel of Bria Hammel Interiors in her blog reveal of the walk-in closet.
"It wasn't actually built into the plans as a Cambria top at first, and then when I was planning the islands, and I was seeing the Cambria choices, I said 'Oh my, we have to do Cambria over in the vanity,'" explains Zucker.
"It brings continuity into the space [and] I'm so glad we chose this for functionality," explains Zucker. "I'm getting ready in this space [and] don't want to have makeup stains here. It's important to have [a] countertop that's functional. It's being used all the time! Using Cambria made a lot of sense because I can clean it easily, it holds up easily, and has [a] lifetime warranty."
"The sky's the limit with their product—flooring has been done in Cambria, people have walls done. I think that speaks to the quality versatility of what they do," Zucker adds. "I'm already trying to dream up projects of where else I can add [Cambria] in the house because it makes it stand out so much."
Zucker was also able to customize the vanity drawers to house and hide appliances and incorporate outlets for ease of use. "[The] bottom drawer is one of my favorites because it has a spot for my hair dryer, curling iron, and it also has plug-ins. Details were so important in this space. It had to fit all of my items that I use and everything is located in a nice, easy place for me to access."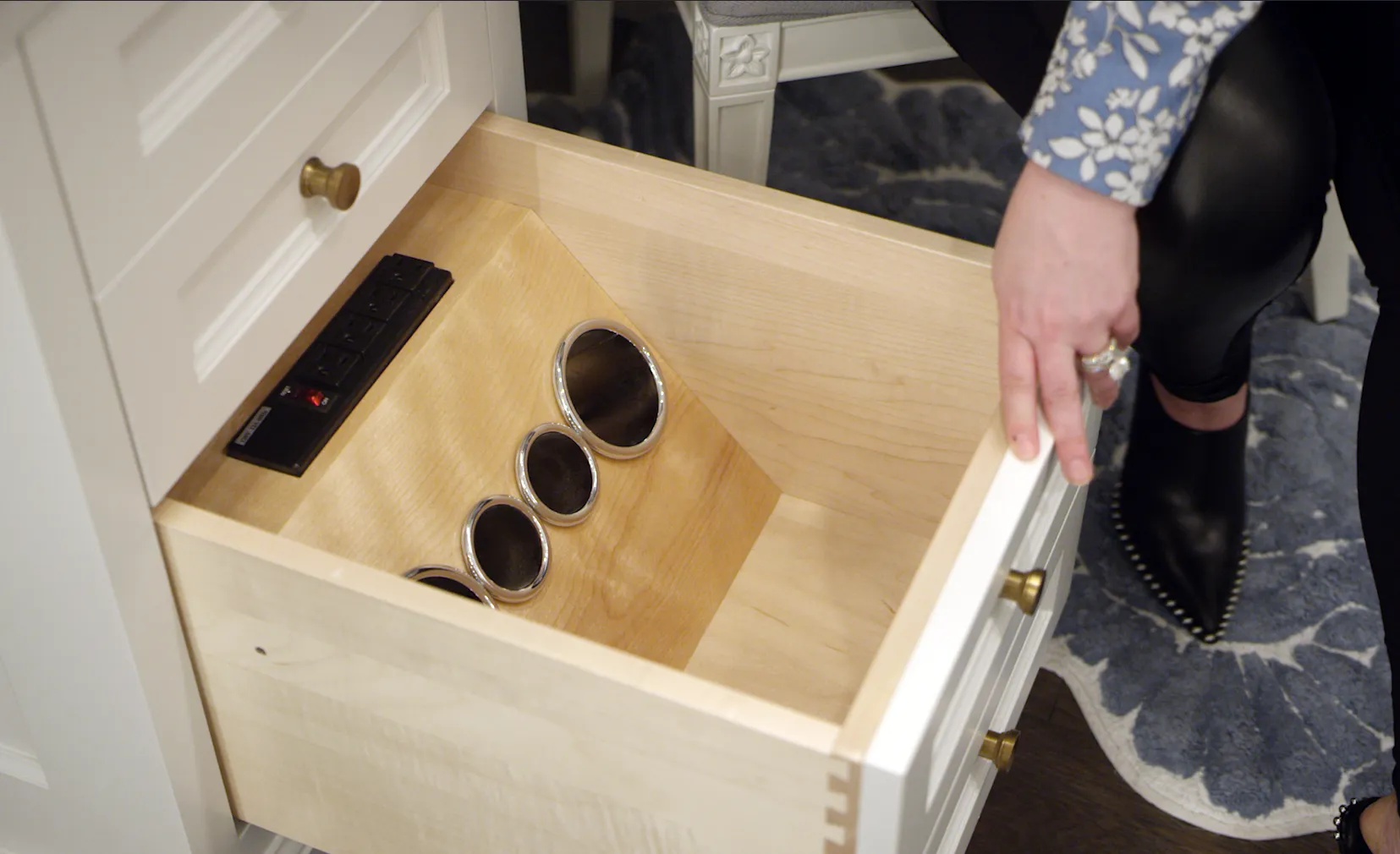 A custom vanity drawer with integrated outlets holds hair appliances.
The vanity area became one of Zucker's favorite aspects of the closet design. "It's my space to come and just get ready, relax, recharge, and I love it for that. It feels very serene."
Other closet design details
Zucker was hands-on throughout the closet design process, even down to the smaller details. "I really love gold. I knew that I wanted gold and acrylic to be accents in the closet," says Zucker. "Everything from the detailing on the sconces to the handles on all the knobs ties into the rest of the closet."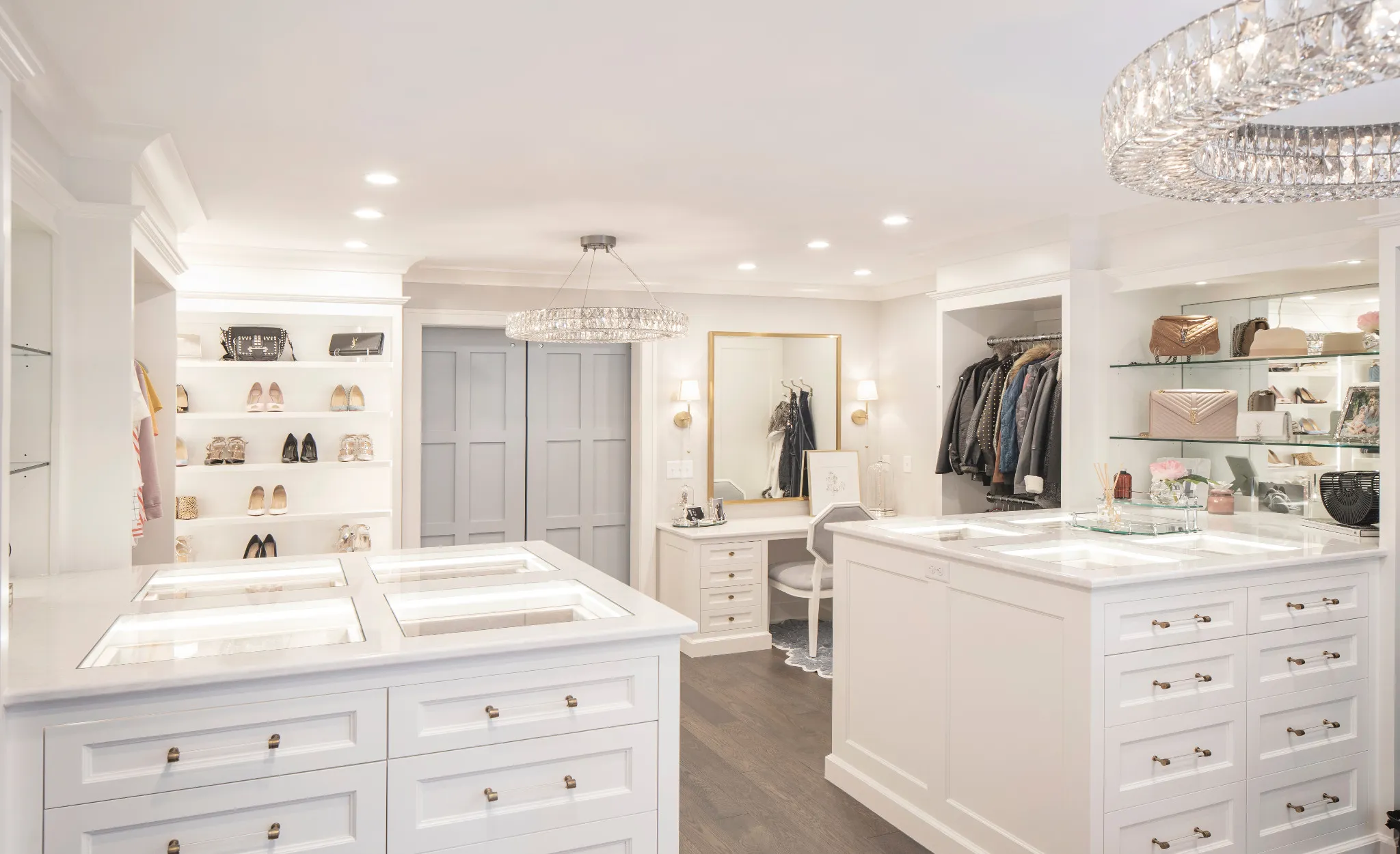 The closet features a variety of lighting, including two glam Restoration Hardware chandeliers, recessed lights, vanity sconces, and display lighting. "It's really important in these types of spaces where you're doing your makeup to have layered lighting," notes Zucker, "and the sconces were a really important part of that."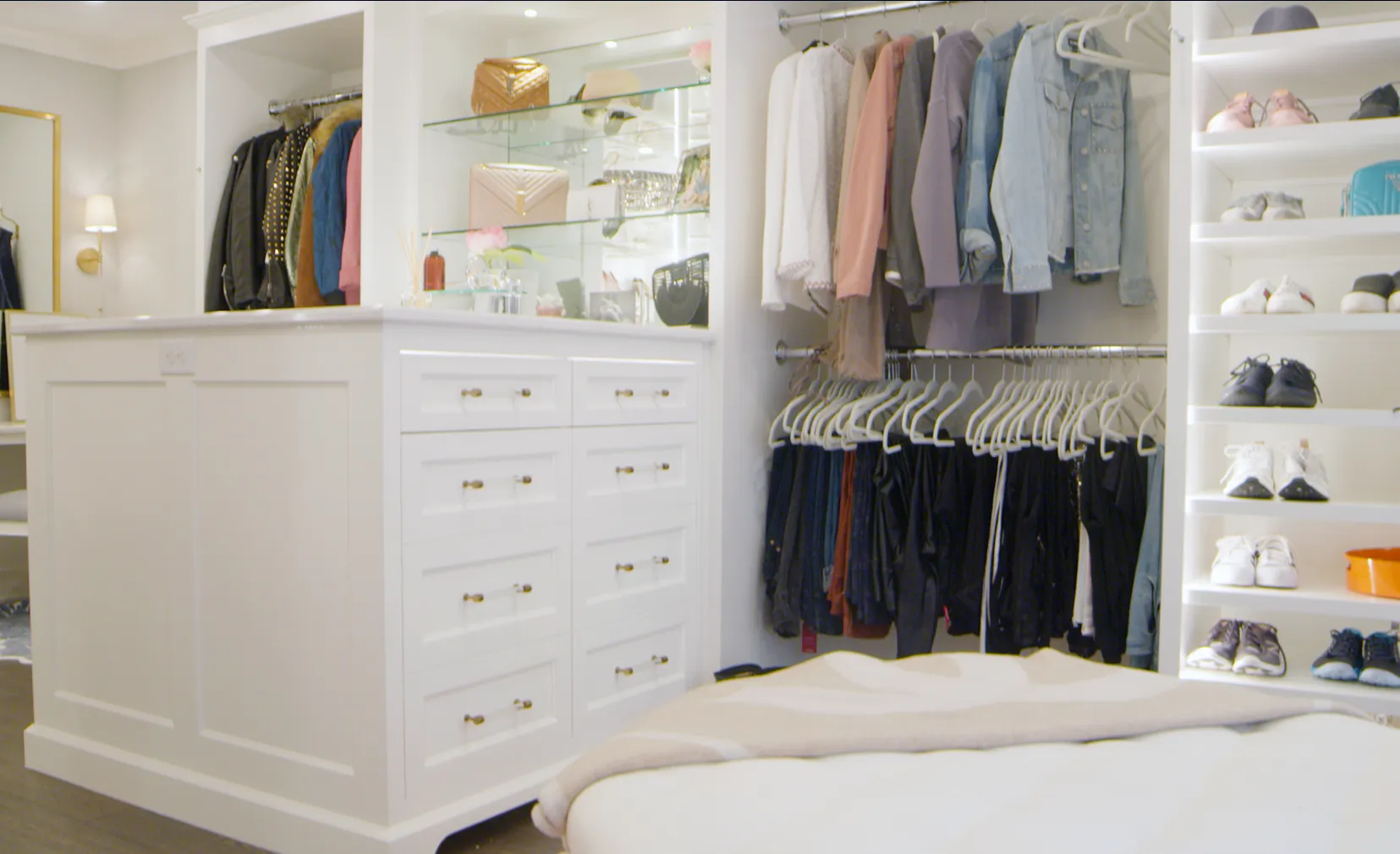 Clothing is organized seasonally with shoes and handbags on display, allowing Zucker to grab and go with a quick glance. "It feels like an organized space now. Getting ready, I actually know what clothes I own," says Zucker. "With everything going on in life, it takes away some of that chaos to be organized. I walk in here and it feels serene."
Barn doors were another detail Zucker wanted for the closet entrance. The doors feature a pale blue hue (Manor Blue by Benjamin Moore), X-pattern detailing, and brass hardware for an elevated farmhouse feel.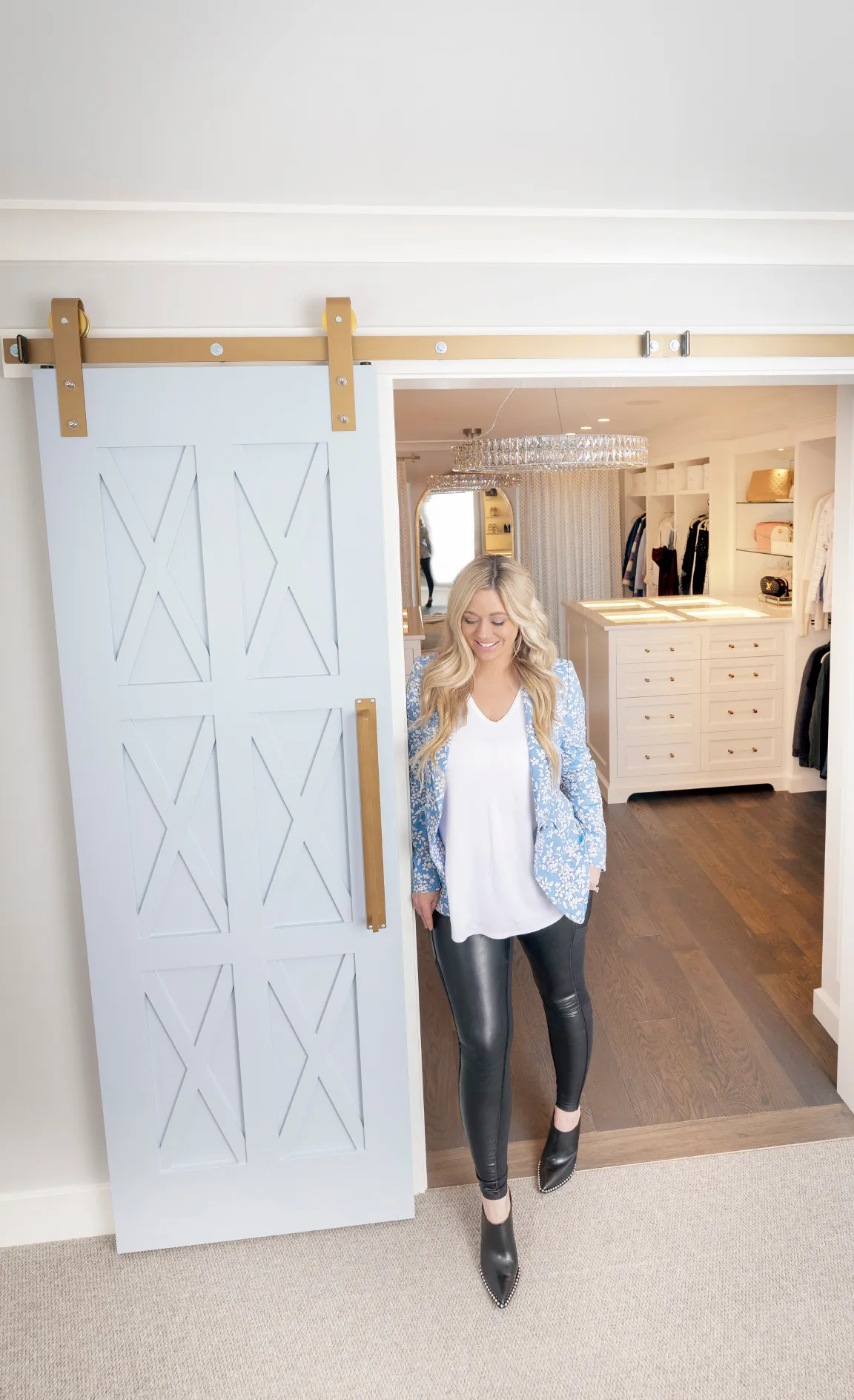 The entrance to the closet features pale blue sliding barn doors accented with modern brass hardware.
See sources for other elements of Zucker's closet design and tips from interior designer Bria Hammel in this House Beautiful article.
Working with Cambria
Aside from the beauty and performance of Delgatie, a smooth installation process and transferable Full Lifetime Warranty were key reasons Zucker and her closet design team selected Cambria. "For me, [it's] absolutely incredibly important to work with people who stand behind their product," says Zucker.
"We chose Cambria for this project for a variety of different reasons—probably too many to count," says Kraemer. "They have a lifetime warranty which is really important to us and our clients. [Another thing that] keeps us coming to Cambria is the professionalism of the people that come through—the measurers, the installers. They put booties on when they come in [and] they always keep the home just as clean as it was before they got there."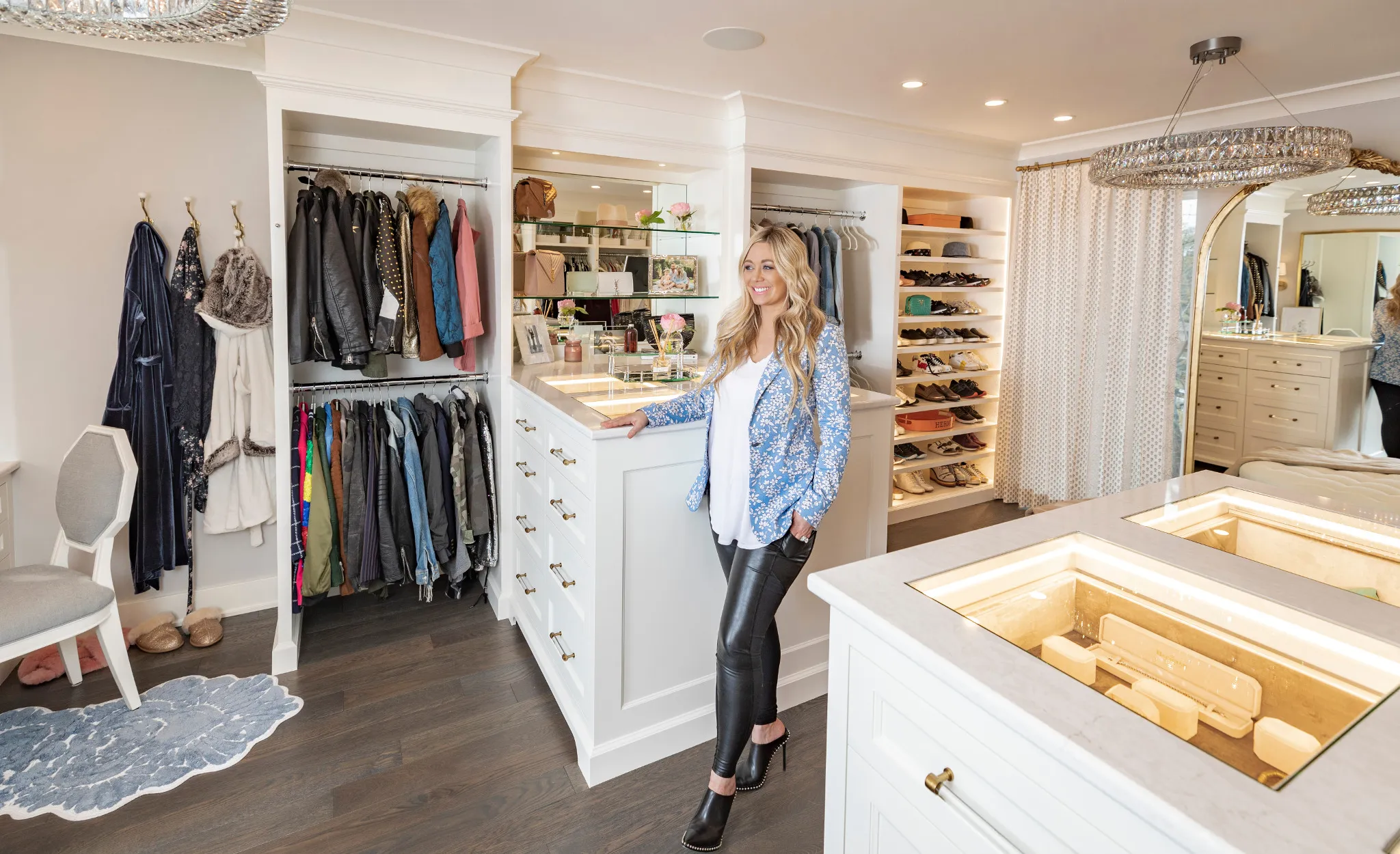 "I didn't even know they were here!" adds Zucker. "They left it cleaner, I think, than when they came and so truly we had no idea they were here for the installation which I think speaks volumes."
A hometown-tie also spoke to Zucker and her team. "They're American made, manufactured right here in Minnesota, and they're all just phenomenal to work with," says Kraemer.
Dream closet with a dream team
If you're planning your own dream closet, Zucker advises finding a strong team to execute your vision. "Find partners to work with that you really trust. For me, Cambria, John Kraemer & Sons, and Bria Hammel Interiors, all made this process so easy. So, if you are going to attack a project like this, find partners that you feel comfortable working with."
"Every single partner we worked with for this space, made us feel like we were their only client at the time," says Zucker. "John Kraemer & Sons has much bigger projects that they are working on, [but with] our remodel and our small addition we always felt like their only project. And that to me was really important. Same with Cambria—their response time on everything that I had questions on, from the edging to finishing the tops, was incredible. All of the partners we worked with I would suggest to anybody."