Selecting the Perfect Quartz Countertop for Your Kitchen
Ready to find the perfect countertop for your home?
Your countertops have an important job. They bring the design of your kitchen together, play backdrop to daily meals, and often serve as the household hub. So, when starting a kitchen renovation, choosing your countertop is a great place to start. No matter the size of your space, it's important to select countertops you can rely on to provide a captivating design focal point and deliver daily functionality.
Cambria's EVP of Design Summer Kath explains the wide range of quality when it comes to kitchen countertops. "There are a lot of options out there to choose from, but they're not all equal—especially if you're looking for the highest quality," says Kath.
Kath walks through the pros and cons of common options to help you decide which countertop material is right for you. With her help, you can find the perfect countertop for your space, adding value and years of enjoyment to your home.
Natural stone countertops
The three natural stone surfaces that are most common in luxury homes are premium quartz countertops like Cambria quartz surfaces, granite countertops, and marble countertops. See how they compare in four key categories: durability, maintenance, porosity, and hygienic quality.
quartz countertops
With a wide array of colors and designs, Cambria quartz Surfaces are a popular choice for homeowners and designers. Cambria's natural beauty sets it apart, offering depth and clarity of color and intriguing movement unlike any other quartz. Because quartz is one of the hardest minerals on Earth, followed only by diamond, Cambria surfaces are durable. They are also scratch resistant, do not stain, and are virtually maintenance free. They do not require any sealers or polishing agents and cleaning Cambria couldn't be easier. All you need is warm water, a soft cotton cloth, and mild soap, if desired. To protect Cambria from heat, simply use a trivet as with other natural stones. Unlike granite or marble, Cambria is a nonabsorbent stone. As Kath explains, "If you spill some wine, it won't stain, and it doesn't harbor bacteria, so it's a safe choice as well."
Do your research before your renovation—not all quartz countertops are created equal. Knowing where your quartz countertops come from is crucial to ensure the quality of the stone. Some quartz produced abroad may be adulterated and not subject to safety or quality standards, lessening performance and eliminating hygienic benefits offered by a premium brand like Cambria. Cambria is in a class of its own as the leading family-owned producer of American-made quartz surfaces. Learn more about why Cambria is the best choice for your kitchen countertops.
Granite countertops
According to Kath, granite can handle normal kitchen wear and tear fairly well, but may chip or crack if a heavy object is dropped on it. She adds, "Granite is not necessarily heat resistant and is subject to problems with rapid temperature change." Granite also requires some upkeep, requiring regular sealing—sometimes as frequently as once a year. Granite is a porous stone, so it may absorb liquids and stain if not sealed properly. This also impacts granite's hygienic qualities. "If not sealed properly or the sealant wears off, granite can absorb and harbor bacteria," says Kath. Quartz is maintenance free, stain resistant, and food safe. Those are qualities that you can't beat with granite. Check out Cambria's recommendations for top granite-alternative countertops.
Kitchens featuring granite countertops (left) and marble countertops (right).
Marble countertops
Marble is even more porous than granite, making it prone to chipping, cracking, and staining. "If you spill something acidic like wine, it will definitely stain," says Kath. Marble is strong, but not the most durable of the natural stone options available. As Kath explains, "A hard hit from a pot or a pan can chip or even break a piece off." Marble is also a high-maintenance product that requires regular sealing and can also be affected by heat. Its hygienic properties are similar to granite—if not sealed properly or the sealant wears off, marble countertops can absorb and harbor bacteria. There is a place for marble in the home, but it is not best suited for the kitchen or other high-use areas. Whereas quartz is the perfect surface for your kitchen countertops. Cambria has some beautiful marble alternatives that can enhance any kitchen space.
Other Kitchen Countertop materials
Stainless steel countertops
More common behind the scenes in commercial kitchens, stainless steel is sometimes considered for an industrial look. The pros? They are durable and heat and stain resistant. The cons? Stainless steel counters scratch and dent fairly easily, and watermarks and crumbs stand out on the surface. Kath's recommendation? "My general rule: save the stainless steel for the appliances," she says.
Concrete countertops
According to Kath, concrete is durable and heat resistant but is very heavy and tough to install. "You need to make sure your cabinetry can even handle the weight," she says. Concrete countertops also require regular sealing and may stain if not properly maintained. Another drawback? "Since they're so unique, they might not add to the resale value of your home," says Kath. Read about a high-performing alternative to concrete countertops.
Wood and butcher block countertops
Natural wood countertops like butcher block are not heat or stain resistant and are very high maintenance—requiring frequent sanding, sealing, and oiling. They can also scratch and chip. For these reasons, they are best reserved for an accent or small prep space. "They can be nice to work on," says Kath, "but they're not generally an appropriate choice for the entire countertop."
High-Performing Quartz Countertops
If you love the look of granite, marble, or concrete countertops, you don't have to sacrifice performance. Cambria's stunning designs offer a similar aesthetic with benefits that ensure you'll add value and years of enjoyment to your space.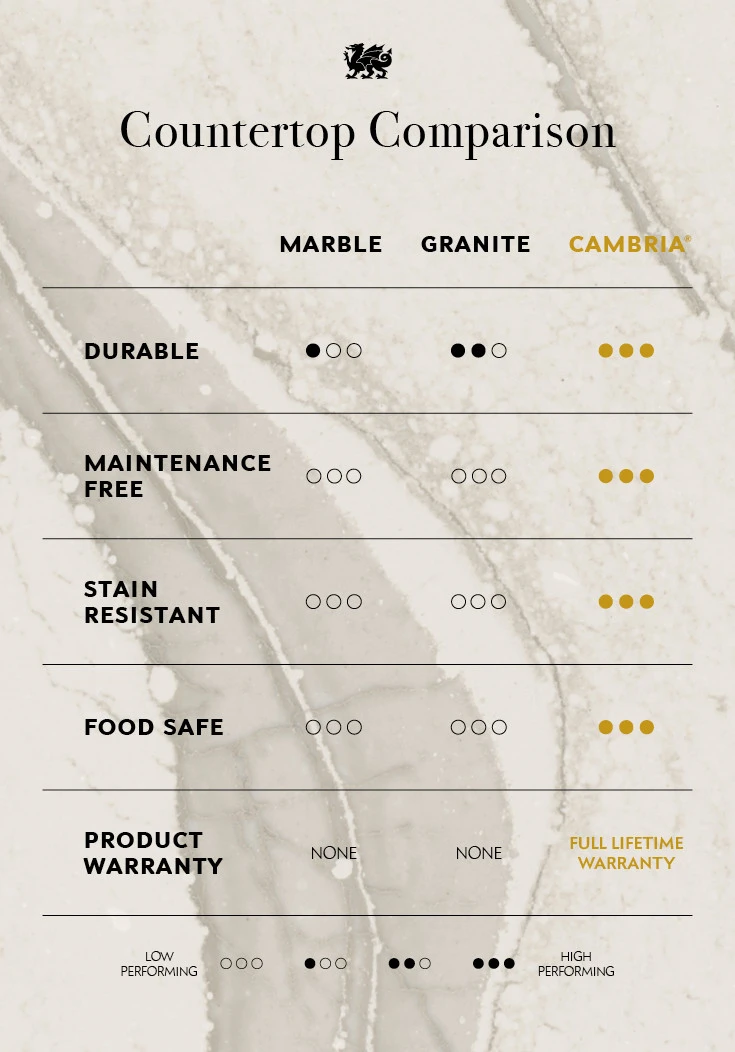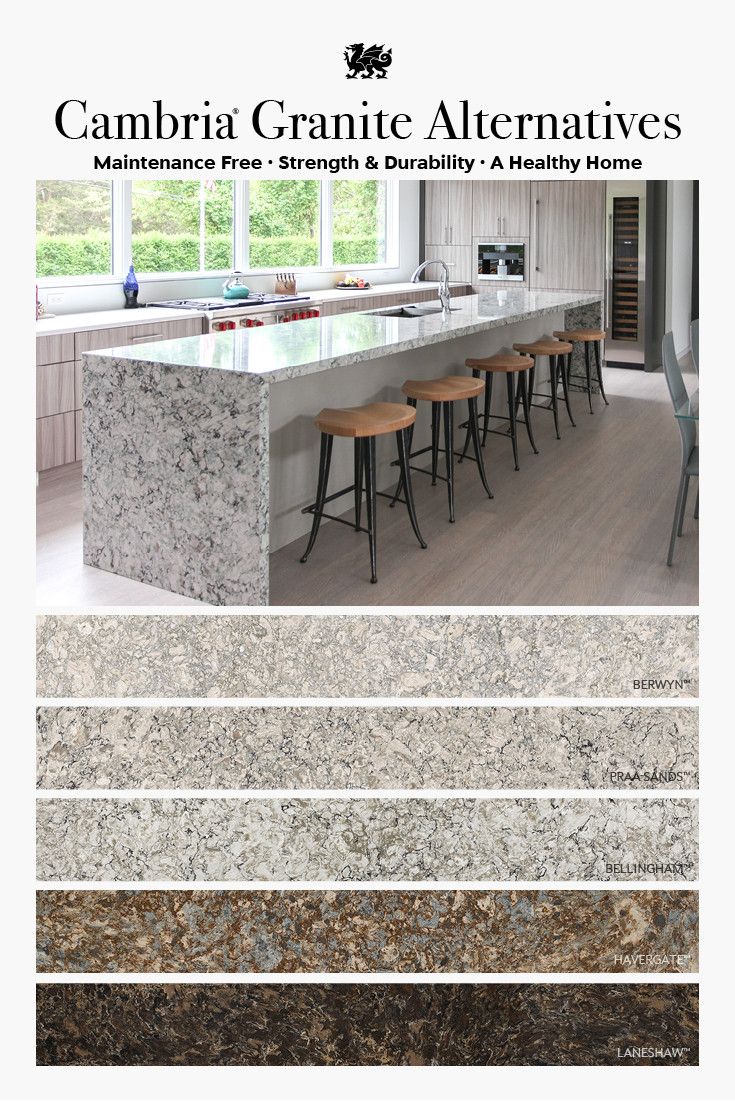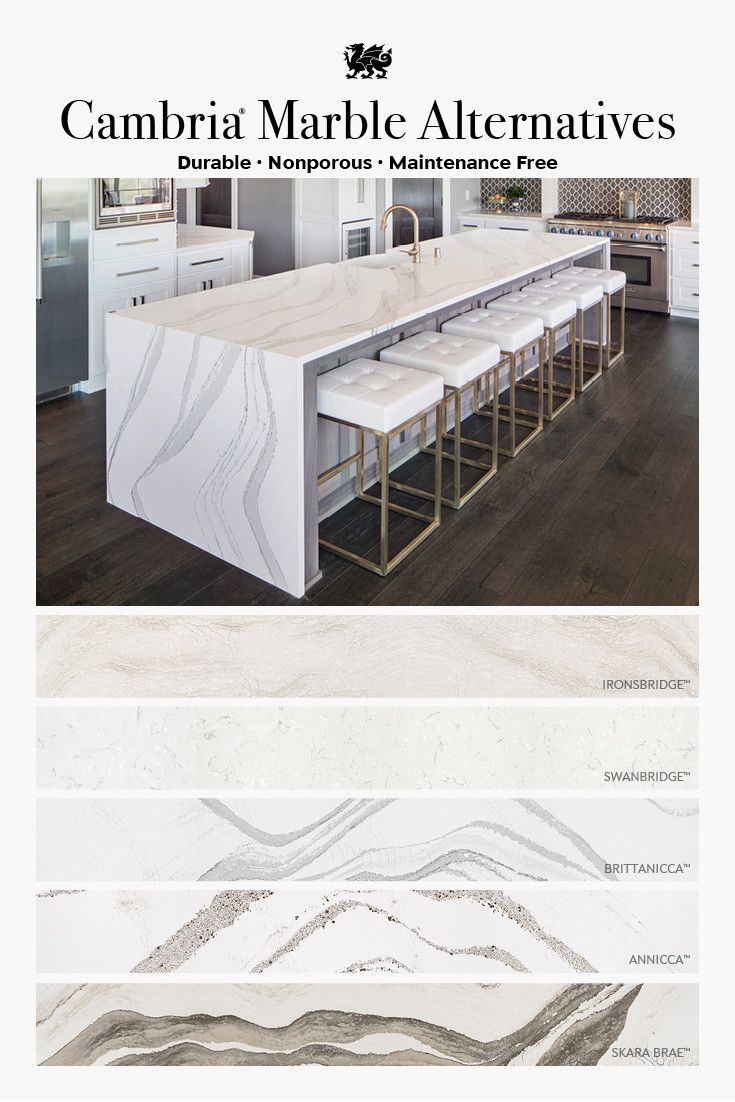 GET THE cambria quartz LOOK
Follow Cambria on SOCIAL MEDIA with #MyCambria for more standout designs.
Interested in creating a showstopping design project with Cambria? BUY A SAMPLE, FIND A DEALER, or call 1-866-CAMBRIA (1-866-226-2742) to be connected with a market representative in your region. Or visit our website to set up a DESIGN CONSULTATION.
For more information on Cambria, including performance data, product specifications, and certifications, see our PROFESSIONAL RESOURCES.
Please call 1-866-CAMBRIA (1-866-226-2742) to confirm design availability.