Let's Get Vertical with Quartz
In the Kitchen, Bathroom, and on the Fireplace
Written by Linda Leatherdale
Quartz countertops are a leading trend in the world of design, and Cambria leads the way with its palette of unique and innovative quartz designs.
Now another new trend is emerging—taking Cambria quartz surfaces and going vertical. From backsplashes in the kitchen, shower surrounds in the bathroom, and even on the fireplace, designers and homeowners are finding new ways to show off the most in-demand quartz surface in the market today.
Quartz backsplashes
"Many of our clients love Cambria and they dreamed of a seamless vertical continuation of the countertop. So it was a natural fit to use the same quartz design for the backsplash," explains Tony Gatti, who owns renovation firm Gatti Brothers with his brother Joe.
This brother duo, whose projects are primarily in the Greater Toronto Area (GTA) in Canada, recently had the pleasure of working with celebrity designer Jane Lockhart, owner of Jane Lockhart Design, who was helping a client renovate a home in Toronto's Roncesvalles neighborhood. The client selected Cambria's popular Brittanicca quartz design for the kitchen island and countertops, and they rave about the backsplash, also in Brittanicca.
"It looks amazing," says Tony. "Cambria does such a professional job in matching the veining."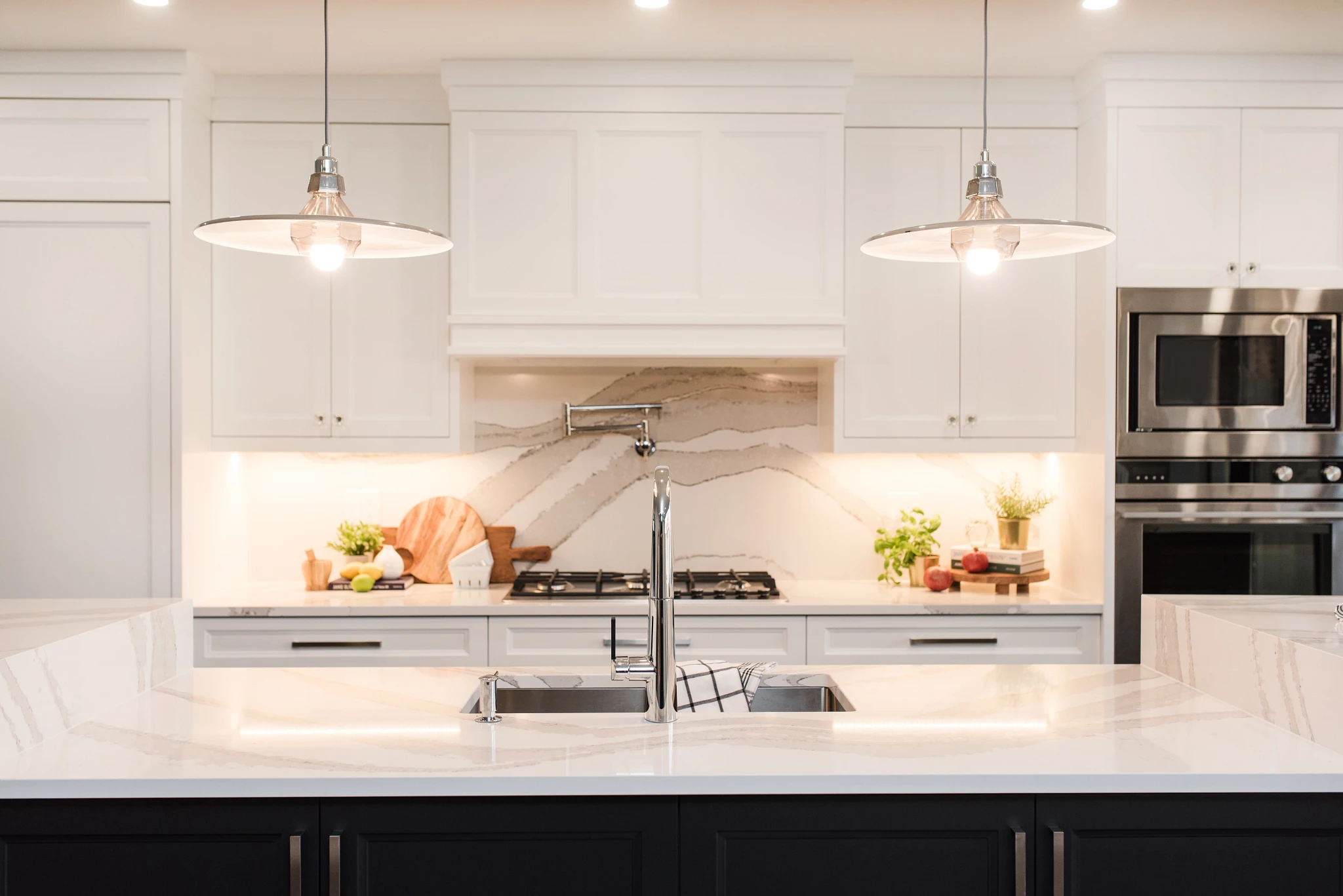 Cambria design shown: Brittanicca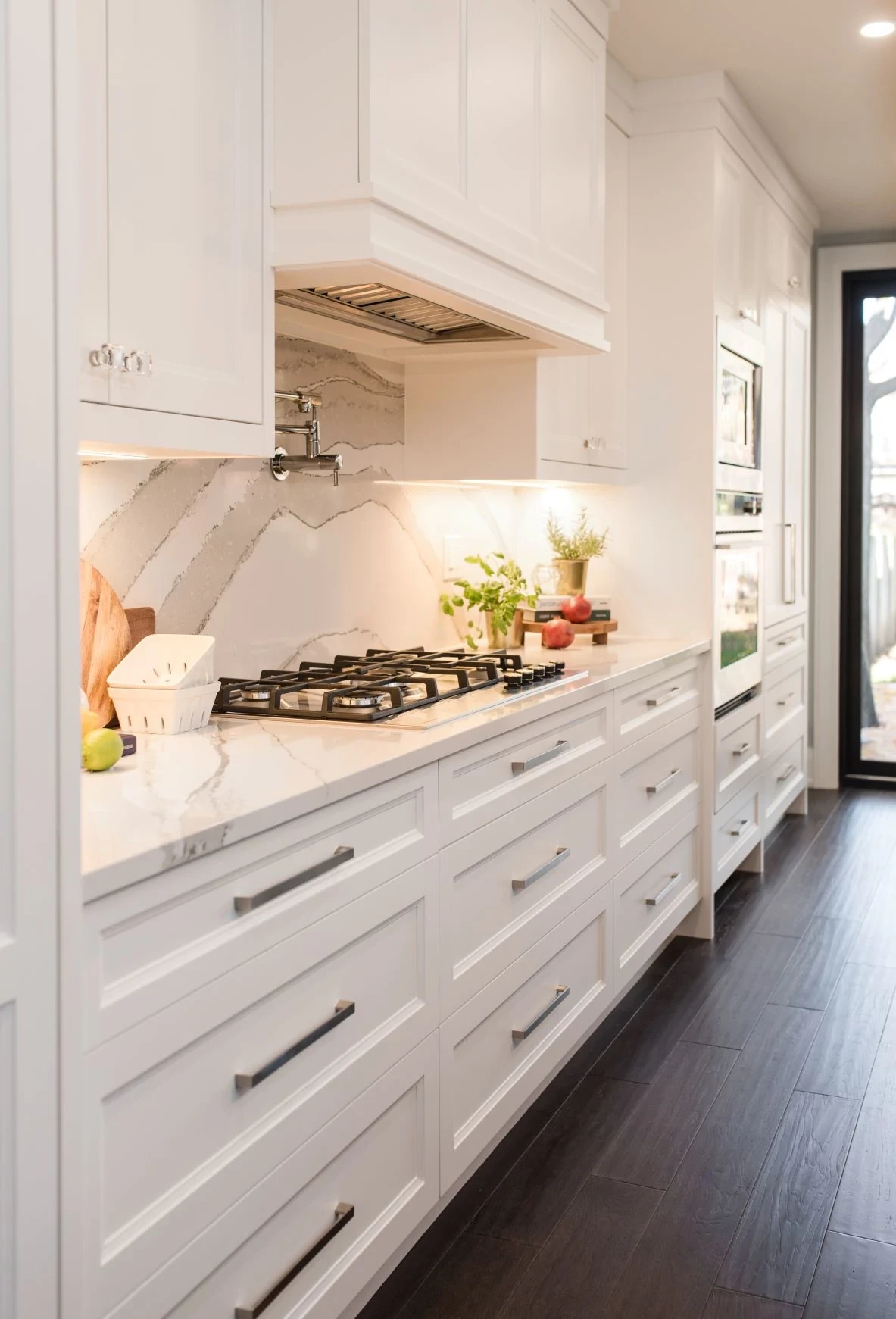 Cambria design shown: Brittanicca
The Gatti Brothers took this vertical trend a step further on another major renovation in neighboring Mississauga, where they worked with designer Melissa Kanaan, owner of The Appleby. Here, the family selected Cambria's Portrush™ design for a two-tiered island, backsplash, and countertops. They also wanted the hood fan to be clad in Cambria because it's so durable and easy to maintain.
"This project was more involved, as the cabinet maker had to build the box for the hood fan, and have the right amount of space between the box and cabinets," Tony explains. "It turned out to be a showpiece."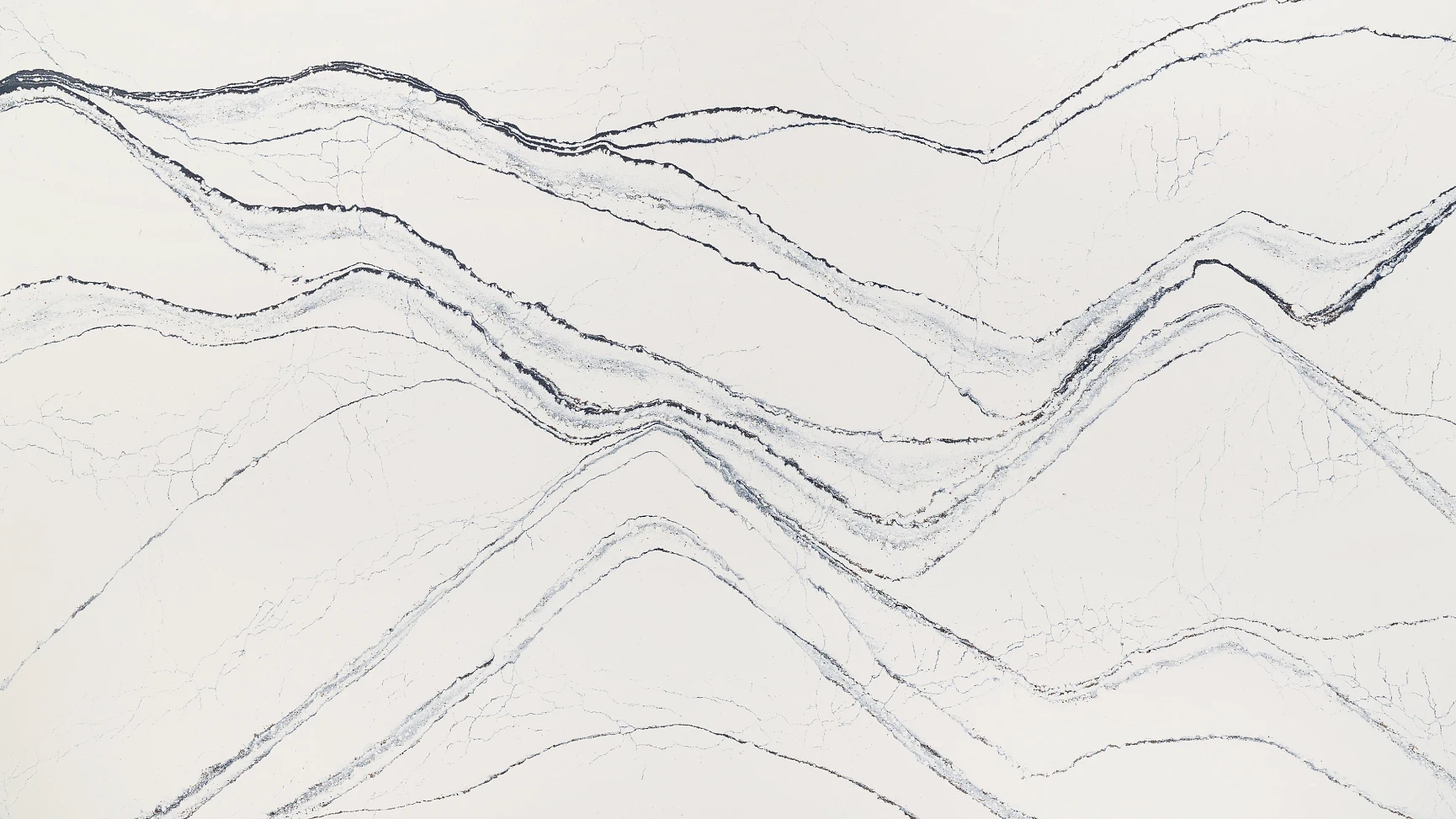 Cambria design shown: Portrush
quartz shower walls
Another emerging trend, as Cambria's new Trend Report points out, is making bathrooms into luxury spas and what better way to show off the beauty of Cambria quartz surfaces than to get vertical in the shower.
"This application can definitely add a wow factor," says designer Rutnaish Prihar, owner of Oakville, Ontario-based design/build firm RP Design. During a recent visit to Cambria's Gallery in Toronto's trendy King East Design District, Rutnaish, a Cambria fan who specializes in the luxury market, was impressed with the shower surround display and plans to use this application in her next bathroom reno. She was particularly impressed with the benefits of using Cambria on shower walls, such as no ugly grout lines and no sealing or reconditioning required. Because Cambria is nonabsorbent, it is ideal for moist areas, like the shower, and cleaning is easy. Just use warm water, a soft cotton cloth, and mild soap, if desired.
Rutnaish agrees bathroom makeovers are becoming more and more popular, as clients desire a theme of health and wellness in their homes and want to include environmentally safe products like Cambria quartz surfaces. Statistics show a 22 percent increase in remodeling bathrooms in 2022, and 40 percent of designers and specifiers predict this trend will continue to grow over the next three years.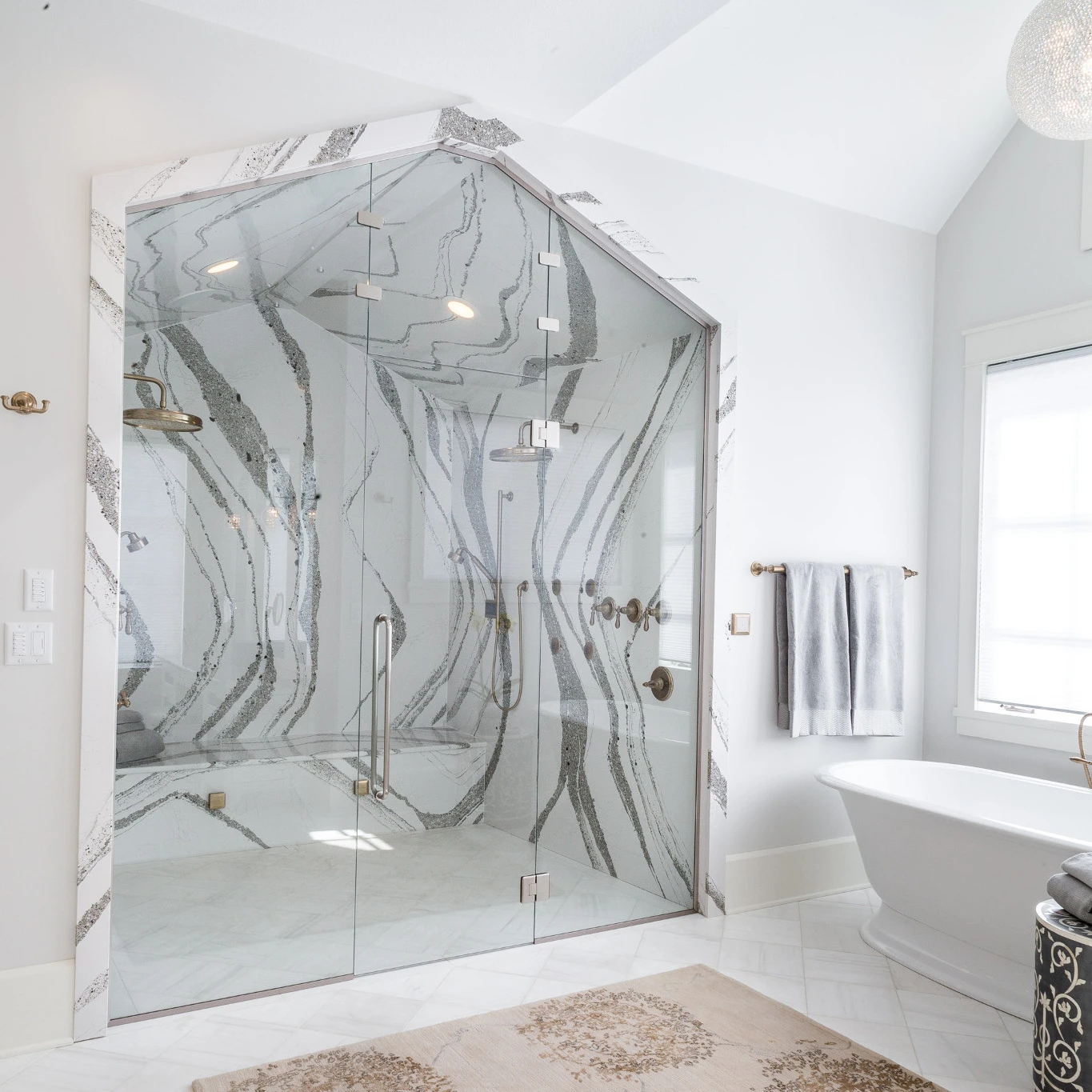 An impressive example of Cambria quartz surfaces being used vertically in this stunning shower clad in AnnicCa™.
quartz fireplace surrounds
And talk about a wow factor. Getting hot, hot, hot is going vertical on fireplaces. "This definitely is a growing trend," comments Kamal Moshg, owner of Parand Design in Oakville, Ontario. Kamal recently worked with Oakville designer Sonia Sudan of Sonia Sudan Interiors on a home renovation where the homeowners selected Cambria. He says one of the stunning features in this home renovation project is the spectacular floor-to-ceiling fireplace clad in Cambria's Dunmore™ design. Similarly, see below for another stunning fireplace using Cambria's Skara Brae design.
Kamal recalls how it took a strong team from one of Cambria's approved installers to perfectly install the Cambria quartz surround completed with mitered edges. "This fireplace makes a statement for sure," he says. Kamal points out the key to success in fireplace surrounds is ensuring you use an experienced team who adheres to the guidelines set out by the fireplace manufacturers and by Cambria.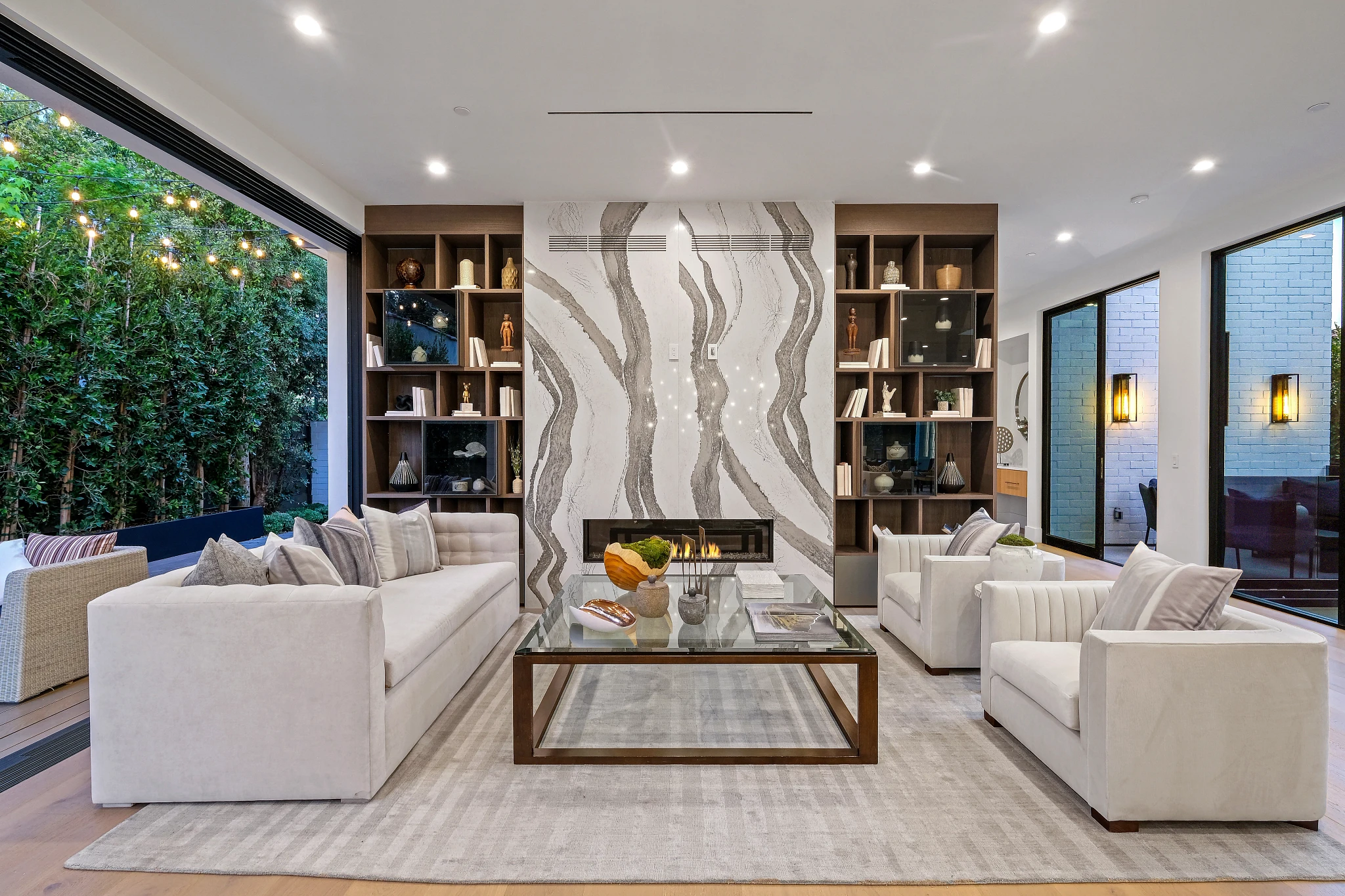 Vertical quartz applications add beauty and value
Many in the design world agree, our homes are our safe havens, where health and wellness matters, and where we gather with our family and friends to share great memories. Our homes are also our castles where we continually strive to add beauty and value. And Cambria quartz surfaces are the best way to achieve both.
Please call 1-866-CAMBRIA (1-866-226-2742) to confirm design availability.