Log Cabin Kitchen Remodel Ideas From Zosia Mamet's Cabin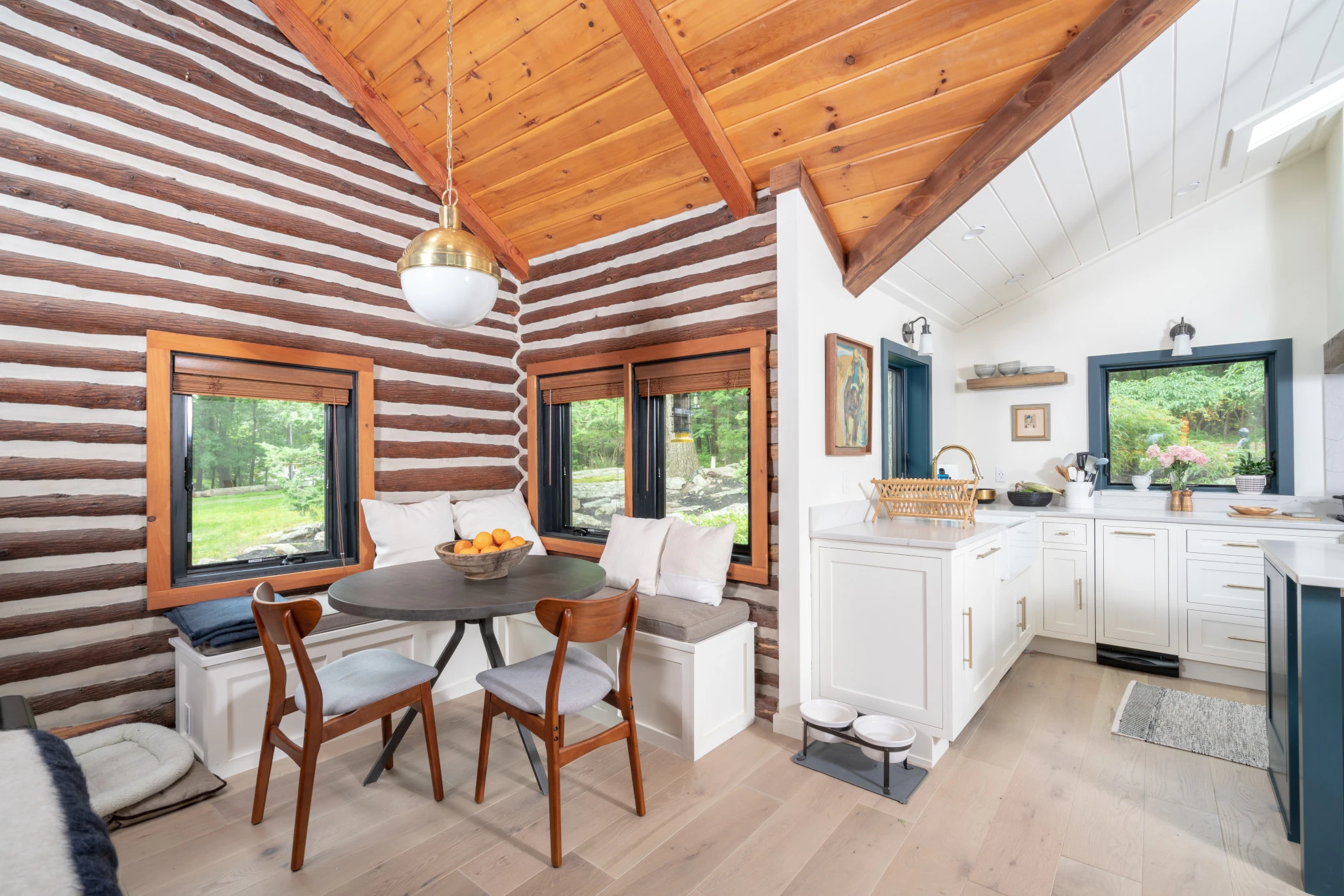 After falling in love with an upstate New York cabin, HBO Girls star Zosia Mamet and her husband Evan enlisted the help of Brett and Kara Phillips, the interior designers behind High Street Homes based in Fort Worth, Texas, to breathe new life into the house.
Opening Up Space
The couple loved the existing structure—a 1920's original log cabin nestled in the trees and overlooking the lake—but needed more space, especially in the hard-to-navigate l-shaped kitchen where they planned to entertain their large families.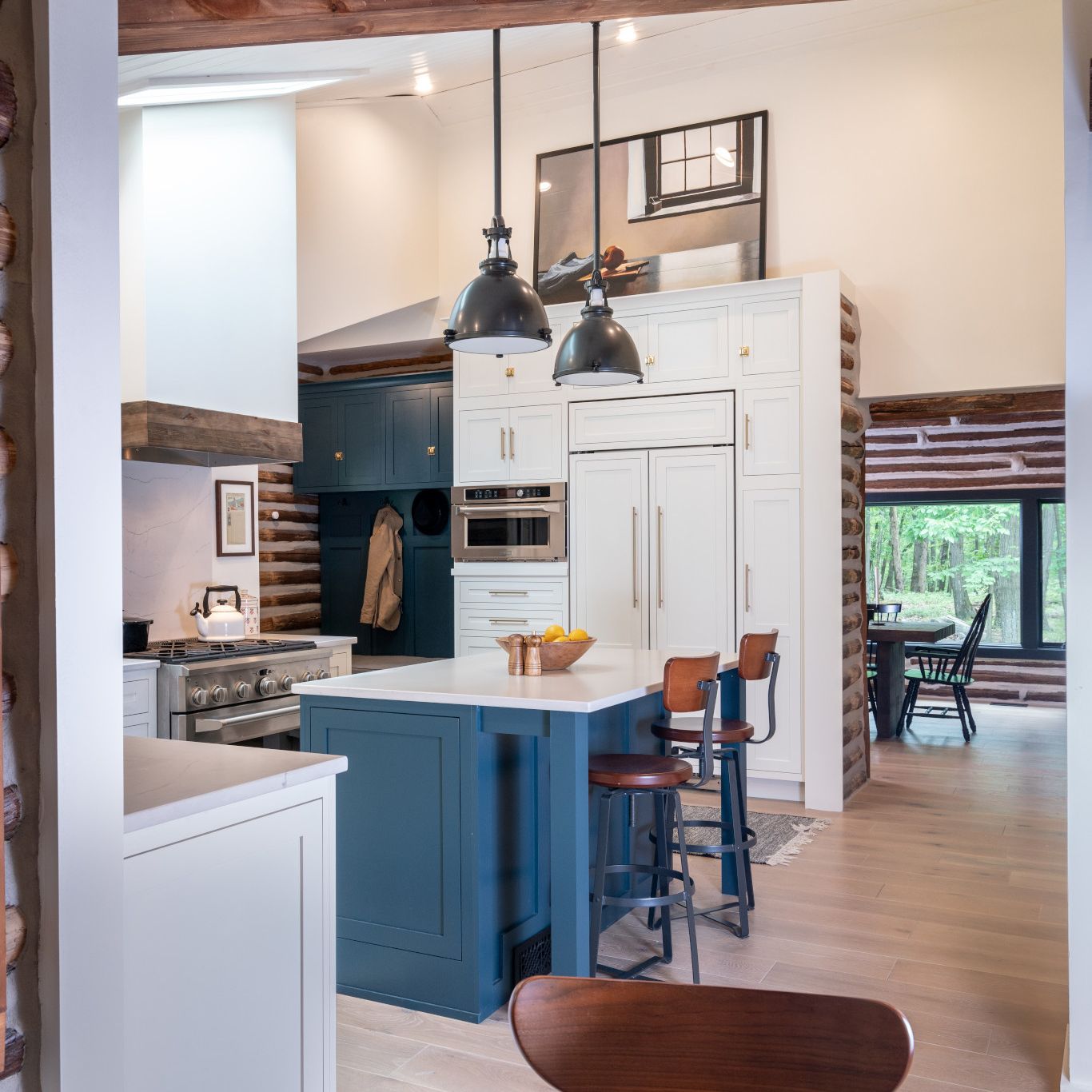 Cambria Winterbourne Matte Island
"We wanted it to be a place of retreat for them and their extended family, which informed the design process," said Brett and Kara. "They wanted a spot to hole up when not working, where family could visit and just hang and do creative 'artist things,' like read, write, and play music. It really needed to be a place to gather that felt homey but still elevated."
Brett and Kara visited for a weekend to experience the property firsthand and to understand its heartbeat. Since they'd be designing remotely, the trip helped Brett and Kara understand flow, pain points, and how to maximize the experience for guests and for everyday living. From the beginning, they had a shared vision of this being a place where people could come and retreat.
"We noticed really quickly the lack of a communal space to come together, as in the kitchen," said Brett and Kara. "We wanted to open it up, so movement was much more fluid. I mean, you couldn't even open the fridge and oven at the same time."
But as soon as they made the dining room into a dining room—it used to be a man cave with a pool table—then thoroughfare mattered. With that in mind, they expanded the walkway so someone sitting at the kitchen island wouldn't need to push their stool in to let someone walk by to get to the dining room.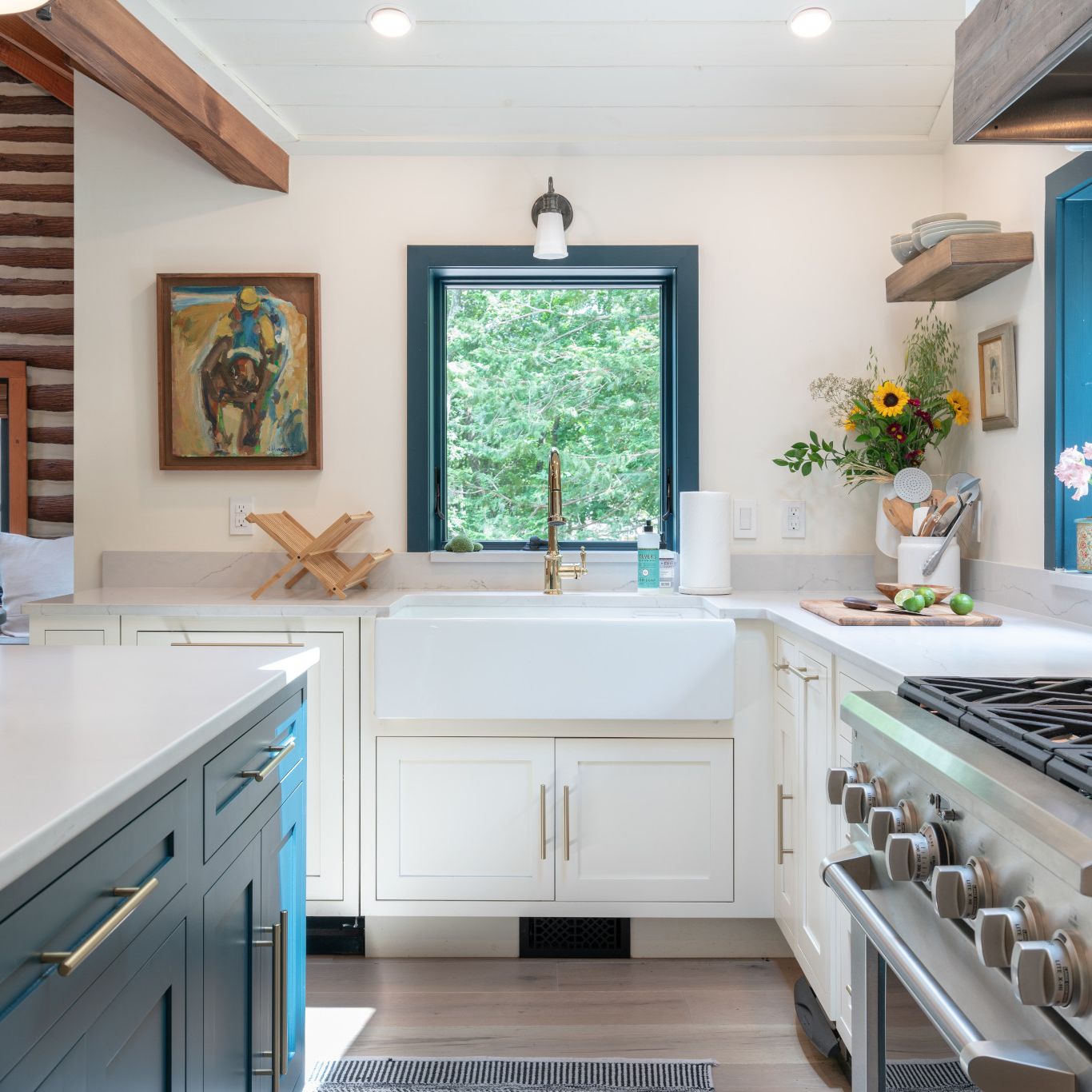 High Street Homes expanded the space to create room for entertaining.
The designers even thought about how many people could cook at one time and gather without getting in the way and how function would work for storage, creating a separate wet bar with Cambria Carrick Matte countertops and playful wallpaper for hosting.
Cambria Carrick Matte countertops on the cabin's new wet bar.
Selecting Timeless Quartz Countertops
"We tried to keep as much as we could of the original exterior and shape of the house to minimize additional waste," said Brett and Kara. "We thought about how to repurpose and keep what was there but still achieve a new look. The existing structure was a log cabin with two additions, which we blended together and painted. We really worked within the walls."
Because the kitchen would be used for entertaining, the countertops needed to be particularly durable. And because both the designers and homeowners wanted it to be a no fuss place, marble was not an option.
Cambria surfaces, comparatively, are made of pure, natural quartz and feature unparalleled strength and durability. They're nonporous, nonabsorbent, and NSF-51 certified, so they're food safe, scratch and stain resistant against common household items like coffee and wine, and maintenance free. You can literally just wash with warm water and mild soap. Plus, Cambria backs everything with a transferable Full Lifetime Warranty, so they were an obvious choice.
"We wanted to keep the feel of the existing 1920s log cabin but update it, and the countertop was a perfect fit for that," said Brett and Kara. "The beauty of the material is only matched by its performance. We had not used Cambria before, but we loved the product and the quality so much that we sourced Cambria again for a recent new build project in Texas."
Cambria also offers the most expansive design palette in the world with 200+ designs in a wide variety of hues, depths, and movements, all of which can be easily mixed and matched together for a one-of-a-kind aesthetic. For Zosia and Evan, the style of Winterbourne felt a bit more modern in the space, and Brett and Kara liked that the Ella design felt natural with both the blue cabinetry in the kitchen and with the mix of tiles in the bathroom's shower.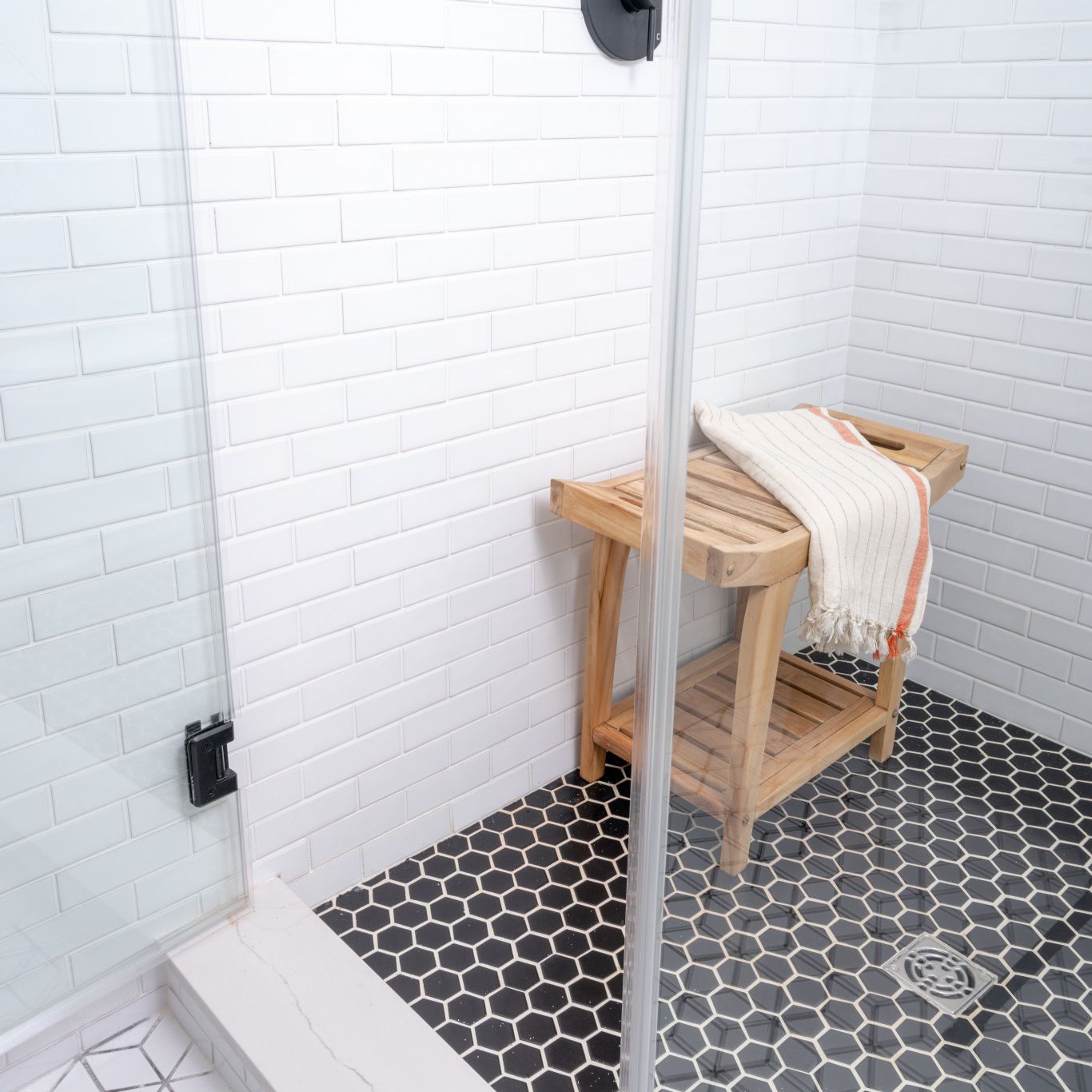 A bathroom shower with Cambria Ella Matte elements.
"The organic movement in Cambria met the needs of a modern log cabin and felt updated, clean and fresh and still simple and beautiful," said Brett and Kara. "It's elegant, clean, and party-ready."
A common misconception is that quartz feels manufactured, but the Ella veining really captured the home's organic, earthy elements and movement. Brett and Kara landed on a matte finish for what they describe as casual elegance, the perfect tone for a cabin in the woods. And using a low-sheen surface helps reduce light reflection.
"Matte is understated and perfect for a beautiful everyday look, while high gloss can feel a little more formal and traditional," said Brett and Kara. "Both are stunning. It's fun to play with different finishes in a room. Get samples! Understanding how much direct sunlight you have in a room is helpful when making a selection."
Since the cabin already had incredible natural light, the matte finish minimized glare and allowed the room to feel organic and airy.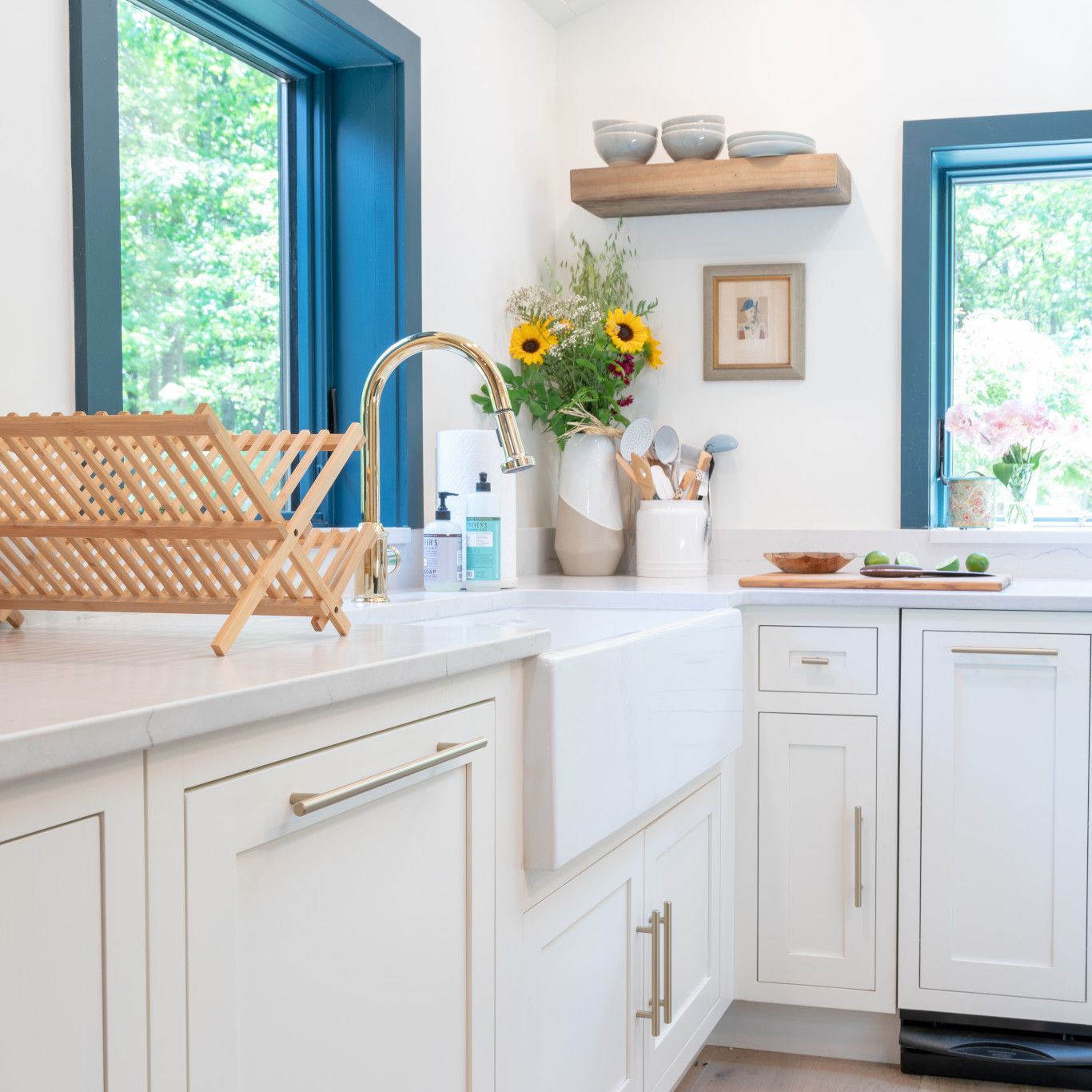 Even though it's a log cabin, the home still feels vacation-ready.
"Sure, you can find a similar look in another stone, but you don't get the same durability," said Brett and Kara. "Cambria requires no sealing, polishing, or reconditioning—ever. Our design really embraces the thing that's going to be livable and be great for longevity."
GET THE LOOK
Follow Cambria on SOCIAL MEDIA with #MyCambria for more standout designs.
For more information on Cambria, including performance data, product specifications, and certifications, see our PROFESSIONAL RESOURCES.
Interested in creating a showstopping design project with Cambria? BUY A SAMPLE, FIND A DEALER, or call 1-866-CAMBRIA (1-866-226-2742) to be connected with a market representative in your region. Or visit our website to set up a VIRTUAL DESIGN CONSULTATION.