The Well Groomed Man… and His Bath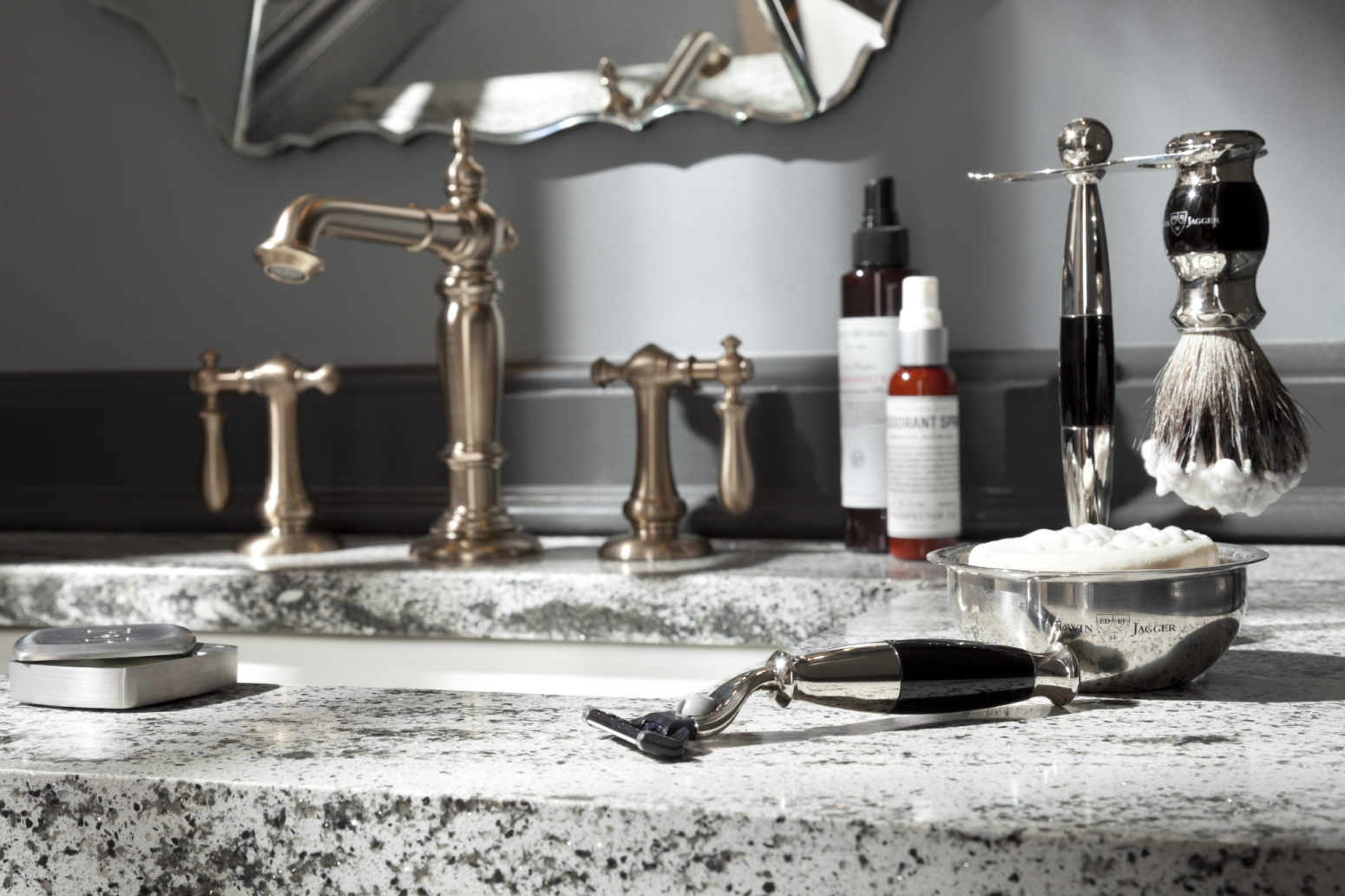 Cambria design shown: ROXWELL™
Admit it. When you shave, you're practically on autopilot, rushing through the job while thinking about the day or night to come. But it doesn't take much to turn this grooming chore into an anticipated moment of self-care—and your beard and skin will look better in the process. Here's a look at five shaving trends to take you from feeling like you're just scraping by to the cutting edge.
Upgrade your blade
If you've been shaving with a throw-away drugstore special, it's time to take your game up a notch by switching to a top-quality three or five blade disposable cartridge that you'll use with a well-balanced handle. Shop around for a razor handle that fits well in your hand and looks good sitting on your vanity (that's right: get a stand to hold your razor and brush so you can show them off). The Art of Shaving (ARTOFSHAVING.COM) is one good source.
Go traditional
A step up from the standard cartridge razor is the double-edge safety razor, which many shaving aficionados feel delivers a closer shave than even the highest-tech 5-blade disposable cartridges. Read about the advantages—and pick your razor—at Classic Shaving (CLASSICSHAVING.COM).
Complete the set
After your razor, the two most important elements of a great shave are the shaving brush and cream. The best brushes are made of badger hair, which will absorb water as you wet it, then release that water into the shaving cream when you dip it into the tub, creating the perfect consistency. Finally, you'll need a great glycerin-based shaving cream in a tub, not a can. Look for classic English badger brushes and shaving cream at West Coast Shaving (WESTCOASTSHAVING.COM).
Bring the barbershop experience home
More men are importing the art of straight-razor shaving into their own bathrooms. It's easier than you might think, but it does take some practice. Learn more.
Tend your beard
Just because you wear your facial hair long doesn't mean it doesn't deserve some TLC. Pick a quality beard trimmer that's well suited to the length of your beard, quiet, and rechargeable, then finish the job by smoothing on a light oil—try Proraso Beard Oil, a staple of Italian barbers for nearly a century, available at Sephora.