Take Comfort
Comfort food can be exciting (and indulgent) with a few simple tweaks to elevate and update
Written by AMANDA LECKY
Photography by STEVE HENKE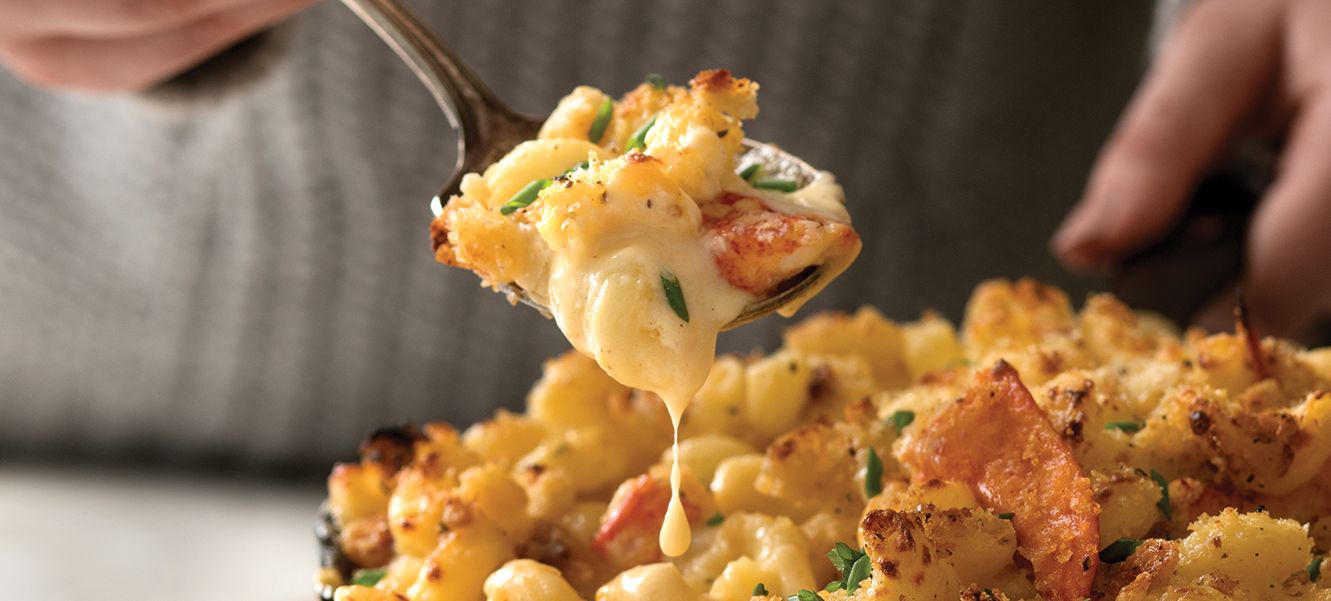 DECADENT LOBSTER MAC AND CHEESE
Ingredients
Serves 4
3 Tbsp. unsalted butter
2 small or 1 medium shallot, minced
3 Tbsp. flour
2 cups whole milk
½ cup heavy cream
2 Tbsp. Dijon mustard
2 cups white cheddar
1 cup Gruyère
2 cups sharp cheddar
Salt and freshly ground pepper, to taste
1 tsp. freshly ground nutmeg
1 lb. pasta, such as cavatappi or ziti—cooked according to package instructions
1½ lbs. lobster meat, cooked
1 cup bread crumbs, homemade or store-bought, tossed in 2 Tbsp. melted butter
Fresh chives
Fresh Italian parsley
Fresh dill
DIRECTIONS
Preheat oven to 375°F. In a Dutch oven or a large pot, melt butter, add shallots, and cook until translucent, 1–2 minutes. Add flour and whisk until shallots are coated, 1 minute. Add milk, whisking constantly, and bring to a slight boil; whisk until thickened and smooth. Add heavy cream and Dijon. Turn off heat and add cheeses, salt and pepper, and nutmeg; stir until melted. Add cooked pasta and lobster. Place the mixture in one large or multiple oven-safe gratins. Top with buttered bread crumbs. Bake 30 minutes, turn oven to broil, and cook until mac and cheese is bubbling and topping is nicely browned, 4 minutes. Top with freshly chopped chives, Italian parsley, and dill.
Customize It
Instead of luscious lobster, add crumbled bacon for a crispy-salty hit or chopped herbs for freshness. Alternatively, swap out the cheeses for a different flavor profile (hint: Mix in some smoked Gouda for extra depth).

WHOLE FISH WITH ROOT VEGETABLES
INGREDIENTS
Serves 4
2 whole branzinos or other fish, gutted and scaled
6 whole garlic cloves
3 small lemons, sliced
variety of herbs such as rosemary, thyme, and oregano
¼ cup olive oil
salt and freshly ground pepper, to taste
variety of root vegetables (can also use brussels sprouts)
1 bunch young carrots, cleaned and tops trimmed
1 bunch baby golden beets, peeled, tops trimmed, and quartered
10 caper berries
DIRECTIONS
Preheat oven to 425°F. Rinse and dry fish. Stuff with garlic, lemon slices, and herbs. Drizzle with 2 Tbsp. olive oil and salt and pepper; set fish on one side of a baking pan. Wash and peel (if needed) root vegetables. Toss root vegetables, carrots, and beets in a bowl with the remaining olive oil plus salt and pepper. Arrange vegetables and caper berries alongside fish on baking pan. Bake until fish is white and flaky, 25–30 minutes.
Customize It
No need to copy our recipe exactly: Replace the root vegetables with whatever is in season—squash, eggplant, and tomatoes are a great summer combo, for example.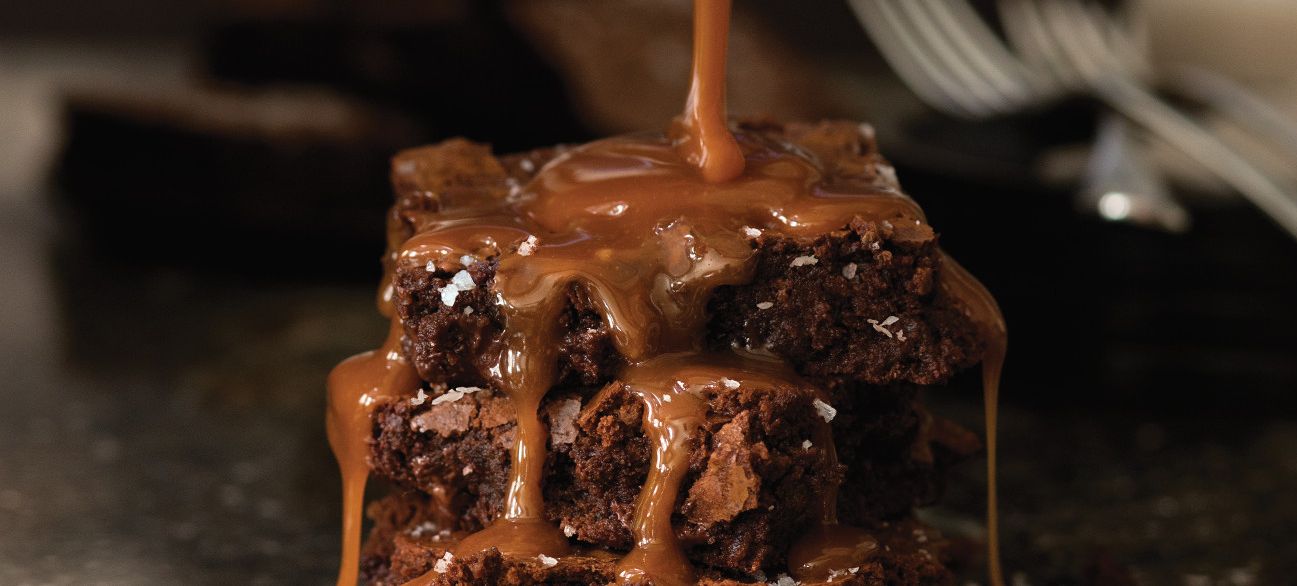 SALTED CARAMEL BROWNIES
INGREDIENTS FOR BROWNIES
Makes 9 brownies
nonstick coconut oil spray (or canola)
unsweetened cocoa powder
1 stick unsalted butter, cut into ½-inch pieces
½ cup dark chocolate, chips or chopped
1/3 cup bittersweet chocolate, chips or chopped
2/3 cup all-purpose flour
1 Tbsp. espresso powder
½ tsp. baking powder
¼ tsp. kosher salt
2 large eggs
1 cup raw or turbinado sugar (or regular sugar)
1 tsp. vanilla
¾ cup (approximately 8) chopped store-bought salted caramel truffles
1 tsp. sea salt flakes or coarse salt
INGREDIENTS FOR CARAMEL SAUCE
½ cup sugar
2 Tbsp. water
2 Tbsp. unsalted butter
2 Tbsp. heavy cream
sea salt, to taste
DIRECTIONS
Make brownies: Spray an 8-inch square baking pan with nonstick spray. Dust with cocoa powder, tap out excess, and set aside. Preheat oven to 350°F. Melt butter and both chocolates in a saucepan on medium heat, set aside, and let cool. Combine dry ingredients and set aside. Whisk eggs and sugar until light and fluffy. Add vanilla. Fold in cooled chocolate mix and then dry ingredients followed by chopped truffles. Pour batter into prepared pan, smooth top, and sprinkle with sea salt flakes. Bake until toothpick comes out clean, 25–30 minutes. Transfer to a wire rack and cool in pan. Make caramel sauce: In a small saucepan, bring sugar and water to a rolling boil over medium heat until sugar dissolves. Swirl pan gently and brush down sides of pan with a wet pastry brush to keep from sticking. Cook over medium-high heat until sugar is deep amber in color, 8 minutes. Remove pan from heat and add butter, cream, and salt (sauce will bubble up); whisk to combine. Cover and keep at room temperature. Reheat before using. Pour over brownies.
Customize It
A generous dollop of whipped cream or peanut butter is a great topping alternative. Or spoon some high-quality chocolate sauce over each square for a chocoholic's delight.
PAIR LIKE A PRO
Leslee Miller, Certified Sommelier of Amusée shares her favorite pairings.
LOBSTER MAC AND CHEESE | Linda Vista Vineyard Chardonnay
The combination of peach, yellow apple, melon, and honey notes exudes luxury, making this the perfect pairing for an über-decadent dish.
FISH | Pinot Noir Rosé
There's nothing like a crisp glass of rosé to enjoy with pan-roasted fish, especially with scrumptious veggies. Textured cherry, citrus, and mineral notes give this wine a truly vibrant mouthfeel.
BROWNIES | Vin de Glacière Viognier
Freezing the grapes prior to fermentation concentrates the sugars and intensity in this wine. Notes of apricot, honey, and exotic tropical fruits make the perfect pairing with this rich dessert.
Styling and recipes by Lara Miklasevics.