Summer Sizzle
SURPRISE GUESTS WITH UNEXPECTED OFFERINGS FROM THE GRILL
Written by Paul Hagen
Photography by STEVE HENKE
When you've got a hankering for char and smoke, amp up your traditional offerings with these grilled vegetable dishes served along with some delicious dips and sauces. In fact, the grill needn't even be your only source of heat. Many ingredients—in particular root vegetables—benefit from pre-roasting in the oven to ensure they're nicely cooked through, bringing out all the flavor. Create some of our favorite dishes we've curated here, alongside a gorgeous crudités platter, and raise a toast with our perfectly paired summer libations.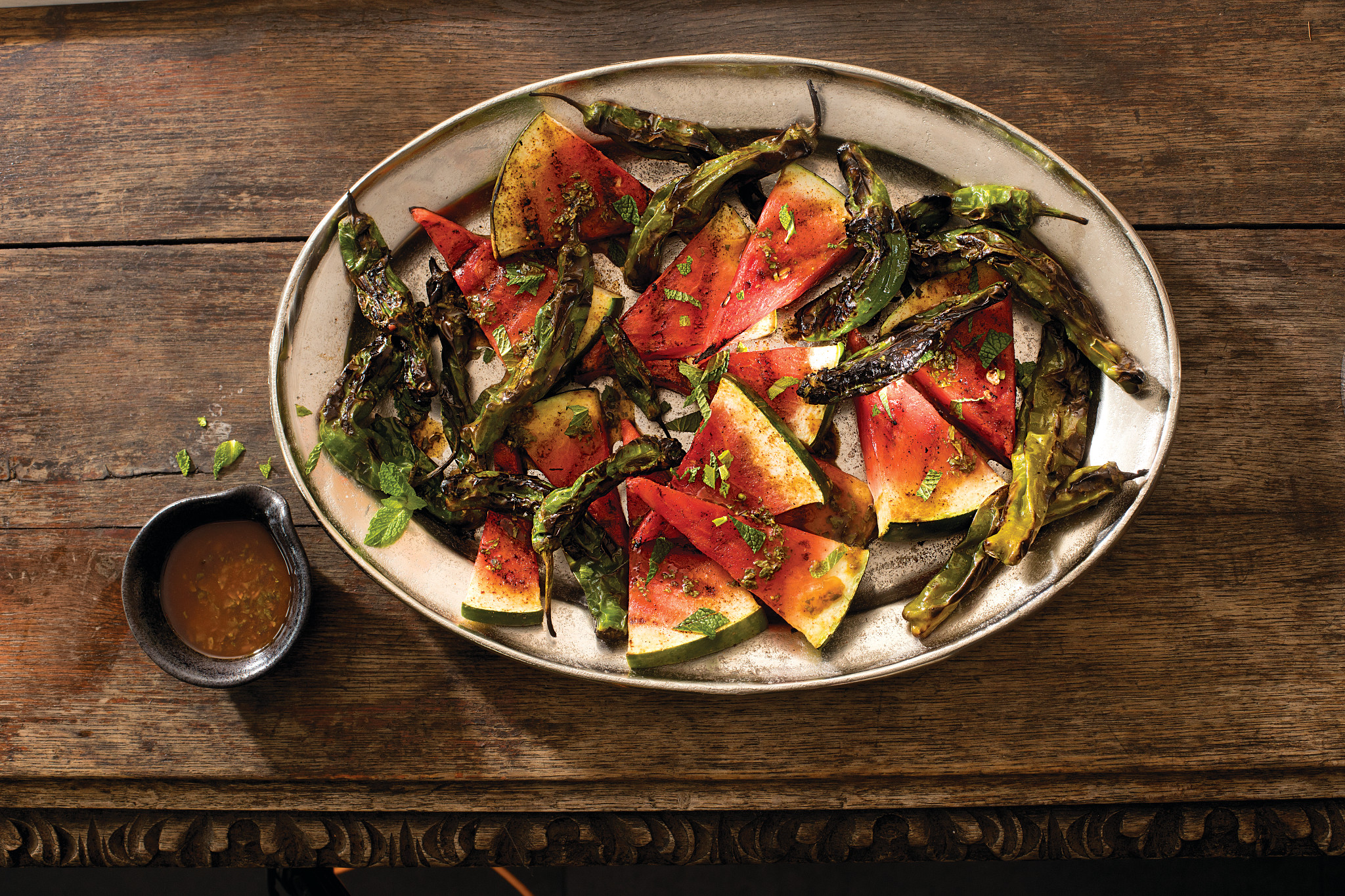 GRILLED WATERMELON & SHISHITO PEPPER SALAD
Serves 4–6
INGREDIENTS
For the dressing:
Zest and juice of 1 lime, 1 Tbsp.
½ tsp. honey
½ tsp. paprika or chili powder
½ tsp. salt
½ tsp. pepper
1 Tbsp. finely chopped fresh mint
3 Tbsp. extra-virgin olive oil
For the dry rub on watermelon:
1 tsp. sugar
½ tsp. salt
½ tsp. cumin powder
½ teaspoon paprika or chili powder
Other ingredients:
1 small watermelon, with rind removed and cut into approximately 4-by-2-inch pieces
8 oz. shishito peppers
Fresh mint leaves
1 Tbsp. vegetable oil
DIRECTIONS
Pour all the dressing ingredients into a jar and whisk to form a smooth sauce. Check salt and add more to taste. Pour all dry-rub ingredients in a small bowl and mix. If you are using a large gas grill, you can grill the watermelon and peppers together. Oil a grill plate and place the peppers on it. Sprinkle with salt and place on the hot grill. Toss every minute for 5 minutes until the peppers are nicely charred. Sprinkle the dry rub on both sides of the watermelon and place it on the hot grill. Grill for 2 minutes on one side, then flip to grill for 2 more minutes on the other side. Finally, put the grilled watermelon and grilled shishito peppers on a serving plate, drizzle the dressing, and top with fresh mint leaves. Serve immediately.
---
Pair Like A Pro | LESLEE MILLER, certified sommelier of Amusée, recommends: "Try a zesty white with a mix of fresh floral aromatics, summer fruit, and a mouthwatering zip. Pullus 'Halozan' is a combination of sauvignon blanc, welschriesling, riesling, furmint, chardonnay, pinot blanc, pinot grigio, and muscat from Štajerska, Slovenia. Clean and pleasant, the wine offers a light, distinctly fruity sip."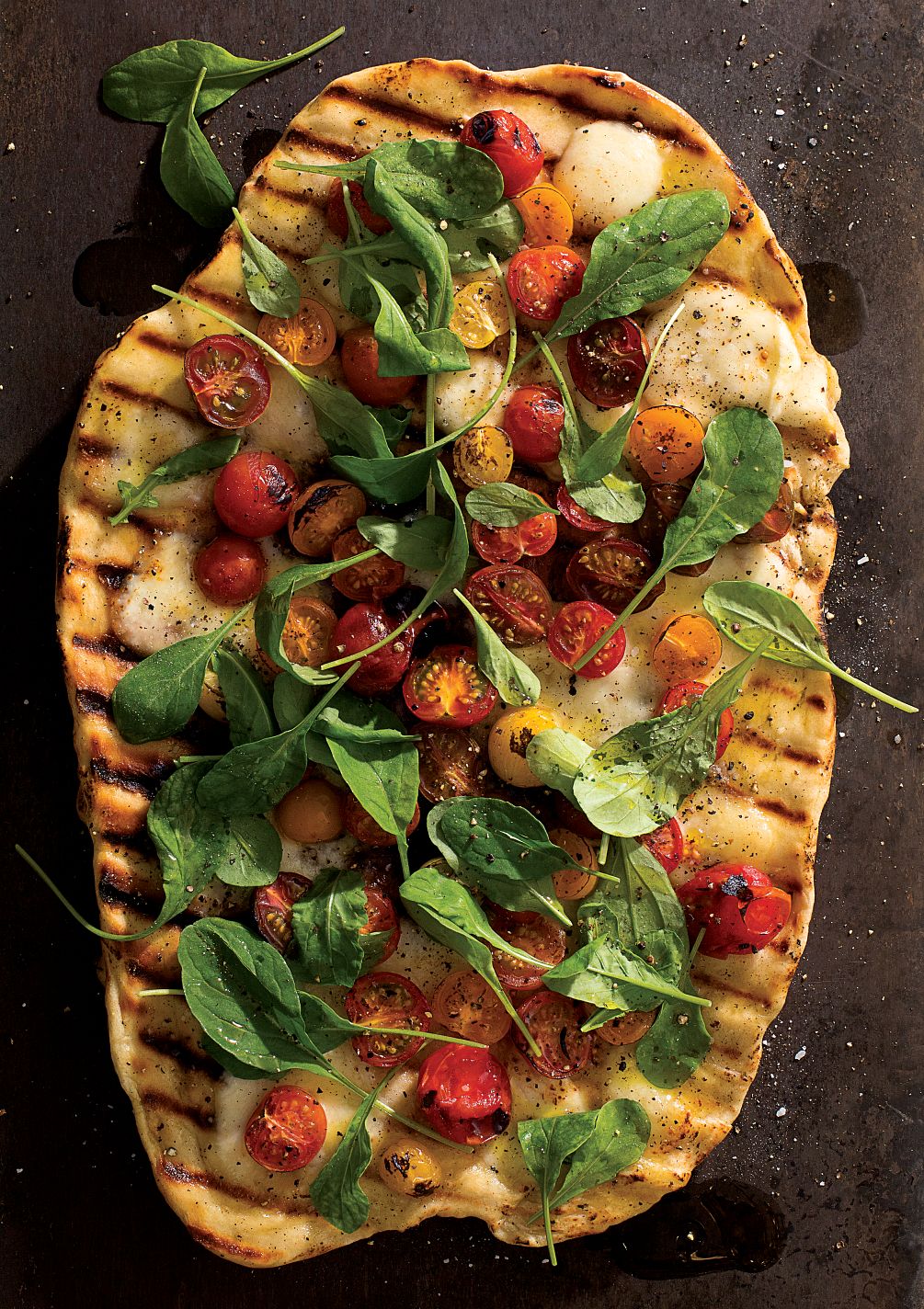 PIZZA ON THE GRILL WITH CHERRY TOMATOES, MOZZARELLA, AND ARUGULA
Adapted from
The New York Times
Serves 3–6
INGREDIENTS
3 10-inch pizza crusts
Extra-virgin olive oil for brushing
1½ to 2 boxes cherry tomatoes
5 oz. mozzarella—shredded if fresh, sliced if low-moisture
Coarse salt and freshly ground pepper to taste
3 generous handfuls baby arugula
DIRECTIONS
Heat grill. Cut cherry tomatoes in half and place in a bowl near the grill, along with the olive oil, salt and pepper, mozzarella, and arugula. Brush the hot grill rack with olive oil. Place a round of dough on a lightly dusted baker's peel or rimless baking sheet. Slide the pizza dough from the peel or baking sheet onto the grill rack. If the dough has just come from the freezer and is easy to handle, you can place it directly on the grill without the peel. Close the lid of the grill (with the vents closed) and wait 2 minutes. Lift the grill lid. The surface of the dough should display some big air bubbles. Using tongs, lift the dough slighty to see if it is evenly browning on the bottom. Rotate dough to ensure even browning. Keep it on the grill, moving it around as necessary, until it is nicely browned, with grill marks. When the bottom is nicely browned, use tongs or a spatula to slide the dough onto the baking sheet or peel, and remove from the grill. Close the grill again. Next, make sure that there is still some flour on the peel or baking sheet and flip the dough over so that the uncooked side is now on the bottom. Brush the surface lightly with oil, topping with cherry tomatoes and shreds or slices of mozzarella. Sprinkle with coarse sea salt and freshly ground pepper. Slide the pizza back onto the grill. (If using a gas grill, reduce the heat to medium-high.) Close the lid and cook for 2 to 3 more minutes, until the bottom begins to brown. Open the grill and check the pizza; if the cheese hasn't melted, leave for a few more minutes. If the bottom is getting too dark, move the pizza to a cooler part of the grill and close the top. Use a spatula or tongs to remove the pizza to a cutting board. Scatter the arugula on top, cut into wedges, and serve. Repeat with the other two pizza crusts.
---
Pair Like A Pro | Leslee Miller recommends:
"If you have not yet tiptoed into the world of Mexican wine, your first step should be Bodega Symmetría 'Eje,' a combination of zinfandel, cabernet sauvignon, tempranillo, syrah from Valle de Guadalupe. This textured and alluring red is perfect for flatbreads and veggies, as well as spiced dips, spreads, and smoked meats."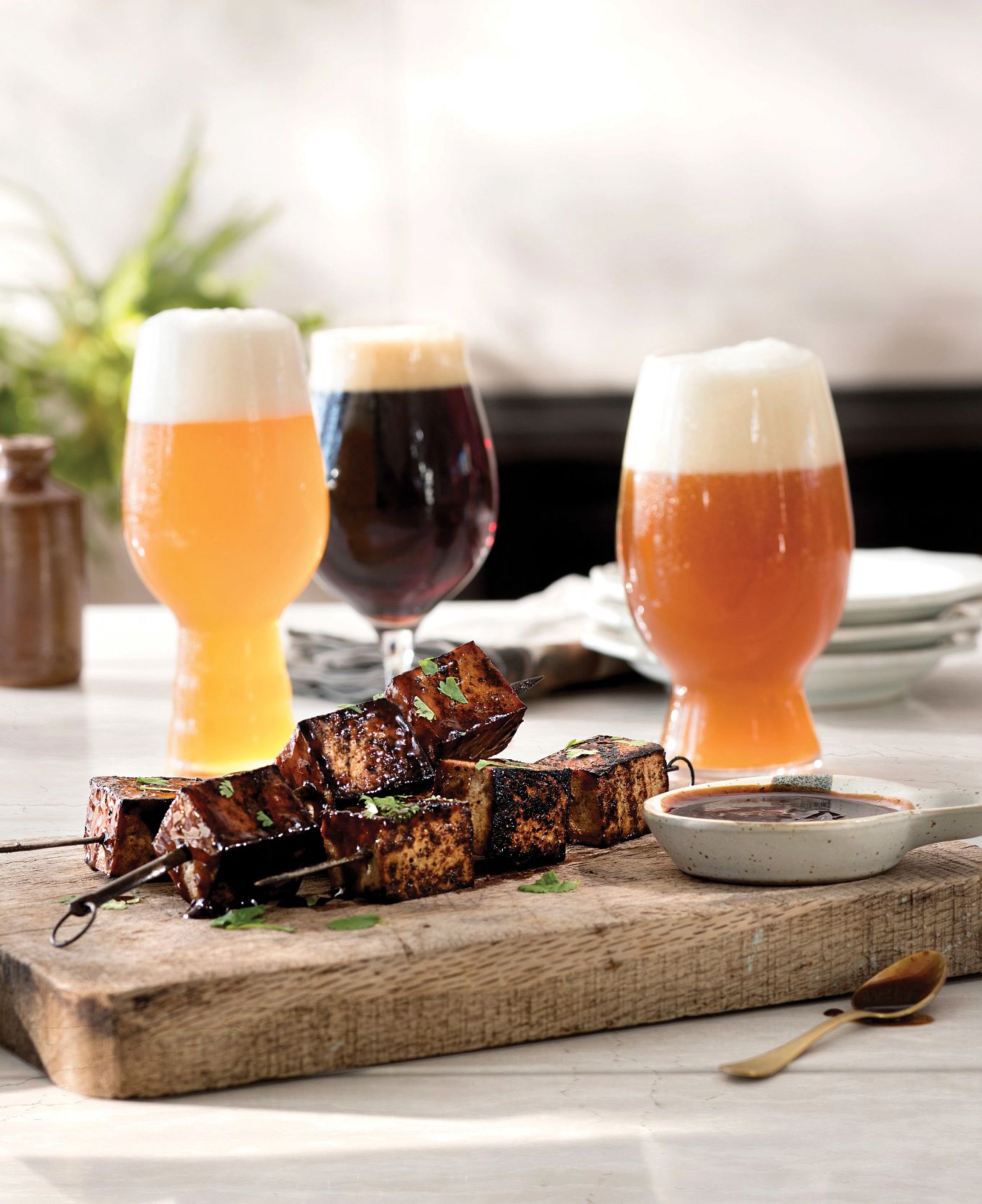 GRILLED CAJUN AND ORANGE TOFU SKEWERS
Serves 2–3
INGREDIENTS
1 block / 225 g extra firm tofu
2 Tbsp. maple syrup
1 Tbsp. soy sauce
1 Tbsp cajun spice
1 blood orange
1 tsp. smoked garlic granules
DIRECTIONS
Cut the tofu block into 12 square pieces. If your tofu is not firm, squeeze out as much water as possible. Juice the orange and mix with the other ingredients in a bowl that will allow the marinade to completely cover the tofu. Place the tofu pieces in the marinade and pop into the fridge. If the marinade does not completely cover the tofu, turn them over after an hour. The tofu will start to turn an orangey-brown color. Leave for at least 2 hours to soak up the flavors. Half an hour before you are ready to cook, soak skewers in cold water.
Heat a griddle pan on medium heat with a small amount of oil. Place 4 pieces of tofu on a skewer. Check that the skewers fit into the pan, otherwise cut to the size needed. Cook for 3 to 4 minutes on each side until the tofu is sticky and browned. Pour or brush additional marinade over skewers as you are cooking them.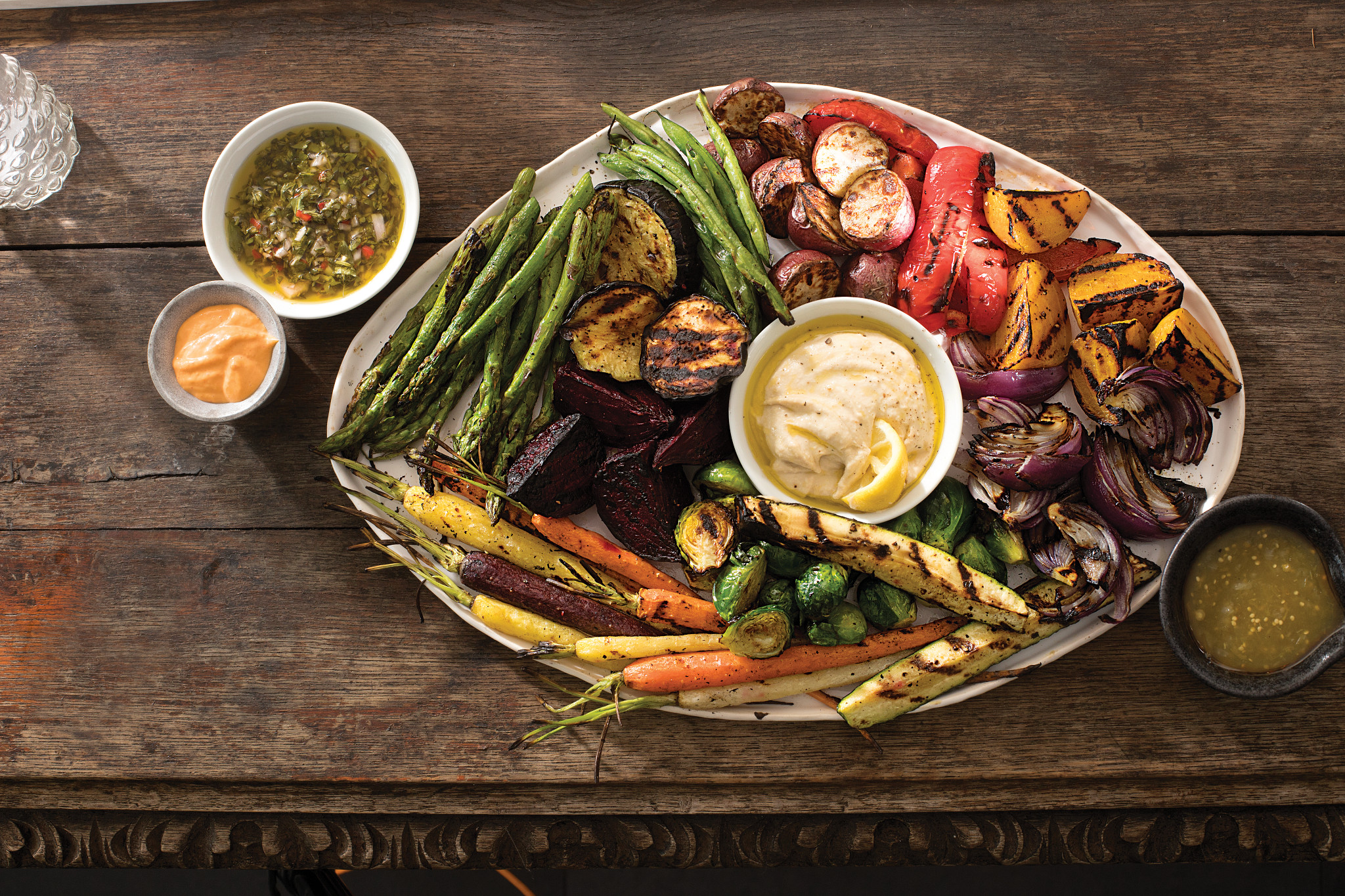 GRILLED VEGETABLES
Serves 12–24
INGREDIENTS
Assorted vegetables such as:
1 green zucchini, peeled and cut into 4 pieces lengthwise
1 red bell pepper, cut into strips
1 lb. asparagus, bottoms cut
1 small Japanese eggplant, cut into rounds
1 bunch red beets, trimmed
1 bunch golden beets, trimmed
1 pound green beans
1 pound baby potatoes
1 pound brussel sprouts
2 onions, peeled and thickly sliced
1 large bunch of carrots, peeled and with their tops/greens
¼ cup olive oil
Sea salt and freshly ground pepper, to taste
1 ball of burrata, sliced in half
8 ounces of ciliegine mozzarella balls
Dipping sauces
DIRECTIONS
Wrap the beet bunches in foil and place them directly on the grill. Grill for 40 to 45 minutes until tender. Once cooked, remove beets from the foil, peel and quarter.
Next, coat the remaining vegetables in olive oil, salt, and pepper. With about 25 minutes left in the cooking process, add the potatoes and brussels sprouts. With 10 minutes left in the cooking process, add remaining vegetables and cook until tender and grill marks have formed. Remove the vegetables and serve on a platter with dipping sauces, sliced burrata, and mozzarella balls.
Pair Like A Pro | Leslee Miller recommends:
"When pairing with summer veggies—not to mention fresh cheeses or luscious summer fruits—you can't go wrong with a gorgeous pick like J. Mourat 'Naturiste' Chenin Blanc De Jardin from Fiefs Vendéens, Loire Valley, France. The salty, limey, green-apple acid in this layered white makes mouths pucker, while notes of dried pineapple, tarragon, and yellow pear perfectly balance the palate."
---
Grilling Tips From Cambria Style
It's not rocket science, but there are some tried-and-true do's and don'ts. Here are some of our favorites:
OIL THE GRATES, NOT THE FOOD
You don't want your veggies to stick, but if you oil your veggies, the oil burns off quickly and the food will taste too charred and rancid. Instead, oil your hot grates (700–800 degrees) with a brush or a clean rag using a neutral oil like canola—like you are seasoning a cast iron pan—which is what your grates will become if you do this each time you grill.
BE BOLD WITH SEASONING
When seasoning vegetables, use the same ratio as you would use with meat.
STOP FUSSING
The less you move your food, the better it will retain flavor and display those classic grill marks—spritz a high flame with water rather than moving your masterpiece in process.
LESS IS MORE
Tend toward taking food off the heat a bit early; it will continue to cook for a few minutes after leaving the grill. And to keep the texture, and not have soggy bottoms, place on a cooling rack until you plate or use in a recipe.