Shelf Life
How to style bookcases and open shelving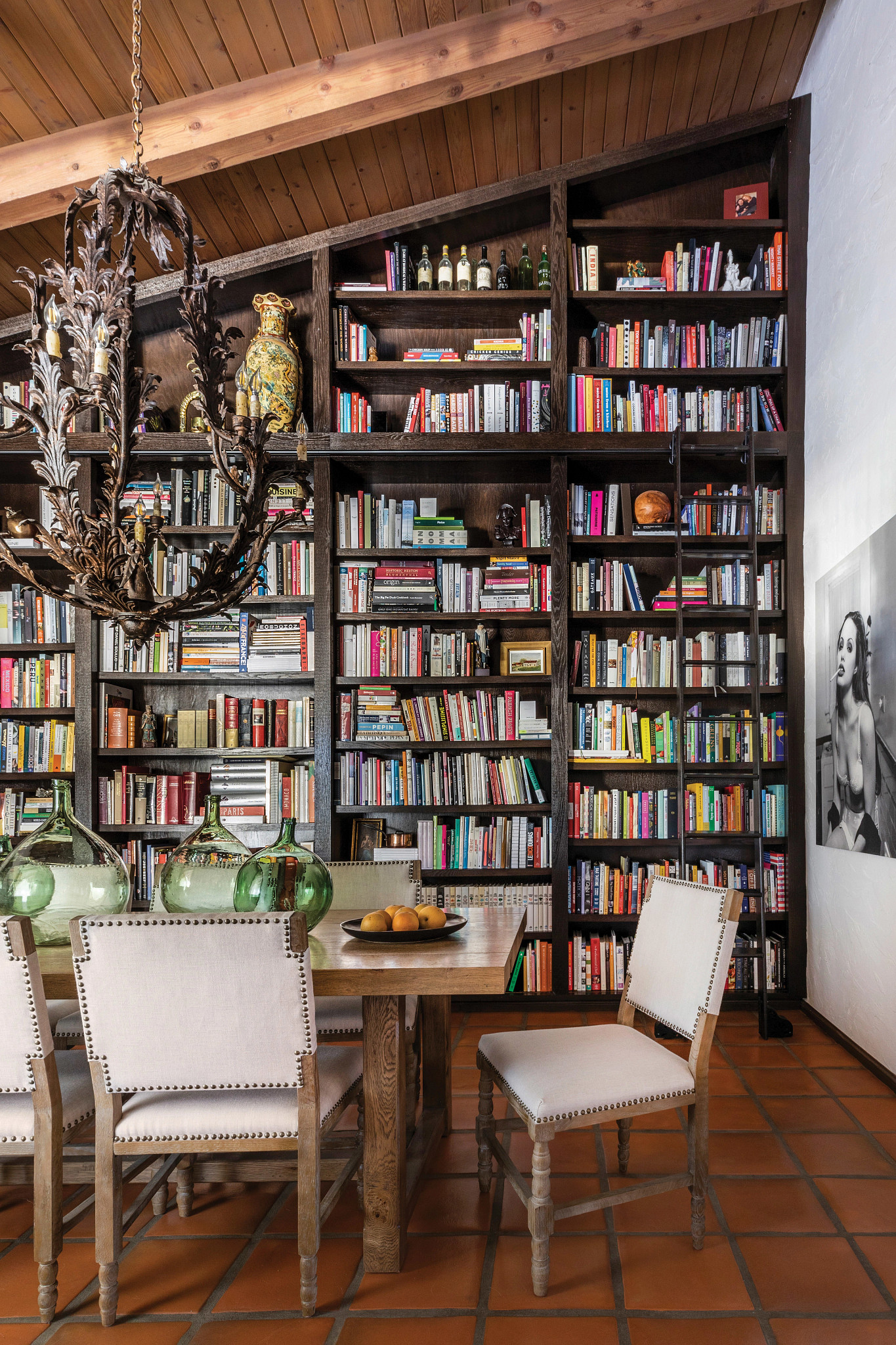 Shelving serves as more than just storage. Bookcases in dens, home offices, living rooms, or virtually anywhere in the home can tell a story, add texture and interest to a space, and provide a peek into your personality and design aesthetic. Whether you're a maximalist or minimalist, a few simple styling tips can help make the most of your bookcases and built-in shelving.
Bookish
You need not stick to the traditional mode of displaying books, vertical and alphabetical, like in a public library. Horizontal book stacking can actually make better use of space, and alternating between shelving some books vertically, some horizontally, and some with a gentle lean will add visual interest. Just beware that horizontal stacks can put too much pressure on book spines, causing damage. Stick to horizontal stacks that are no more than a few books high, and don't horizontally stack any valuable or antique titles.
Vertical book storage looks even more attractive with the strategic placement of artistic bookends. This is a good place to splurge since a thoughtfully chosen set of bookends is both functional and beautiful. Beyond this, feel free to get creative with organizing your books. Think beyond titles, topics and authors. Get wild. Arrange your books by color, creating a rainbow effect, or by specific color schemes. Or spread out the colors, being mindful to disperse any pops of color across a shelf or multiple shelves. Prefer a more neutral approach? Remove the dust jackets and incorporate more open space between book stacks. But never turn books backward on display shelves. This "design" move achieves the opposite effect of what design should do, by smothering your personality rather than showcasing it.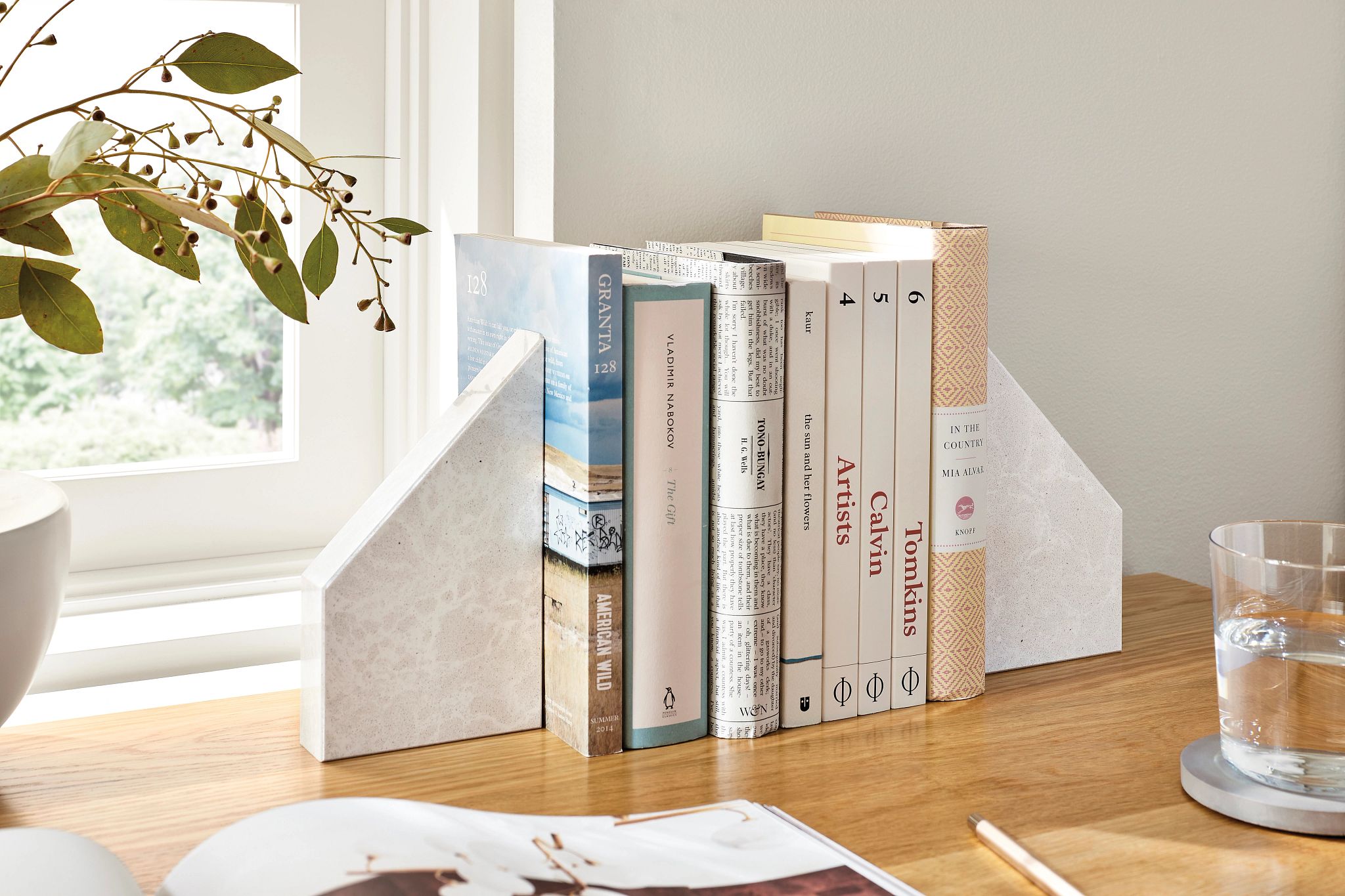 These Cambria quartz bookends are available through ROOM & BOARD. Cambria design shown: FOGGY CITY™ (Gensler product design consultant)
Mixed Media
Create space on your bookshelves to incorporate well-placed ceramics, sculptures, or other artwork that reflects your tastes or the vibe you're hoping to create in the room. Add houseplants or dried organics to add texture. You can even consider antique or salvaged items like 20th-century cameras, typewriters, or rotary telephones as whimsical showpieces that draw the eye and invoke nostalgia. Speaking of nostalgia, shelve up the vinyl as it makes a comeback into the homes of music lovers everywhere and also makes a super stylish statement on your shelves.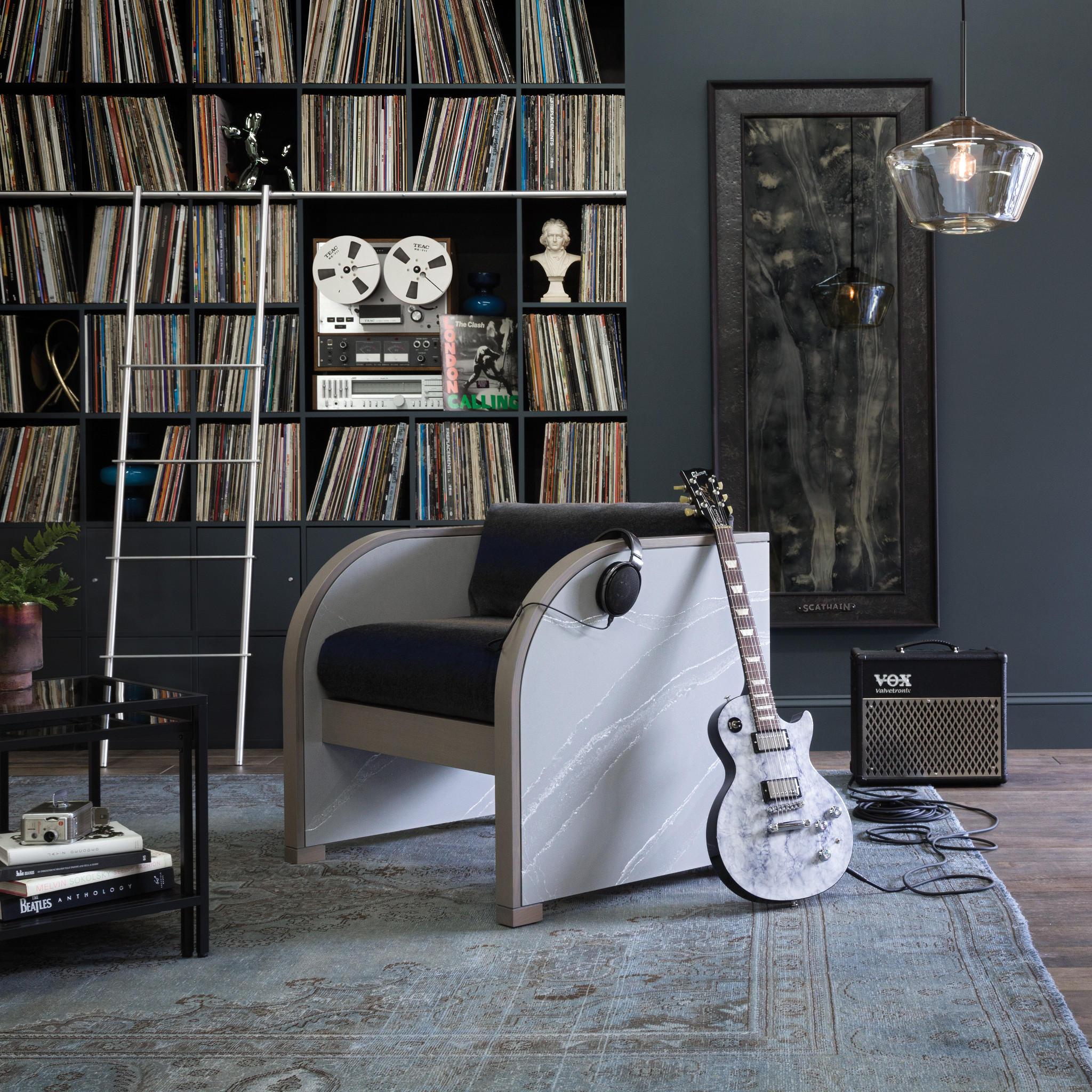 Renewed interest in vinyl makes your collection a fabulous shelved showpiece. Cambria design featured: Queen Anne Matte™.
Glassy-eyed
Open shelving and cabinetry with glass doors are a great way to display collections of glassware, serving pieces, and bar accouterments. Kitchen designers are leaning into the use of open shelving as a way to reduce clutter and incorporate everyday items into the overall visual impact of the space. The ability to customize materials like Cambria for open, "floating" shelving gives homeowners yet another beautiful option for optimized personal style.
Floating shelves can make a space feel more open while providing opportunities to showcase some of your favorite things. Cambria design shown: ELLA™ Photography by George Holz
When it comes to how best to incorporate open shelving into a kitchen design, Bakes and Kropp designer Mary Dimichino says, "I like to incorporate open shelving as a focal point either at the sink wall to the left and right of a window, or at the range wall to the left and right of the hood."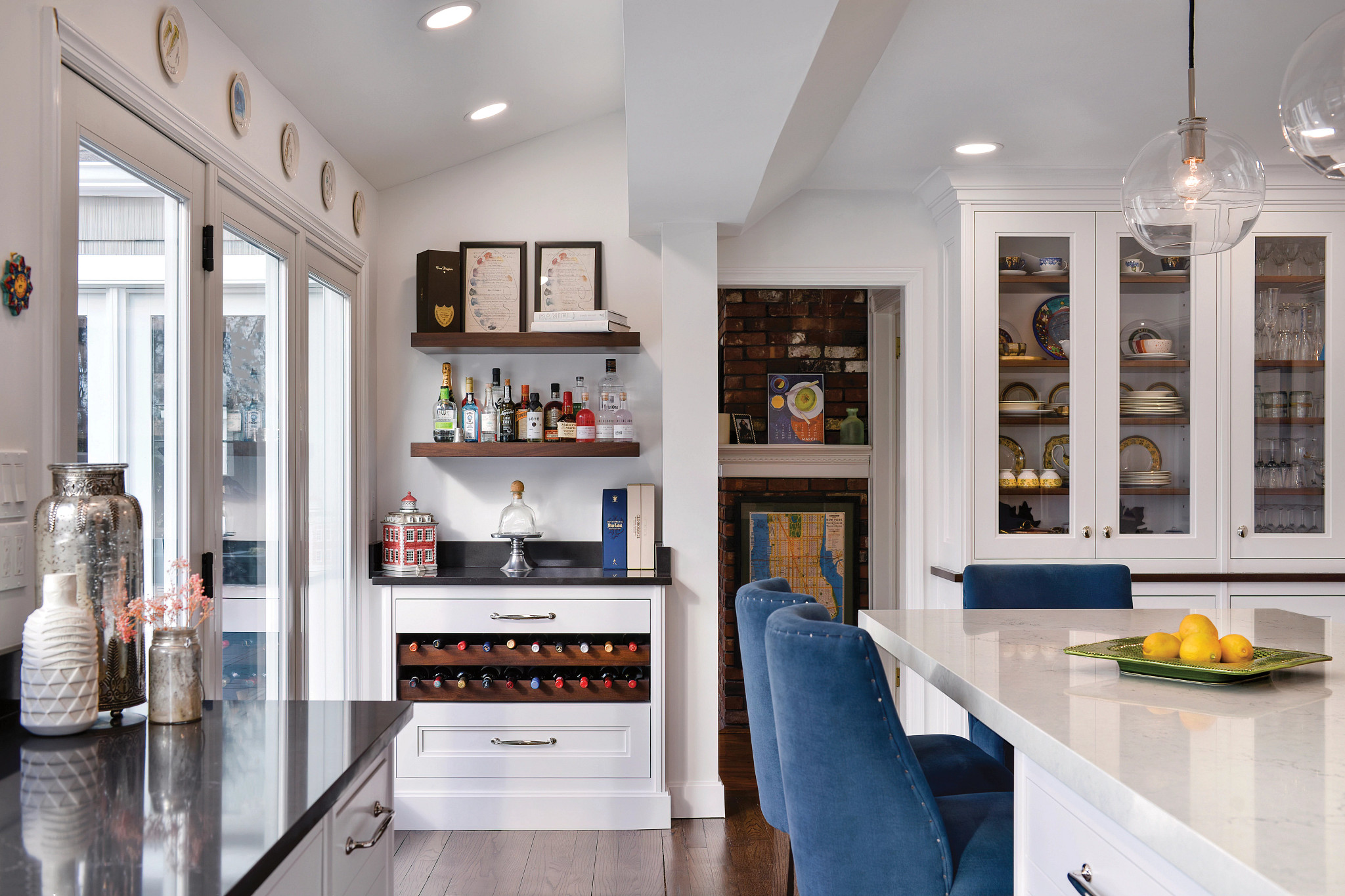 Dimichino also suggests the following rules of thumb when arranging dishware, glassware, etc. in display cabinets:
Stick to one color or pattern.
Group items together, e.g., bowls, plates, glassware.
Avoid cluttering your shelves. Less is more.
Open shelving is also popular when paired with on-trend built-in bar space in or near the kitchen. Dimichino says that when choosing to incorporate a built-in bar or serving area, she likes to incorporate either glass doors with interior cabinet lighting or open shelving. She also likes to incorporate under-cabinet refrigeration in these areas, such as refrigerator drawers, wine refrigerators, and ice-makers.
Don't shelve all this great inspiration. Whether you reorganize what's piled on up your current shelves or invest in brand new options, like ready-to-hang systems from SHELFOLOGY, these tips can help lift any space to a higher level.