Ready. Set. Renovate.
Inspired by the timeless elegance of Cambria Ella™, a Minneapolis couple gave their kitchen a smart, simple facelift
Written by MELINDA NELSON
Photography by STEVE HENKE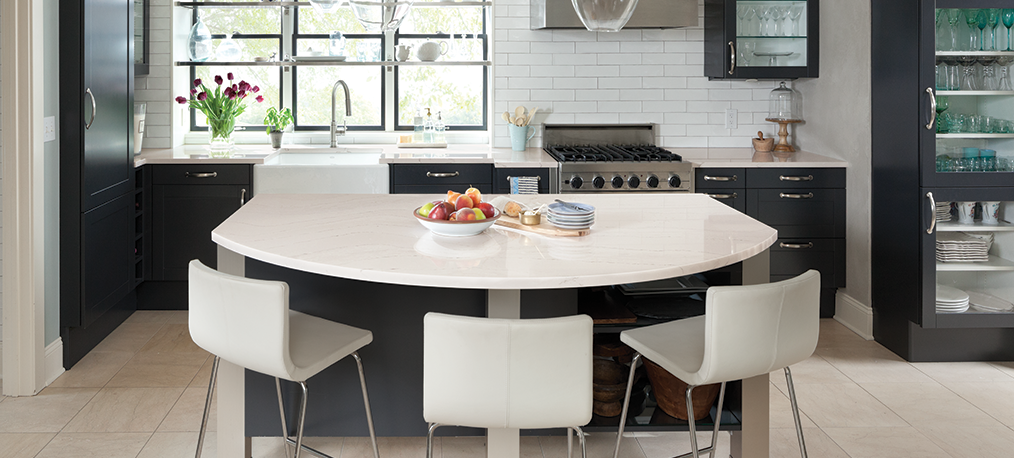 Inspiration has a mind of its own. One never knows exactly when it will strike like a lightning bolt, sparking fresh insights and igniting bold ideas. For Steve and Margo Henke, inspiration struck last September at the ASID Minnesota Showcase Home Tour, sponsored by Cambria.
As the name suggests, the Showcase Home features the latest trends in interior design and innovative products and construction techniques. As a sponsor, Cambria is featured throughout the house. The three-week tour is a must for interior designers, architects, builders, editors, stylists, and other creative professionals. Steve and Margo Henke, owners of Steve Henke Studio, a Minneapolis-based photography studio, toured the Showcase Home with longtime friend Billy Beson, interior designer and Cambria brand advocate. At the end of their visit, the trio gathered in the kitchen around the spacious center island crafted of Cambria ELLA™.
Steve and Margo have a long relationship with Cambria, as they've been shooting their designs for Cambria Style for years. In all their time shooting the natural stone, they couldn't decide on the right design for their kitchen. Until the moment where they fell in love with Ella, the design that inspired their kitchen remodel.
As Steve and Margo admired the island's pristine, sparkling surface, they were both struck with the same thought: "We knew Ella was the right choice for us," Margo says. "Our kitchen serves as a studio for all of Cambria Style's gorgeous food features. We typically shoot as many as five dishes on the island in an afternoon, so a hard-working surface for food prep is an absolute must."
"Ella is one of my favorite Cambria designs," Beson says. "I use it often in my projects, because it's got so much movement and personality and it goes with just about any other color."
With Ella as their inspiration and Christmas as their deadline, the Henkes decided to give their kitchen a facelift. The room had great bones and high-quality European cabinetry, and the appliances and flooring were in good shape, so they knew they could easily transform the space with a new color palette and some smart, simple updates. On their short list: new countertops, a new look for their existing cabinetry, a new backsplash, a new sink, and new light fixtures, among other details.
As both a friend and interior designer, Beson agreed with the Henke's plan. "A well-designed kitchen remodel is a great way to increase the overall value of a home," Beson says. "With any kitchen update, the number-one smart move is to invest in Cambria® because of its beauty and durability."
Steve and Margo are avid cooks and world travelers, so they channeled the spirit of their favorite cafés and food halls in New York, London, and Paris. To create a bold, industrial-style vibe, they chose Benjamin Moore paint in Blackjack for the cabinetry. "Somewhere between black and charcoal, Blackjack catches the light and it's just right," Steve says.
Once the Henkes made their other selections, it was full speed ahead. In three short weeks, the painters took down the cabinets, sprayed them in the garage, and installed the original hardware. Cambria's expert installers replaced the old stained countertops with Cambria® Ella™ in just one afternoon. "The Cambria guys are like the ancient Egyptian builders," Steve says. "It was amazing to watch their process, as they're so incredibly precise. When they slid the countertop into the existing space, it fit perfectly, like the lid of a hand-carved sarcophagus."
Steve set glossy Spanish subway tile with gray grout on the backsplash, hung new light fixtures, and replaced the old window shutters with steel shelving from IKEA. As a final flourish, the walls were finished with cool, blue-gray Italian plaster.
"THE MORE FUN YOU HAVE DESIGNING A SPACE, THE MORE FUN YOU'LL HAVE USING THE SPACE." —Billy Beson
"Now that the kitchen is finished, it's even better than we expected," Steve says. "Cambria Ella™ was definitely the right choice. Our old, honed-slate countertops were cracked and showed marks from every wine glass, every olive oil container, and every spill from six years ago. Our new countertops look the same as they did on the day they were installed."
"We love the look of marble but not the upkeep, so Cambria is perfect for us," Margo says. "No matter how many cooks are in the kitchen during our shoots —literally—everything wipes right off. It's like having a brand new kitchen every day."
"To be honest, while we're confident in our design skills, we really didn't know what the finished kitchen was actually going to look like," Steve says. "This new space feels hip and cool, like we moved into a downtown loft."
"Why move when you can renovate?" Beson says. "As I always say, the more fun you have designing a space, the more fun you'll have using the space. Whether you're styling food for a photo shoot or having a glass of wine with the neighbors, a fabulous kitchen makes every gathering a party."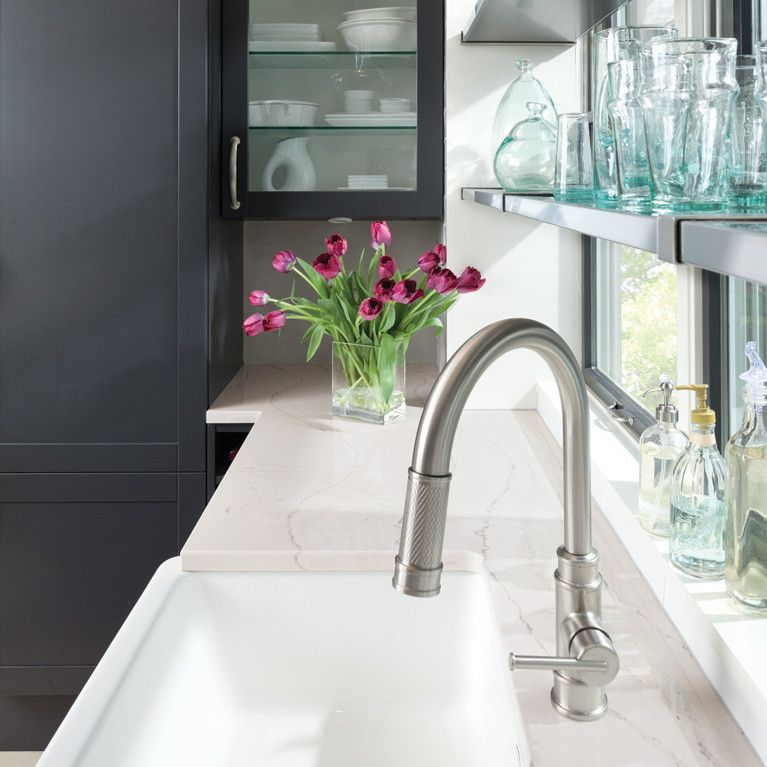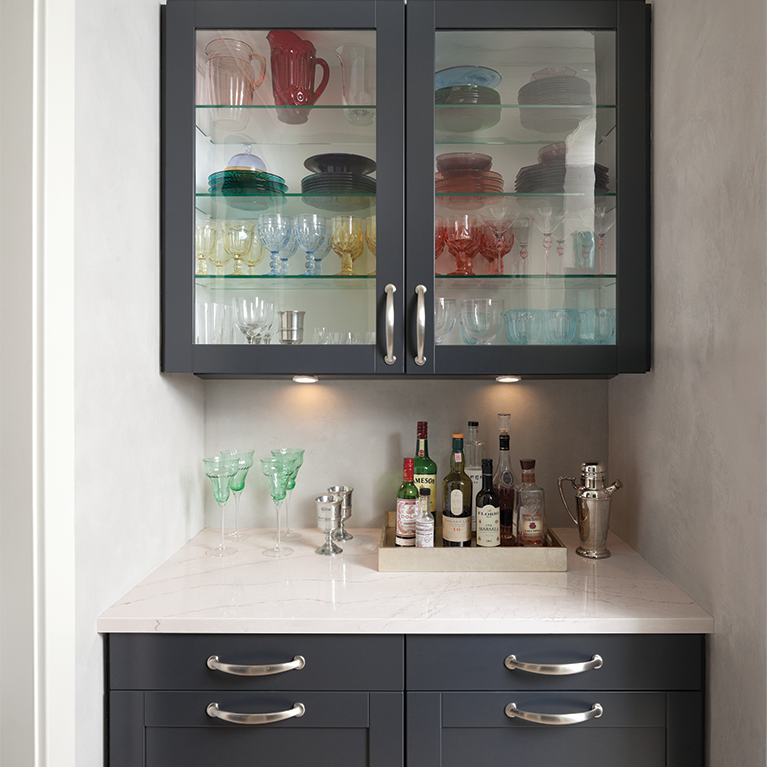 Dream. Plan. Do.
PAINT YOUR CABINETS
For a big transformation at a small cost, give your kitchen cabinets a fresh, new look and increased durability with a coat of oil-based paint. "It takes patience because of the drying time, but it's an easy project," says McGillivray.
BEAUTIFUL NEW HARDWARE
"I love hardware because it's like jewelry for the home," says McGillivray. "As you'll be using them everyday, knobs, handles, and pulls should be right-sized for your hands and feel great to the touch."
SLEEK NEW FIXTURES
Try switching out your old faucet for a sleek new fixture in a contemporary metal finish. "Even if you've never changed a faucet before, it only takes a couple of hours and it's a great way to build your DIY confidence," says McGillivray.
BRIGHT NEW LIGHTING
New light fixtures are an easy way to update your kitchen. "Switching out ceiling lights and installing dimmer switches is doable as you long as you take the appropriate precautions," says McGillivray.
GET THE LOOK
KICHLER EVERLY COLLECTION SMALL, CHROME, COLLECTION ON 5, Pendant Lighting.
French Restoration Glass, price upon request, GLASS ART DESIGN.
Subway Tile, Oxford Super White 3x12 Glossy Kate-LO, $5.50 sq. ft, KATE-LO TILE & STONE.
Cabinet Paint, BENJAMIN MOORE BLACKJACK 2133-20, IMPERVO SATIN, $70 per gallon.
KOHLER, $1499 - $1649, Tall Apron Sink.
MOEN, Faucet Moen Brushed Nickel Allentown.
DARRIL OTTO, Plaster Walls.
IKEA, $19.99, Window Shelving/Stainless Steel.
IKEA, $169, Bar Stools Bernard White.
FARROW & BALL, Wall Paint Farrow & Ball light Blue #22.
SIEMATIC, Cabinets, Kitchen & Style Collections.
VIKING, Range "30 3-series.
SUB-ZERO, Refridgerator Sub Zero "24.
LIBBEY-SOCIABLE, Cider Tasting Glasses.