Quinoa Oatmeal
The best breakfasts are the ones you invent yourself. Use the recipe here as a starting point.
Written by AMANDA LECKY
Photography by STEVE HENKE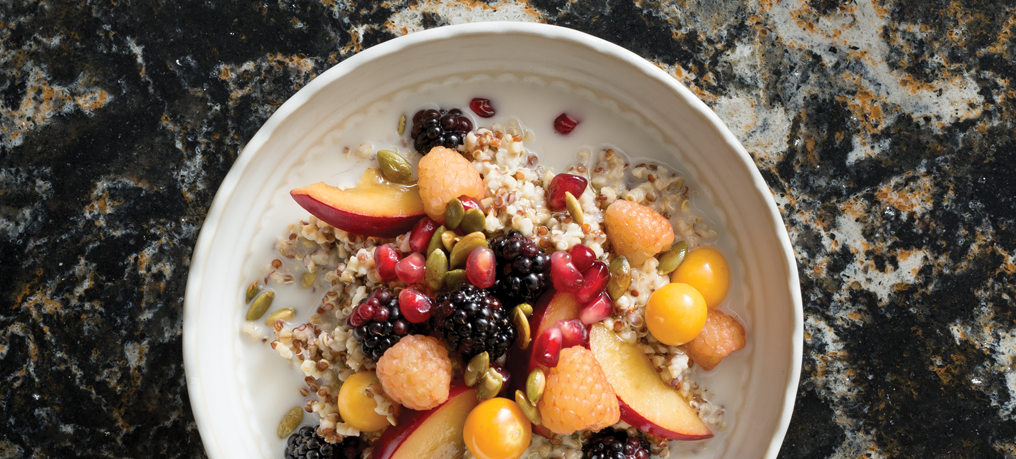 The best breakfasts are the ones you invent yourself. Use the recipes here as a starting point. Then, add your own favorite ingredients and toppings to create something that appeals to your own particular tastes. Not a fan of the pumpkin seeds and berries shown topping the oatmeal above? Swap in omega-3-rich walnuts, crisp apple slices and warm, creamy peanut butter instead. Add potassium-packed bananas to pancakes in place of blueberries. Whip up a smoothie with your own personal blend of energy- and health-boosting superfoods like bee pollen, chia seeds, or the delightful crunch added with a large spoonful of cacao nibs. Be creative and every day will start off well. Once you have settled on your signature formula, you will be hooked on the delicate dance of the right flavor with all the benefits. Guaranteed.
INGREDIENTS
Serves 4
4 cups water
½ cup scarlet or other quinoa
1 tsp. olive or coconut oil
1 cup steel-cut oats
½ cup almond or other milk
DIRECTIONS
Bring the water to a near-boil in a kettle or in a microwave. Place the quinoa in a heat-proof bowl and pour the water over it and set aside. In a medium saucepan, heat the oil over medium heat and add the oats. Stir and cook for 1-2 minutes until lightly toasted. Add the quinoa-water mixture and bring it back to a boil. Turn down the heat and let the mixture simmer for about 20 minutes until chewy, but not hard. Add the milk and turn off the heat. Serve with additional milk, fresh fruit, maple syrup, brown sugar, raisins, or nuts.  For fast, easy breakfasts, double the recipe and heat up the leftovers. This recipe adapted from Thug Kitchen.