Meet Pren: A New Furniture Collection by Room & Board and Cambria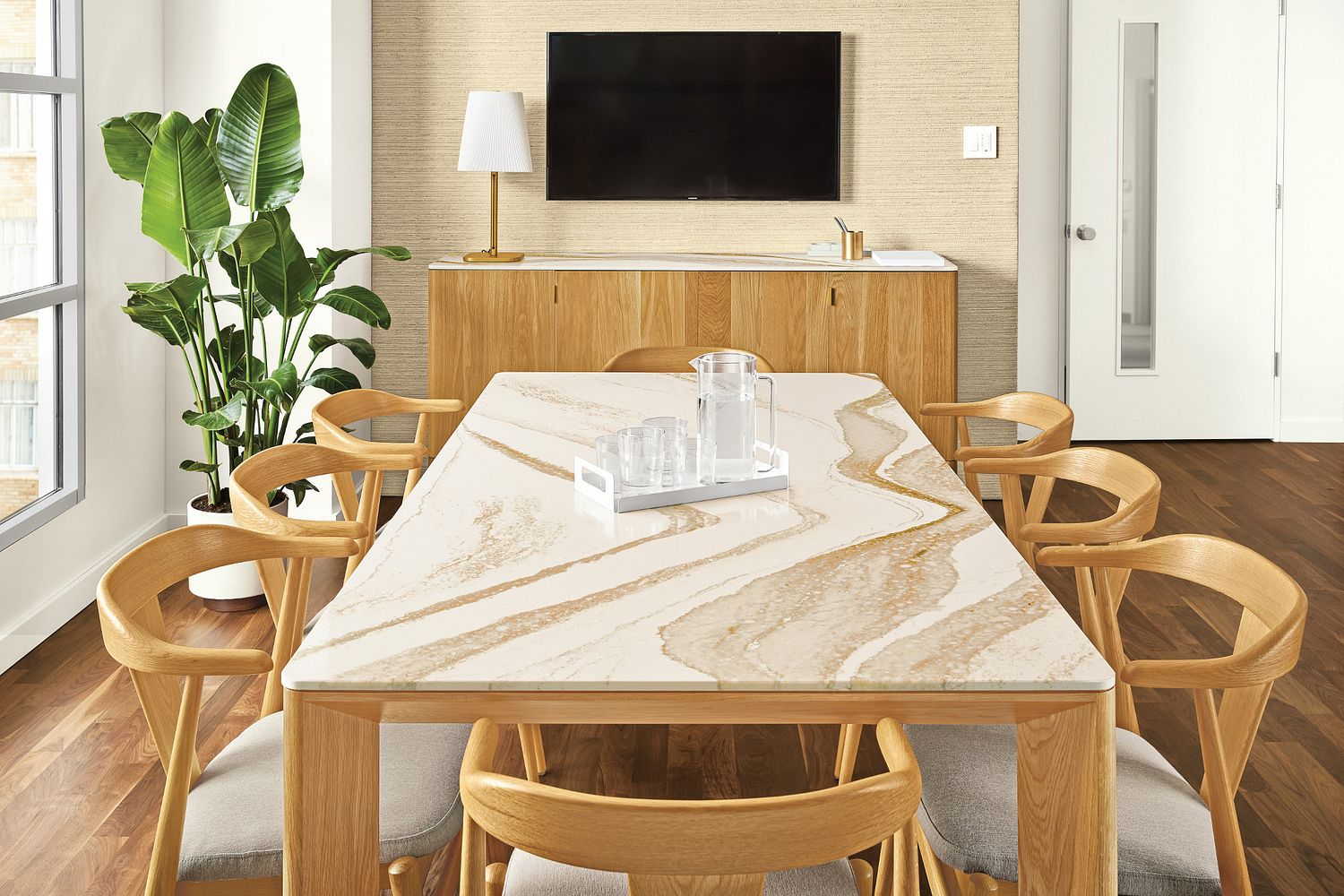 Two respected Minnesota brands known for American craftsmanship and elevated modern style have come together with the Pren Collection, a new furniture collection by Room & Board, the modern American-made retailer of furniture and home décor, and Cambria, the nation's leading provider of American-made natural quartz surfaces.
We combined the best of what each of us does into one breathtaking collection, featuring Room & Board wood craftsmanship and Cambria natural quartz surfaces. Room & Board is known for its design aesthetic, American craftsmanship, sustainability, and service—just like Cambria.
"We're thrilled to bring together two iconic Midwestern brands," said Gene Wilson, Room & Board director of vendor management and merchandising. "Because of our shared values, this partnership felt like a seamless alignment. Cambria's signature design capabilities pair perfectly with our modern style and together we'll raise the bar on livable luxury."
And with those same Midwestern values and Minnesota roots in mind, we both design for everyday life and put people first. Here, we're sharing more about the partnership and the products.
What We're Made Of
Our commitment to timeless design and innovation translates to the versatile series of dining and conference tables, desks, coffee tables, console tables, and storage and bar cabinets within the Pren Collection, all of which are made by Room & Board and finished with Cambria quartz surfaces.
Brittanicca features a creamy marbled background of neutral white with intertwining ashen veins dotted with veiled charcoal speckles, while the multi-hued streams of copper gold, fog, and translucent greige with wisps and ribbons of warm earth tones pop against a similar temperate white background in Brittanicca Gold Warm.
Each intricately detailed piece is available with a solid Midwestern walnut or Appalachian white oak wood base, sustainably sourced within the U.S. where selective harvesting allows surrounding trees to flourish, and with one-centimeter Cambria natural quartz tops finished with modern rounded corners to mirror the form of each design. Hardware options include stainless steel, brushed gold, and graphite.
Blending form and function, as with all Cambria products, the surfaces are nonabsorbent, scratch- and stain-resistant, and maintenance-free. And for those who are looking for something custom, we'll offer other Cambria designs and two-centimeter thickness by special order.
"This is a classic pairing of like-minded brands joining together to achieve something beautiful, lasting, and highly adaptable," said MacKenzie Weldon, vice president of corporate partnerships for Cambria. "We look forward to working with such a reputable and forward-thinking brand to reach new audiences and to bring Cambria to the marketplace in a new and innovative way."
How to Purchase
The initial assortment, suitable for both residential and commercial environments, includes the below:
Tables/Desks
Form meets function with Pren's dining tables and desks that look chic around the clock.
60w 30d 30h dining table/desk
72w 36d 30h dining table
80w 40d 30h dining/conference table
Coffee Tables
The Pren coffee table has simple elegance and down-to-earth functionality.
42sq 17h coffee table
60w 30d 17h coffee table
To complement the olive green cabinetry, Peacock selected two Cambria countertop designs: White Cliff Matte to infuse brightness on the perimeter and Blackpool Matte for a statement kitchen island. "When I was looking at Cambria, there was a lot to choose from and, frankly, I could have gone in a bunch of different directions," Peacock explains. "The countertops had to be part of the story and I didn't want them to necessarily compete visually. I was looking for the purest white I could find, which was what [Cambria] had. With the island countertop, I didn't want a white countertop. I wanted something black that just soaked up the light and was not reflective. The matte black (Blackpool Matte) was just perfect. So [with] the two [designs], it just works with the scheme and looks fantastic."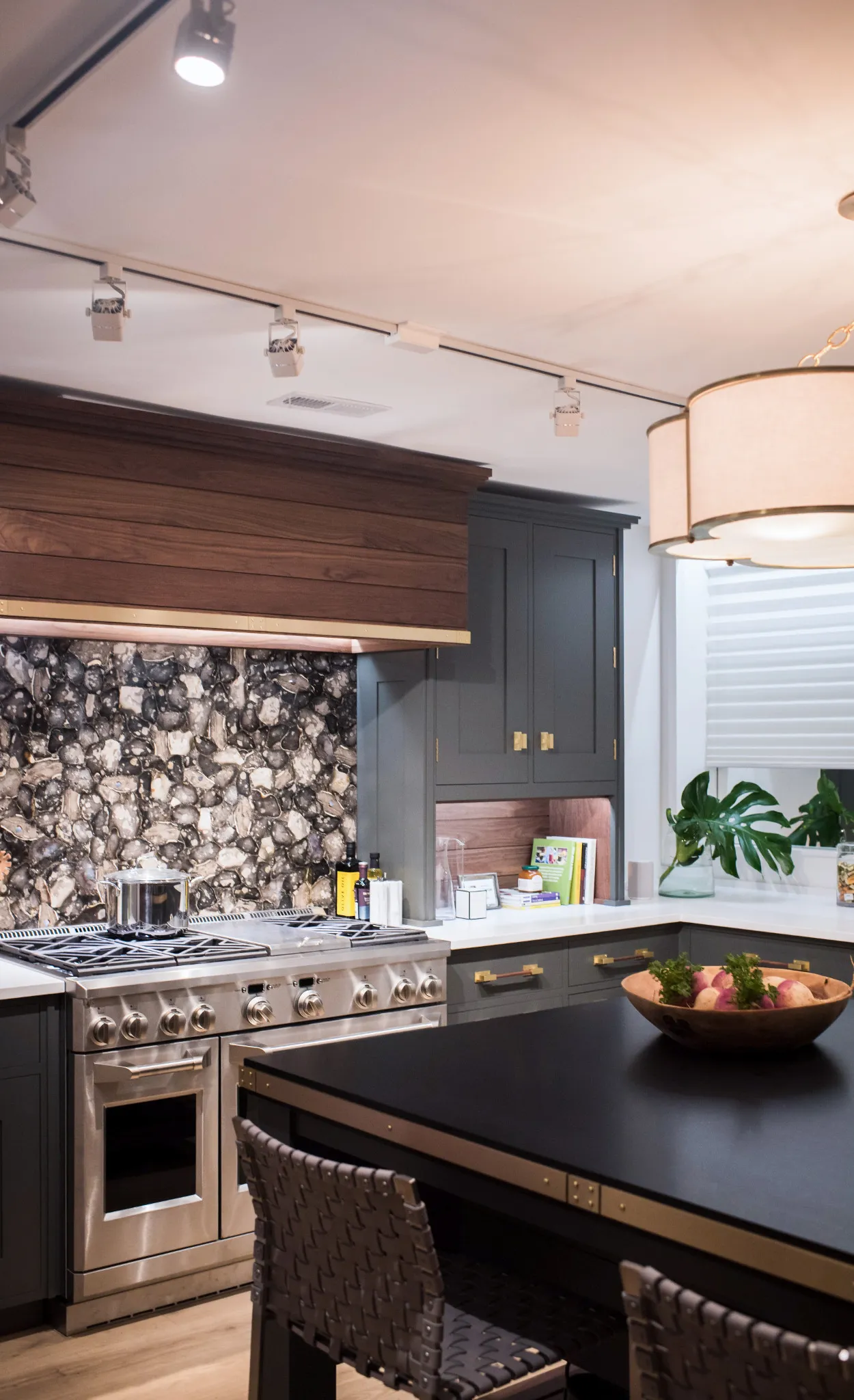 A durable soapstone alternative, Blackpool Matte makes a stunning and low-sheen matte black countertop for the kitchen island.
Custom kitchen island details
The kitchen island features a mix of materials that lend distinct character and visual interest to the space. The rich, monochromatic Blackpool Matte countertop pairs with a walnut butcher block accent (a signature Peacock element) and a custom brass edge detail. "I like to push the envelope a little bit," says Peacock. "With the island countertop, I wanted it to feel strong and substantial compared to the perimeter countertops. I made it thicker and added this brass metal band that goes around the edge of it. The metal detail on the island matches the shelving and hood canopy detailing exactly."
Prices start at $2,999 for a coffee table and go up to $5,799 for a storage cabinet.
Tell Me More
Ready to buy? Pren is available now in all 16 Room & Board stores nationwide and at roomandboard.com/cambria. Material samples are available in-store and online as well.
Show us how you make Pren part of your décor with the hashtag #MyCambria on social media.