Pizza Del Arte
"START WITH A GREAT CRUST AND FRESH, FLAVORFUL INGREDIENTS, AND YOUR PIZZA WILL ALWAYS BE PERFECT." —Mike Dalton, Chef, Campiello
Written by MELINDA NELSON
Photography by STEVE HENKE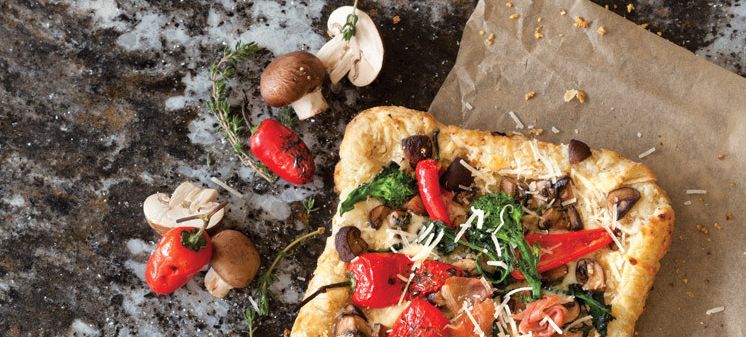 INGREDIENTS for Toppings
Makes two 10-inch pizzas
1 Tbsp. extra-virgin olive oil
5 whole Fresno chili peppers, cut in half, seeds and stems removed
Salt and fresh ground pepper
¼ cup extra-virgin olive oil
2–3 ounces crimini mushrooms, chopped
2 cloves of garlic, chopped
10 sprigs fresh thyme, chopped
1 bunch of rapini, stems removed, blanched, and cooled
½ cup shredded Fontina cheese
6 slices of prosciutto, thinly sliced
¼ cup grated Grana Padano cheese
DIRECTIONS
Preheat the oven to 400ºF. Coat chili peppers with olive oil and season with salt and pepper. On a grill or grill pan, char the skin side of each chili and set aside. On a small sheet tray, toss olive oil with mushrooms, garlic, and thyme. Roast for 20 minutes and set aside. Place the pizza stone on the center oven or grill rack and increase temperature to 500ºF. Brush the centers of the pizza crusts with olive oil and sprinkle with Fontina cheese. Arrange the mushrooms, chili peppers, and rapini on the pizza. Transfer to the pizza stone and bake for 5 to 7 minutes. Arrange 3 slices of prosciutto on each pizza. Grill or bake for 5 to 10 minutes until the crust is golden and baked through. Remove from heat, sprinkle Grana Padano on top, cut into slices and enjoy.
Customize It
A good pizza dough is so versatile. THIS VERSION is great for pizza or breadsticks.
PAIR YOUR PIZZA WITH:
WINE
STOLPMAN VINEYARDS CARBONIC SANGIOVESE
Ballard Canyon, Santa Barbara County, California
A modern twist on a classic varietal, this Sangiovese is electrifying with notes of fresh cherry, garden-cut herbs, and ripe raspberry.
BEER
GOOSE ISLAND BREWING CO. 'JULIET'
Chicago, Illinois
Round with notes of rich spice and dark cherry fruit, this Belgian-style beer is best enjoyed in a wine glass.
CIDER
ERIC BORDELET 'TENDRE' SIDRE
Normandy, France
With roasted apple and an alluring, honeyed backbone, this cider has just the right amount of roasty fall and woodsy sweetness.
A Recipe by CHEF MIKE DALTON, Campiello, Naples, Florida
Pairings by LESLEE MILLER, Certified Sommelier of Amusée Wine
Featured Design: ELLESMERE™