More than a Summer Getaway
The Grand Hotel's history helps vacationers appreciate the art of slowing down
Written by Cambria USA
Photography by STEVE HENKE
As noted in a previous summer issue of Cambria Style, the Grand Hotel on Mackinac Island debuted in 1887. Mackinac (pronounced Mack-in-awe) Island's Grand Hotel is part of a select group of U.S. and Canadian hotels built by railroad companies in the late 19th and early 20th centuries. These hotels were meant to cater to the new middle class traveling long distances by steam train and the Grand Hotel was the result of a partnership between two railroads and a steamship navigation company.
Today, hotel guests can't stay for months at a time and rates have increased, but many of the hotel's traditions have survived. Arriving on the island feels like stepping back in time, which is why it's been the location for period movies like Somewhere in Time starring Christopher Reeve, Jane Seymour, and Christopher Plummer. Cars are banned on the island and guests still arrive at the hotel by horse-drawn carriage. The island's Main Street is lined with fudge shops and ice cream parlors, and many visitors get around by bicycle.
As is fitting for such a grand hotel, it has hosted its fair share of notables and dignitaries. Mark Twain lectured at the hotel in 1897, and the Grand Hotel has hosted five U.S. presidents, along with various first ladies, senators, governors, and Supreme Court Justice Ruth Bader Ginsburg. A-listers who've come to the hotel to unwind include the likes of Madonna, Vince Vaughn, and Robert De Niro.
The Grand Hotel plays a unique role in the island's history, but also represents something significant—a slower pace of life and a gentle, bygone era, one where families dress up to dine, play board games together, and enjoy simple pleasures, such as an ice cream cone or playing bocce on the lawn. The hotel's values are also deeply intertwined in its architecture, and it's a symbol of endurance.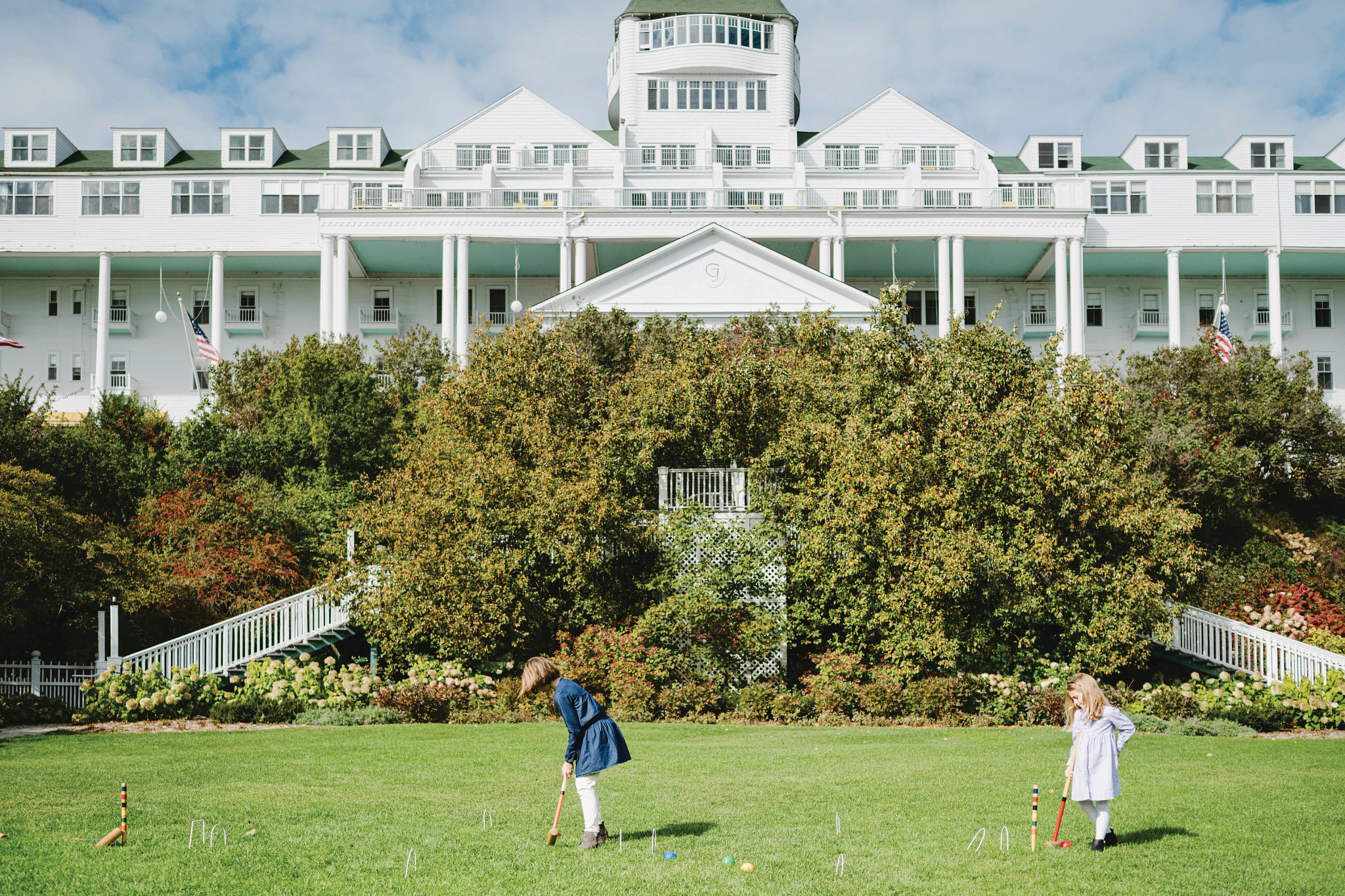 According to Bob Tagatz, the hotel's resident historian, other wooden Victorian hotels built by the railway companies weren't designed to last. But this one has, despite the inherent challenges of operating a seasonal hotel; the Grand Hotel is only open from May to September. "There's nothing more expensive to maintain than a vacant, frozen hotel that's closed for the winter," Tagatz says.
While the exterior of the Victorian structure remains largely unchanged since 1887, the hotel has made updates throughout the years. "You're not just looking at history when you stay at the Grand Hotel, you're living it," says Tagatz.
While the hotel's signature happy colors haven't changed, the interior has subtly evolved. In 2021, parts of the hotel undertook a series of renovations, SPEARHEADED BY DESIGNER VERN YIP. Yip says it was an honor to work on the hotel, and one of his favorite design features is the hotel's 660-foot-long front porch, which has around 100 white rocking chairs, 13 American flags, and more than 1,200 geraniums.
"It's so impressive and there's nothing like it," says Yip. Beyond the façade, what makes the hotel special, he says, is what it represents. "It harkens back to a specific time in America when life wasn't as complicated. It was about spending time together and celebrating our cherished traditions."
One of those traditions that Yip loves is dressing up for dinner, which is still required at the hotel's Main Dining Room. It seats more than 700 and waiters don tuxedos. There's an expectation that people will get dressed up, and people love that because it's part of the tradition. Visitors will likely love it all the more since emerging from a period too long spent wearing sweatpants.
Nancy MacLeod, of Michigan-based Gateway Travel Service, a Virtuoso Agency, has spent a few summer vacations at the Grand Hotel. Some of her lasting memories took place in the Main Dining Room. "The Grand is a true trip back in time, with a great, wide front porch and an old-fashioned ice cream parlor open to all island visitors," says MacLeod. "Best of all was the Main Dining Room, where staff treated children like grown-ups and addressed them with, 'May I have your order, Miss/Sir?'"
Beyond the old-fashioned ice cream parlor, tuxedo-wearing waiters, and columned porches, what the Grand Hotel offers is something intangible that's harder to get these days. It's a place to live experiences and create summer memories that will last a lifetime.