Take a Tour of This Modern Farmhouse Featuring Cambria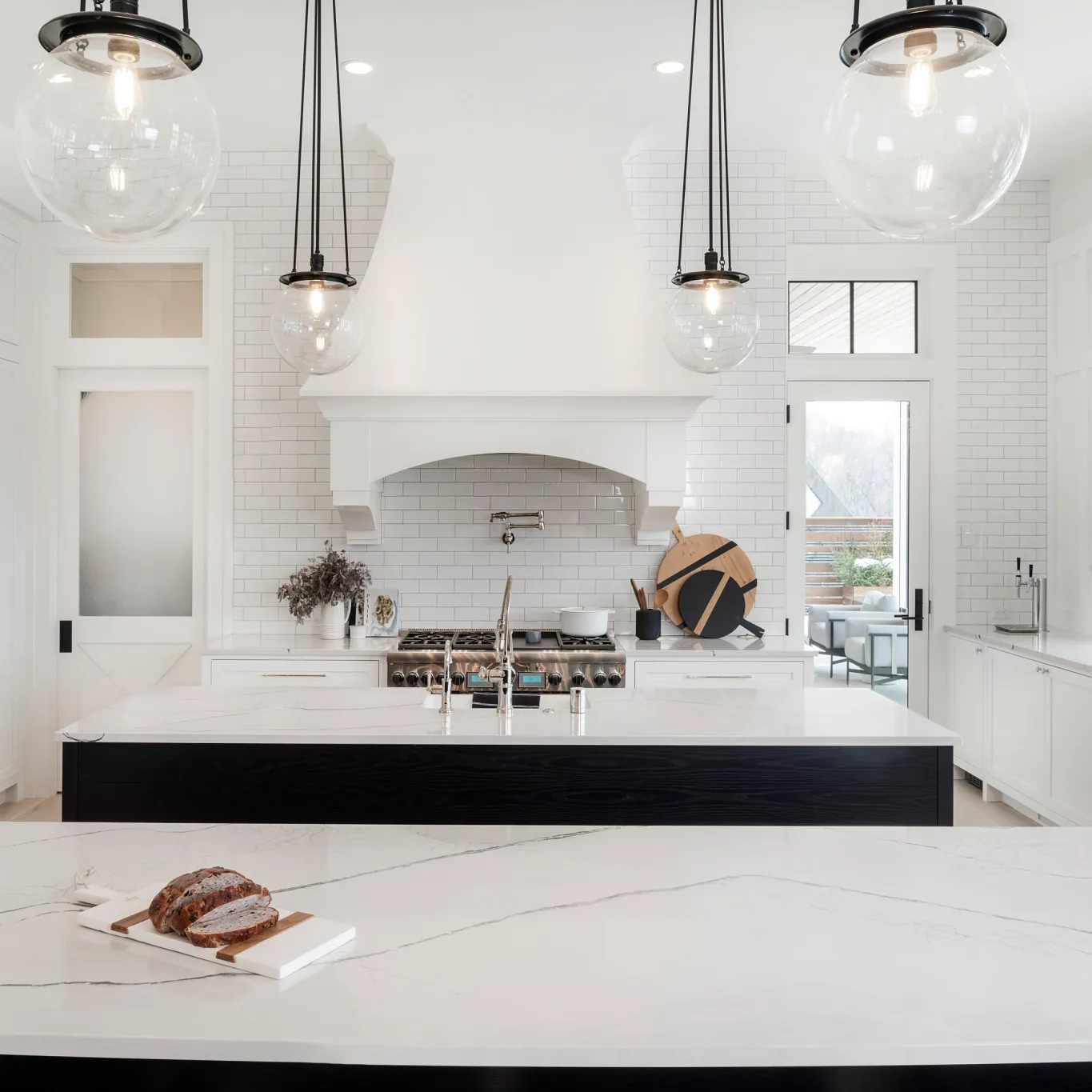 Interior design firm Henri Interiors, based in St. Paul, Minnesota— along with Swan Architecture and L. Cramer Builders—took the farmhouse-style trend to the next level with this home that seamlessly blends the aesthetic with contemporary upgrades, including a standout mix of Cambria designs ranging from Gladstone and Brittanicca to Portrush.
Henri Interiors is a full-service interior design firm specializing in residential and boutique commercial interiors. The team assists its clients with a wide range of decisions, including selecting and implementing fixed finishes; collaborating with architects, builders, and trades; as well as designing interior spaces while creating a custom experience tailor-made to their design needs.
From the ground up new construction projects to interior refreshes, the design team at Henri Interiors uses their expertise to make your dreams and visions come to life.
Here, we take you on a tour of this dreamy modern farmhouse project.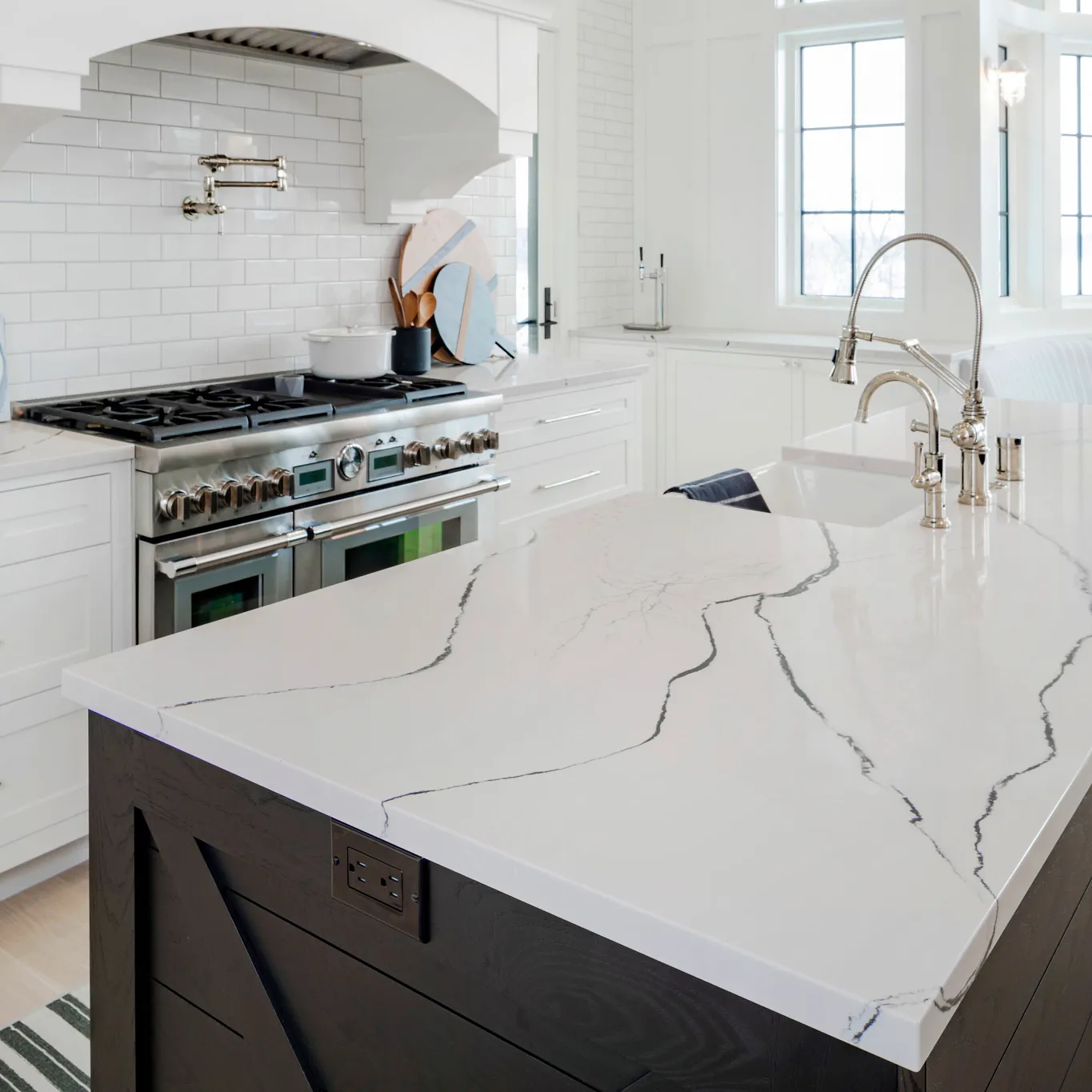 A unique black-and-white tuxedo-style island keeps this kitchen from leaning too rustic.
The all-white kitchen features Cambria Gladstone countertops with subtle black veining that pulls out the darker tones in the island base cabinetry. "[The kitchen is] the life force, the beating heart, the engine that keeps a family chugging," Henri Interiors design intern Letrice Johnson said to Artful Living magazine.
Added Henri Interiors founder Amanda Lorenz, "It's the space where form meets function, separating a good decorator from a thoughtful designer. As a team, we take a great deal of pride in our ability to spec out kitchens for our clients."
Plus, Cambria surfaces are NSF-51-certified, so they're food safe; are scratch and stain resistant against common household items like wine; and they're maintenance free (i.e., no sealing!).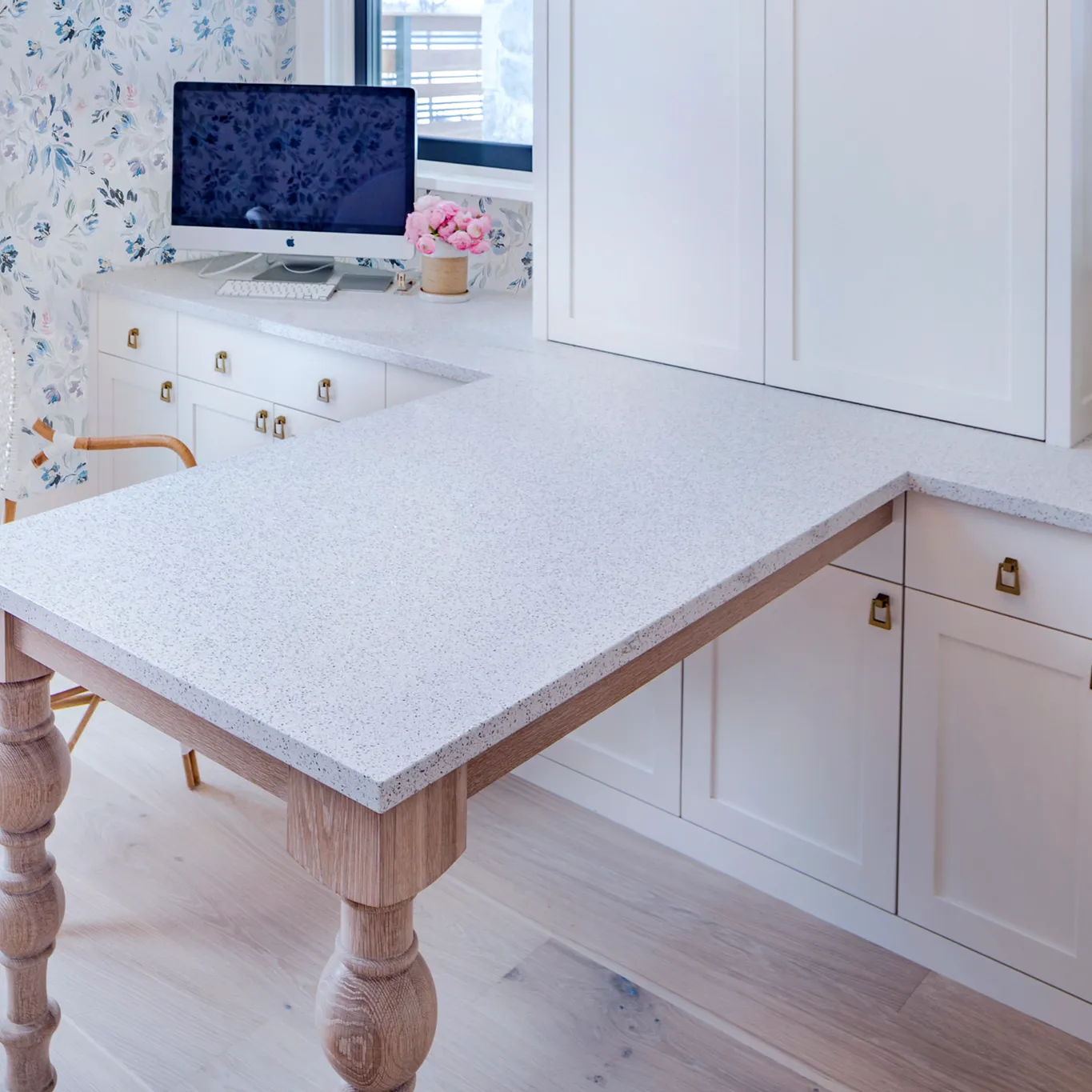 This home office is beautiful, functional, and durable enough to withstand daily work-from-home use.
The Henri Interiors team created an office nook fit for two (or more!) with this island desktop featuring a durable Cambria Whitney worktop that extends throughout the built-ins. The neutral palette of Whitney lets the floral wallcovering and warm wood accents take center stage.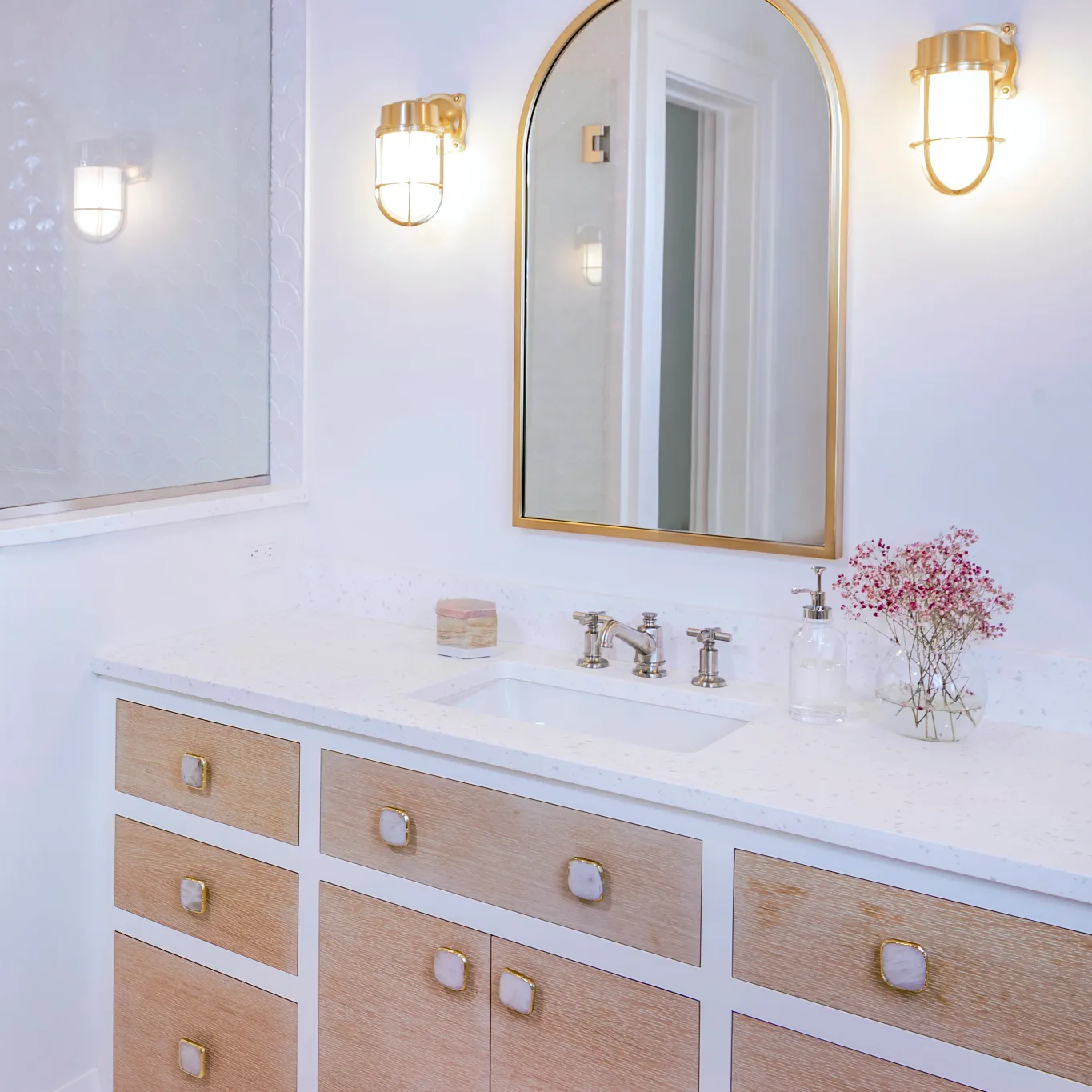 From The Coordinates Collection™, created in collaboration with Gensler, Cambria SALT LAKE features a neutral ivory backdrop spread with innumerous faint warm dots overlaid with freeform and geometric shapes.
This sweet girls' bathroom features pops of pink in furniture accents and tilework that are leavened by mature touches, including a warm white Cambria Salt Lake countertop, brass fixtures, and wood inlaid cabinetry.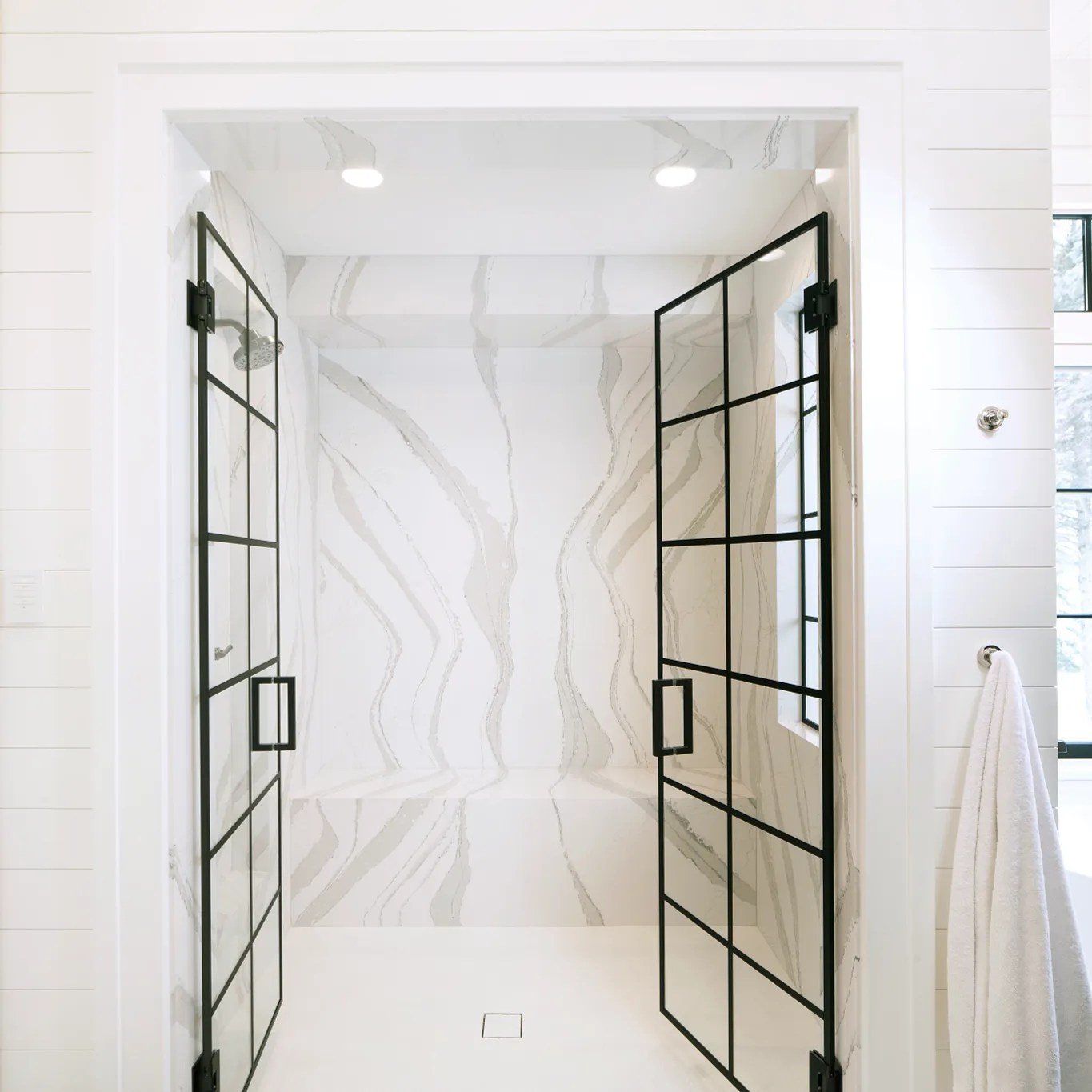 In the primary bathroom, Cambria Brittanicca extends from floor to ceiling to create a dynamic and dimensional shower suite.
Choosing Cambria for your bathroom means your space will be durable, easy to clean, and hygienic. Because the nonabsorbent quartz is a full slab (no grout!), you can be assured absolutely no moisture or bacteria will ever seep through.
Cambria can be installed on bathroom vanities, flooring, countertops, shower walls, shower curbs, shower casings and jambs, and overhead applications. For more stunning Cambria bathrooms, check out this blog post.
This pantry once again plays with the tuxedo trend, using black-and-white elements to elevate an otherwise monochromatic palette.
In the home's second pantry, Cambria Gladstone countertops pair well with black cabinetry and window trim.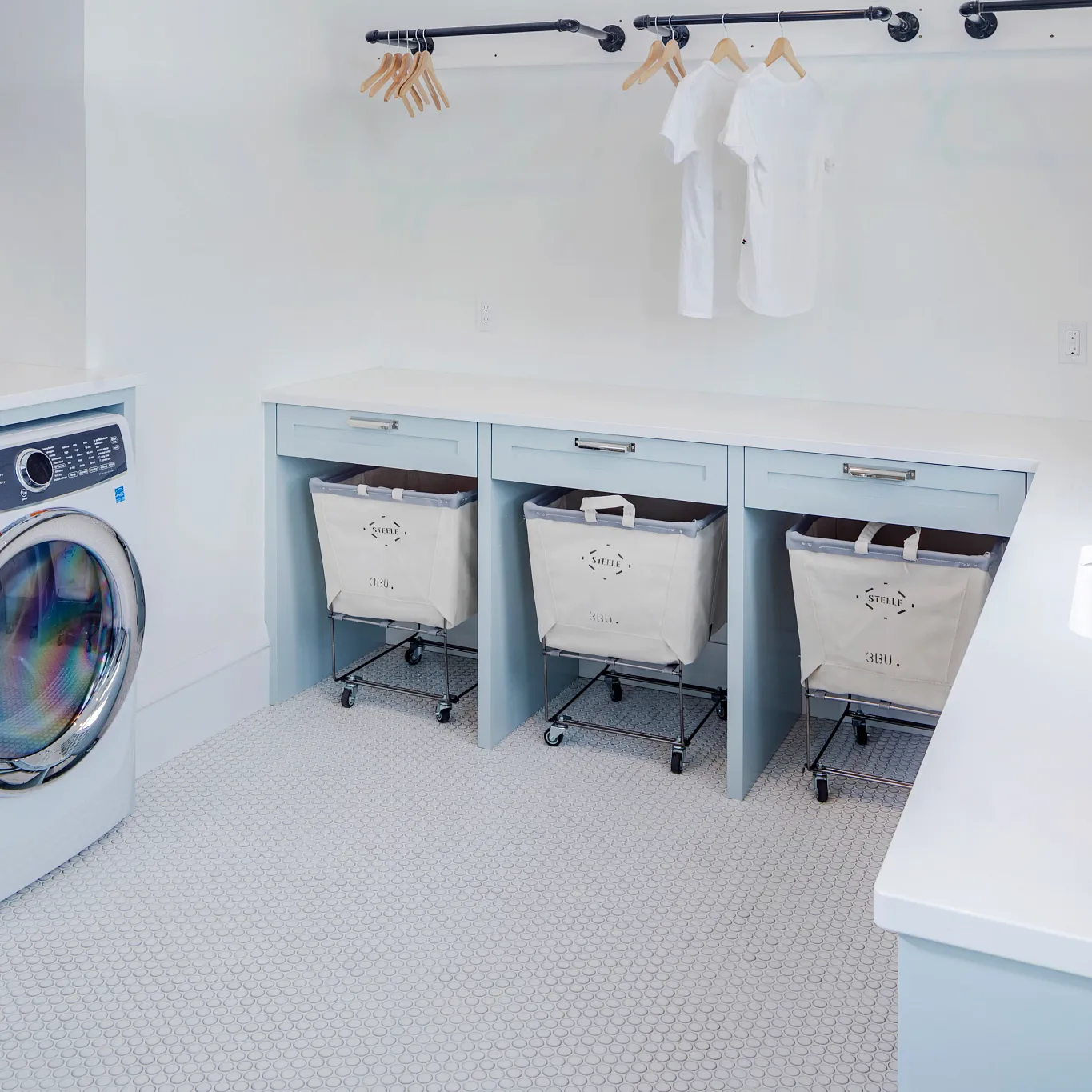 Neutral Cambria White Cliff countertops let sky blue design accents serve as the highlight of this spacious laundry room.
Cambria, a quartz surface, is an ideal choice for your laundry room countertops. More durable than granite or marble, Cambria offers stunning stone beauty along with benefits other surfaces can't match. Cambria is nonabsorbent, meaning it never absorbs water or harmful bacteria, making it a hygienic and worry-free surface for a space that houses your dirty laundry.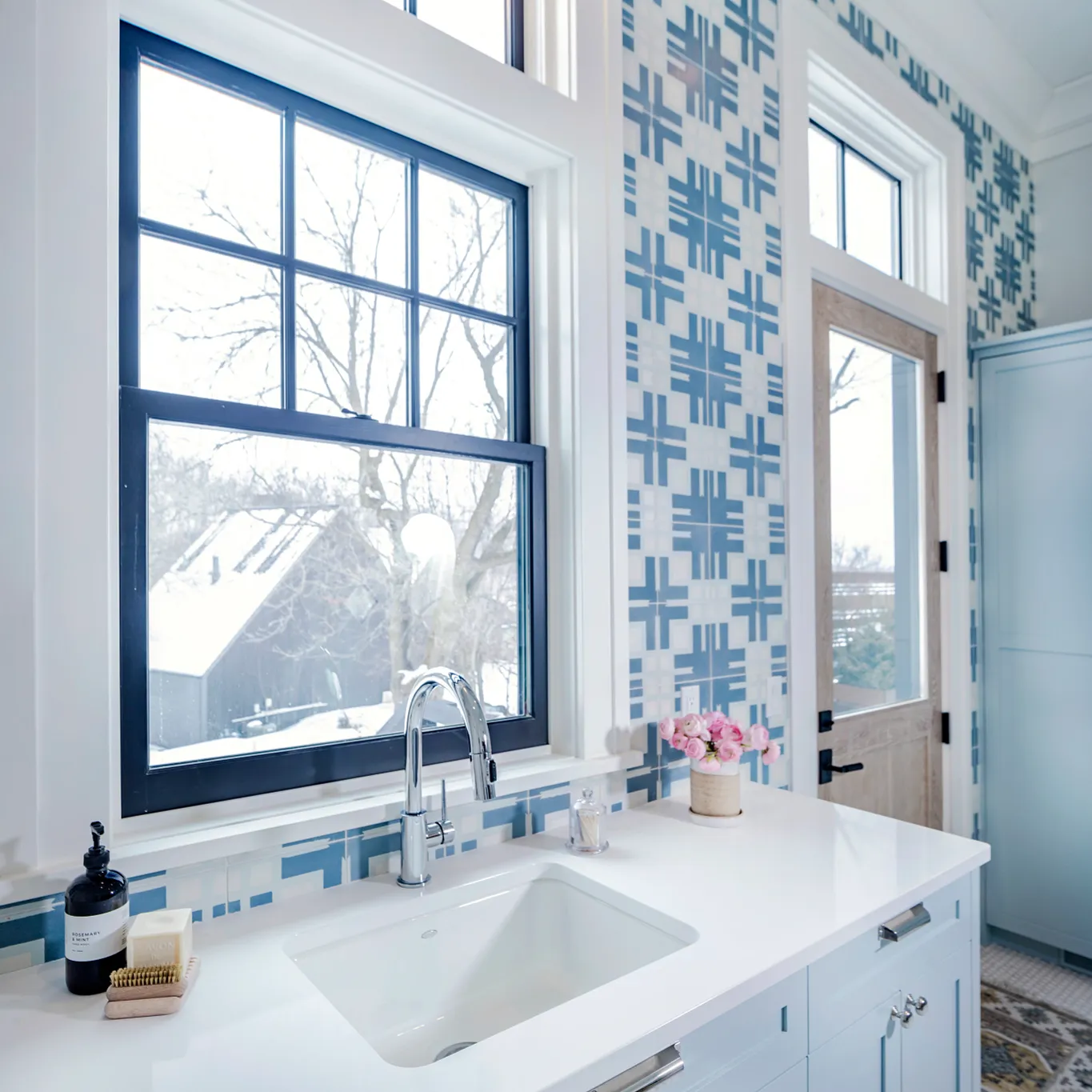 White countertops don't compete with this bold and graphic laundry room wall covering.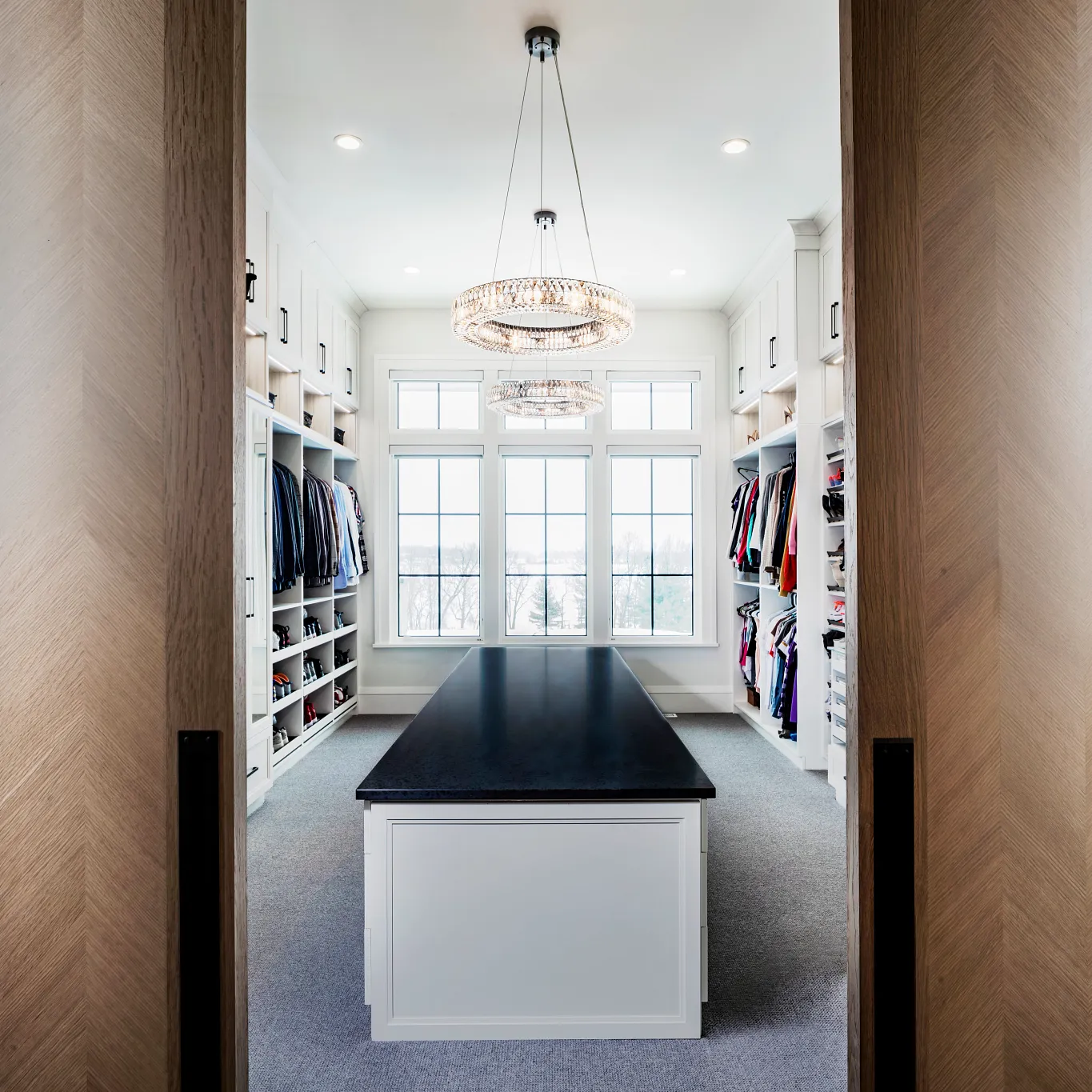 This gorgeous walk-in closet features an oversize island with black Cambria Kentucky Coal countertops from The Coordinates Collection.
Because closets are so personal, they're an ideal space to showcase your style. Here, Henri Interiors let a wall of windows shine a spotlight on two standout chandeliers, wall-to-wall cabinetry, and beautiful quartz countertops.
We also love taking design inspiration from Carly Zucker's dream closet.
Powder rooms pack a powerful design punch and make for a really fun renovation project with big impact. Since it's easier to take bigger design risks in a small space, a powder room reno is a great opportunity to show your personality and showcase a bold mix of materials and patterns.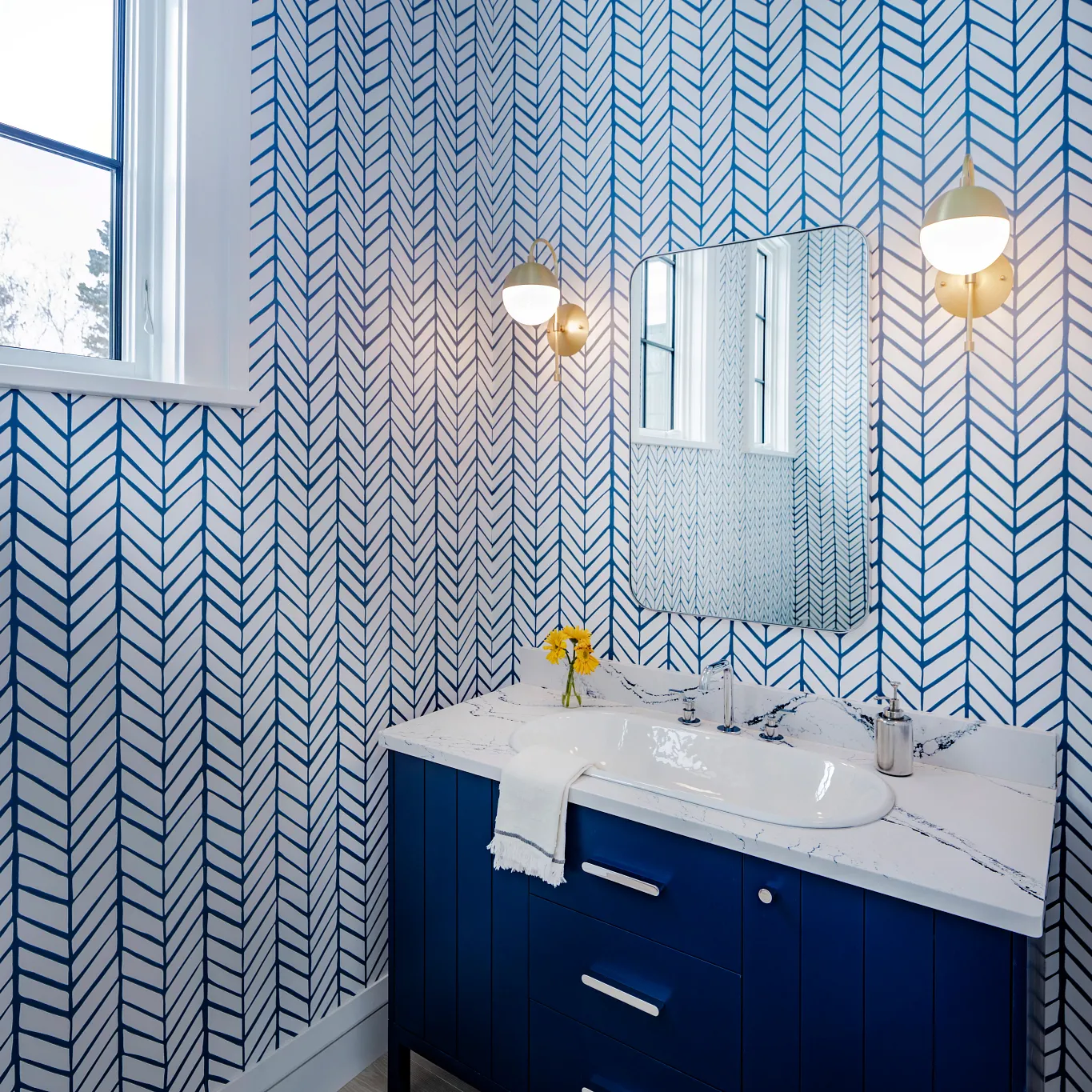 In this powder bath, Cambria Portrush countertops don't distract from navy cabinetry and a bold wall covering.
*Product design consultant: Gensler
Design Your Modern Farmhouse With Cambria
Follow Cambria on social media with #MyCambria for more standout designs.
For more information on Cambria, including performance data, product specifications, and certifications, see our Professional Resources.
Interested in creating a showstopping design project with Cambria? Buy a sample, find a dealer, or call 1-866-CAMBRIA (1-866-226-2742) to be connected with a market representative in your region. Or visit our website to set up a virtual design consultation.
Please call 1-866-CAMBRIA (1-866-226-2742) to confirm design availability.