Lemon Blueberry Quinoa Pancakes
Nutrient-rich quinoa, white whole-wheat flour, yogurt, and blueberries elevate sunday pancakes, adding tangy sweetness to fluffy satisfaction.
Written by AMANDA LECKY
Photography by STEVE HENKE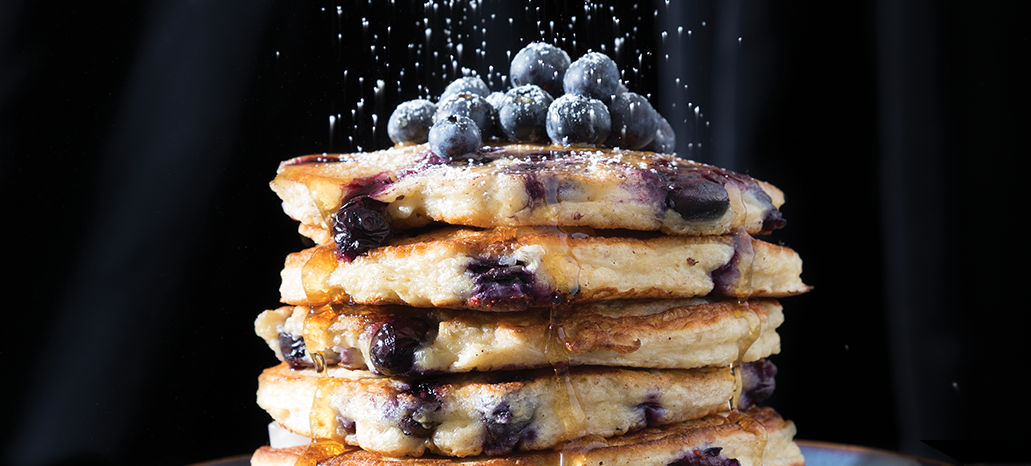 INGREDIENTS
1 cup cooked quinoa
3/4 cup all-purpose or white whole-wheat flour
2 tsp. baking powder
1/4 tsp. salt
3 large egg whites
1/3 cup plain nonfat Greek yogurt
2 Tbsp. almond or other milk
1 Tbsp. brown sugar or honey
1 tsp. pure vanilla extract
1 Tbsp. fresh lemon juice
2/3 cup fresh blueberries
Butter or cooking spray
DIRECTIONS
In a medium bowl, whisk together quinoa, flour, baking powder, and salt. In another medium bowl, whisk together egg whites, yogurt, milk, and brown sugar or honey until smooth. Add egg mixture to flour mixture and whisk to combine. Add vanilla and lemon juice and whisk again. Gently fold in blueberries and set aside. Lightly coat a large nonstick skillet or griddle with butter or cooking spray and place over medium heat. When skillet is hot, drop ¼cup of batter onto skillet for each pancake. Cook for about 2 minutes or until bubbles appear on top. Flip cakes and cook for 2 more minutes or until golden brown. Wipe skillet clean and repeat process with butter or cooking spray and batter. Serve with fruit preserves, fresh fruit, peanut or almond butter, and maple syrup. This recipe is adapted from AMBITIOUS KITCHEN.