Inspiration For Your Next At-Home Project
The beauty and versatility of natural stone allows for creativity throughout the home. CAMBRIA is no exception, with stunning designs that can be used for more than just countertops. We've rounded up a few of our favorite alternative applications, including Cambria as a sleek kitchen backsplash, a bold shower surround, and a statement fireplace. These installs prove Cambria quartz surfaces are suitable for much more than a kitchen work surface.
Kitchen backsplash
Backsplashes are a great way to create a focal point that matches your countertop or provide a complementary accent to your Cambria. Whether it reaches from counter to ceiling or just to the cabinetry, using Cambria as a kitchen backsplash provides another stylish option from traditional tile, with the added benefits of durability and EASY-CLEAN CONVENIENCE (no grout lines to clean). Discover FIVE WAYS a quartz backsplash can make a space.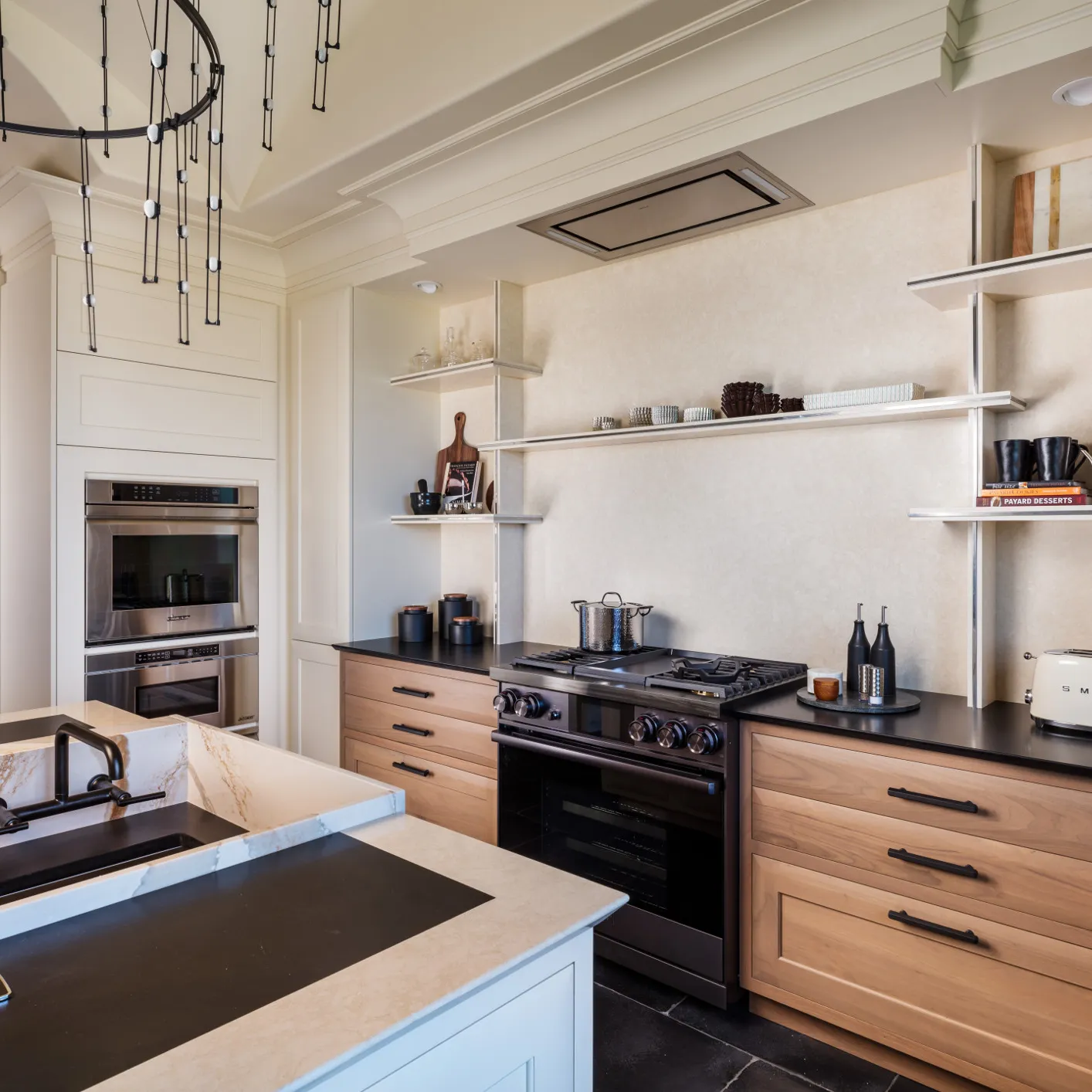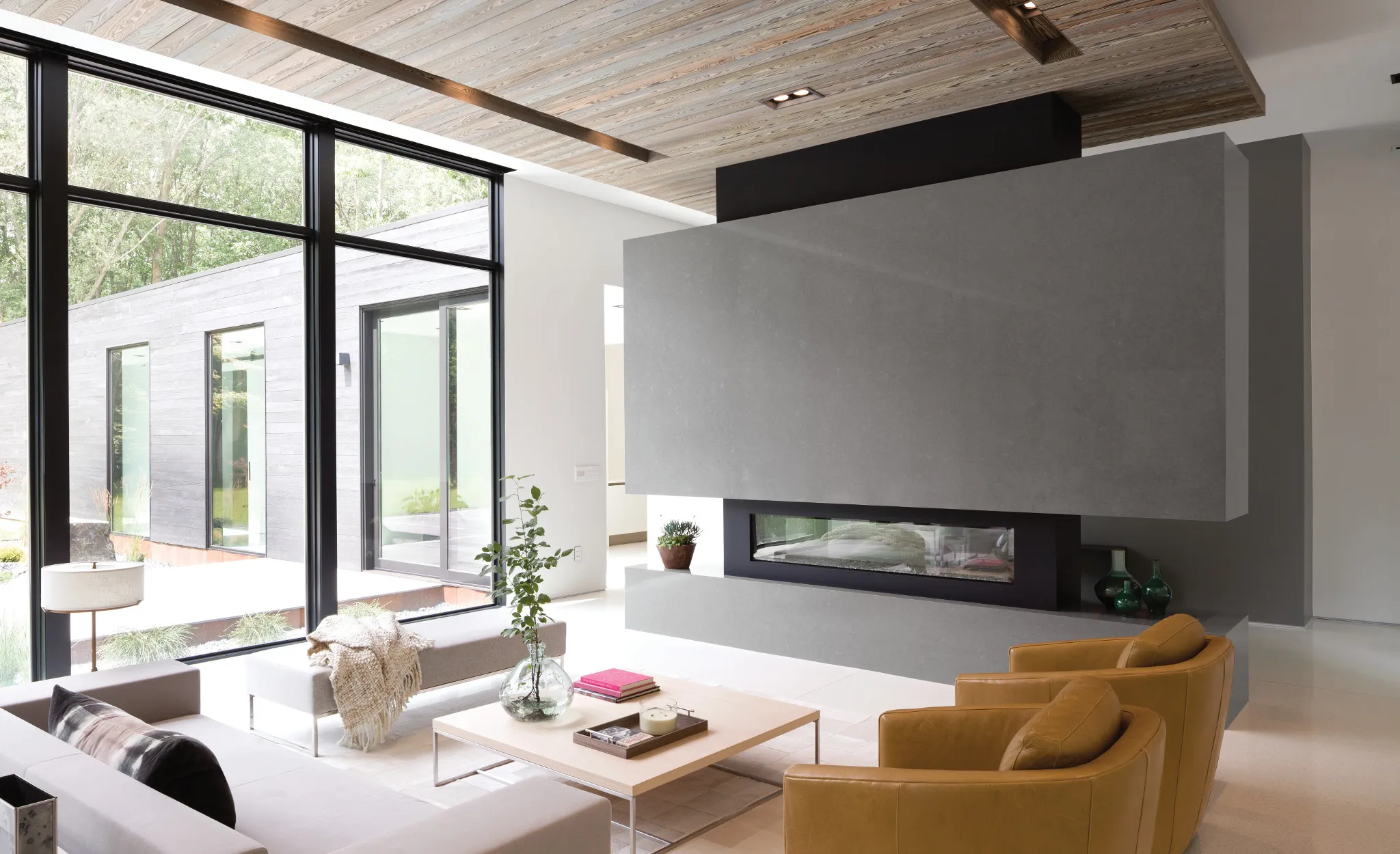 Fireplaces
Nothing completes a living room quite like a luxe fireplace. In addition to the function it provides on cooler nights, a well-crafted fireplace serves as a stunning focal point all year long. If you have an open-concept kitchen, consider using the same design for your kitchen countertops and fireplace for a cohesive look, as in this beautiful great room with BRITTANICCA fireplace from JACLYN PETERS DESIGN. For a distinct statement with your fireplace surround, choose a CAMBRIA DESIGN that offers unique contrast or texture. No matter the design you choose, a CAMBRIA Quartz FIREPLACE SURROUND elevates your space with lasting luxury and timeless style.
This elegant fireplace is surrounded by sleek gray Carrick, adding a contemporary element to this traditional master suite.
A simple color palette allows for creative design with geometric flair. Hexagonal floor tiles and a custom EDINBUROUGH™ and NEWPORT™ shower surround bring character to this black and white bathroom.
Showers
A dream bathroom is all in your design choices. Cambria is ideal for the spaces you use every day, with durability that ensures its beauty will last over time. Upgrading a tile shower to Cambria is both trend-forward and smart. There is no grout to deal with and Cambria's nonabsorbent surface means mold and mildew are no longer a worry. Use the same Cambria design for the vanity and the shower or pair complementary designs for a polished look. Get more bathroom ideas, including Cambria as a tub surround, in our ROUND-UP OF BLUE BATHROOMS and on our bathroom design PINTEREST BOARD.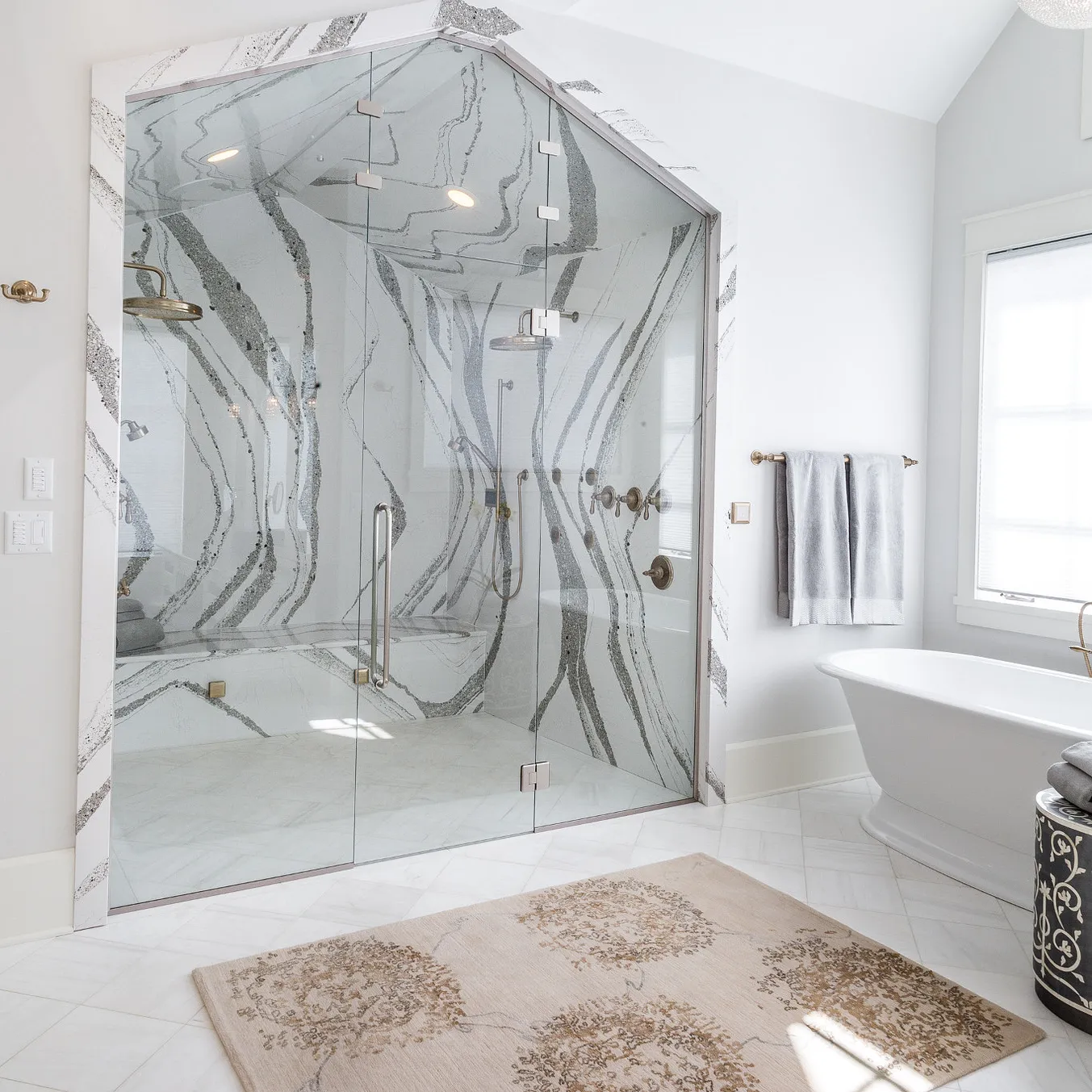 Get The Look
Follow Cambria on SOCIAL MEDIA with #MyCambria for more standout designs.
For more information on Cambria, including performance data, product specifications, and certifications, see our PROFESSIONAL RESOURCES.
Interested in creating a showstopping design project with Cambria? ORDER A SAMPLE, FIND A DEALER, schedule a CONSULTATION with a Cambria expert, or call 1-866-CAMBRIA (1-866-226-2742) to be connected with a market representative in your region.
Please call 1-866-CAMBRIA (1-866-226-2742) to confirm design availability.