In Good Taste
Written by LOUISE MORGENSTERN
Photography by GEORGE HOLZ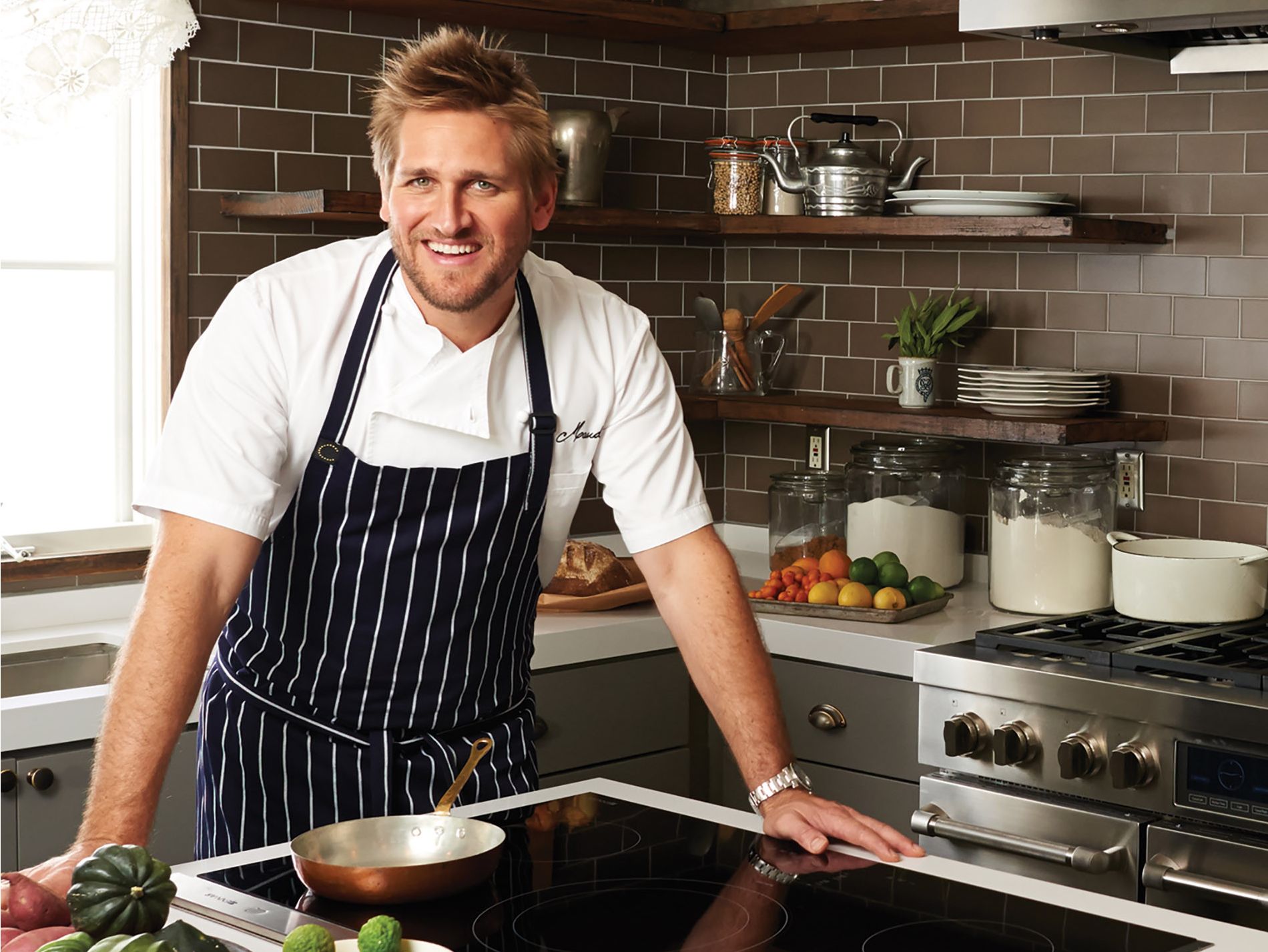 Celebrity chef Curtis Stone believes magic happens when the freshest food is served to adventurous diners in a beguiling space. He is in the business of making that magic, and he is a wizard at it. Maude, his intimate, 25-seat restaurant in Beverly Hills, was named Best New Restaurant in Los Angeles 2014 by LA Weekly eight months after it opened its doors.
But being a chef is only one of the toques the 39-year-old chef from Melbourne, Australia, wears: he is also a TV personality, cookbook author, and kitchenware designer.
I've always really loved what I do and I get out of bed thinking about it," says Curtis, who with his bright blue eyes and spiky blonde hair might have had a successful career as a model. Dressed casually in jeans, light blue chambray work shirt, and John Varvatos lace-ups, he is sitting in the living room of the Mediterranean-style villa that houses his test kitchen, 500-bottle wine cooler, and offices. After twenty years as a professional chef, he insists, "I still have the same feeling of going into the restaurant and not being able to wait to cut into a terrine I made the night before."
Chances are, that terrine was first tested on the sleek slab of Cambria in snowy Whitehall™ covering the nearby kitchen's 8-foot by 4-foot center island. "You spend so much time in a kitchen looking down at your work surface, to have a beautiful canvas like this is really nice," says the rangy former footballer. "I think the work surface sets the tone for the whole kitchen." In Curtis's case, that means something clean and elegant, sophisticated but simple—a product to match his own style.
He chose a product that can stand up to his own high-energy, round–the-clock demands on it. "We're in here five or six days a week, for nine or ten hours," he says. "We develop and test 500 recipes a year out of this little kitchen," he says, glancing around the 16-foot by 12-foot room, where all of the other counters are also covered in Cambria's Whitehall design. The test kitchen was completed only six months ago and is in constant use, not only for cooking, but also for photo shoots and TV segments. It can take whatever Curtis and his team can dish out. "We treat the surface a lot more roughly than others would," he says. "We use heavier, bigger pots, you're not going to chip it or burn it. It's super durable."
Curtis spends virtually every morning here, brainstorming how to pull off the monthly miracle that is the prix-fixe tasting menu at Maude. The restaurant's nine-course meal (guests don't get to choose) is based on a single seasonal ingredient incorporated into every dish in some way. In November, it was truffles; in December, winter squash. "We ask ourselves, 'Can we juice it, boil it, poach it, shave it, serve it raw?' We delve into all that is playful and experimental," Curtis says.
Those words describe Curtis himself these days. His wife, American actress Lindsay Price, just gave birth to the couple's second son, Emerson, in September. Big brother Hudson is three and a budding chef. "He absolutely loves cooking with me!" Curtis says, offering to share a video of Hudson putting maple syrup on his French toast from earlier that morning. "I tell him, 'Measure me two cups of flour, buddy,' and it takes him two or three minutes, and he makes an absolute mess and of course I have to re-measure it, but he loves it."
Curtis was only a bit older than Hudson when he himself fell in love with cooking. He credits his grandmother Maude, the restaurant's namesake, for teaching him. Her recipe for Yorkshire fudge did the trick. "I've always been a greedy little monster who can't get enough food," he says, grinning. "Learning how to cook was an extension of always wanting to eat." He is still a self-proclaimed chocolate addict, preparing it right on the Cambria island. "We temper chocolate (allow it to set up) right on the surface; it stays cold because of the natural stone."
Even as a kid, he was a competent cook, but success in school was another story. A diffident student as a teenager, he chose "footy" (aka soccer) and surfing over study and initially vetoed college. But he still loved food and flavors, and at 18, opted for a four-year cooking apprenticeship in Melbourne. A year of chopping carrots gave him pause, but soon enough, he was hooked. He describes the attraction this way: "Extreme heat, long hours, sharp objects, crazy people, blood, sweat, and tears. It had my name all over it!" At 22, he headed for London and the kitchen of Marco Pierre White, one of Britain's most celebrated chefs and the youngest ever to be awarded three Michelin stars. He literally walked in through the back door and offered to do slave labor on the spot for free. Within three years, White had made him Head Chef at Quo Vadis, still one of London's most acclaimed restaurants. He was just 25.
All along, his cooking philosophy had been evolving, reflecting technique learned in French kitchens and his experiences living abroad. Fresh. Seasonal. Ingredient-driven. His devotion to it grew further after a dream gig came along: an Australian TV producer tapped him to star in Surfing the Menu, in which two surfer-chefs would travel around the country in search of organic mangoes and boutique breweries.
"I thought, 'Yeah, sure, someone's going to pay me to do that,'" he recalls, with no attempt at hiding his sarcasm. But the offer was good enough to leave London for, so Curtis and a fellow chef visited vineyards, paddocks, fish farms, and even an apiary, then prepared the fresh fare on camera. The show got him noticed. Surfing the Menu caught the eye of Los Angeles producers, who brought him to the U.S. for Take Home Chef on Discovery Channel's TLC. Since then he has hosted or been a judge on a half-dozen food series, including Top Chef Masters, Around the World in 80 Plates, The Chew, Rachel Ray, and most recently, Top Chef Duels on Bravo, among dozens of appearances on other programs.
His good looks and laconic ease in front of the camera have made him a TV star. In November, he debuted as host of a new Food Network cooking competition show,
Kitchen Inferno
. But Curtis is more than just another pretty face in Los Angeles (although he was named one of
People
Magazine's Sexiest Men Alive in 2006). He recently published his sixth cookbook,
Good Food, Good Life: 130 Recipes You'll Love to Make and Eat
(Ballantine), due on shelves March 2015, following up on his
New York Times
best-seller,
What's for Dinner? Delicious Recipes for a Busy Life
. His Kitchen Solutions line of cookware for home use is sold worldwide and he just launched a new tableware design at giant retailer Target, Australia. Any one of these endeavors would seem to provide a fine career for most people, so why open an elite restaurant at this stage of the game? "The challenge of a restaurant is a really intense one, like going into battle," says Curtis. "I've always loved that adrenaline rush of walking into a service at 5 p.m. and thinking, 'How are we going to do it tonight?' Because it's different every night." And with that, he's off. His waiting team is lined up with questions. There are places to be and appearances to be made. And as always, delicious, beautiful food to cook.
home-cooked meals
The meals would be simple: a roast or a home-made pizza, but through them, Curtis says he learned important human values that he applies in both his personal and professional lives: "Appreciation for the person who cooked, cooperation because someone had to set the table and others have to wash, dry, and put away. And conversation. Food is really the conduit for forging closeness, good times, interacting with people you care about," Curtis says. It is in that spirit that he returned to the daily demands of a kitchen and created his first restaurant, Maude, an instant hit. In that seductive space with turquoise banquettes and mismatched vintage china, he has sought to create a sophisticated, international version of the "conduit" he first experienced around his family dinner table in Melbourne, Australia.
STONE CREDITS HIS GRANDMOTHER MAUDE, THE RESTAURANT'S NAMESAKE, FOR TEACHING HIM HOW TO COOK AT AN EARLY AGE.