How to Create a Functional Kitchen Design That Looks Stunning
My team at Bria Hammel Interiors and I always aim to design homes that are completely life-friendly™—a term we've trademarked—meaning functional, versatile, durable, and beautiful. We believe that the kitchen is one of the best places to incorporate all of these qualities. After all, who doesn't want a beautiful, functional kitchen?
Along with SD Custom Homes, my team and I recently designed a beautiful home in Lakeville, Minnesota, that was featured in the Parade of Homes in September. We had been waiting for an opportunity to create a classic, traditional farmhouse and we finally got our chance with this incredible project. Taken from our experience designing the Lakeville farmhouse, along with dozens of other homes, here are some of the best ways to create a perfect life-friendly kitchen.
Tips To Make A Functional Kitchen Design
Open up your floor plan
Not only can open floor plans make smaller kitchens feel larger and maximize square footage, they also create flexible, more usable space. If you have a busy family or a high-traffic household, open floor plans give you the ability to change up your space based on your household needs and family growth. The openness of the Lakeville farmhouse kitchen gave us the opportunity to install an exceptional, large-scaled island—complete with beautiful Cambria countertops—while still leaving ample space for everyone to spend time. Plus, open spaces make entertaining more social and convenient (doesn't everyone always gather in the kitchen anyway?) adding yet another element of versatility to your space.
Don't hide the pantry
In my own home, I've found that the pantry is actually one of the most trafficked areas of the kitchen. With the adults constantly grabbing ingredients for meal prep and the kids always on the hunt for snacks, it feels like the pantry door never closes. It's an easy detail to overlook when there's so much else to focus on in the design process (appliances, countertops, dining tables, etc.), but we've found that having an easy-access pantry really brings added functionality to the kitchen. And you don't have to have a dedicated butler's pantry to make the space beautiful. In the Lakeville farmhouse, we introduced warmth and texture with open shelving, woven storage baskets, and a mix of greenery. So instead of hiding your pantry in a hard-to-reach corner, bring it front and center, show it off, and make everyone's life a little easier.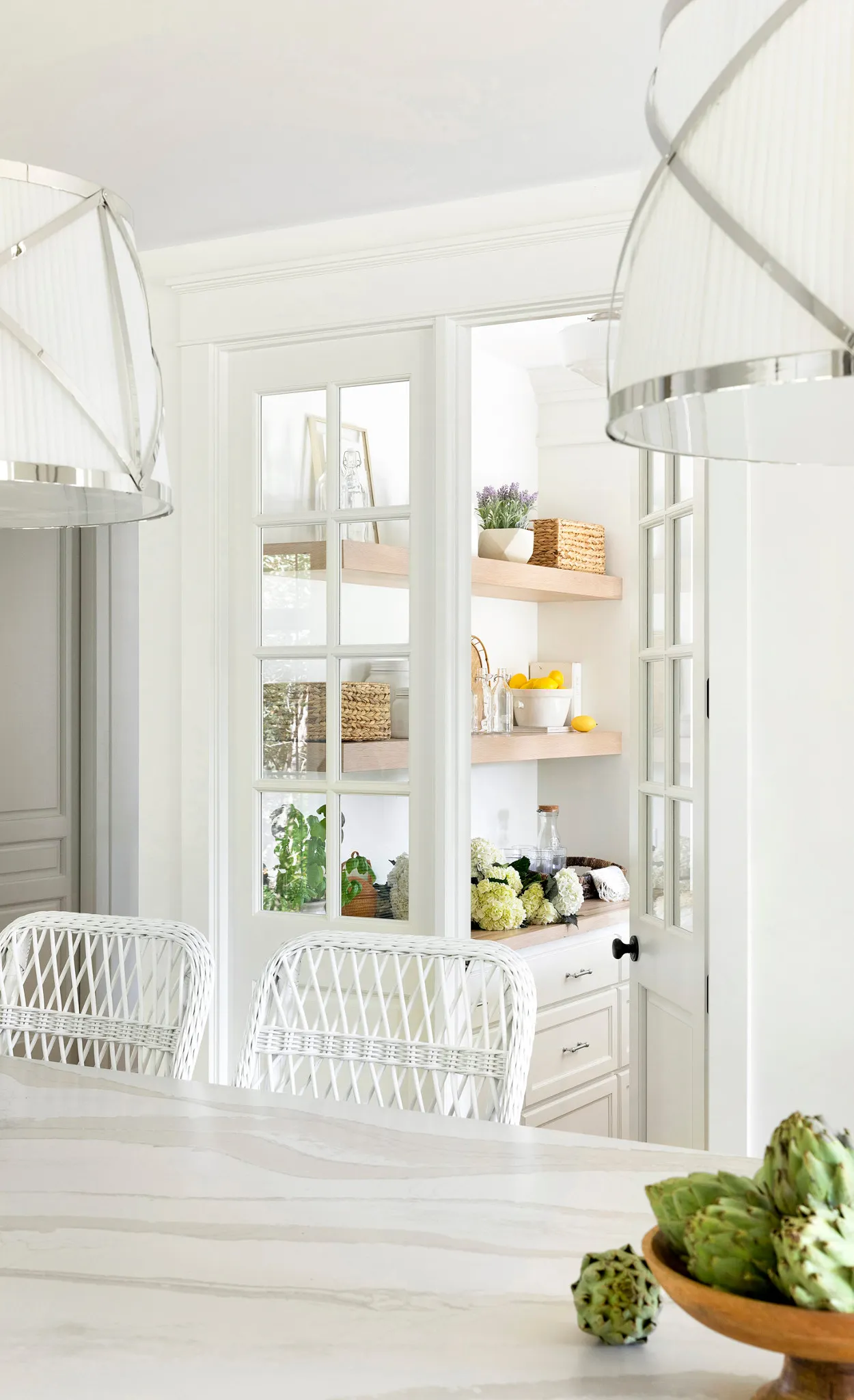 Glass window panes are an elegant way to keep pantry items visible for a functional kitchen.
Give some (multi) purpose to your kitchen island
Whenever we're designing a kitchen, we make sure the island is placed in a position where it can be used in a number of different ways. In the Lakeville farmhouse kitchen, we installed a massive island that was a long, vertical eye catcher instead of a more traditional horizontally facing piece. This maximized the space and turned it into the perfect place to prep and cook meals, eat breakfast, do homework, and relax with family and friends. Plus, we added Brooke & Lou Rose counter stools which feature life-friendly wipeable fabric, meaning less mess and simple cleanup (especially for wine and ketchup!).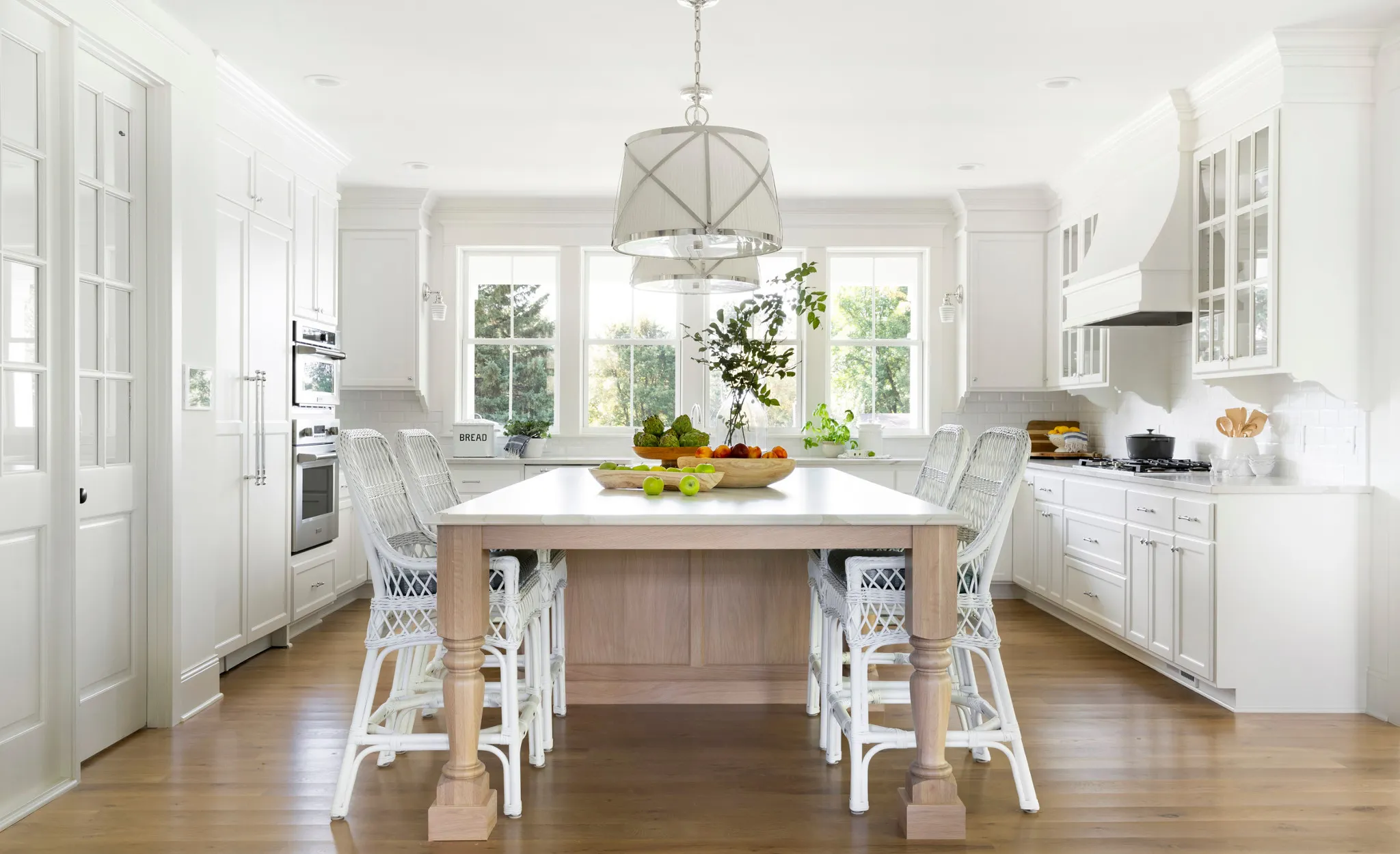 Spills are never a worry at this beautiful and functional kitchen island with stain-resistant Cambria countertops and wipeable counter stools.
Select the perfect countertop
To make the Lakeville farmhouse kitchen even more life-friendly, we knew we had to choose the perfect countertop. For us, it was an easy choice—Cambria's Brittanicca Warm Matte from the Marble Collection™ was a no-brainer. Its beautiful white and warm gray pattern brought an incredibly cozy feel while also perfectly complementing the lighter cabinets. But, even more importantly, this countertop added so many life-friendly elements to the kitchen: the quartz material is designed with extreme durability to withstand daily wear and tear; it can be easily cleaned with a soft cotton cloth, warm water, and mild soap; spills (even red wine) get repelled instead of absorbing into the counter; sealing and polishing is never required; and, as an added bonus, Cambria even offers a Full Lifetime Warranty. Seriously, what's not to love about these countertops?
Make it your own
In the Lakeville farmhouse, we incorporated a few other Brooke & Lou pieces that not only added color and beauty, but also gave the kitchen more layers of life-friendliness. Constructed from solid wood, the Olivia dining table makes a statement, is stain resistant, wipeable, and its natural distressing hides imperfections that occur from wear and tear.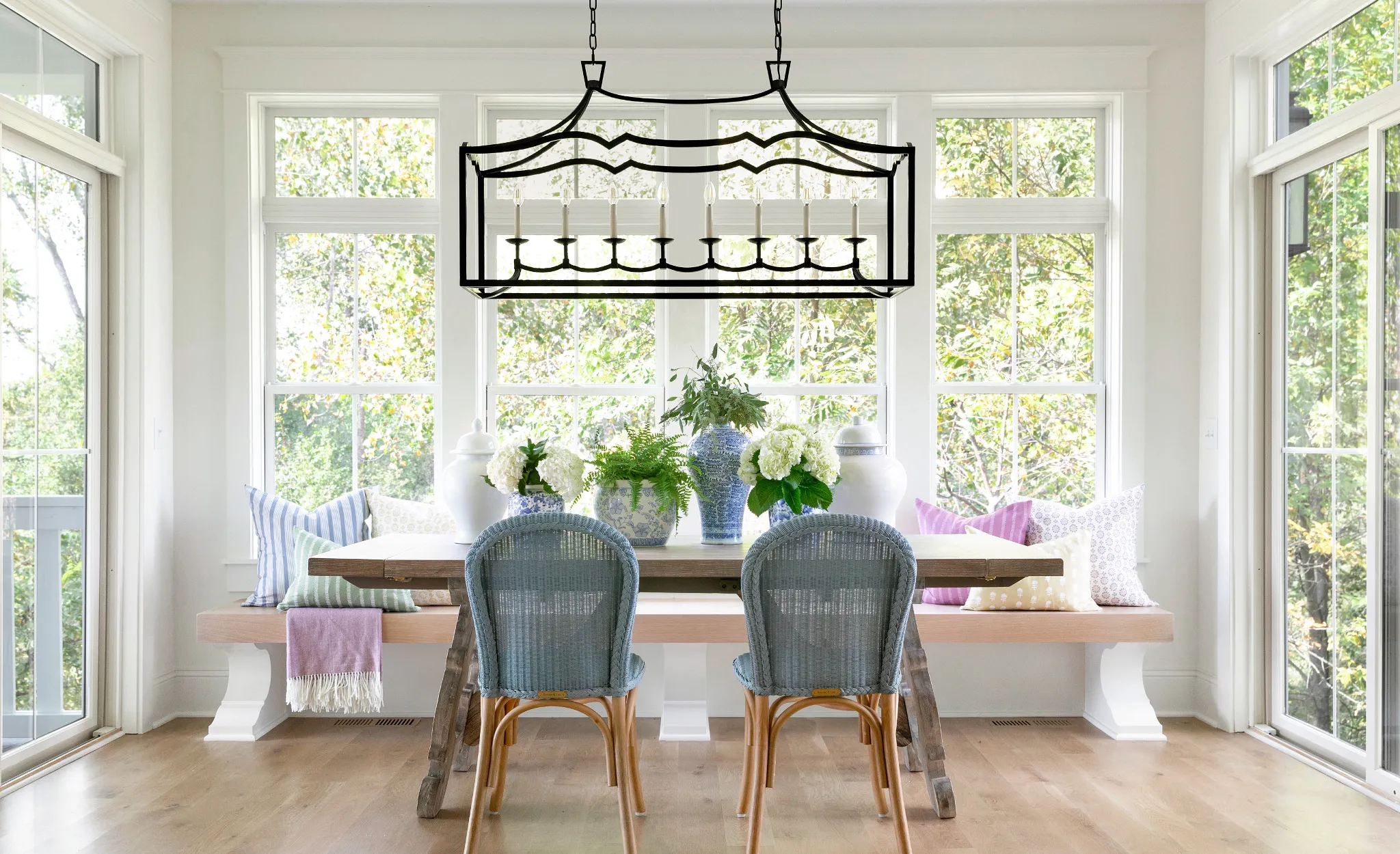 The farmhouse's open and airy dining room features the wood Olivia table.
We also added our olive Hampton rug in front of the sink which is made to withstand busy areas while also being soft enough for bare feet. Whether it's unique cabinets, custom artwork, durable furnishings, or seasonal décor, adding personal touches can truly transform a regular kitchen into a life-friendly, dream kitchen.