Good Grains
Integrating natural and stained wood into your kitchen design
It's time to rethink the beauty of wood in your kitchen design. After all, it is the material of antique furniture, grand staircases, and church pews. It wasn't so long ago that many DIYers were "freshening" wood furniture with thick coats of paint and covering up hardwood floors with wall-to-wall carpeting. While beautiful in its own right, trends eventually take detours or even U-turns. Now, the design-minded are once again embracing a wide range of stained woods in exciting new combinations. Let's explore how people are experimenting with some stain- and grain-centric designs.
Add a Touch of Color with Warm Toned Woods
Want to experiment with color but still hew close to the palette of more traditional wood stains in your kitchen? A yellow-toned stain could be a great first step. It's brighter than most stains without straying too far from the color of natural wood. And it still clearly showcases the pattern of the grain. As some kitchen trends move toward modern Scandinavian, it's a great time to experiment with warm wood and soft bursts of color from a wood stain like this.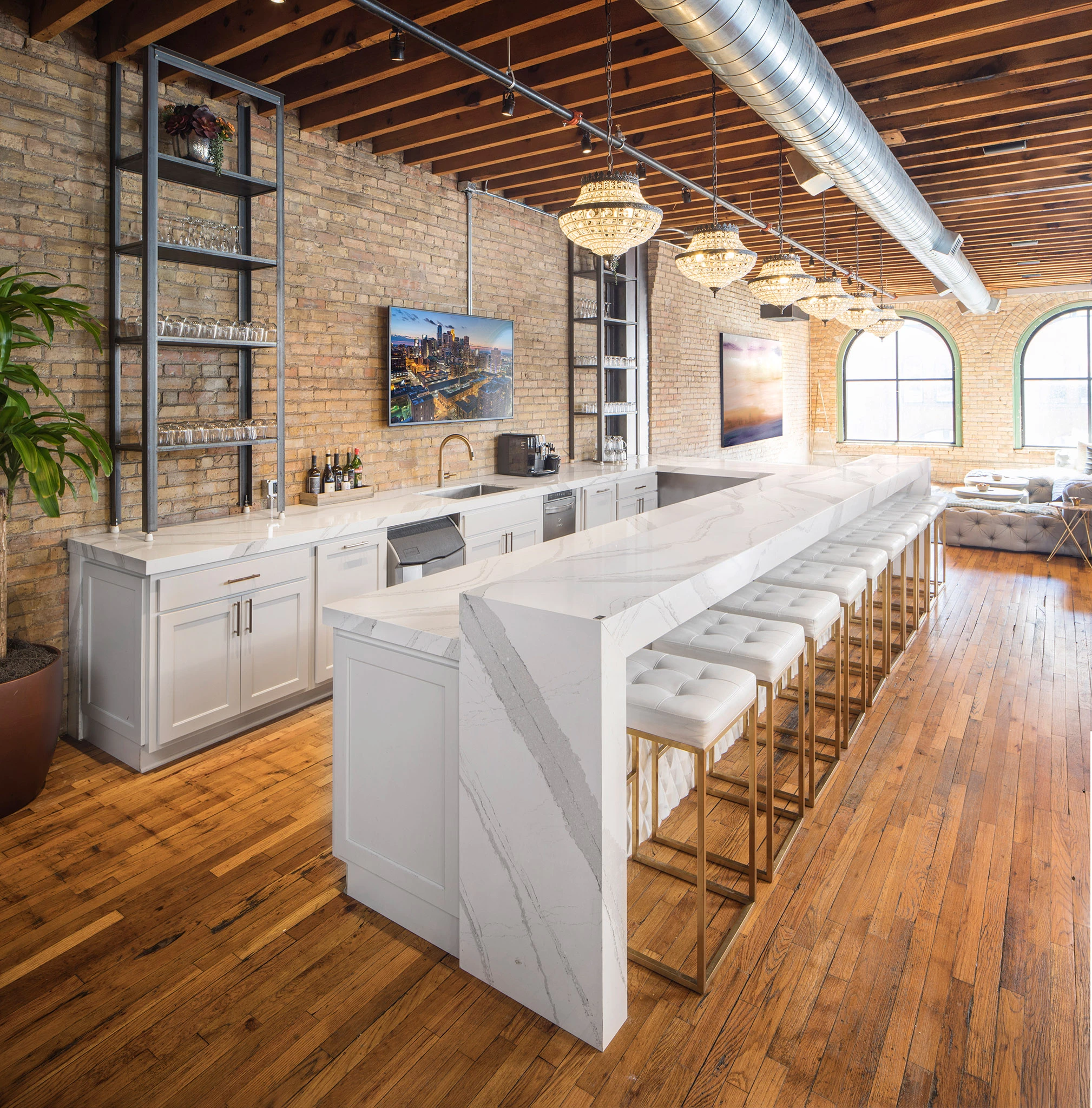 Create contrast against the coordinating color of your floor and ceiling. Cambria design shown: Brittanicca™
Create a Floor-to-Ceiling Warm Wood Kitchen
If you're working in a space with exposed beams or other visible woodwork, consider matching that woodwork with the stain of your floor. The feeling of being surrounded by warm wood in your kitchen creates a rustic sense of coziness. Plus, it helps other elements stand out. For example, in the project above, note how the beautiful Cambria Brittanicca quartz countertop pops along with the white stools and cabinetry. Even the similarly reddish brick gains added impact from the gentle contrast with the stained wood on top and bottom.
Contrast Darker Wood with Lighter Elements in Your Kitchen
The 2020s brought a wave of darkly daring interior designs. Today, home spaces from jewel box powder rooms to expansive kitchens continue to trade bright whites for the cool sophistication of darker shades—including when it comes to wood stain. But when working with major dark elements, look for opportunities to balance them with light. For example in the dark wood kitchen above, the bold impact of the dark stained cabinetry is balanced by lightness in the flooring, and CAMBRIA SKARA BRAE on the island and backsplash.
Anchor a Light Kitchen with a Dark Floor
Whether for matters of hygiene or high style, some folks will always gravitate toward a brighter, lighter kitchen. But they too can benefit from incorporating a daring, dark stained wood into their kitchen. Note how lighter elements, like the cabinetry and the Cambria Swanbridge-topped island practically seem to levitate in contrast to the dark wood kitchen floor below. Meanwhile, the countertops work with the floor to provide necessary counterpoints that keep the space from crossing the line into operating room white.
Fearlessly Mix Wood Stains and Grains in Your Kitchen
If you're drawn to the bubbly blonde notes of lighter stains, explore the rich reds of a medium stain or the charm of a weathered look of a darker, gray stain. Then say yes to them all. When it comes to wood, matching need not be a main motivator. So go ahead and try pattern clashing with an assist from Mother Nature: juxtapose a variety of stains and grains throughout your kitchen. As an added bonus, all that wood makes other elements—like metallic chairs, smoky glass lampshades, and creamy Brittanicca Gold Warm on the island—stand out all the more.
Want to go further into the woods? See how one home finds balance with its forested environment.