Giving Back
Charitable cotton-knit beanie business Love Your Melon blends retail and studio space with aplomb
Written by JESSE DORRIS
Photography by STEVE HENKE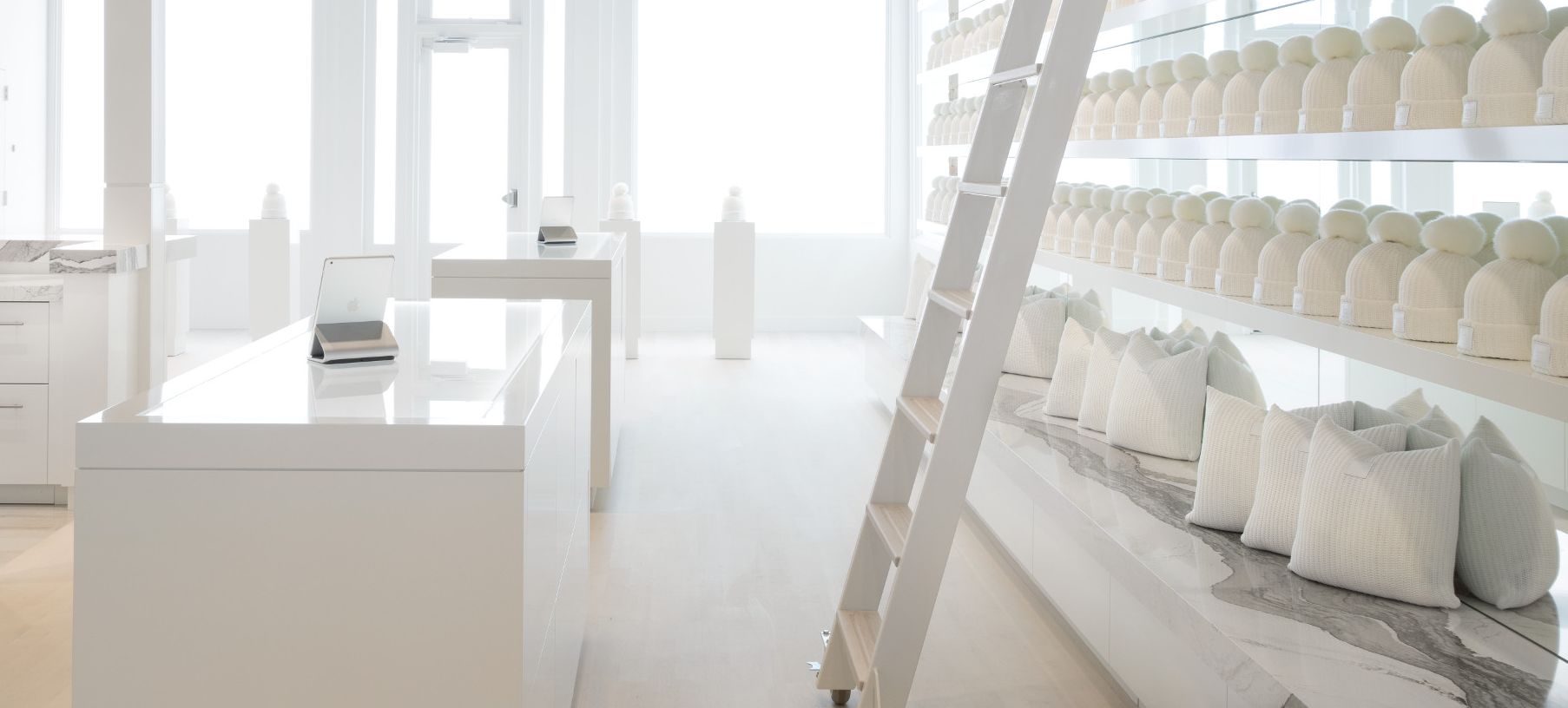 RETAIL
Love Your Melon used Cambria to form a bench beneath the statement beanie wall in its flagship store. Cambria design shown: Skara Brae™ (bench, kitchenette countertops)
Sometimes you really can do well by doing good. All it takes is a couple of fresh ideas. The first came to Zachary Quinn while he was studying business at the University of St. Thomas in St. Paul, Minnesota. A way to help children undergoing treatment for cancer, he thought, might be as simple as providing the comfort and protection of a cute beanie. What began as a way to use design to manifest empathy has, six years later, become a movement: To date, Love Your Melon has given away over 160,000 hats to children fighting cancer—and over $6.1 million to the cause. Meanwhile, the company has expanded its made-in-America products to apparel and housewares, with 50 percent of net profits going to a fund supporting nonprofits that provide therapy and programming for kids with cancer and their families.
Last spring, Quinn had a second great idea: to open a physical space to represent Love Your Melon's online brand. He wanted to build a destination for social-media influencers, a hub for socially conscious neighbors, and a brick-and-mortar flagship for his growing line of wares.
Make that Cambria-and-brick-and-mortar. Quinn had first fallen for the quartz stone when he used it in his own home. So when he found a dark, rustic shop in a historic building in Minneapolis' North Loop neighborhood, he enlisted it again as a fresh, contemporary element. "We set out to create a place where the historic building and new fixtures and finishes could interact. The line between new and old turned out beautifully," he says.
Expanses of Cambria
Skara Brae™
form a striking bench that runs the length of a shelving wall showcasing rows of the famed beanies—all in white. "It captures your attention right when you walk in," Quinn says. The wall looks particularly eye-catching on Instagram (a 'gram-worthy selfie spot being a must-have for the millennial crowd). Cambria natural quartz also frames a kitchenette marked off by mosaic tile and reoccurs on the third floor, in the office. "We were persistent about sticking to gray tones, white, and brushed silver," Quinn explains. "The products we bring into that then speak for themselves." An example of one of Quinn's most intriguing product ideas on display? A prototype of the beanie vending machine Love Your Melon intends to place in hospitals across the country.
Other brands can get in on the action, too: the ground-floor retail space has a mini photography studio open to all to use, and a bar for parties and networking after dark. The project's clean white palette can be seen as a blank slate for new ideas. Clearly Love Your Melon is on the right track, as its revenue has tripled in the past three years. It's all proof that profits and principles, like a fresh new beanie, can be a perfect fit.