Quartz Countertops and Farmhouse Sinks are a Perfect Pair for a Kitchen Remodel
With a distinctive shape and style, farmhouse sinks have been a must-have kitchen design feature for some time. While a staple of traditional and MODERN FARMHOUSE KITCHEN looks, they are also well suited for many other kitchen styles and have benefits beyond their aesthetic charm.
Benefits of Farmhouse Kitchen Sinks
The standout feature of the farmhouse-style sink is its apron-front panel, which creates a stylish focal point in the space and blends cohesively with the countertop and cabinetry. Most find the apron sink panel to be more comfortable to stand against compared to a standard sink with cabinets directly beneath. Another big benefit of a farmhouse sink is the deeper basin, allowing you to wash large pots, baking sheets, and other cumbersome items with ease.
Installing Farmhouse Sinks
The most popular models of farmhouse sinks are undermount, connecting underneath the countertop and allowing easy-clean convenience from the countertop surface to the sink. If you are considering replacing your sink with an undermount farmhouse kitchen sink, you will most likely need to replace your COUNTERTOPS at the same time, as they must be custom cut and installed. A stone countertop like a Cambria quartz Surface is ideal to pair with an undermount farmhouse sink to ensure proper installation with a heavier sink model. Fixtures for farmhouse-style sinks are not attached to the basin of the sink but are usually installed within the countertop instead.
Custom cabinetry is also often needed, so it's best to fit your farmhouse sink goals into a kitchen renovation project or new kitchen build. While custom cabinetry is beneficial to support and fit your new farmhouse sink, there are several apron sink models available that only require a simple retrofit of your existing sink base cabinet. It's best to consult with a cabinet company or carpenter about your farmhouse kitchen sink goals at the very beginning of your kitchen renovation project or new kitchen build.
Farmhouse-Style Sinks with Quartz Countertops
The timeless style of an apron-front sink pairs beautifully with CAMBRIA Quartz COUNTERTOPS, and their easy-to-work-with reputations go hand in hand as well. Cambria surfaces are durable—more durable than marble or granite countertops—so they're the perfect choice to handle the needs of a farmhouse sink installation. Cambria surfaces are also precisely measured so the farmhouse sink must be mounted in place before the countertops are digitally measured. Once the measure is accurately completed, your Cambria quartz countertop will be fabricated and then precisely fit and installed by Cambria-approved technicians to integrate perfectly with your new farmhouse sink.
Here are some of our favorite farmhouse sink spaces with Cambria.
Inviting Farmhouse with Darling Details
Singer-songwriter Holly Williams' RENOVATED FARMHOUSE KITCHEN features a porcelain farmhouse sink with a brass dual handle faucet, subtly veined white ELLA quartz countertops, and soft-gray cabinetry. The farmhouse sinks of days gone by featured two-handled faucets, so we love how this space gives a nod to the tradition with an elegant twist. Patterned roman shades, a painted-pink floor, and a display of cherished heirlooms complete the look in this charming country space.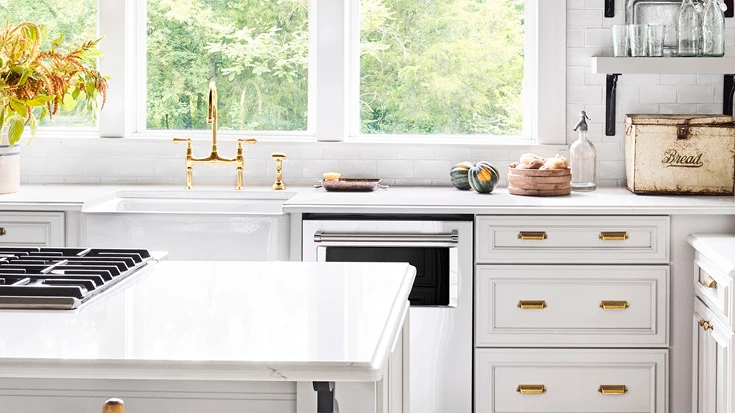 Porcelain farmhouse sink, brass fixtures, and Ella countertops.
Stainless Steel Apron Sink with Marbled Farmhouse Countertops
A stainless steel apron sink is a great option to pair with BRITTANICCA, a white and gray QUARTZ COUNTERTOP design that's a stronger and style-forward ALTERNATIVE TO MARBLE countertops. The chrome tones of the farmhouse sink complement the gray veining of the Brittanicca quartz countertops and provide a cohesive look with the stainless steel range hood and appliances in the space. Round out the look with a bold pop of color, such as robin's egg blue or teal.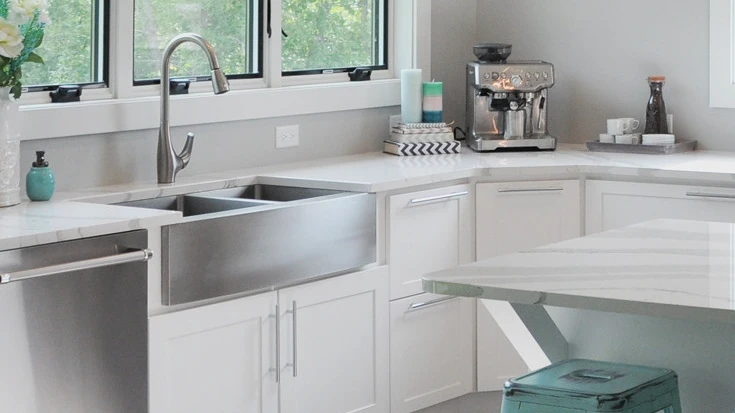 Stainless steel sink, Brittanicca™ countertops, and pops of blue.
Classic Farmhouse Kitchen Style
RUSTIC KITCHEN CHARM is executed to perfection in design duo SHANTY2CHIC'S KITCHEN RENOVATIONS. In both of these inviting spaces, porcelain apron-front sinks take center stage in the kitchen islands, providing a convenient view into the living areas while washing up. The sisters also selected WHITE QUARTZ COUNTERTOPS that mimic the look of marble in two different Cambria quartz designs. Whitney's space features industrial open shelving, greige cabinets, brass hardware, a modern faucet design, and SWANBRIDGE. Ashley's space showcases a traditional farmhouse-style faucet, industrial pendant lights, taupe kitchen cabinets, and TORQUAY countertops.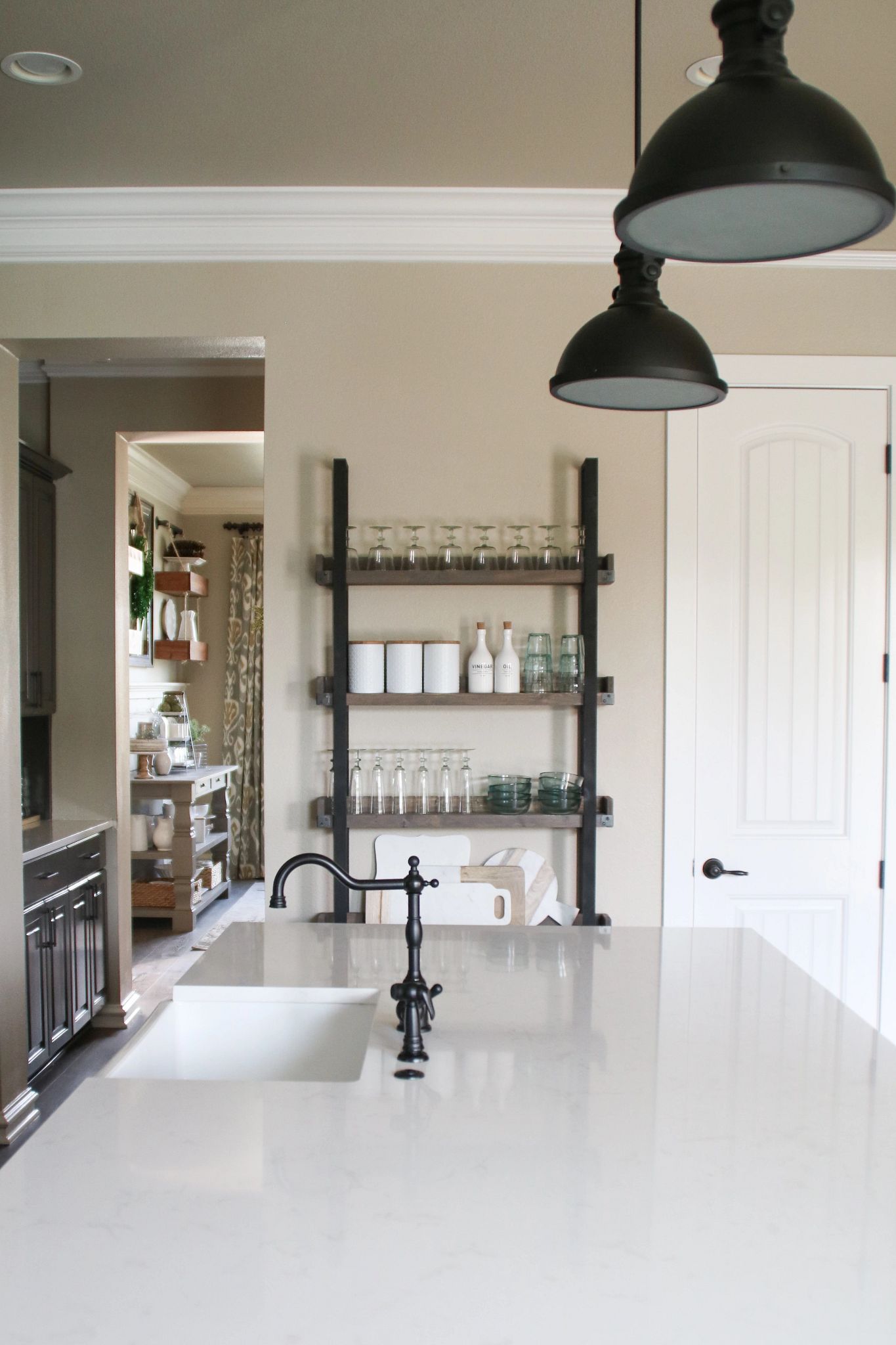 Farmhouse sinks and open shelving paired with Swanbridge™ (left) and Torquay™ (right) countertops.
California Vintage Modern Vibes
Founder of CREATE & CULTIVATE, Jaclyn Johnson opted for a simple and elegant palette in her kitchen. Her space is proof you don't need a traditional farmhouse kitchen to feature a farmhouse sink. The white apron sink stands out against SAGE GREEN CABINETS, while providing a cohesive look with the stunning white and gray Torquay quartz waterfall island. A Torquay backsplash brings marbled beauty and MAINTENANCE-FREE BENEFITS behind the sink in this Cali-chic kitchen.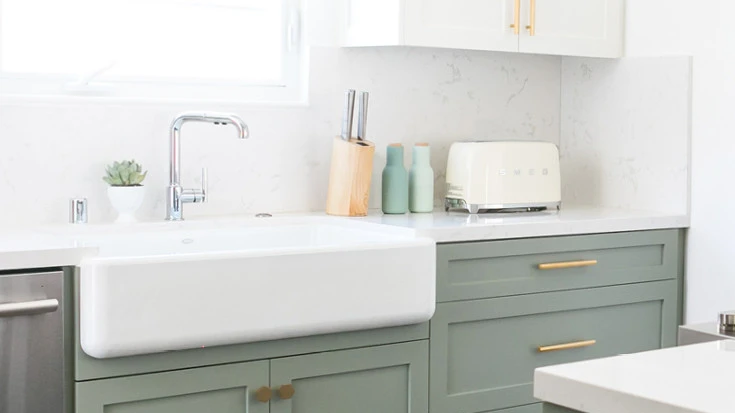 Porcelain apron-front sink, sage green cabinets, and Torquay™ waterfall kitchen island. Photo by MONICA WANG PHOTOGRAPHY.
Traditional White Kitchen with Stainless Steel Farmhouse-Style Sink
We love how this stainless steel apron-front sink adds sophisticated contrast to a white kitchen space. The fresh and clean space features Swanbridge quartz countertops, glass cabinetry, and a full-height arabesque tile backsplash.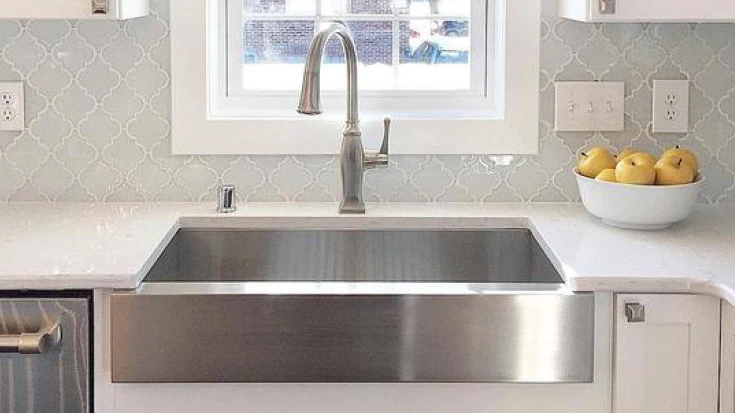 Stainless steel farmhouse sink, arabesque tile, and Swanbridge countertops. Photo by TRUBUILD CONSTRUCTION.
Western Ranch Kitchen with Dual Basin Farmhouse Kitchen Sink
The porcelain white farmhouse sink in this rustic-chic space by JENNIFER MAXCY sits amid reclaimed wood, Torquay quartz countertops, open shelving, and vintage finds. The classic combination of warm woods and white creates an inviting ranch kitchen.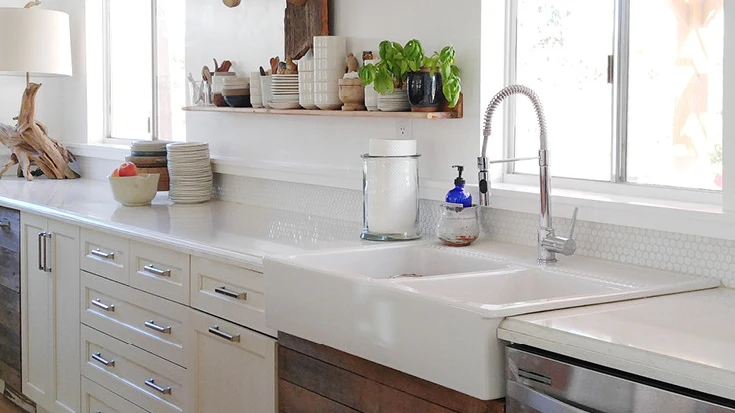 Double basin farmhouse sink, reclaimed wood, and Torquay countertops.
Black and White Kitchen with Traditional Farmhouse Sink
Farmhouse kitchen sinks and Ella quartz countertops are a delightful pair in these black and white kitchens. This small-space kitchen by Lori Gilder and REBECCA REYNOLDS epitomizes French-countryside style, with an apron-front sink, wall sconce lighting, floating wood shelves, and charming artisan floor tiles. The black window trim creates a charming focal point with the farmhouse sink in KATE ARENDS' home. The founder of WIT & DELIGHT'S space features brass fixtures and natural wood open shelving.
Black and white kitchens with farmhouse sinks and Ella countertops.
Contemporary Kitchens with a Twist—Farmhouse Sinks in Modern Kitchens
Kate Arends of Wit & Delight also doubles up on farmhouse sinks and Cambria quartz countertops in STUDIO 125, her studio in Minneapolis. The KITCHENETTE SPACE features a porcelain apron-front sink paired with the subtle marbled elegance of Swanbridge quartz countertop and a statement backsplash of navy hexagon tile. Her full kitchen showcases a bold Brittanicca Matte backsplash behind the double-basin farmhouse-style sink, along with Brittanicca Matte countertops for a MODERN MARBLEd LOOK. With two styles of farmhouse sinks and two distinct finishes for the white quartz countertops, Arends' artful mix of elements combines for a contemporary studio style.
Modern farmhouse sinks with Swanbridge and Brittanicca Matte™.