Even the Building Embrace Nature at Camp Southern Ground
Written by CAROL LINN
Photography by CAMP SOUTHERN GROUND AND SOUTHERN REEL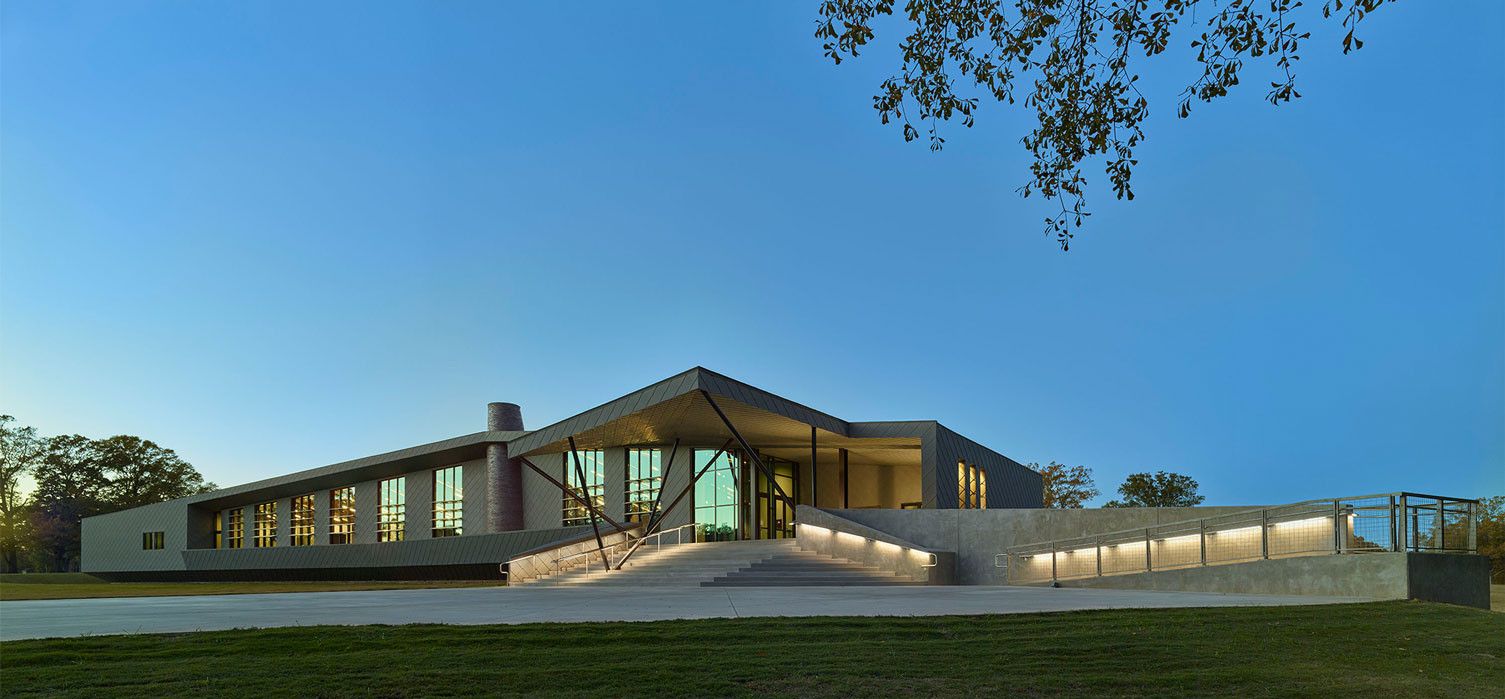 "Create a camp that feels familiar, but is still unique"–that was the seemingly impossible task Zac Brown gave to Perkins + Will, an award winning multidisciplinary architecture and design firm, when he described his vision for his dream, Camp Southern Ground. More imossibilities followed. The camp's buildings should be modern, and so solidly constructed they'd last a century –but it was vital to preserve the open space and rural charm of the 450-acre property. Campers had to be kept cool during Georgia's ferocious summers, but that had to be managed sustainably. And all these requirements had to be met in a way that served typically developing campers and those facing challenges like autism spectrum disorder (ASD). Planning, says architect Chris Sciarrone with a laugh, "took four years." The beauty of the buildings at Camp Southern Ground–those built and those being planned –hides the very deliberate practical considerations that went into their design. Before anything else, says Sciarrone, Perkins + Will had to consider the very different ways guests would navigate the camp itself –what architects call "wayfinding." "Our master plan was driven by providing two independent and overlapping systems of wayfinding," he explains. "One is based on cardinal directions and straight lines, the other allows guests to find their way via what is nearby: For instance a trailhead comes just between the ropes course and swimming pool."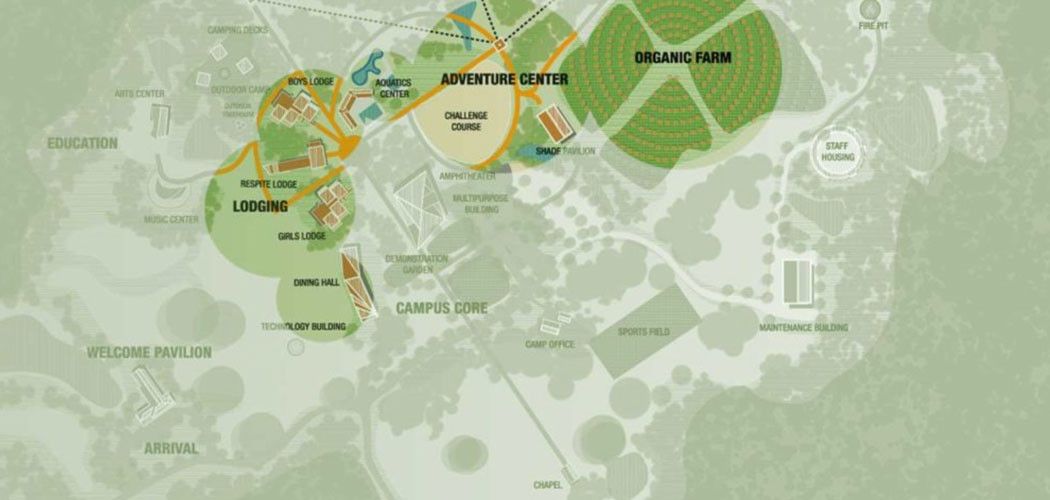 The need to preserve open space and emphasize the importance of nature also guided placement of buildings. "To avoid the feeling of suburban sprawl, we clustered the buildings in 'districts,'" says Sciarrone. A grand, sweeping dining hall stands at the crest of a gentle hill, which maximizes the views it offers. The site also makes the dining hall one of the first things a visitor sees, in what Sciarrone calls "an open-armed gesture of welcome."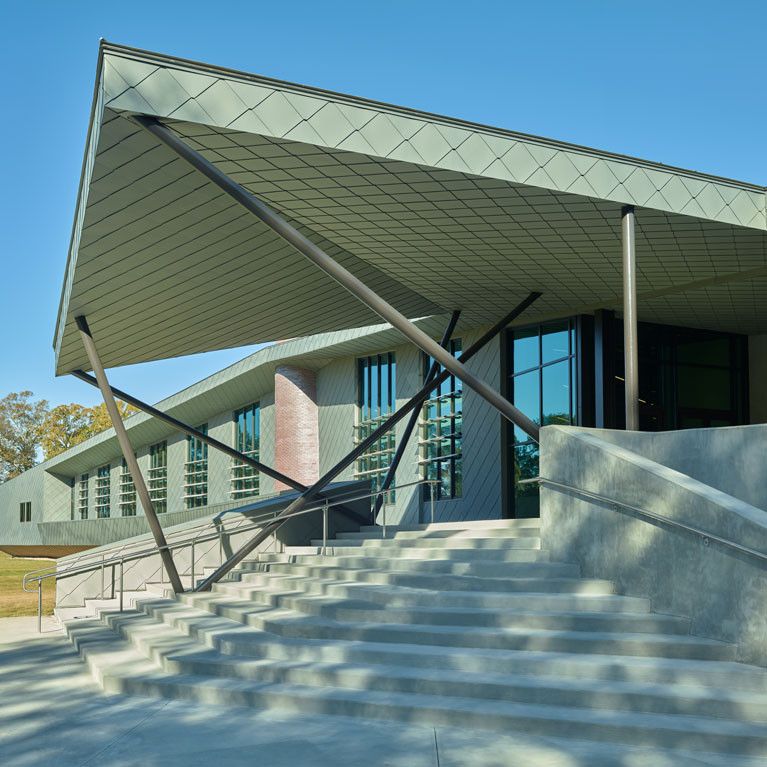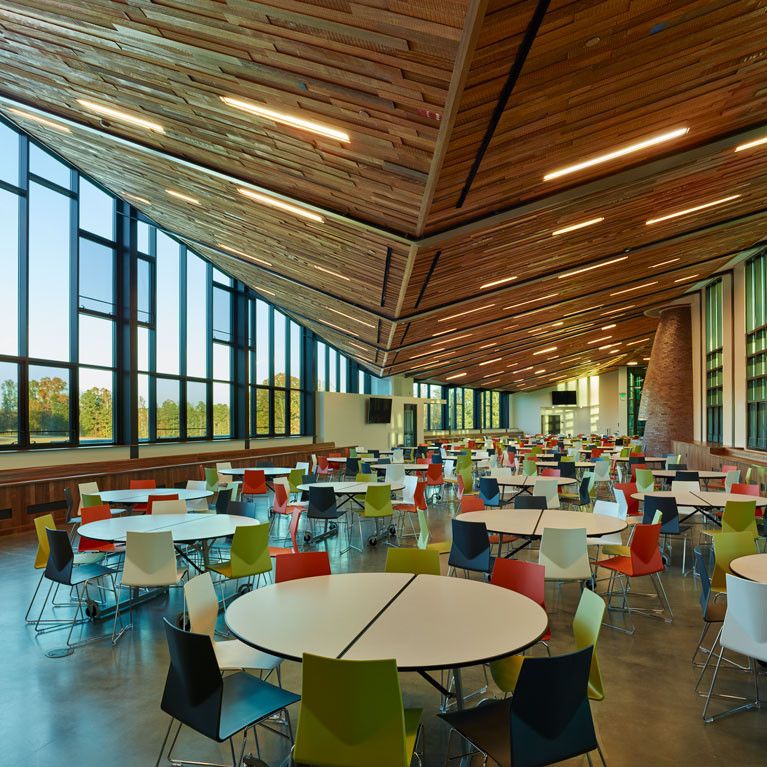 Images: Peterson Dining Hall
For the Peterson Dining Hall, architects Perkins + Will reimagined familiar architectural features like porches and gabled roofs. A deep southern-facing overhang and zinc cladding installed with airspace beneath, helps keep the building cool. Repurposed mahogany gives the dining room's high ceiling a rich gleam.
"Zac was insistent that kids don't have enough connection to the way food is produced and wanted a farm to give them the opportunity to learn and get their hands dirty," says Sciarrone. For that reason, CSG's 15-acre organic garden (two acres of which are currently planted) was located centrally, next to a 12,000-square foot shade pavilion where the kids will gather to play. It's also visible from the dining hall.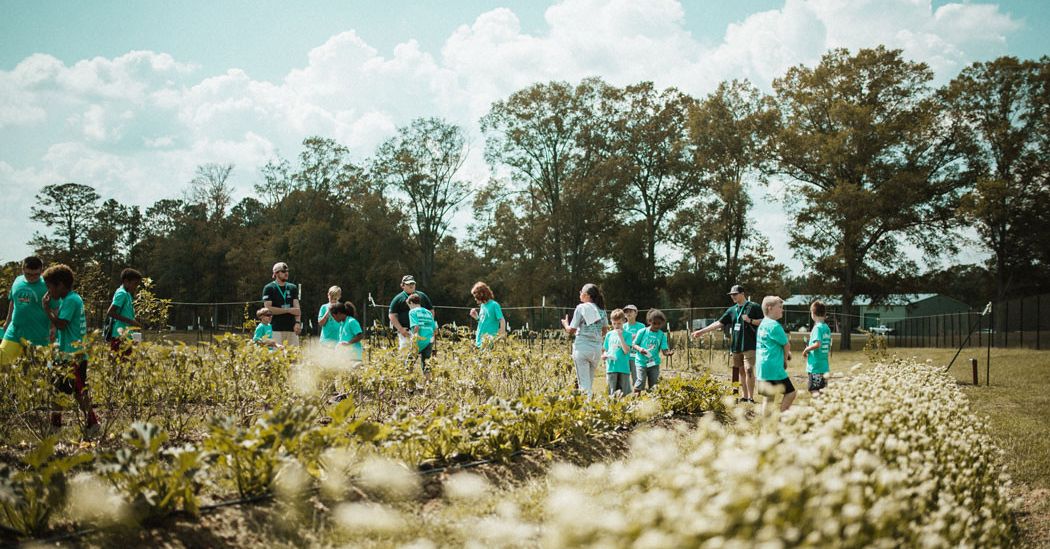 Image: Organic Farm
At Camp Southern Ground's organic farm, campers learn about growing, planting, and harvesting – and that real food doesn't come in a plastic bag.
The design of the CSG structures and facilities –both those completed and the half dozen or so still to come –emphasize nature, while they combine graceful proportions and features specific to users of different sensitivities and abilities. The dining hall has a wall of windows that look out to an open meadow –nothing will ever be built there. Its walls, roof and the underside of generous overhangs are clad in custom-fabricated zinc, a naturally weather-resistant material that Chris notes "will patina and age well."
Another consideration in construction: How each building stimulates the senses. "For the kids who'll be using this camp, we wanted to create spaces that were neither overly bright nor overly dark, and to avoid big contrasts," Sciarrone says."Many CSG kids will be sensitive to texture as well –our aim was to provide variety without high contrast, which can be upsetting.We also thought carefully about the organizing of the spatial environment. We want people to walk into buildings and feel safe, not as if there's something hidden or lurking there."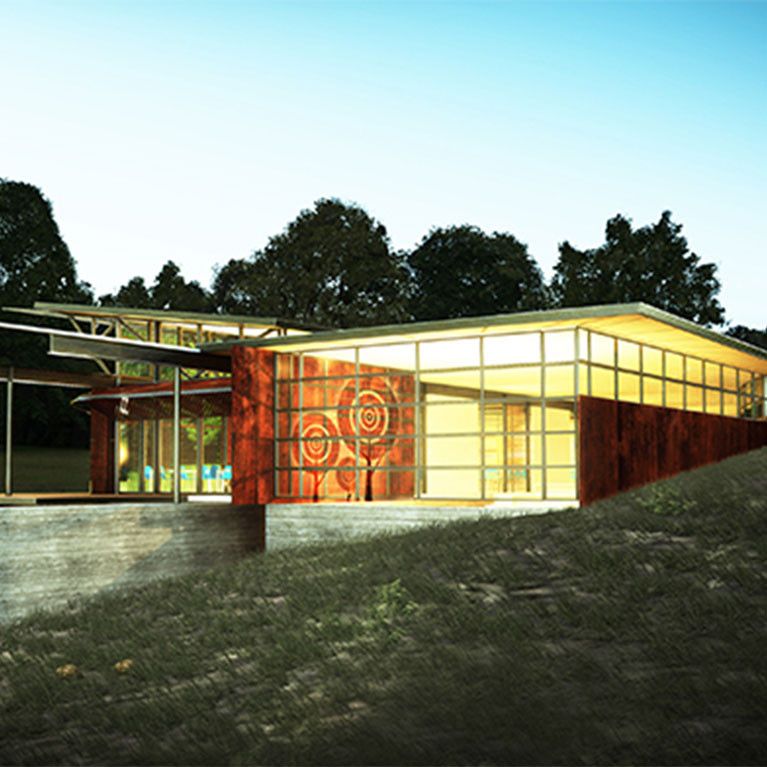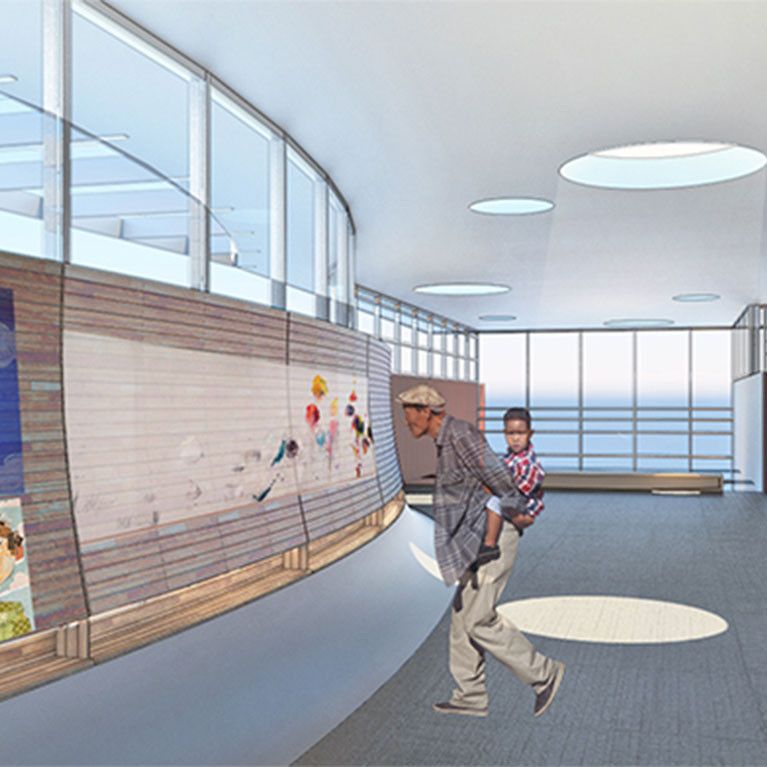 Images: Arts Building
At a planned Arts Building, campers will enter the world of visual arts – and have the chance to display their creations in a special gallery.
Case in point: the residential lodges. The camp will have three, one for boys and one for girls, which are largely the same. A respite lodge will be for kids or adults with a high degree of special needs. The corridors feel secure, with room doors on only one side. (The other wall has windows with views of the woods.) "We avoided having any blind corners," says Sciarrone, "and always provide at least two paths of travel."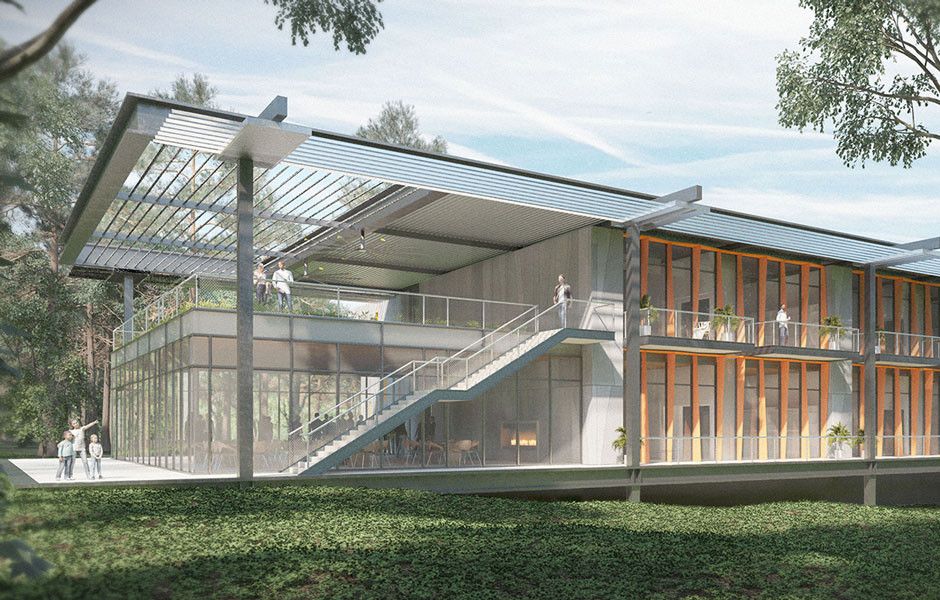 Residential Lodges offer comfortable shared sleeping space for campers. Ingeniously-designed sliding doors and fold-down furniture allow for seamless conversion to smaller, private rooms for adult visitors.
The same considerations govern exterior space design. Sciarrone says that research by a group of landscape architects from Perkins + Will revealed that "there's almost no place in the US designed as an exterior environment for people with autism." In response, and with the understanding that people on the autism spectrum often struggle with sensory overload, they designed an as-yet-unbuilt series of gardens that will stimulate only one sense at a time. An aroma garden, for instance, will feature plants with different fragrances. A visual garden will be emphasize visual beauty.
Because CSG is to be used for camp during the summer months and for adult retreats and conferences at other times, all the living spaces are ingeniously flexible. The dining hall has no fixed seats, so once chairs are moved, it becomes a grand, open space. The residential lodges are outfitted with sliding doors, and fold-down beds and furniture, allowing them to morph seamlessly from shared dorms to smaller, privaterooms.
Sustainability –one of Zac's major priorities –also drove design. The striking dining hall ceiling is gorgeously clad in mahogany–repurposed wood donated by Bob Taylor of Taylor Guitars. (These wood pieces were too small to be used in guitar-making and otherwise would have been discarded.) The commercial quality kitchen that lies below the eating area contains a custom grinder and extractor which converts food waste to compost for the farm.
Both the dining hall and the residential lodges are heated and cooled with geothermal systems that both save energy and are unlike conventional fans and compressors are remarkably quiet --something that matters to a population that may be especially sensitive to noise. The dining hall also makes use of what Sciarrone calls "smart, passive solar design": Because only its south entrance receives direct sunlight, it has a different type of glass than the entrance to the north, and a very deep overhang. The area beneath and around the overhang, also evokes familiarity as a kind of reimagined front porch.
Architecturally, Camp Southern Ground magically brings together Zac Brown's contradictory vision. Sciarrone calls the camp, "a study in contrasts: familiar yet new, comfortable yet edgy, adventurous yet protective."
In CSG's Multipurpose Building, campers will enjoy an indoor, climate-controlled sports facility with a gym. An attached ampitheatre offers parents and guests the chance to watch and cheer.
CSG's Aquatics Adventure will contain a first-class pool and a water playground with interactive features. A ropes course is designed to challenge campers and build their confidence. A zip line takes campers on a breathtaking journey above the trees.
In the Music Room, campers will learn how to play, make and record music and music videos, taught by an array of accomplished artists and instructors.
CSG's otherworldly Space Crab Tree House was designed by Tree House Master Pete Nelson and featured on its own episode of Animal Planet.
A sleek, futuristic Technology Center will contain a 250-seat ampitheatre in a building that is mostly underground – burrowed into the landscape rather than perched on it. Above windowless walls, an oculus opens to the sky, admitting natural light and a view of the stars.
CSG's Welcome Center will offer campers and visitors a special warm greeting, with a plaza of open-air covered porches.
For more information, please visit CAMPSOUTHERNGROUND.ORG.All Images courtesy of Camp Southern Ground and Southern Reel.