Delicious Color
Choosing the right hues will help you create an irresistibly inviting dining room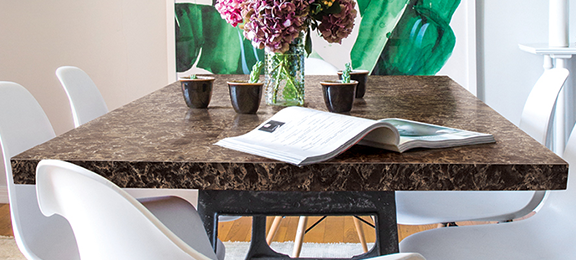 The dining room is the perfect spot to go bold with your color choices, says Andrea Magno, Color and Design Expert at Benjamin Moore. "You spend less time in the dining room than in other rooms, typically, so you're less likely to get tired of the color you pick. Plus, it's a space you'll use for entertaining, so it makes sense to be a bit dramatic," she says. But that doesn't mean you should go crazy with color; you want the room to be warm and inviting, not overwhelming. And, while paint is a relatively easy DIY project, you won't want to repaint every few months. Here, five easy tips to get the color mix right:
1. Balance your choices
If the wall colors are strong—rich red, deep charcoal, watery green—keep the furnishings and accessories neutral. Add interest with texture and metallic finishes instead of through additional color.
2. Look up
The ceiling is a great place to add a pop of unexpected color—especially if you have a coffered or tray ceiling. Metallic finishes also look sophisticated overhead and will reflect light from your chandelier or candles beautifully.
3. Remember the trim
Instead of adding color to the walls, keep them neutral but paint the trim and doors in a rich hue. A high-gloss paint finish will add a little glam.
4. Pick one color focal point
If you're using a strong color, limit it to a single element—dining chair upholstery, for example—instead of repeating it all over the room, which can dilute the impact and tire out the eye.
5. Know thyself
If you get tired of colors easily, stick with a neutral palette for elements that are expensive or difficult to change (upholstery, wall coverings, window treatments) and bring color in through tableware and accessories that you can switch up with your mood.