Decadent Grilled Cheese Sandwiches
Photography by STEVE HENKE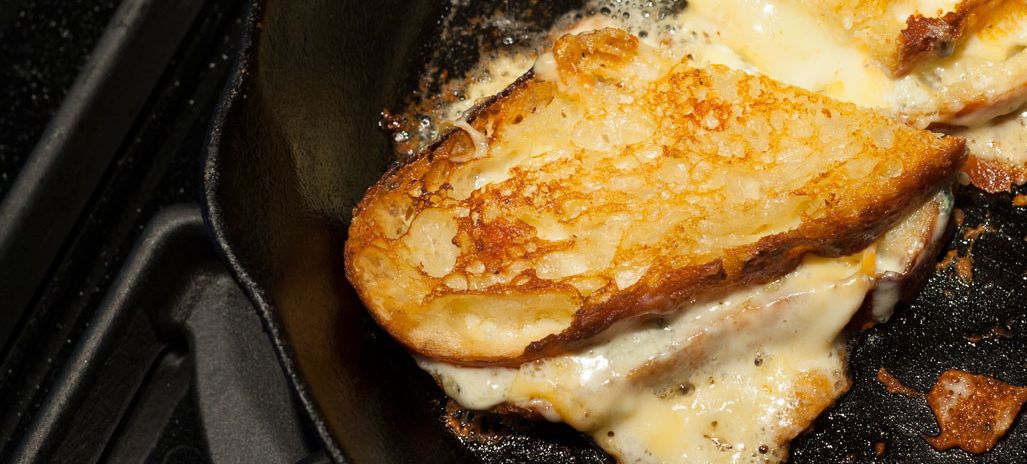 INGREDIENTS
Serves 4
4 Tbsp. softened butter
8 slices Sullivan Street Bakery Bread SEE RECIPE
4 oz. Gloucester cheese (or cheddar), shredded
4 oz. Gouda cheese, sliced
4 oz. Fourme d'Ambert (or other blue cheese), crumbled or sliced
DIRECTIONS
Brush one side each of four slices of bread with one-half of the softened butter. With the buttered side of the bread down, divide the cheese evenly onto the unbuttered sides. Top with remaining slices of bread. Brush top pieces with remaining softened butter. Heat a large cast-iron skillet over medium-high heat. Once the skillet is hot, gently set two of the four sandwiches onto the skillet. Cover and let cook for 3 to 4 minutes, until the bottoms are browned and the cheese is melting. Carefully flip, cover, and cook for another 3 to 4 minutes. Remove sandwiches from the skillet and set aside. Repeat with the remaining two sandwiches.
CUSTOMIZE IT
Good news: These oozy grilled-cheese sandwiches are already vegetarian. Vegan cheeses don't tend to melt as well as dairy cheeses, so if you're dairy-free it's probably better to skip this recipe.
Make it gluten-free: Substitute a gluten-free peasant-style loaf for the SULLIVAN STREET BAKERY BREAD.
PAIR LIKE A PRO
Leslee Miller, certified sommelier of Sip Better, an online tasting club, shares her favorite pairing.
Philippe Foreau 'Domaine du Clos Naudin' Vouvray Sec
This Loire wine has notes of snappy green apple skin, almond, and minerals that balance this three-cheese pocket of bliss.