Creating Magic
Welcome to CAMBRIA STYLE pantry
Written by MELINDA NELSON
Photography by STEVE HENKE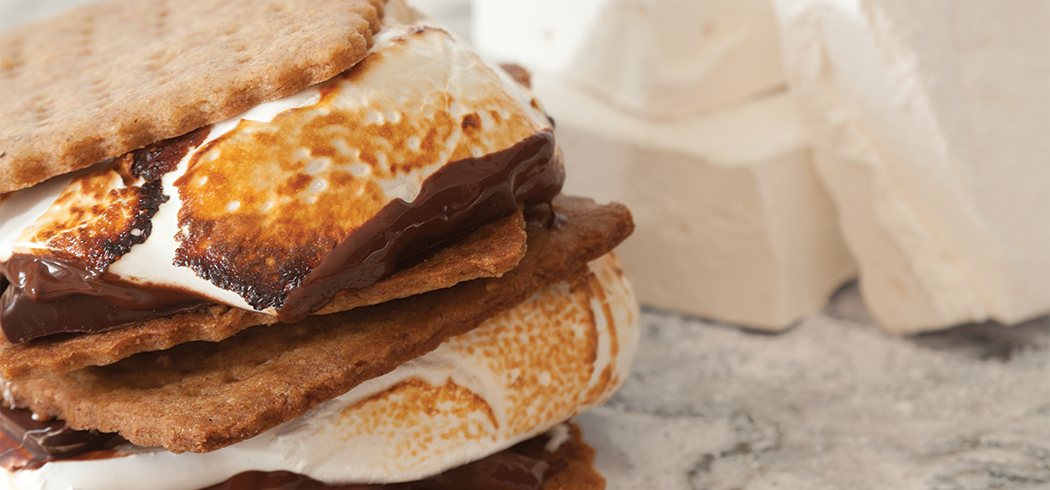 Inspired by generations of gifted homemakers, Cambria Style Pantry is a resource for handmade pantry staples, modern riffs on homespun favorites, and wholesome takes on classic treats. Curated by our editor, each featured recipe has been lovingly re-created and taste-tested with only the best of the best making the cut. Just in time for backyard campfires, our first tasty installment is a recipe for crazy-delicious, handcrafted s'mores. Start your own recipe collection and stock your pantry with homemade marshmallows. For homemade graham crackers and other recipes, visit CAMBRIAUSA.COM/STYLE.
HOMEMADE MARSHMALLOWS
INGREDIENTS
Vegetable oil, for brushing
3 Tbsp. plus 1½ tsp. unflavored gelatin
3 cups granulated sugar
1¼ cups light corn syrup
¼ tsp. salt
2 tsp. pure vanilla extract
1½ cups confectioners' sugar
DIRECTIONS
Brush a 9 x13 inch glass dish with vegetable oil, line with parchment, allowing it to hang over the sides, and brush lightly with more oil. Put sugar, corn syrup, salt, and ¾ cup water into a medium saucepan. Bring to a boil over high heat, stirring to dissolve sugar. Cook without stirring until mixture registers 238°F on a candy thermometer, about nine minutes. Put ¾ cup cold water into the bowl of an electric mixer; sprinkle with gelatin and let soften five minutes. With mixer on low, whisk hot syrup into gelatin mixture. Gradually raise speed to high; beat until very stiff, about 12 minutes, and add vanilla. Pour into prepared dish, and smooth with a spatula. Set aside, uncovered, until firm, about three hours. Sift 1 cup confectioners' sugar onto a work surface. Unmold marshmallow and remove parchment. Using a sharp knife brushed with oil, cut marshmallow into two-inch squares. Sift remaining confectioners' sugar into a small bowl and roll marshmallows in sugar to coat.
This recipe is adapted from MARTHASTEWART.COM.