Community Cuisine
New American food halls offer delicious options for dining in or taking home to the family
Photography by STEVE HENKE
If you've ever wandered through the enticing food markets of Paris, Tokyo, or Buenos Aires—or just about any international city—you understand the appeal: fresh meats, seafood, vegetables, pastries, and more, and the opportunity to build relationships with the farmers, artisans, and vendors selling them. So it's no surprise that across America, the concept of the market has inspired a new breed of dining and shopping experience. Visiting Texas? Check out the Magnolia Table Take Away & Market in Waco. In New York, you'll find the Time Out Market. In Chicago, Aster Hall. In Denver, Graze & Gather. L.A. has the Grand Central Market. And the list goes on. There's a market-inspired food hall—or several—in nearly every city, large or small.
The Lynhall
Some food halls function much like a traditional market, with stands for various foodstuffs to buy and take away; others feel more like a fast-casual restaurant, with a combination of ready-made takeout and dining-in options. The Lynhall, a food hall–style eatery with locations in Minneapolis and Edina, Minnesota, is a cross between market and bistro—both inspired by owner Anne Spaeth's experiences living with her family in London. "The food markets and bistros there inspired me to create a hybrid of the two back in the U.S.," she says. "It's a model we're seeing pop up everywhere now, as people look for more casual, flexible venues outside of the traditional restaurant setup," she says.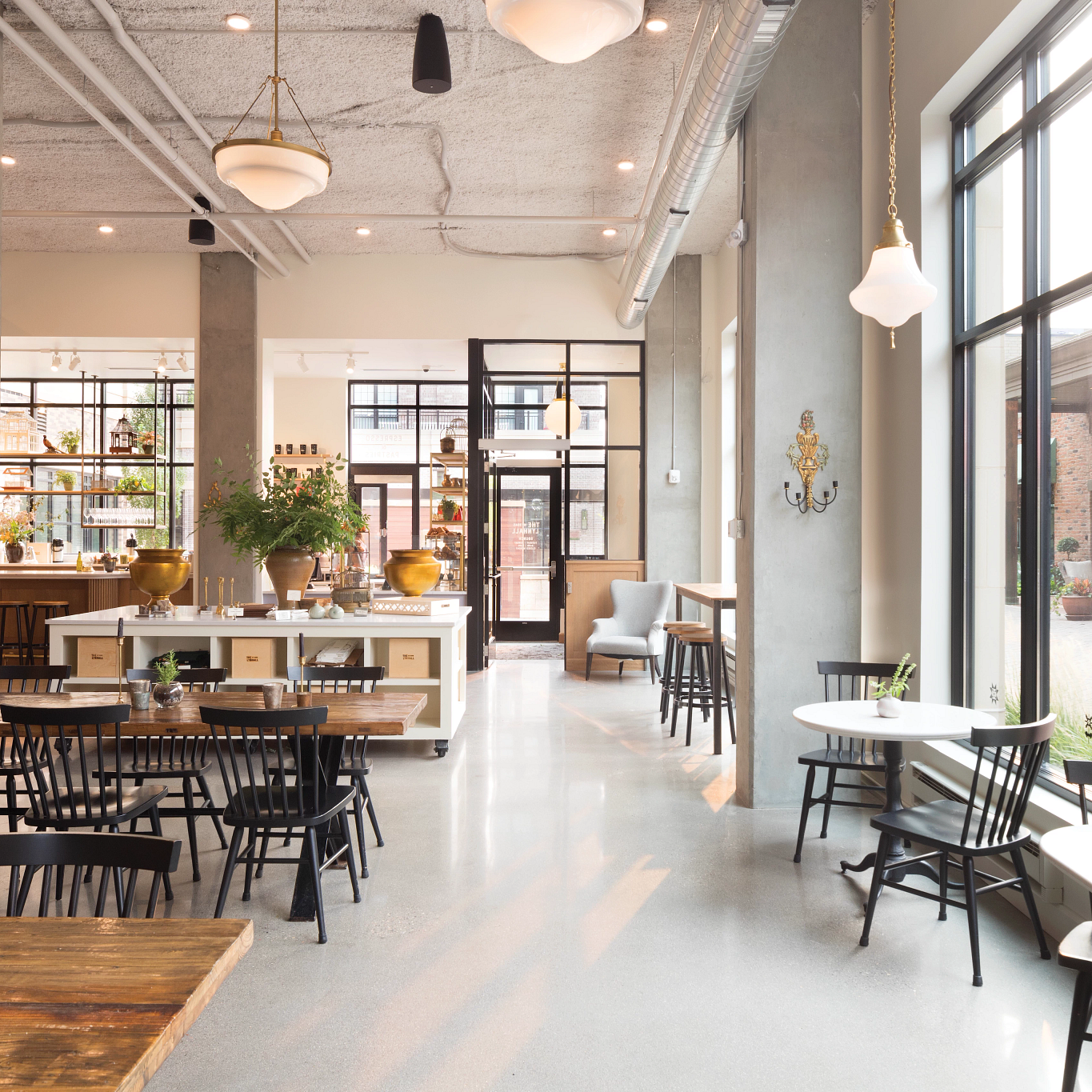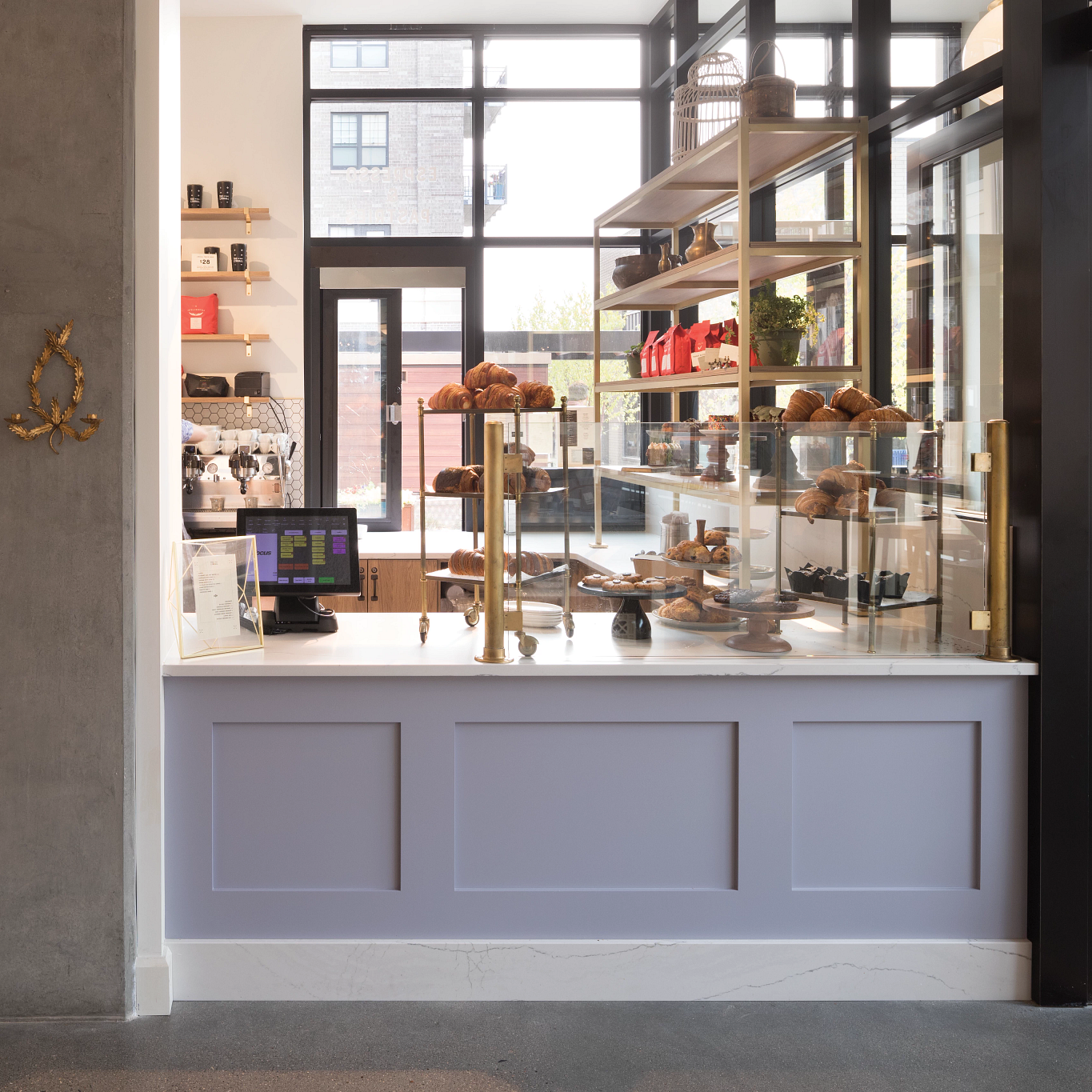 This sundrenched space (above left) includes a bar and communal tables,
as well as bistro seating. Another unique feature patrons are loving is the walk-up take-out window for food, pastries, or even just a quick espresso.
Owner Anne Spaeth chose the lavender color (Benjamin Moore's Wisteria) for the base of the pastry counter because it reminded her of the wisteria she loved in London.
Back in the U.S., Speath created The Lynhall around those principles: fresh, homemade food served in a casual, inviting, community-focused setting. Because the setting is so important to creating a welcoming atmosphere, Spaeth worked carefully to give the two Lynhall locations a timeless look, complete with exposed wood beams, English wallpaper in the bathrooms, and Cambria on the countertops and bistro tabletops. "We love the Ella Matte™ design," she says. "It's beautiful next to our long wood tables and black chairs. The veining provides a subtle design element, and the material is so durable—it really stands up to the needs that a restaurant has, from everyday customer interaction to private events, wine spillage, and more. We've had the counters in place for over three years, and despite the heavy daily use, they look as beautiful as the day they were installed."
The Grocer's Table
Lindsay Pohlad had a similar goal in mind when she conceived of her Wayzata, Minnesota, market café, The Grocer's Table. "I used to live in New York, near Dean & Deluca, and I loved wandering in and finding something to take home for dinner, and maybe a pastry, and some specialty olive oil, or another gourmet ingredient. Places like that, and the Oakville Grocery in Napa, influenced the plan for The Grocer's Table." Like The Lynhall, The Grocer's Table offers a combination of take-out and dine-in options, including a wine bar and outdoor patio seating, but also a selection of gourmet provisions. "One reason market cafés are so popular is that they create a total experience. The shopper or diner is surrounded by enticing sights and smells while they choose a meal for the evening or browse through the specialty foods, from specialty salts to nut butters to chocolate," says Pohlad.
Of course, the design of the market café is an important part of that experience. So Pohlad had the walls lined with aged brick, to lend a timeless atmosphere to the new space, left the exposed ductwork intact, and added distressed wood to the counter fronts for warmth and richness. Cambria's Rosedale Matte™ design tops all the surfaces throughout the space. "It was a really bold choice, but the veining reminded me of a piece of delicious blue cheese. And the combination of that rich pattern and the dramatic edge treatment we chose, creates this very rich, very residential look that just works." says Lindsay.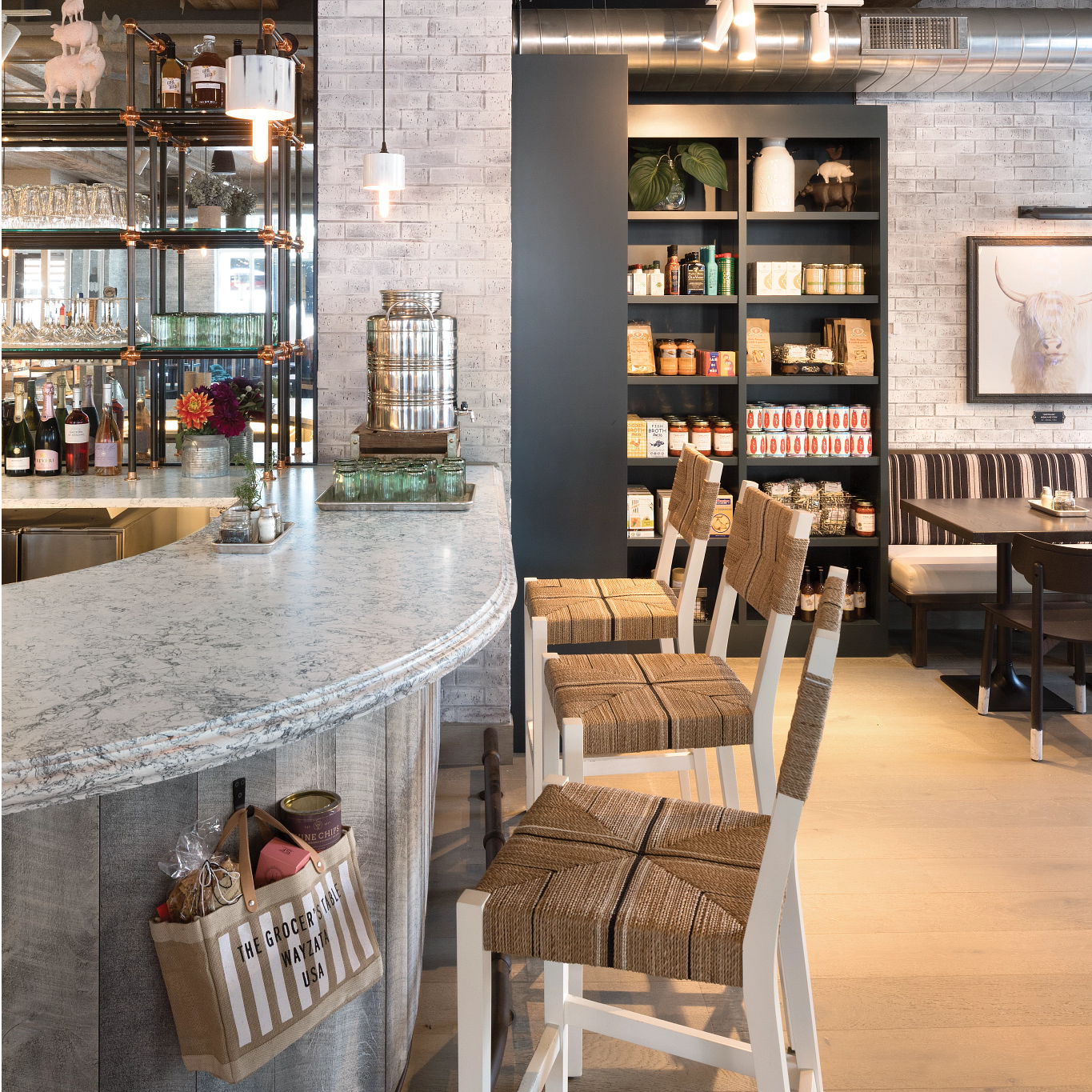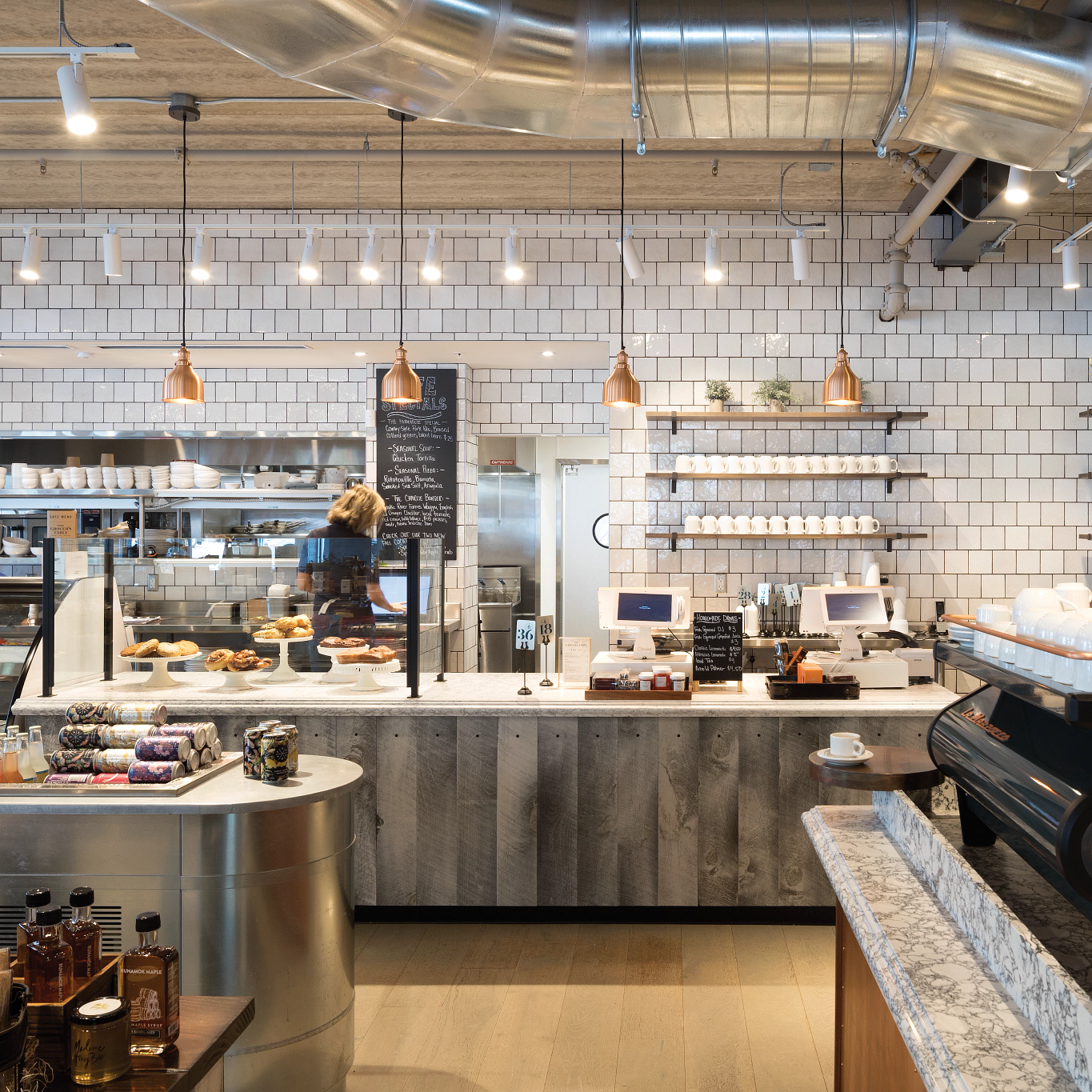 At The Grocer's Table, you can tarry a while at the wine bar, shop for charcuterie, pick up your family's dinner, or grab a key ingredient for a gourmet meal. Options galore include seating at the wine bar or in a café and outdoor patio (not shown), as well as cases and counters full of delicious take-out food and provisions. Cambria design shown: Rosedale Matte™. The beauty of these new market-style eateries is the ability to pop in and pick up a variety of prepared foods and ingredients, a convenience that's ideal for today's busy families looking for healthy—and delicious—meals. Cambria design shown: Rosedale Matte™ (wine bar and countertops).