Let's Get Moving: Working with Movement in Cambria Design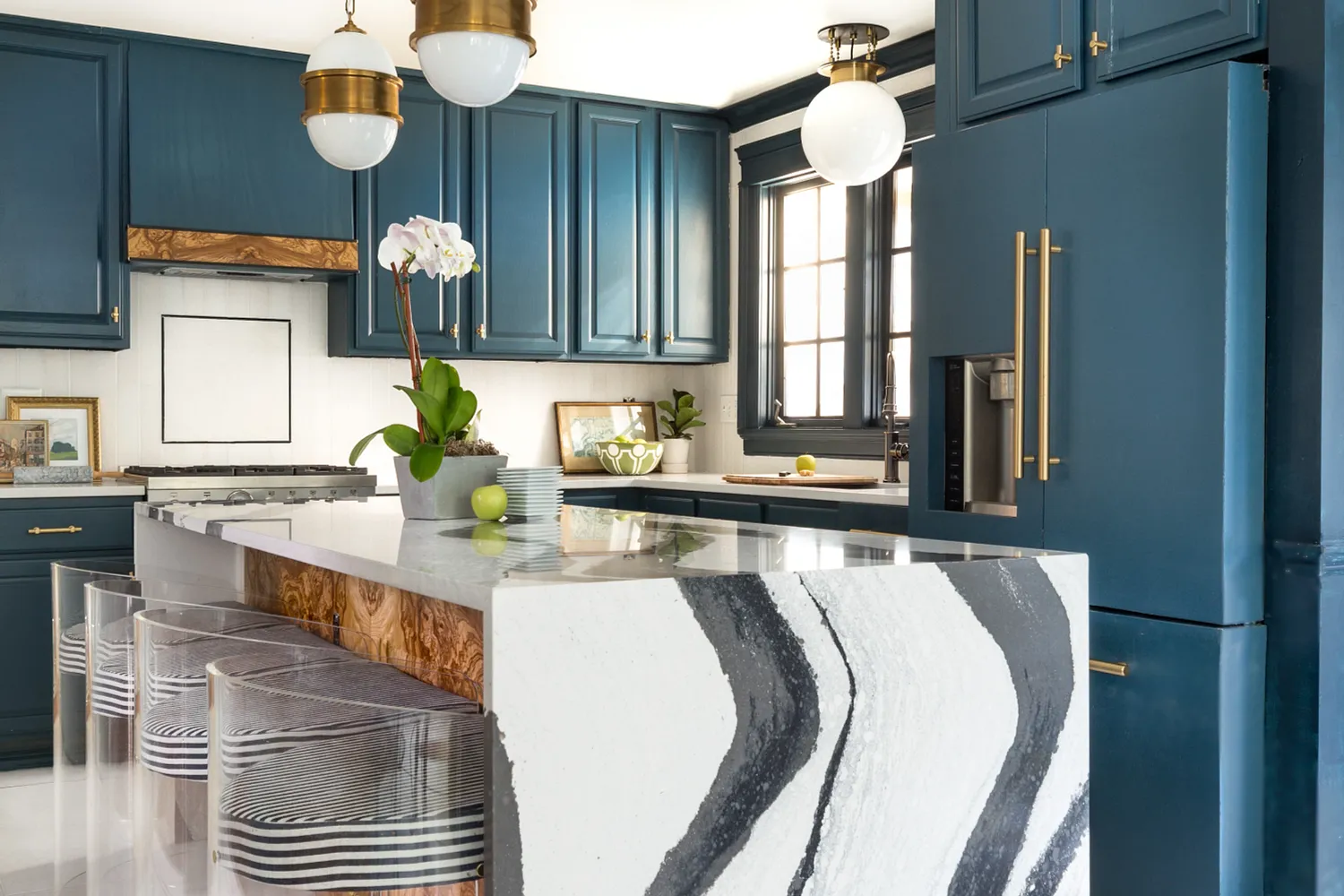 Known for its American-made natural quartz surfaces, Cambria designs often become not only the focal point of a room but also a piece of art for the home. Because Cambria natural quartz surfaces combine both design and durability—they're nonabsorbent, scratch- and stain-resistant and maintenance-free—they all but guarantee a lifetime of beauty.
Even in Cambria's selection of designs with movement the looks remain timeless thanks to organic flowing veining and a captivating combination of tones that provide a versatility usually reserved for subtler styles.
For those who prefer a unique and one-of-a-kind aesthetic, consider designs with movement to be the ultimate showstopper. Here, we're sharing a few examples of movement in design to inspire you in your next project. In addition, we'll provide an inside look into the fabrication planning process from one of our fabrication partners, Eric Tochorz, CEO of Faithful Countertops.
Get Inspired with Bentley
Cambria designs with movement and veining are both functional and beautiful, adding interest and character to a décor scheme.
In a kitchen design by Jewel Marlowe, a standout waterfall island in Cambria's Bentley design, fabricated by Granite and Marble Express, features a white background intersected with bold, translucent black and charcoal veins with muted light gray spatters dispersed throughout.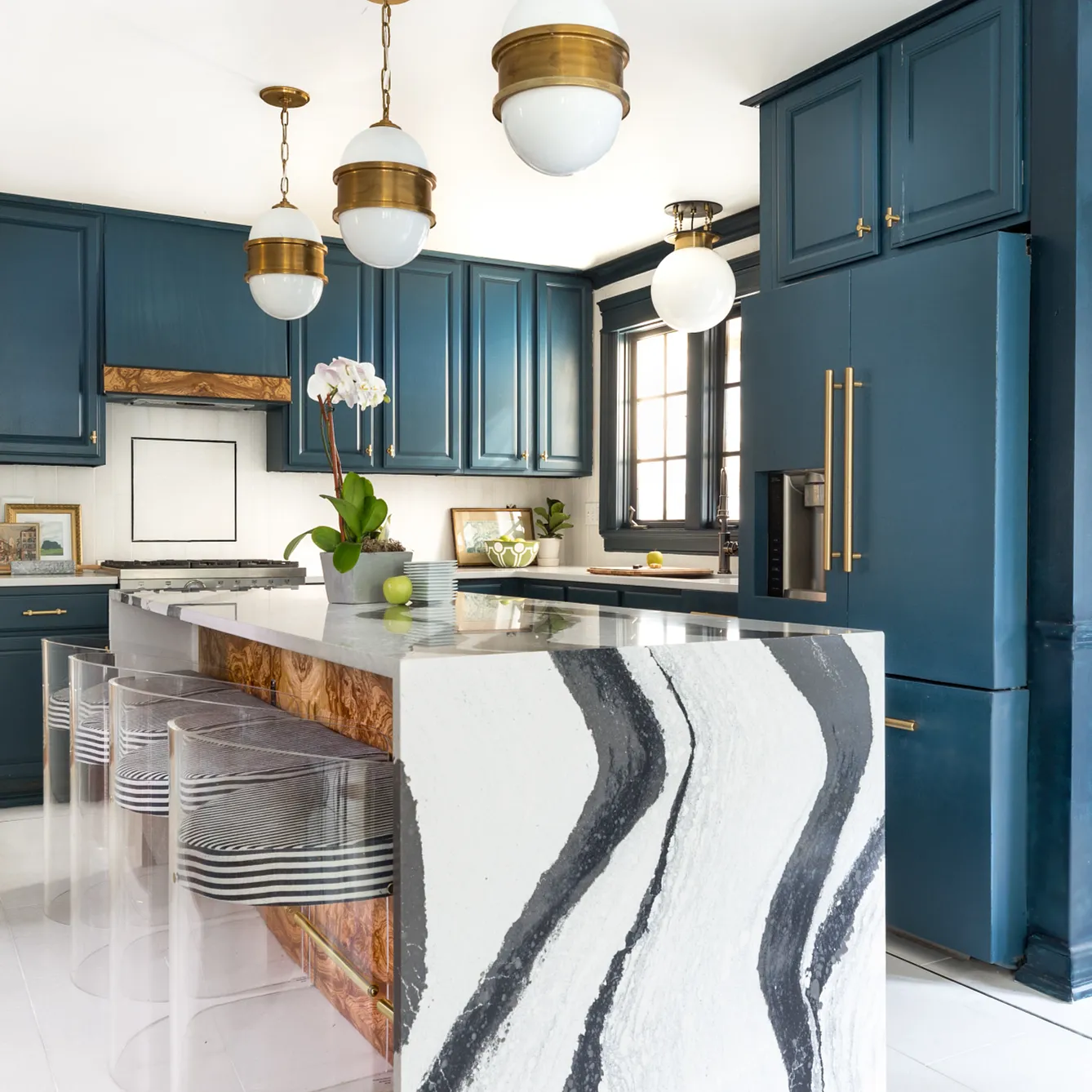 A standout Bentley™ waterfall island in this kitchen design by Jewel Marlowe.
Instead of letting other elements in the space defer to the island, Marlowe added more bold elements, like blue hued cabinetry, gold hardware and fixtures, a contrasting wood island inlet accent by Burled Co., striped stool cushions and black window trim. The effect wows.
"To add continuity to the home, I have repeated the bold black and white theme of our Bentley island in almost every other room of our house. Black and white rugs, art, and wallpaper help the statement-making kitchen island feel so natural and consistent," said Marlowe.
When working with designs that have bold movement, like Bentley, remember to have a conversation with your designer and fabricator early on in the process to discuss your goals in terms of flow, seams and final layout. Let your fabricator guide you toward achieving the desired end result and be prepared with sets of drawings or other visuals to help focus the conversation.
"Your fabricator should always tell you both what you can and what you cannot do with slabs that you've selected, especially those with bold and busy designs," said Eric Tchorz, CEO of Faithful Countertops. "They are not easy to work with but are incredibly beautiful when done right."
A Bold Kitchen Island featuring Clairidge
Another statement kitchen by Kyla Herbes of House of Hipsters, fabricated by MGT Stone Inc., features two Cambria designs with movement: Clairidge and Ironsbridge.
Clairidge's graceful striations of tan, walnut-brown, cream, black, and gray flow in parallel layers with dark veins that cut across the grain on the space's waterfall island with a wood inlay—made to mimic the look and feel of brass—while the blend of liquid honey accents beautifully merge the warm and cool tones in Ironsbridge, which sits pretty on the perimeter countertops.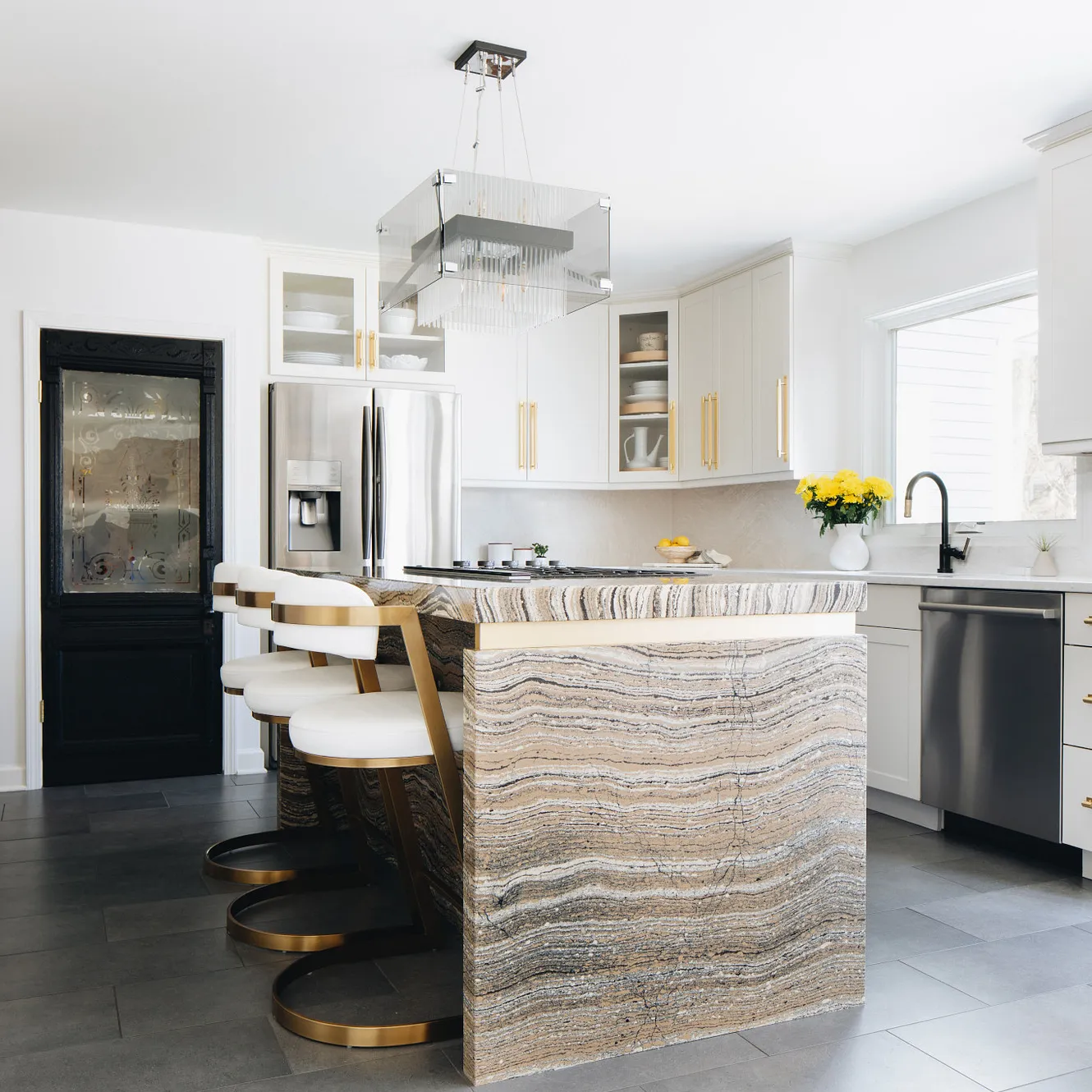 Kyla Herbes of House of Hipsters features Clairidge™ and Ironsbridge™ in her statement kitchen.
Herbes relied on digital renderings to visualize the pairing in the space in advance of the final install.
"In the early 2000s, when customers wanted to see how their counters would look once their slab was cut onto separate pieces, they had to take the time to travel to our facility to lay wooden templates onto each separate slab and move them around until they felt like it worked, or tape out—with the 'blue tape' that everyone is so familiar with—the layout of their kitchen counters to get an idea of which parts of the slab they want to use for kitchen perimeter and which for the island," said Tchorz.
"But were they really able to fully visualize how their counters will look like in the actual kitchen, especially how the movement will look? Or if the vein will perfectly match on the seam? The answer is very simple: No."
Now, thanks to advancements in technology and digital computer software programs like Slabsmith, we can take a look at the proposed layout before the stone is cut to ensure a perfect match.
At Faithful Countertops, Tchorz and his team do layouts in 2D with seam placement included. 3D versions are created for custom residential jobs, such as kitchen islands with stone waterfalls, full-height backsplashes, book-matched fireplaces, shower walls, as well as in commercial work with lobby entrances, front desks, and staircases.
See work by Faithful Countertops on Instagram.
A Glam Brittanicca Gold Warm Kitchen
Vanessa DeLeon of Vanessa DeLeon Associates curated her own Edgewater, NJ kitchen with matte black cabinetry, including a matching True Residential refrigerator and with contrasting copper hardware and corner details.
The matte black Brizo faucet and pot filler add a modern aesthetic against the massive island and backsplash in striking Cambria Brittanicca Gold Warm, with warm earth tones against a temperate white background, to complete the unique look.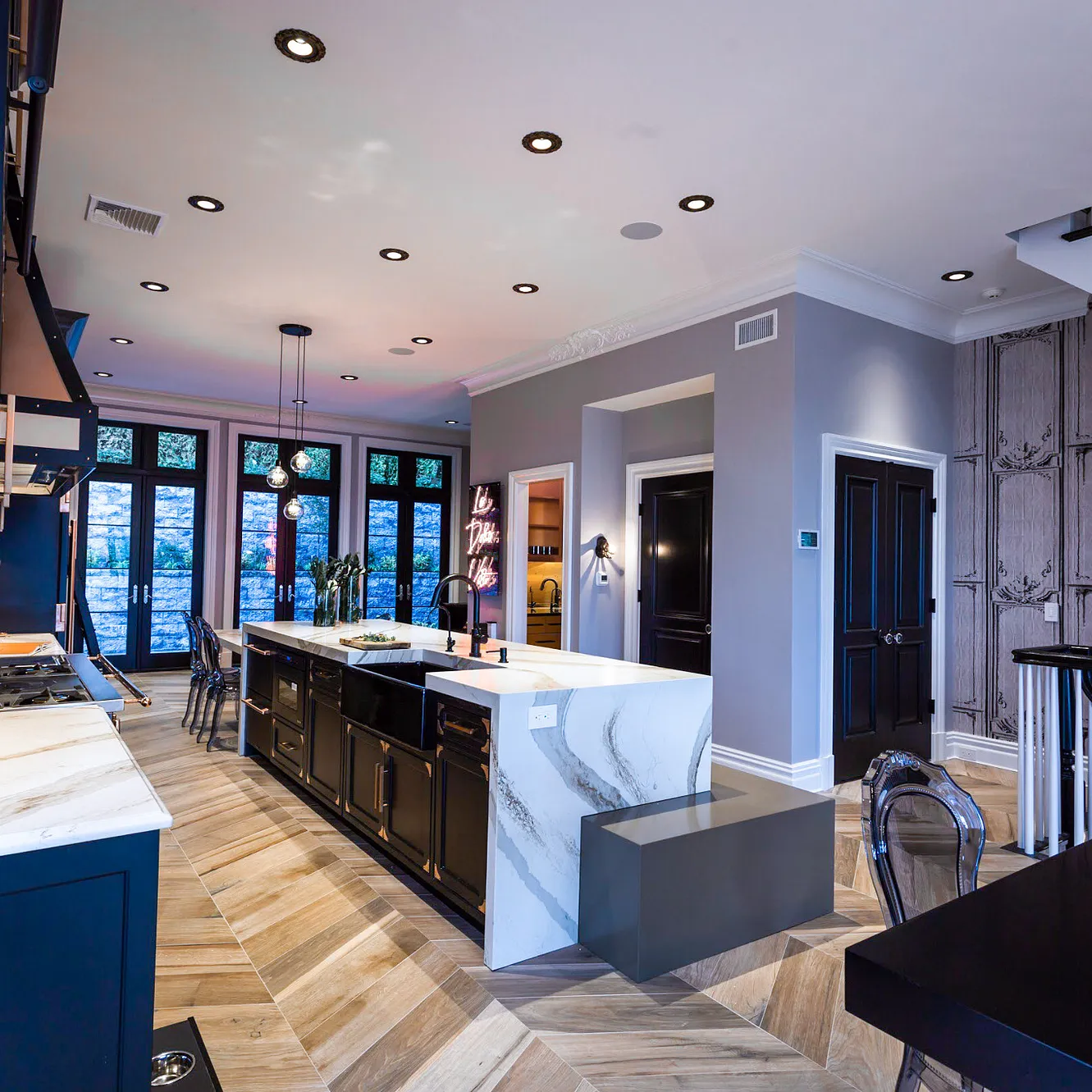 A Brittanicca Gold Warm™ kitchen island and backsplash by Vanessa DeLeon Associates.
Statement-Making Tabletops
At Tac/Quila restaurant in Palm Springs, striking marble-like Annicca dining table tops feature a neutral white background and gray veining with gold and purple flecks throughout.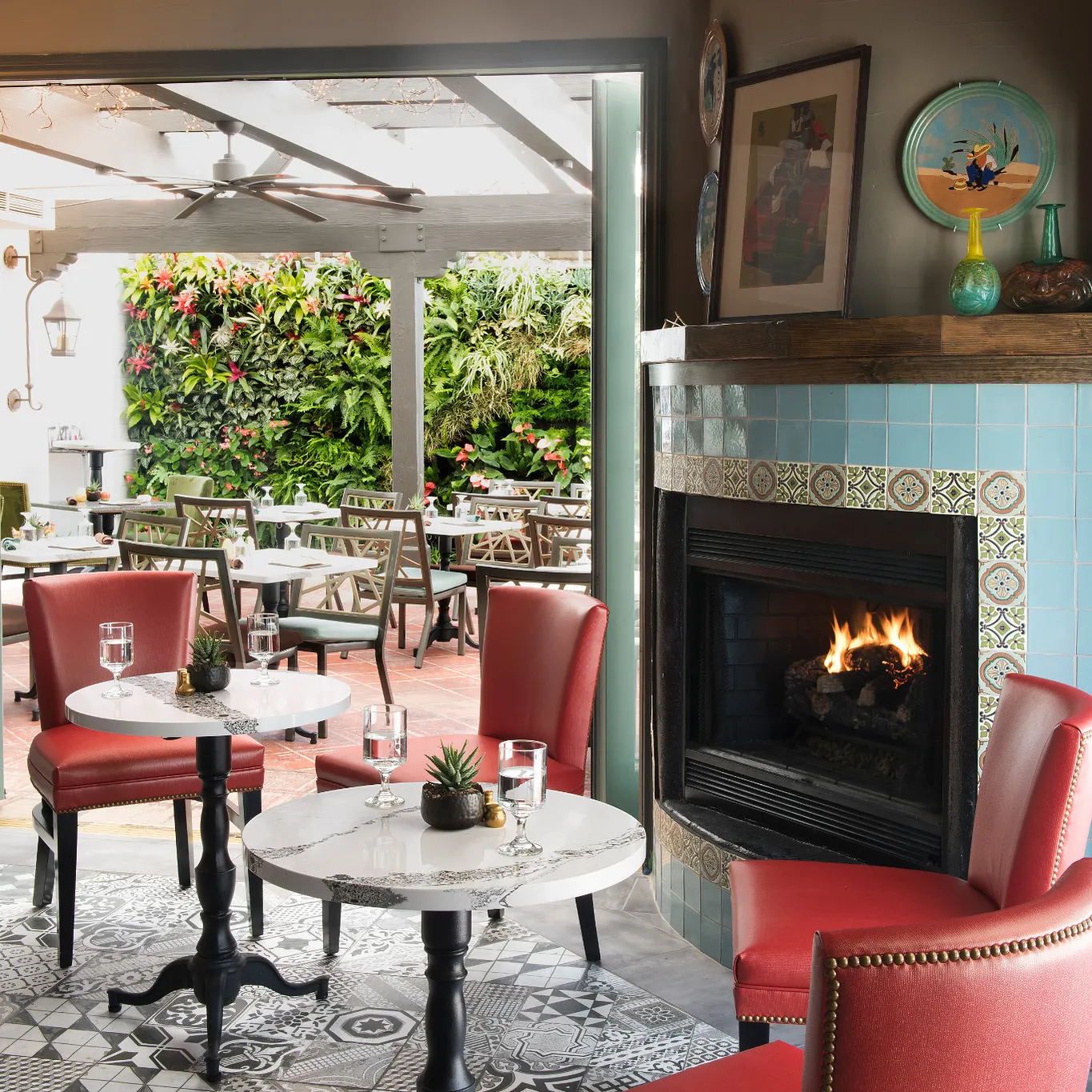 Tac/Quila restaurant in Palm Springs features Annicca™ tabletops.
Pren featuring Brittanicca Gold Warm
In the debut Room & Board | Cambria's furniture collection Pren, the versatile series of dining and conference tables, desks, coffee tables, console tables, and storage and bar cabinets are all finished with Cambria natural quartz surfaces in three stunning designs with bold movement.
Each intricately detailed piece is available with a solid Midwestern walnut or Appalachian white oak wood base, sustainably sourced within the U.S. where selective harvesting allows surrounding trees to flourish, and with one-centimeter Cambria natural quartz tops finished with modern rounded corners to mirror the form of each design. The movement ensures your piece will be one-of-a-kind.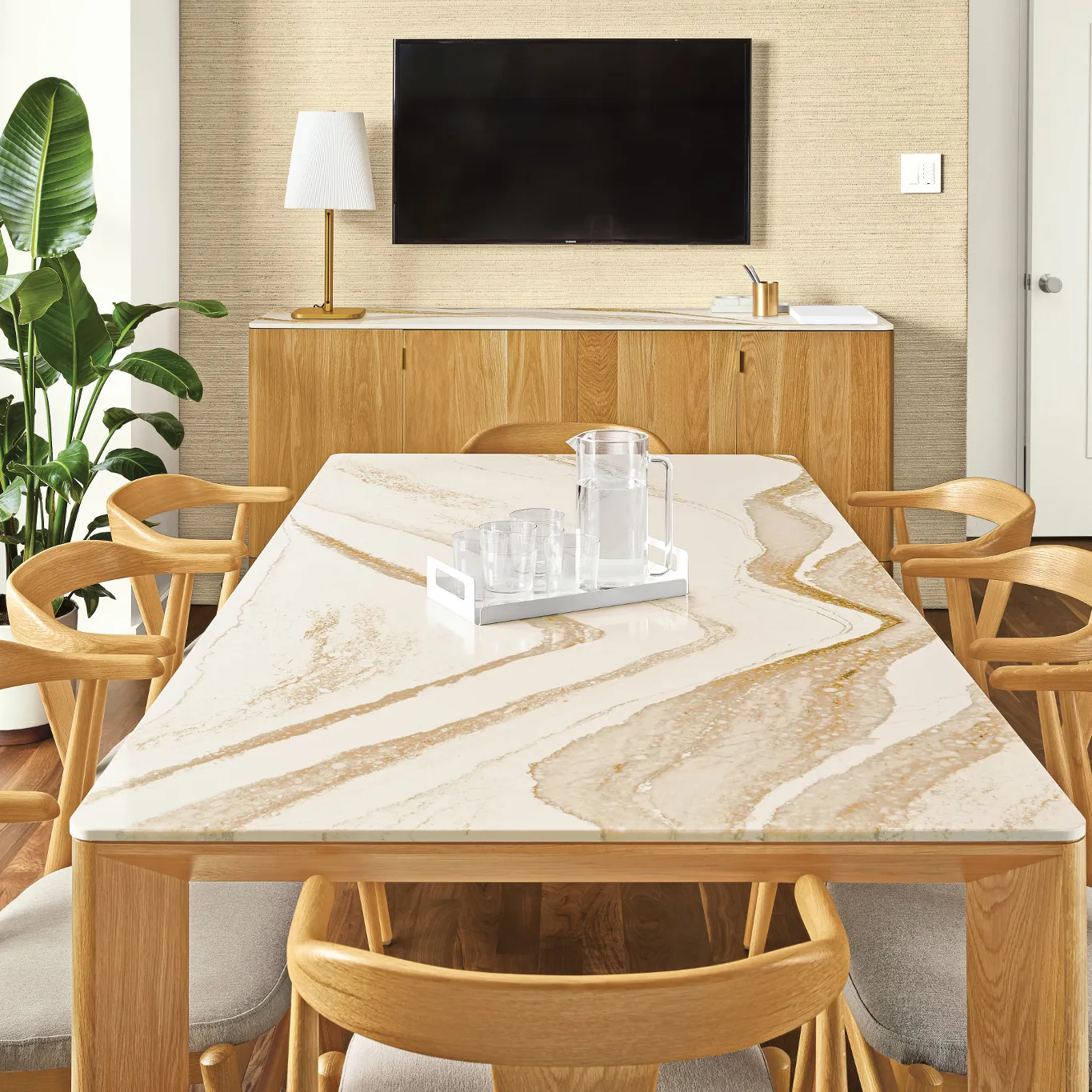 Pren storage cabinet and table. Featured design: Brittanicca Gold Warm.