California Dreamin'
Jessica Capshaw of "Grey's Anatomy" wanted a guesthouse to double as a family space. Cambria is just what the doctor ordered
Written by LOUISE MORGENSTERN
Photography by DOMINIQUE VORILLON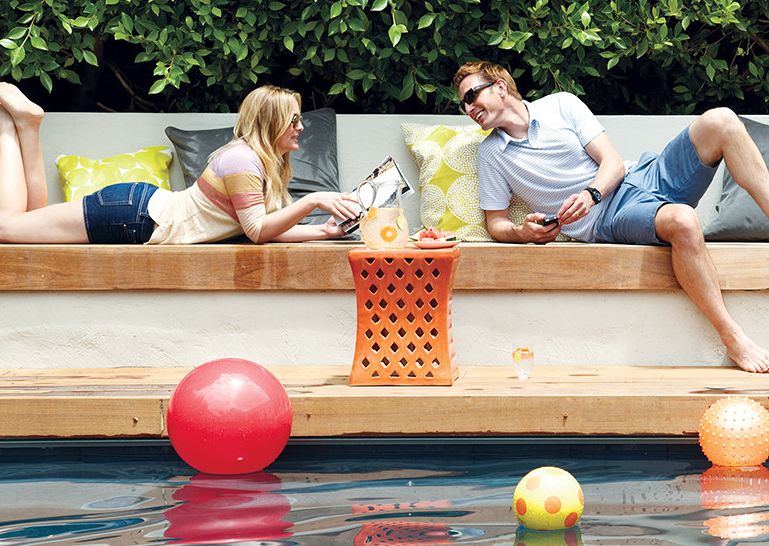 When Jessica Capshaw and her husband Christopher Gavigan bought their 1927 Spanish Colonial home in Santa Monica, Calif., in 2007, they got something else in the bargain: a dilapidated garage slumped on a cracked concrete slab behind the house. They lived with the eyesore for years while restoring the main house, allowing the shack to "tell them what it wanted to be." "We always knew we were going to do something with it, but we had to figure out what that was," says Jessica, who plays the feisty pediatric surgeon Dr. Arizona Robbins on ABC's hit show, "Grey's Anatomy," and is also known off-screen for her Hollywood lineage as actress Kate Capshaw's daughter and director Steven Spielberg's stepdaughter. Four years later, Jessica and Christopher have their answer: Their former eyesore has become a chic guesthouse that will double as an open, airy play area for their son Luke, three, and daughter Eve, seven months, as they grow up.
It wasn't easy to get to this point. They began demolition in July 2010, scrapping 95 percent of the original structure and keeping only the footprint. They completely relandscaped the spacious back yard; the concrete slab that had encroached on much of it was history.
Now light floods the 950-square-foot guesthouse through three large skylights, making the white walls and whitewashed ceilings glow. Overhead, a hefty beam bisects the soaring 15-foot cathedral ceiling in the living space, dubbed "the studio." Along the main wall, four sets of French doors open to the backyard. A newly built outdoor banquette surrounds a fire pit filled with volcanic rock; a small stand of olive trees shades one area; beyond, a pool shimmers.
Adjacent to the studio is a guest bedroom and pristine all-white bath as well as a pocket "kitchen bar." In a compact space, it manages to house a sink, under-counter refrigerator and dove-gray cabinet topped with Sussex gray Cambria counters, perfect for the needs of weekend—or weeklong—guests. Through a separate entrance on the other side of the guesthouse is a small potting shed and workshop, also fitted with a sink, shelves and Cambria counters.
In a stroke of genius, Jessica and Christopher decided to build a cozy loft for extra sleepover space above the studio, safely tucked away behind banisters. On an outside wall, begonia climbs up a corner next to an open-air copper shower with an oversized rainfall showerhead. The highest praise: Because it took its exterior cues in color, detail and trim from the main house, the structure looks as if it has always been there.
Jessica, barefoot and dressed casually in white jeans and striped top, points out that while the guesthouse will obviously see its share of visitors, children will be its main inhabitants day to day. "We wanted to have a safe place where the kids could play and bring their friends," she says. "The loft space is for sleepovers and such. And with the refrigerator, the kids can grab drinks and snacks." Christopher envisions the studio as a space for family entertaining as well as whatever the kids dream up: playing music, art projects, putting on plays. There will be a 60-inch fl at-screen television on one wall for movie-viewing parties and impromptu summer evening screenings. "We can open up the French doors all the way, the kids can sit outside on the lawn and it will be like having a drive-in movie!" explains Jessica, clearly delighted at the prospect.
Christopher, 37, is an entrepreneur and former executive director of Healthy Child Healthy World, a nonprofit dedicated to inspiring parents to protect their children from harmful chemicals (see page 32 for more information), and the author of Healthy Child, Healthy World: Creating a Cleaner, Greener, Safer Home. Both Jessica and Christopher believe that children are uniquely vulnerable to toxic exposure. They are dedicated to raising awareness on the subject and maintain a chemical-free household themselves. It was important to them that the new guesthouse not just be pretty, but also built carefully and consciously using healthy, safe and eco-friendly materials and processes.
And there was one more requirement.
"I embrace the idea that we have to live sustainably," explains Jessica, "but I am also eternally about aesthetics and things looking beautiful." That caveat led the couple to Minnesota-based Cambria. "When Chris brought the Cambria book home, I couldn't believe such a beautiful product also met all of our environmental criteria," says Jessica. The couple chose Cambria for the guesthouse's stylish gray counters in the kitchen and workshop as well as the crisp white shower wall and sink in the bath. The material meets all the stringent requirements they had set: It is completely natural, made domestically with no chemical sealers (and won't ever need any), food-safe, and stain-resistant. It is certified for both GREENGUARD Indoor Air Quality and GREENGUARD for Children and Schools.
In addition to the product itself, they were taken with the company's deep commitment to sustainability, which matched their own. "I was incredibly impressed with how they conduct themselves," remarks Christopher, "how they reuse water in their own facilities, how they recycle their own materials. It was an easy choice."
For her part, Jessica at one time referred to herself as "a different shade of green than Christopher," but if that was ever true, she has made up for lost time. "I started recycling and went up from there," she says. The couple now composts, uses only environmentally safe products, and insists shoes be removed at the door to keep petroleum resins and other chemicals at bay. They avoid furnishings, mattresses and carpets that contain VOCs (volatile organic compounds) such as formaldehyde that can release toxins into the air. They put their commitment into practice every day: The children's toys are free of PVC, BPA, lead and phthalates. The pool is chlorine-free and uses an ozone filter system. Jessica feels that families are making progress, however gradual, in learning how to remove toxins from their lives. "People are starting to understand what they need to do to live sustainably, even on a small level," she says.
The couple also subscribes to the notion that reusing something is as green as you can get. They searched for salvaged or recycled materials, for example, reusing an original cast iron sink from the 1920s in the workshop. They also scooped up scraps of dinged red and white "utility oak" from flooring companies that were discarding them. By crafting the scraps into an ingenious herringbone pattern, they managed to create a custom floor throughout the house from these bits and pieces. Personal touches add to the overall appeal: A barn ladder from Missouri, Jessica's home state, provides access to the loft.
Born in Columbia, Mo. to parents who were educators, Jessica moved to New York City when she was three so her mother, Kate Capshaw, a special education teacher, could pursue a career in modeling and acting. Her parents split up shortly afterward. "We had to move around a lot as my mother took acting jobs," Jessica recalls. In 1983, Steven Spielberg cast Kate in "Indiana Jones and the Temple of Doom," and eight years later, the two married. Jessica is now part of an extended clan that includes five biological and adopted siblings. On being part of such a high-visibility family, Jessica says simply, "It doesn't feel any different from anyone else's family. My parents just happen to be people strangers would know."
Jessica graduated from Brown University in 1998 with a degree in English and studied at the Royal Academy of Dramatic Arts in London. She made her way through a series of guest appearances on TV shows and acted in several minor films before her big break in 2002. Playing ambitious Harvard grad Jamie Stringer in "The Practice," she stayed with the series until it ended in 2004. More guest-starring roles followed, including, in 2009, the intractable but charming Dr. Robbins on "Grey's Anatomy." She joined the cast as a series regular the following season.
With the show on hiatus for the summer, Jessica gets a break from the grueling 10- to 18-hour-a-day schedule she keeps when the series is shooting. On weekends, family life tends to be a low-key affair built around nap schedules—and relaxation for the grown-ups. "We stay in pajamas as long as possible, and hang out in the yard, "says Jessica. "We live 18 blocks from the beach so we might go there, come back for lunch, then pop the kids in bed for a nap." Recently, Luke, an animated blond charmer, helped his mother plant the family's raised organic vegetable garden (pesticide-free, of course). "We put in strawberries, mint, parsley, cilantro, carrots, lettuce, and even corn, which I thought was kind of ambitious, but we'll see," says Jessica.
Whatever Jessica and her family undertake, they put sustainability and health first. During the course of building their guesthouse, they were happy to see they had company in that mission. "The good news is that there are folks like Cambria in the world doing the right kind of work," says Christopher. "It's like an insurance policy. You're investing in your child's future."