PROJECT DIARY: Artist in Residence
Written by LouAnn Berglund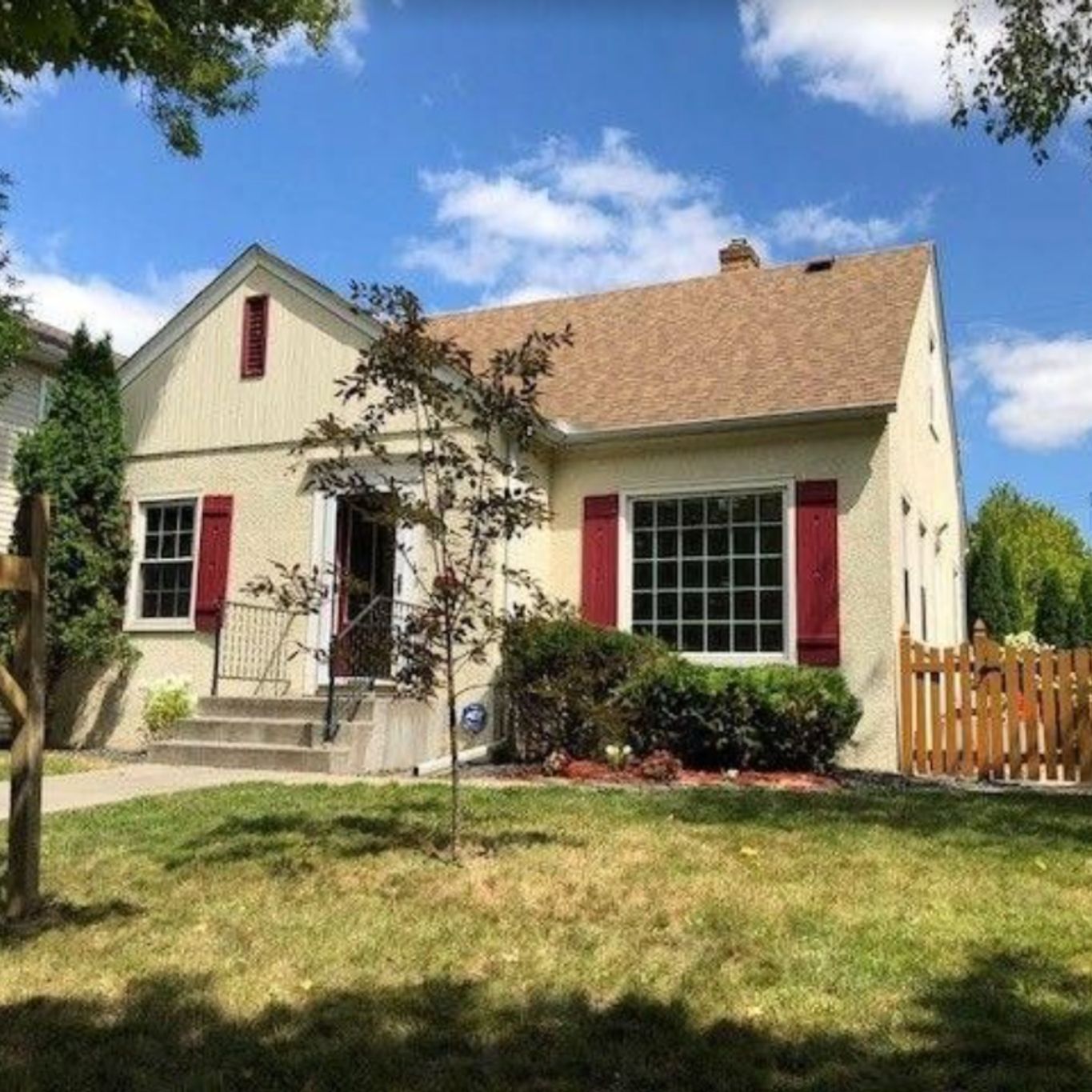 I've been fortunate enough to be editor in chief of the award-winning interiors and lifestyle magazine Cambria Style for 13 years. One of the best parts of my job is poring over hundreds of spectacular homes and countless beautiful products to choose the ones we highlight in every issue. You might say I live and breathe inspiring home design—but it's usually in other people's homes.
So, I'm extremely excited to be getting started on my own inspiring project: the renovation and reimagining of a turn-of-the-last-century cottage in Minneapolis, Minnesota. For me, this is the chance to finally act on some of the inspiration I've seen and ideas I have had along the way, as well as work with some of the cool brands that I have run across in my years. A life-size art project, you could say, that gives me the chance to create a space that reflects my personality and results in a home for my family.
My kids—Yvonne, 24 (she's more of a regular visitor these days); Gracie, 18; and Jacob, 16—and I began renting this basic, but sweet little cottage a few years ago. And after living here for a while, we were surprised by how well the place worked for us. As any parent of teenagers will attest to, it's really important for grownups and nearly-grownups to have their own private spaces, and this little house has a great layout with three levels. My son can gather with his friends on the lower level (which basically serves as a little apartment that's serviced by a side door leading directly to the lower-level stairs, which he calls the "funnel"), while I'm on the main floor, and my daughter inhabits the upstairs with her plants and fish.
And then there's the charm factor: We can't confirm the origins of the house, but local lore says it was built soon after World War II to serve as quarters for the farmhands who worked the land (the original farmhouse, a classic four-square, sits across the alley). Whatever its backstory, our cottage has great bones and lovely details—arched openings, cozy spaces, sweet little transitional spaces, and a sun porch added during its life that we love to relax on—all of which equates to loads of potential.
I think it was that potential, plus it's compact size, that made the project so enticing. Creating cozy, bespoke spaces with artistic flair (and plenty of fly-by-the-seat-of-my-pants design and spur-of-the-moment DIY additions) is my superpower—which I knew could turn this cute little rental into a home.
Living here the last few years "as is" gave me a pretty good sense of the tweaks that would make it work even better for our laid-back lifestyle. The main floor needed the most TLC, mainly to create a centralized gathering spot and flow between the living spaces. Most would have likely opted to remove walls to create one large, open kitchen-living-dining area, and I get the appeal of that choice—but—I think that the right amount of separation and transitional areas create an even better flow. The individual spaces feel more atmospheric, and as long as you factor in room to move around (which is the current plan), you end up with cozy rooms that feel a little historic and naturally invite connection. Adding some new arched openings will create those open sight lines and pathways, while preserving existing living spaces and small hallway/transition spaces. Win-win. And as far as the small size? I'm like a squirrel when it comes to creating life in small spaces—the bigger the challenge, the better and homier it gets.
Other key plans include modernizing the kitchen's functionality without removing the charm—including GE Café matte white appliances that blend seamlessly with the white Thomasville cabinets and a gorgeous and very hardworking oversized Cambria peninsula, which will serve to extend the kitchen, organically creating better flow, and also provide a centralized workspace (cooking and baking are a family affair here). Sectioning off a portion of the lower level for a fabulous teenage boy's bedroom, updating the bathrooms, and insulating and heating the sunroom. Not done yet—all the windows were old replacements and not only did they not look good, but they functioned even worse—so all new replacement Pella windows throughout (including a statement-making French door and much larger window above the sink in the kitchen). And, finally, creating a fun vibe for outdoor living. Whew, all during a post-pandemic world and the very real, and very uncontrollable challenges that go along with that. Did I say whew?
My personal style is an eclectic mix of cozy maximalism with artistic elements, rock and roll flair, and a little disco chic… oh and a dash of Northern Minnesota Scandinavian simplicity. Trust me, it works. I also love to mix high and low in my interior design selections and my style—so think cool set of vintage bubble lights I got from a girlfriend over the kitchen peninsula, handcrafted tiles from Fireclay, a fabulous wall mural from Etsy, priceless child creations, and a lifetime of everything from art to rocks to cool vintage finds will adorn the walls, nooks, and tabletops. We'll call it "what feels good—and meets my budget." That said, I have been having, and will continue to have, a lot of internal negotiation. Not negotiable? The kitchen and main floor bath. I've been waiting a long time to craft a bespoke kitchen around some beautiful Cambria countertops, and every inch will meet both my aesthetic and busy home chef needs. I'll spend where I should—on the kitchen, the main floor bath, and the windows. And I'll use my frugal Northern Minnesota sensibilities and let the creativity unfold as I go.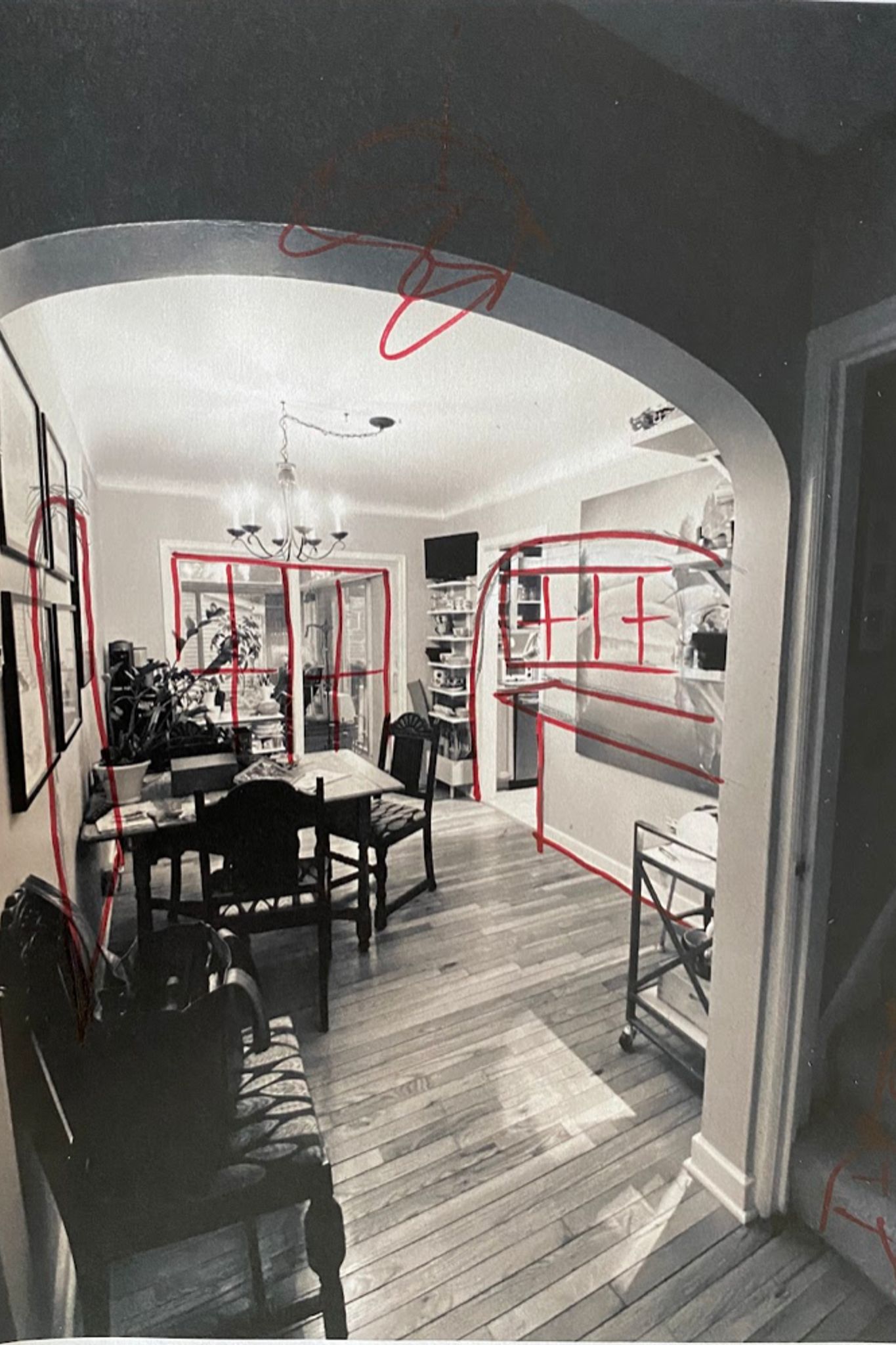 View of original dining room from front of house. Opposing arches sketched left and right (kitchen on right). Original sliding door to the sun porch with French doors sketched in.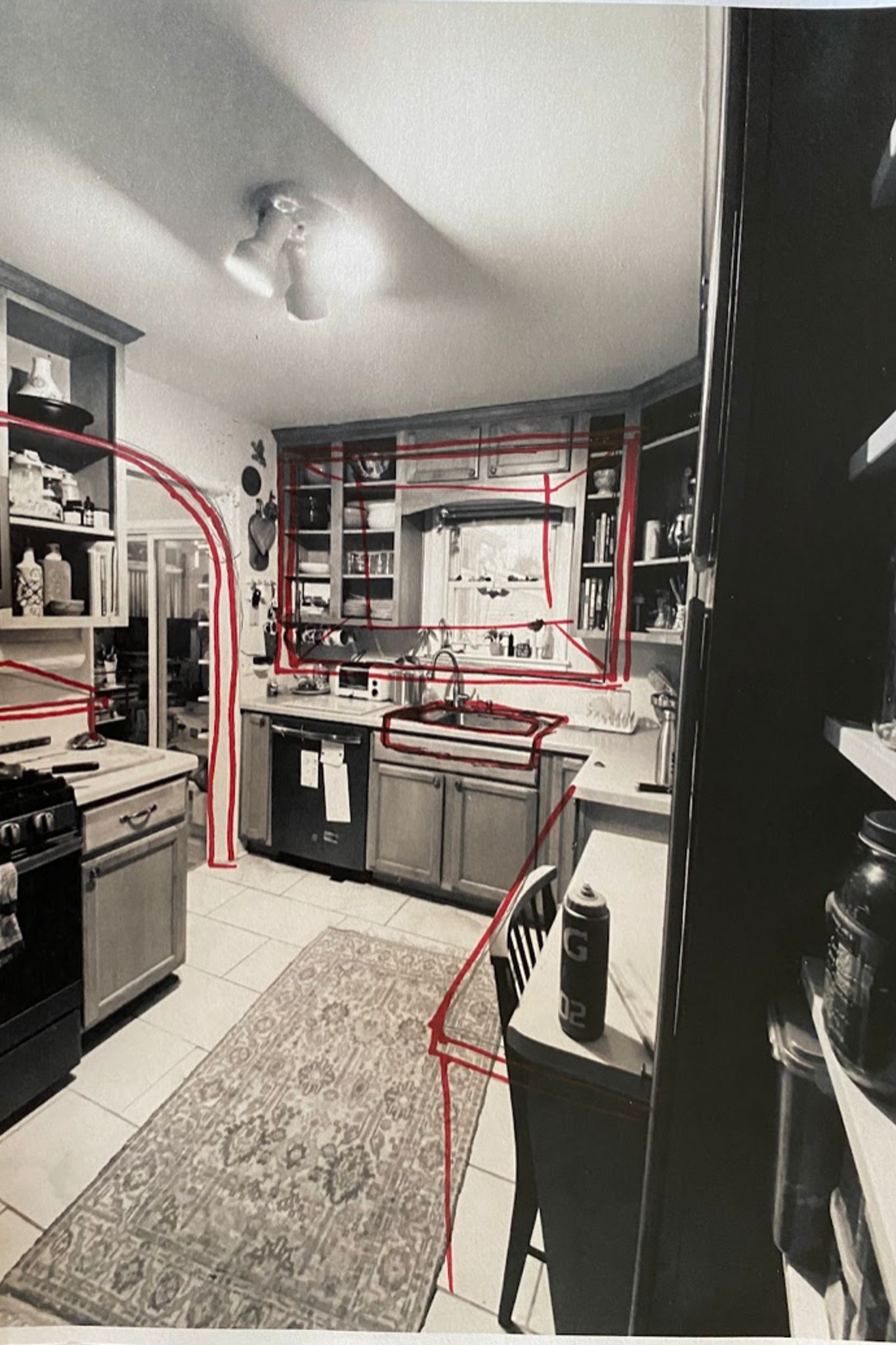 View of kitchen from a side door. Arch over the range sketched in, and notice the TINY window over the sink providing the only light into the kitchen.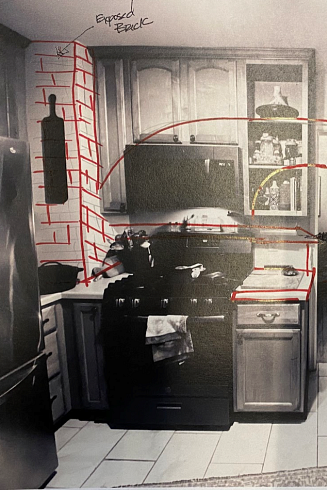 The original kitchen was service only. Beyond cramped physically and visually with the traditional door as a pass through—SUPER claustrophobic. No countertop to prep on, cabinets were too small and clunky to access, and definitely nowhere to have impromptu kitchen dance parties.