Artfully Orchestrated
Like the city that surrounds it, New York's premier concert venue—the historic showcase for artists from Yo-Yo Ma to Wynton Marsalis—Alice Tully Hall is always in motion. Its latest evolution includes a luxurious new salon designed to perfectly complement an evening of immersion in the arts.
Written by Amada Lecky
Photography by Iwan Baan And CHRISTIAN HARDER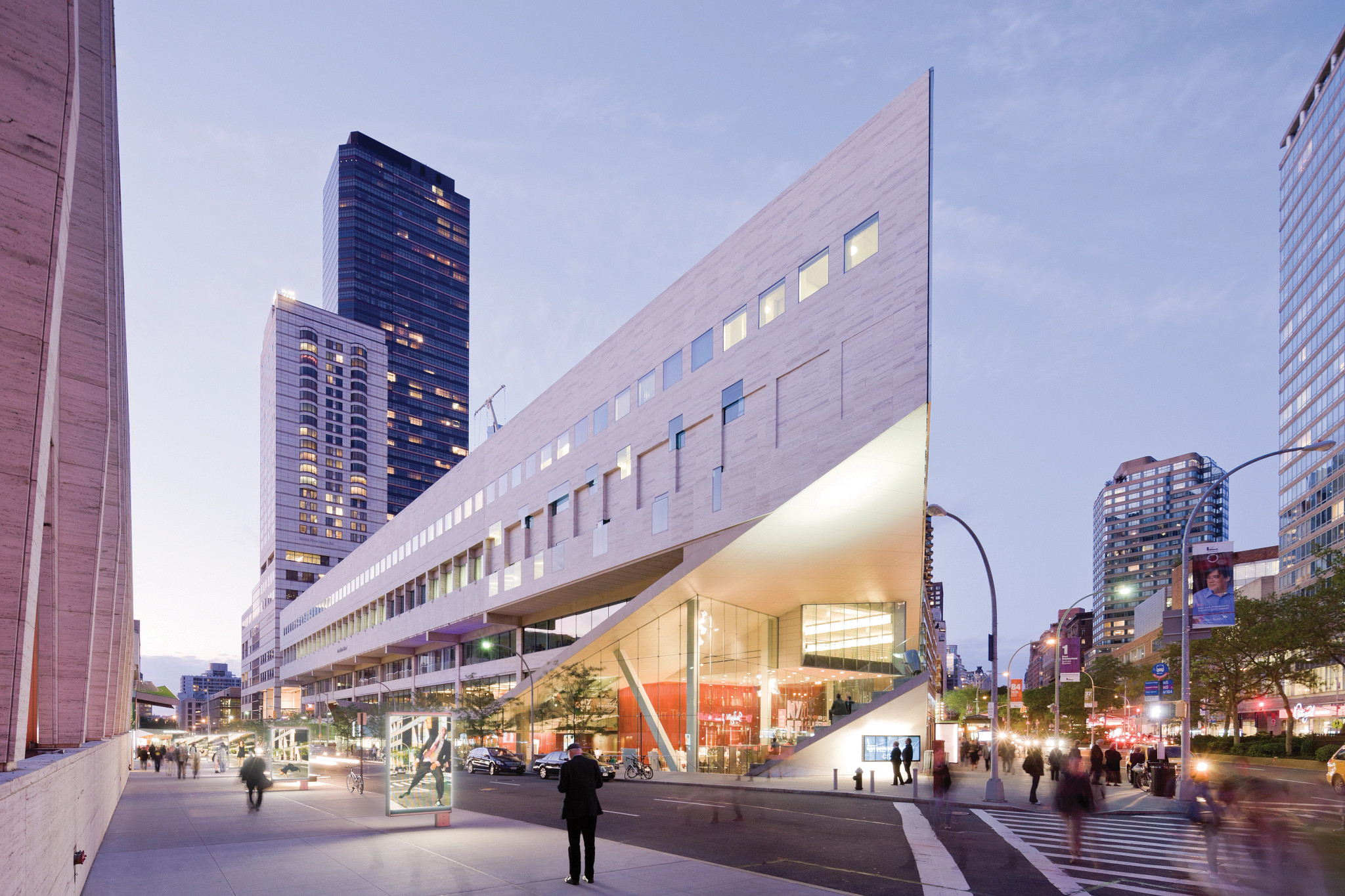 Cantilevered over a sunken plaza, the soaring entrance leads to an atrium-like lobby, the Café (complete with buttery French pastries from New York's renowned Balthazar Bakery), and new Hauser Patron Salon.
Thanks to a complete overhaul, Lincoln Center's Juilliard Building gained thousands of square feet, including more space for The Juilliard School; a revamping of its renowned performance space, Alice Tully Hall; and a soaring new lobby and cafe. With its dramatic angled design—reminiscent of a conductor paused at the top of a crescendo, you might say—and sheets of glass, the facade captures the energy of its landmark setting on Broadway and Lincoln Square.
When Alice Tully Hall opened for the 2021 season, it was with a completely redecorated Hauser Patron Salon. "We wanted to embrace a return to normalcy and give it a look that was welcoming and glamorous," say Katie Sutton and Alyssa Urban from the design team at New York's Cullman & Kravis. "We chose Cambria—a material we often come back to—in the kitchen and bar area because it's timeless and practical and helps elevate the space."
Like many commercial spaces, the Hauser Patron Salon had to be flexible, designed to appeal to the many groups who use it, and able to be adapted to a variety of needs that serve the arts community. The design team kept the color scheme neutral, but added luxe texture for coziness and bold pops of color for visual interest. And they chose furniture that was sleek and lightweight: easy to move around the space and into storage, as necessary.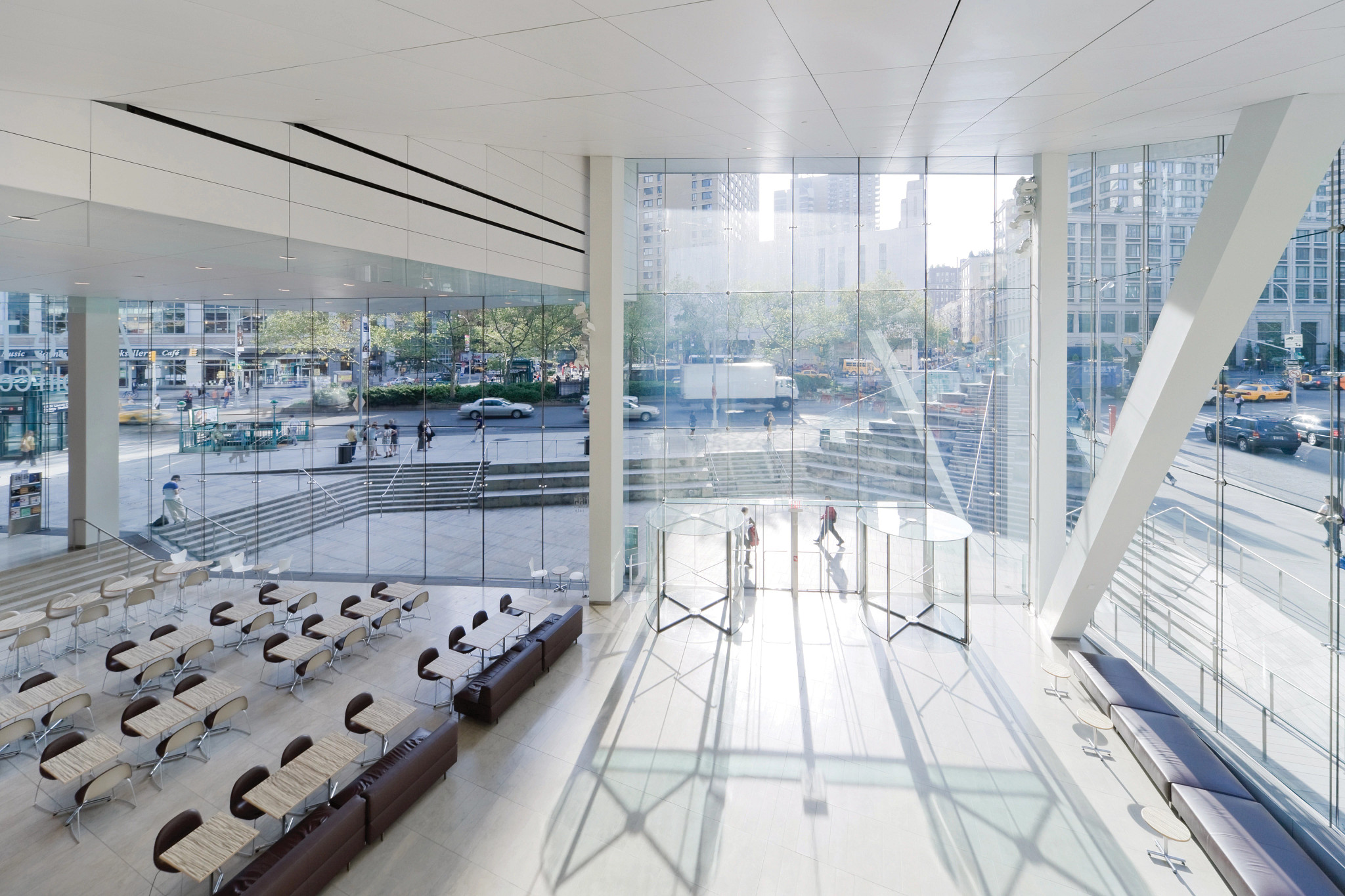 The glass-wrapped lobby feels like it's part of the vibrant streetscape outside—and vice versa. And while the lobby, the Hauser Patron Salon, and the performance hall each have their own distinct designs, a bold approach to materiality unites them through generous swathes of stone, glass, wood, and metal and an organic modern flow.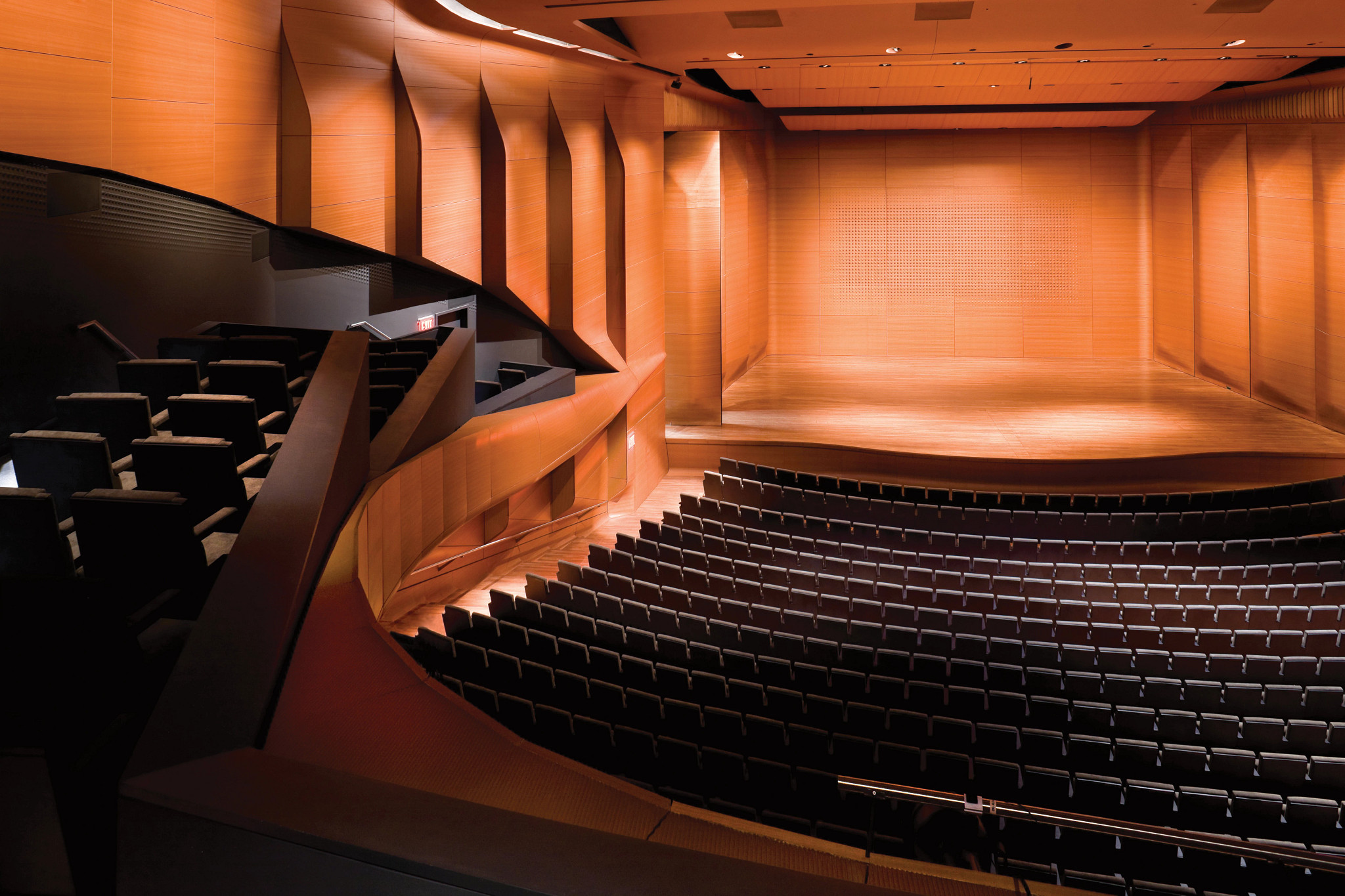 The home of the Chamber Music Society of Lincoln Center, the New York Film Festival, Jazz at Lincoln Center, and more, Alice Tully Hall is also perched atop New York City's rumbling subway tunnels. So while the theater's sinuous, wood-wrapped interior might grab your attention, after the music starts thanks should go to the painstaking soundproofing (including a cork-lined asbestos pad between the theater's foundation and bedrock, acoustical ceiling panels, and isolation of the theater's walls from any structural columns.
---
CAMBRIA'S STAR TURNS
Did you know? Cambria's role at Alice Tully Hall isn't our first time on stage. You'll find Cambria in some of the country's most elevated commercial settings, where its legendary beauty and durability can stand up to any demand. A few takes from our highlight reel:
Rock & Roll Hall of Fame, Cleveland, OH
Omni Viking Lakes Hotel, Eagan, MN
Baccarat Hotel, New York, NY
U.S. Bank Stadium, Minneapolis, MN
Petco Park, San Diego, CA
FedEx Field, Washington, D.C.