A New Chapter
She has been a model, actress, and celebrity wife, but Alana Stewart isn't finished reinventing herself
Written by LOUISE MORGENSTERN
Photography by STEVE HENKE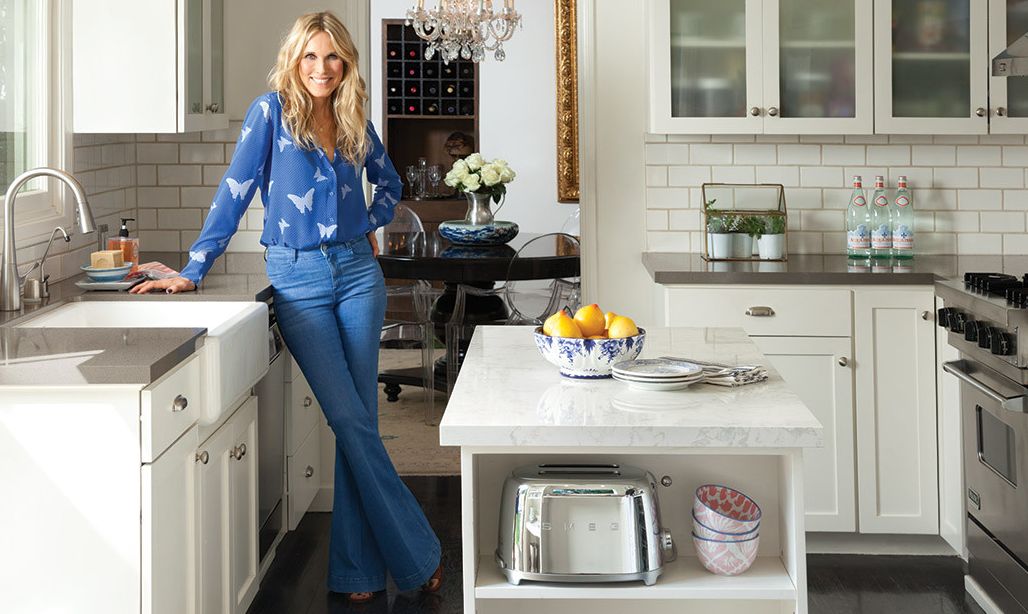 When Alana Stewart fled a dirt-poor childhood in rural Nacogdoches, Texas, to be a model in New York City, her grandmother told her: "That's a big, dangerous city and you better be careful." The advice fell on deaf ears. "I put an icepick in my bag, got on a plane, and left," Stewart recalls. Don't mess with a Texas girl.
Ambition for something bigger and better propelled the former Alana Kaye Collins out of east Texas and toward an impressive career as a model, actress, author, and producer. Along the way, she also drew attention as the wife of two iconic men: actor George Hamilton and rock 'n' roll legend Rod Stewart. But across her four decades in the Hollywood mainstream, "I always had a deep inner desire to do more, be more," Texas twang still detectible, from her Beverly Hills home. "I couldn't have articulated it at the time, but I knew there was a world out there and I wanted to be in it."
She was in it, all right—up to her neck and, at times, it seemed, over her head. Her marriages to two demanding men, her three children, and high profile life was supposed to make her happy, but it often fell short. She survived, and endured. At an age—she refuses to reveal a number—when other older actresses and models have stepped back, Alana has taken on new roles and banished the doubts that once plagued her. "I'm more at peace than I've ever been," she says. "You have to find something to hold on to that's not your youth, your ability to appeal to the opposite sex. I hold onto the knowledge that I'm really a good person today. I'm in a place of acceptance of who I am, and what my life is. I never had that before."
That calm acceptance is apparent, even as chaos swirls around her, as it did recently during a shoot for an E! network reality show starring Alana and her three grown children, Ashley Hamilton and Kimberly and Sean Stewart, as well as her ex-husband, George Hamilton and his 15-year-old son, George Thomas (GT) Hamilton. Her home is tucked away off a winding leafy street, an oasis for a woman who finds its 1,800 square feet the ideal size for the person she is now. "I've had the big house and I never want to have a big house ever again in my life!" she says emphatically.
With floor-to-ceiling glass walls that open onto a jewel-like patio, garden, and pool, the home is a model for Zen-like tranquility. Giant timber beams extend across the living room ceiling out onto the patio, providing an arbor for climbing vines. And at the center of it all is her gorgeously remodeled kitchen. From the beautiful Cambria countertops in Torquay and Devon to the Kohler farmhouse sink and white cabinets, Alana's muted, minimalist kitchen serves as the focal point for the house and way station to peaceful backyard living.
Her serene surroundings are a reflection of her new mindset. The reality show is one project, but Alana's primary focus is a world away from the glitzy entertainment industry. It stems from a tragic event that transformed her and reordered her life—the loss of her good friend and fellow actress, Farrah Fawcett, to cancer in 2009.
"I never envisioned myself heading a foundation that would fund cutting-edge research as well as further prevention and awareness," Alana says. But that's just what she has become, as president of the Farrah Fawcett Foundation for Cancer Research (FFF). The learning curve was steep, Alana admits, but she got up to speed fast. "I know more about cancers and their treatment than I ever thought possible," she says. The job demands it. Far from a figurehead, Alana works at the Foundation's office every day, strategizing fundraising campaigns and targeting groups who might benefit from hearing her speak about anal cancer, the type that took Farrah's life. "We're a nonprofit that is really functioning, a working foundation," she emphasizes. "I'm actively out in the community."
It is a role no one could have predicted. But then, Alana's whole life story reads like a Hollywood screenplay no one would believe. The phrase "rags to riches" doesn't do it justice.
"Lane Kaye," as her grandmother, "Mama," called her, Alana grew up on an isolated farm with no running water, telephone, or television. Her mother, who struggled with mental illness and addiction, was in and out of her life; her father was nowhere to be found. As a result, family life was by turns chaotic or intensely lonely. The responsibility of raising Alana fell to Mama, whom Alana both loved and feared. The nearest other child was a mile down the road, so a couple of hens, named Lulu and Tulu, were frequent companions. After dark, there was practically nothing to do but listen to a scratchy radio or go to bed. A night of dominoes with her grandmother constituted an exciting evening. The deprivation left her with a deep-rooted fear of poverty. But it also gave her strength and a resilience she would draw on frequently in the years to come.
After high school, she felt an overwhelming need to go somewhere else—anywhere else. College was not an option, so after a short stint as an airline stewardess, she packed up her ice pick and took off for New York. Things started happening fast. At 5-foot-9 with bountiful blonde hair and dazzling blue eyes, she was quickly hired as a Ford model. The Texas farm girl who had scarcely left her home state was suddenly jetting to Acapulco, Saint-Tropez, and London, and appearing in Harper's Bazaar, Italian Vogue, and Glamour. She was dining with cultural icons from Gore Vidal to Elton John. In fact, upon learning she had no piano, John had one delivered to her front door the next day.
A chance meeting with George Hamilton led to marriage and a move to Los Angeles that would bring Alana the longed-for attention she had craved as a child. She devoted herself to acting classes and auditions, and her career blossomed. She appeared in some of the most popular TV shows of the 1970s and '80s, including The Love Boat, Fantasy Island, and The Bionic Woman, as well as feature films such as Swing Shift. The marriage lasted only five years, but the friendship endures. The two co-hosted their own syndicated talk show, The George & Alana Show, some years ago, the exes bantering with each other good-naturedly.
Marriage to singer Rod Stewart, on the other hand, was a roller-coaster ride from start to acrimonious finish. Alana saw it all: road tour shenanigans, unexplained absences, and tabloid headlines. She was raising three small children virtually as a single parent, and hearing rumors from the road about secret girlfriends and financial woes. It brought back the instability of her childhood, sparking anxiety and fear. She lived to tell the tale—and apparently took good notes along the way. It's all there in her open, honest, and often funny memoir Rearview Mirror, published in 2012. She reveals the glamour and privilege, but exposes the pain and heartbreak as well.
One of those heartbreaks was the death of Farrah Fawcett, the woman she calls her "soul sister." Decades earlier, the two Texas natives had bonded over families, careers, and the unique cultural climate that is Hollywood. After Farrah was diagnosed with cancer in 2006, Alana put her own life aside and spent the next three years searching for a cure with her friend. Fawcett bravely insisted on documenting her illness and harrowing decline. Alana shot every painful frame. The resulting documentary, Farrah's Story, which Alana filmed and produced, earned an Emmy nomination and inspired her to write the New York Times bestseller, My Journey with Farrah: A Story of Life, Love, and Friendship.
Alana felt compelled to carry on the work of the Farrah Fawcett Foundation as a way to fulfill her friend's wishes and make her own contribution to help others. Now in its sixth year, the Foundation is making a difference. Last year, FFF partnered with StandUp2Cancer to form a research team dedicated to HPV-related cancers with $1.2 million earmarked for the project. Alana also recently announced a $50,000 grant to Brown University for a clinical trial of a promising new drug. For her contribution to the fight against cancer, Alana was awarded the True Grit Humanitarian Award from the John Wayne Cancer Institute in Los Angeles.
True grit is what it took for Alana to banish the anxiety and fear sewn during her childhood, and to understand the mental illness that plagued her family (but spared her). Moved to share what she has learned, Alana often speaks out about cancer, mental illness, and addiction. One of her speeches, Aging Is Not a Dirty Word: How to Embrace the Beauty and Wisdom of Age, encapsulates many of Alana's core beliefs. In it, she tells her audiences that, "gratitude is an attitude," and you get better with practice. She starts each morning by saying thank you—for her life, for another day.
Expecting too much from others—and ending up disappointed—was a bad habit, she admits. Now she recognizes the limits of what she can control. "I know that it's my job to sweep up my own side of the street without worrying what others would do," she says. She credits her deep, decades-long friendships with keeping her afloat through divorce and other difficult times, and advises women to keep their female friends close. "In a woman's life, men may come and go, and women end up alone," she observes. "But friendships, really deep, caring friendships, fill that void, because we support each other as women."
She is the first to admit her younger self had it wrong. "I used to think that if I had a Thunderbird, bigger house, or a certain man, then I'd be happy," she recalls. "I spent a lot of my younger years thinking that way. But people, places, or things are not going to do that. Happiness is an inside job."