A Fresh Take on Coastal
A deft mix of earthy, easy-care materials and a minimalist design gives a sun-drenched vacation home a bold new outlook
Written by Cambria USA
Photography by Halkin Mason Photography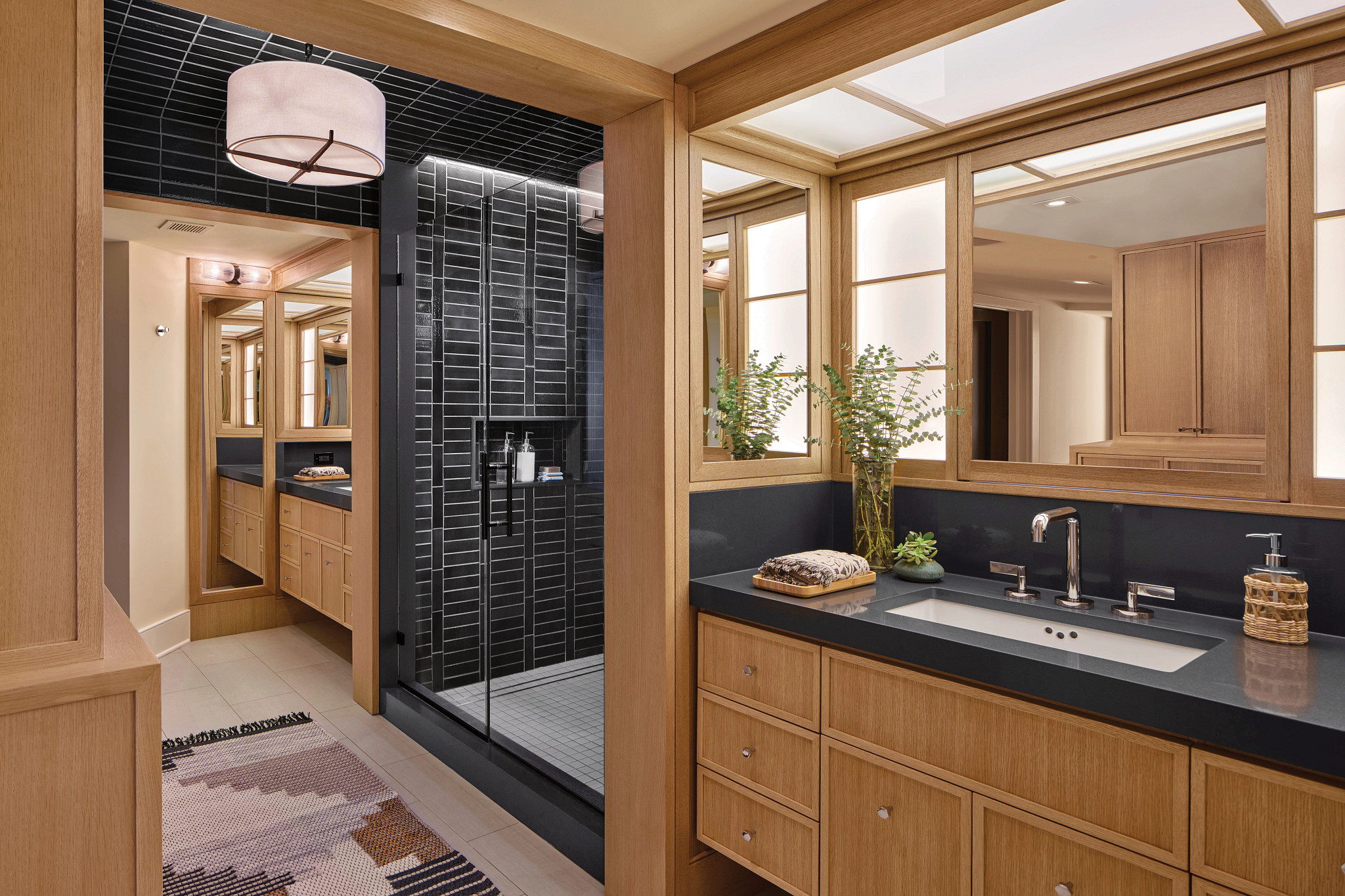 This Japanese-inspired bathroom transports vacationers to a calming state of mind. Cambria design shown: FIELDSTONE™
For Marco Angelucci, design director of the award-winning, Philadelphia-based firm MARGUERITE RODGERS INTERIOR DESIGN, the design process is never about imposing his own aesthetic: It's all about the client. "We really try to listen to the clients' needs, and to keep them very engaged, so it's a collaborative process throughout," he says.
Client-focused intention shines through in every detail of Angelucci's work, from his careful attention to space planning to his meticulous choice of materials. Case in point: the sensitive update of one client's longtime coastal vacation home. "The couple had built this home decades earlier, and over time it no longer suited their needs, from the standpoints of functionality, layout, and aesthetics," says Angelucci, who came in to help update the kitchen and primary bathroom, but eventually ended up shepherding a comprehensive remodel. "Once we started the design process, it became clear that the rest of the house was looking dated. And it needed more than a small 'new sofa and some throw pillows' refresh," he says.
But an upgraded kitchen and Japanese-inspired redesign of the primary bath (featured in Cambria Style's summer 2022 issue) were key to improving the owners' enjoyment of their home.
Double islands topped in Cambria's FIELDSTONE in the kitchen of this open concept vacation home provide plenty of entertaining and storage space.
"The house is a gathering space for the owners' entire family, so the layout needed to flow better around a beautiful, easy to care for, entertaining-friendly kitchen," says Angelucci. With those goals in mind, he designed a space that was perfect for casual family cooking and entertaining, with a double-island layout and plenty of storage to keep the space looking clean and uncluttered. "Most of the appliances are concealed in the cabinetry, and even the outlets are hidden from view because the islands are visible from the adjacent living areas," he says.
The style of the space is equally restrained—and yet comfortable. Angelucci selected a dry, ashy, almost driftwood-like finish for the cabinets and topped them with Cambria's Fieldstone, then balanced the rich tones with lighter accents, like the creamy leather-covered bar stools and glass pendant lights. "The clients wanted the look to feel coastal, but not theme-y," he says. "The choices we made throughout bring in the sky and the sea and also balance all that light in a very grounding, inviting way."