A Family Affair
An intrepid mother-daughter team tailors a Michigan Dutch Colonial to casual-glam perfection
Written by GEORGINA MCWHIRTER
Photography by STOFFER PHOTOGRAPHY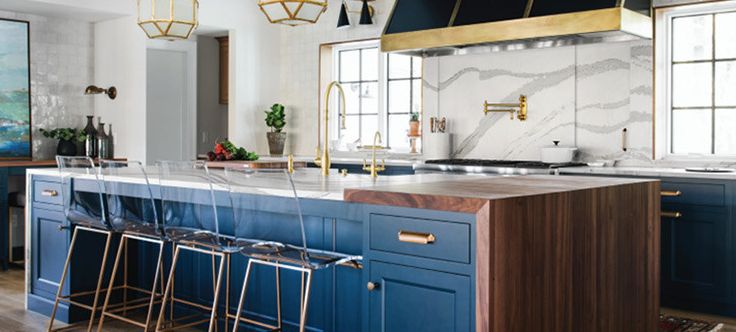 Kitchen
Jean prefers decorative lighting over recessed cans. "If you are trying to make a house look amazing and you have young children, this is an easy way to do it because they're fixed. Kids aren't jumping on them. They're up and they're protected." Cambria design shown: BRITTANICCA MATTE™
It all started at a block party. That was when Jenna Sietsema and her husband, Ben, spied their neighbor Jean Stoffer's recently renovated cottage—and were instantly smitten. "It was apparent she really knew how to mix old and new, and I was especially drawn to the warmth and textures," Jenna recalls. But Jean (we're all on a first-name basis here, so let's roll with it), was a kitchen and bath designer by trade and had never designed an entire house for a client before. Would she ever consider it? The answer was a resounding yes. With the help of her daughter, Grace Start, who left her teaching job to join the family business, Jean Stoffer Design became a full-fledged interiors firm embarking on its first top-to-toe project.
The pretty Dutch Colonial the family was moving into—just a stone's throw from their previous abode in East Grand Rapids, Michigan—was in need of an interior overhaul. After architectural designer Jeff Visser attended to the floor plan, adding conveniences like a walk-in pantry, coffee/cocktail bar, and home office, it was time for Jean to work her magic: a canny hybrid of urbane glamour and country casual.
"WE WANTED THE CLASSIC LOOK OF HONED MARBLE BUT WITH GREATER DURABILITY. CAMBRIA BRITTANICCA MATTE DELIVERED IN SPADES." —Jean Stoffer
Rustic is Ben's jam. "If it can be wood, if it can be reclaimed, he wants it!" Jean says. ("Ben's a traditionalist at heart," his wife agrees.) So, Jean and contractor Cory Wyma salvaged wooden beams from a 140-year-old barn and hollowed them out so they could envelop the existing steel structural beams. European oak floorboards were chosen for how they would wear over time. "With three boys under four, plus a huge extended family, we selected everything with an eye for how it would work with kids," she explains. Other practical strategies included wooden chairs instead of upholstered ones at the dining table, dirt-disguising patterned floor tile with colored grout in the mudroom, and maintenance-free Cambria natural quartz. The pattern selected was Cambria BRITTANICCA MATTE™. "We wanted the classic look of honed marble but with greater durability," Jean explains. She didn't confine Cambria just to countertops, however. A hit on social media has been the backsplash, two sliding slabs that Cory milled to glide over walnut shelving intended for oils and spices.
When it came time to select furnishings, it was Grace's moment to shine. "With all my experience designing kitchens and baths, I was confident in those materials but I didn't know as much about fabrics and furniture," Jean says. "Grace took charge of that side and nailed it. And being about Jenna's age, she had a great understanding of her style and lifestyle, too." Among her modern bohemian finds: a glam Kelly Wearstler half-moon pendant over the dining table and a delicate gold wreath chandelier nabbed from an unlikely source, RH's Teen line.
As the project got underway, a phone call came: the residence would be on the Parade of Homes, a prestigious open-house tour. Suddenly there was a drop-dead date for when the whole house had to be not just finished but accessorized to perfection. With the designers plowing full speed ahead, it was completed in the nick of time. The homeowners dubbed it everything they could have hoped for. For the designer's practice, it proved a game changer. Jean's daughter is on board full time now. They have a full slate of whole-house projects coming up. In short, they're soaring.