Take a Tour of the 2022 Kips Bay Decorator Show House Dallas
Written by Angela Johnson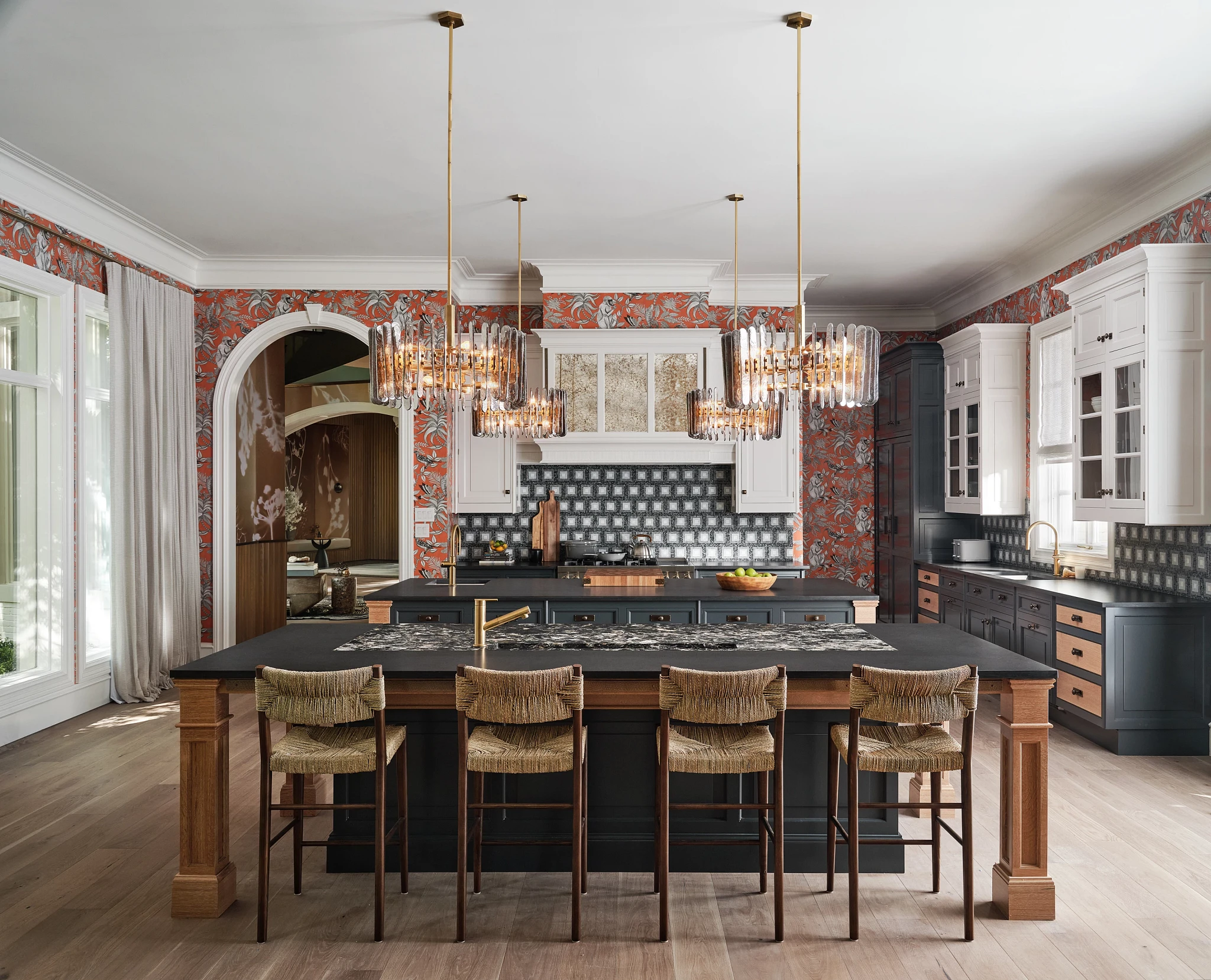 Cambria design shown: Hollinsbrook Matte™ & Montana Midnight Matte™
The Kips Bay Boys & Girls Club celebrates the best of interior design through its celebrated Kips Bay Decorator Show House in cities like New York, Palm Beach, and Dallas. Some of the country's most prolific designers help transform luxury homes into elegant displays of fine furnishings, art, and technology, all to raise critical funds (more than $25 million to date!) for Kips Bay Boys & Girls Club and local charities. The Show House has become a must-see event for design enthusiasts and is renowned for sparking interior design trends throughout the world.
In September, the Kips Bay Decorator Show House unveiled its third iteration in Dallas, where 24 renowned interior designers and architects joined forces to reimagine a 12,470-square-foot Southern home into a master class in beautiful design. Co-chairing the event were Jean Liu, Chad Dorsey, and Jan Showers, with Laura Falconer and Trish Sheats serving as vice chairs. Jamie Drake and Veranda's Editor in Chief Steele Marcoux were honorary chairs.
"The distinguished designers and architects working on this year's Decorator Show House in Dallas are highly admired within the community and we always look forward to seeing how they work together to transform the estate," says James Druckman, president of the board of the Kips Bay Boys & Girls Club, to Patron magazine.
The Kips Bay Boys & Girls Club partnered with two local charities: Dwell with Dignity, a nonprofit agency dedicated to creating soothing, inspiring homes for families struggling with homelessness and poverty, and The Crystal Charity Ball, an organization whose mission is to aid, support, and make contributions to children's charities in Dallas County.
Cambria has an esteemed history of partnering on Kips Bay Decorator Show Houses (tour past Show Houses here), and this year is no exception. Here, we take a tour of a few standout spaces featuring Cambria surfaces.
Cozy Kitchen Suite
Renowned kitchen designer Christopher Peacock took his talents to the next level with "The Kitchen Suite" design. The space feels grand yet inviting thanks to a blend of dark hues and playful patterns. Mixed metals and natural materials lend dimension.
He installed two islands in the primary kitchen, one for entertaining (with wraparound seating on three sides) and one for food prep.
"Kitchens are living rooms that we cook in," says Peacock. "They're multifunctional. The Cambria product was actually a perfect solution for me because the kitchen is going to be used heavily, not just as an entertaining and kitchen space but also as a living space for the family. I needed something very durable, and I also wanted something materiel-wise that was going to fit in large spaces. These are large islands—and this is a large kitchen—and Cambria had the material for me to achieve that seamlessly in one piece."
On the perimeter and double island countertops is Cambria Montana Midnight Matte™*, which is mixed with an inlay detail of Cambria Hollinsbrook Matte™ on the entertaining island. The designer used Hollinsbrook again on the countertops in the butler's and food pantries.
"I selected two different materials that I think complement each other well," says Peacock. "Hollinsbrook is a granite-like-looking material. I love the colors. Both of them are in a matte finish, which I really like. I didn't want the kitchen counters to be too shiny and reflective because there is a lot of lighting in this space. I wanted them to soak in the light, and I think the matte finish is a little quieter."
The mosaic backsplash by Artistic Tile pulls both designs together.
"Cambria really is the best solution," adds Peacock.
Colorful Bathroom
Bicoastal interior designer Leah Alexander of Beauty Is Abundant created what she tells Veranda is a "vibrantly saturated, thoughtful expression of abundant beauty, modernity, simplicity, and essential elegance" in this bathroom design.
A custom neon sign in Alexander's mantra—"Your beauty is abundant…forever and ever, amen"—shines a spotlight on standout design elements, including Cambria's Cambria Black™, Cherrybrook™, and Inverness Bronze™ on the floating vanity, custom floor tile, and shower surround.
"We opted to do no mirror," says Alexander. "There's no need for a mirror or for excessive self-scrutiny. You are inherently stunning, and we wanted to make sure people felt that."
A mantra Alexander loves to impart is that beauty is abundant. Nowhere is that clearer than in this bathroom design aptly named "The Beauty Is Abundant Intergalactic Superstar Bathroom."
"The Texas Longhorns-esque color palette—brought to life by Serena & Lily's Star wallpaper—is only a happy coincidence," writes Veranda. And the shower is another highlight with what Alexander calls "stunning details" and "flawless cuts."
Lively Mudroom & Powder Bath
New Orleans–based interior designer Chad Graci of Graci Interiors revamped the home's rear mudroom and powder room into what he dubbed a "bon vivant hideaway". Situated between the family room and deck, the designer "envisioned a series of fantasy spaces for an elegant moment of reprieve from a party," writes Veranda.
He installed Mammoth Cave Matte™* on the vanity countertops, shower curb, and shower seat and added The Vale London Tassel Berry wallpaper in the hallway.
"With a natural stone floor in a very busy (but beautiful!) pattern, I thought the calmness of the Mammoth Cave from Cambria would be the perfect antidote to temper the larger scales," says Graci. "Mammoth Cave is subtle and beautiful and ties all of my colors together."
Plus, he adds, "Where durability matters, I think Cambria quartz countertops definitely stand the test of time in lieu of natural stone."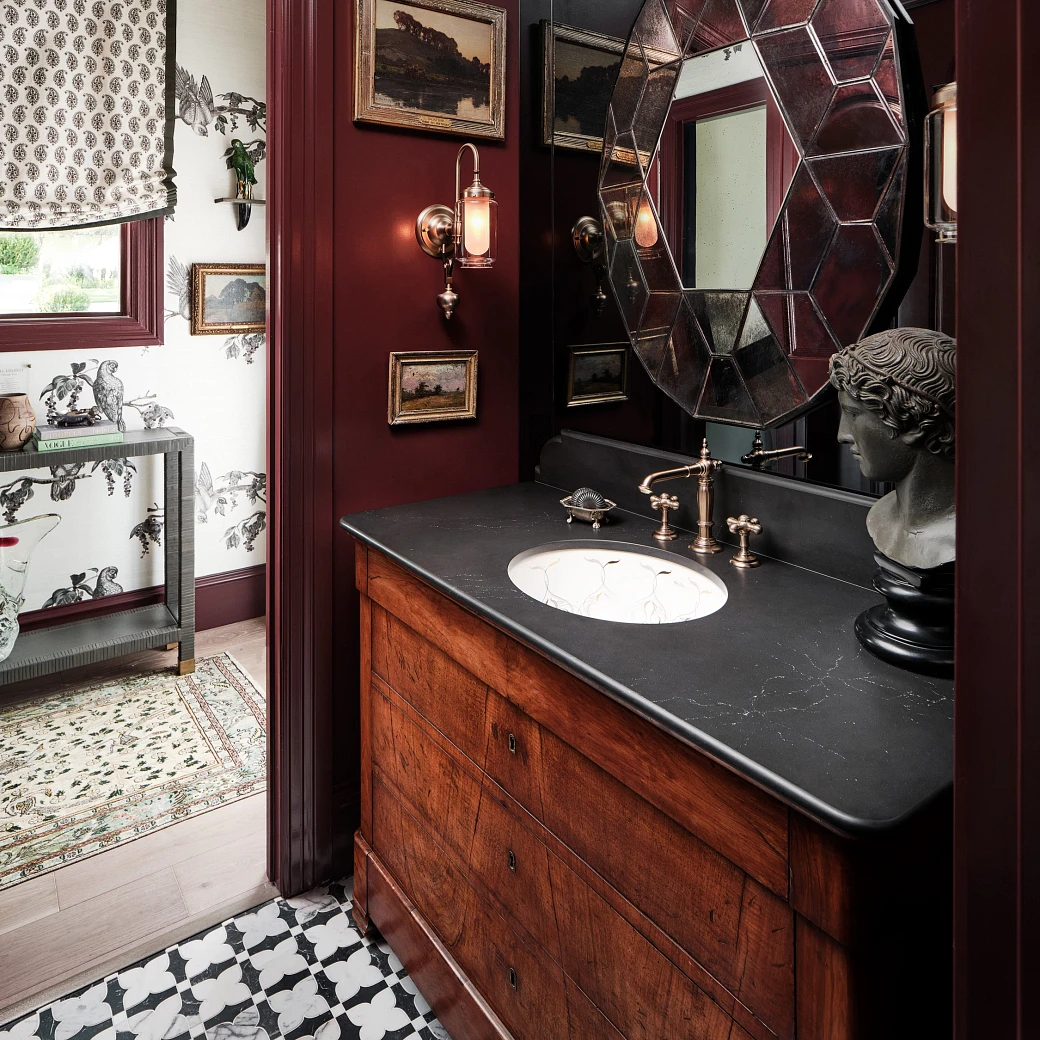 Graci chose a matte Cambria finish to counteract the glossy and slick surfaces of the bathroom.
Bold Bathroom
"Be bold, strong, and fearless," Houston-based designer Lucinda Loya of Lucinda Loya Interiors tells Veranda of her motto for this bathroom design she named "A Portrait of a Woman." "Allowing femininity to lead the way, our room showcases elements ranging from one extreme to another to honor individuality and create a welcome sense of harmony."
She installed graphic Rose Bay Matte™ on the vanity countertop and as a full-height backsplash, punctuated by individual oval-shaped mirrors in various finishes to create contrast, emphasize the space, and make the bathroom feel larger than its size.
"Channeling confidence and strength, the entire vanity and vanity wall is coated in Rose Bay," says Loya. "I love working with Cambria. There are so many styles to choose from; there's something for everyone. My go-to is Rose Bay, though."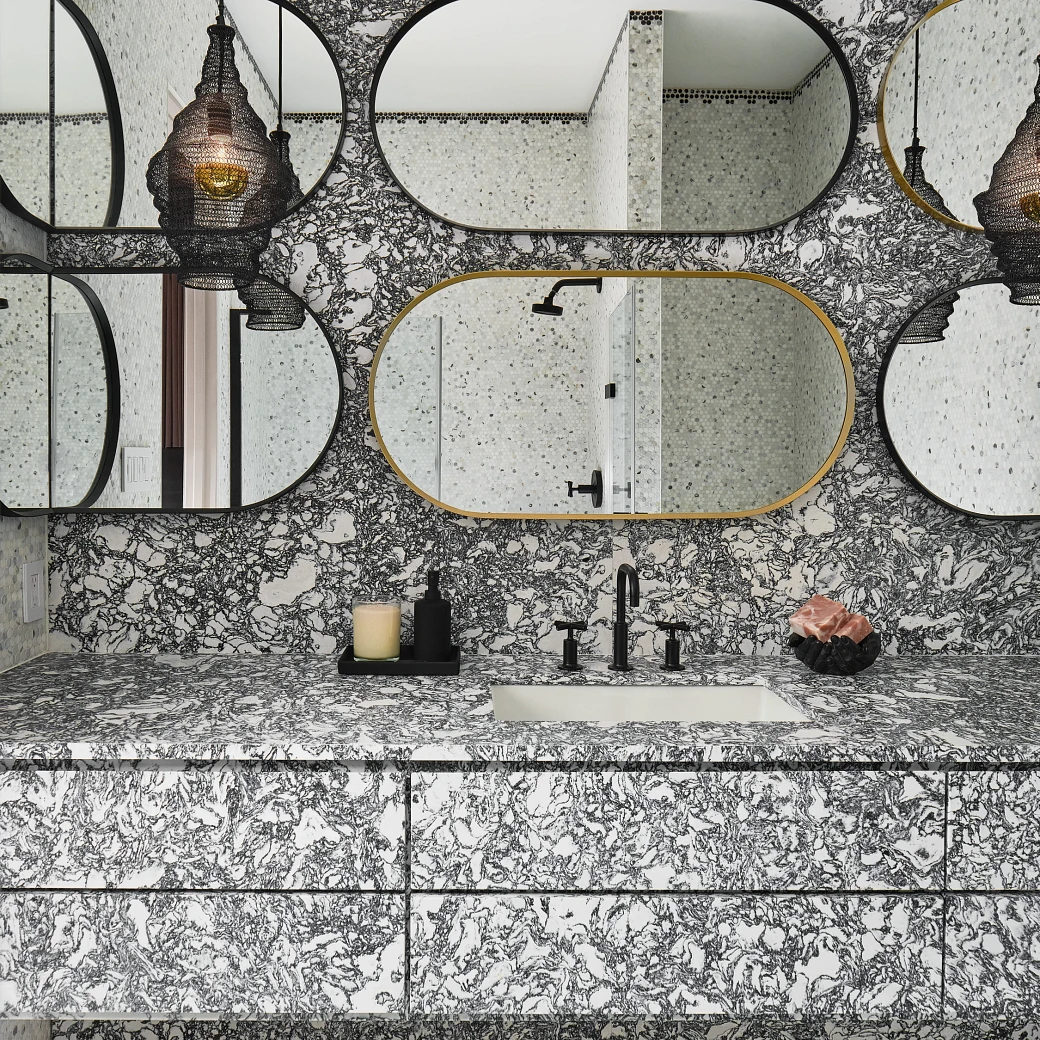 Loya wanted the bathroom space to feel "sensual, sophisticated, and cozy," like a "refuge or even a looking glass," she says.
Charming Laundry Room
"I wanted to make a place that is often associated with a chore welcoming and pleasant to be in," says Dallas designer Noel Pittman of "The Laundry Room" design. She did that by using a warm color palette mixed with classic design elements, like brass cabinet hardware, café curtains, and tongue and groove cladding.
That also includes dark and dramatic Charlestown Matte™ countertops, Schumacher fabric for the cabinet doors and cabinet skirt, and Sister Parish fabric for the window shade.
"I chose Charlestown Matte because I really love the look of a warm off-black counter with white walls and white cabinets," explains Pittman. "I loved it as an accent and think that, with the red checks, it has a farmhouse feel without being heavy-handed. And I like that Cambria is a sustainable product that has the soft look of something from nature."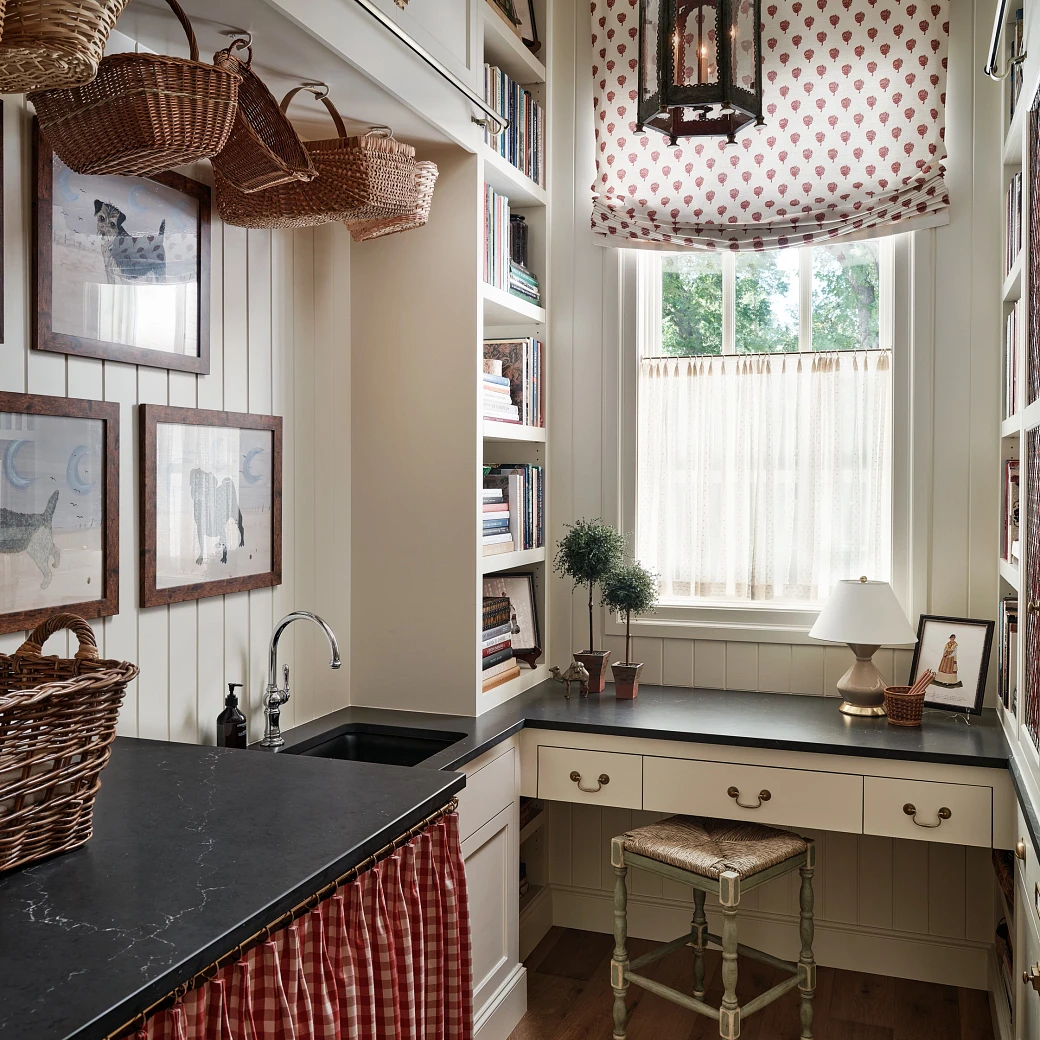 Pittman used a simple eased edge on the countertop to keep the utility space feeling casual and straightforward.
Bedroom Sanctuary
New York–based designer Ahmad AbouZanat of PROJECT AZ reimagined this "Southern Sanctuary" bedroom as a "refuge for someone who wants to step away from everyday life," says AbouZanat.
It features a full-height Cambria accent wall with overlapping Cambria designs—like Westminster™, Kelvingrove™, Inverness Gold™, and Sutherland™—and a custom mounted coffee bar.
"One of the challenges we had in the space was the architecture of the room," says AbouZanat. "We worked with Cambria to think outside the box on different layers of stone that would cover the challenges we had and create a big moment in terms of a stone installation."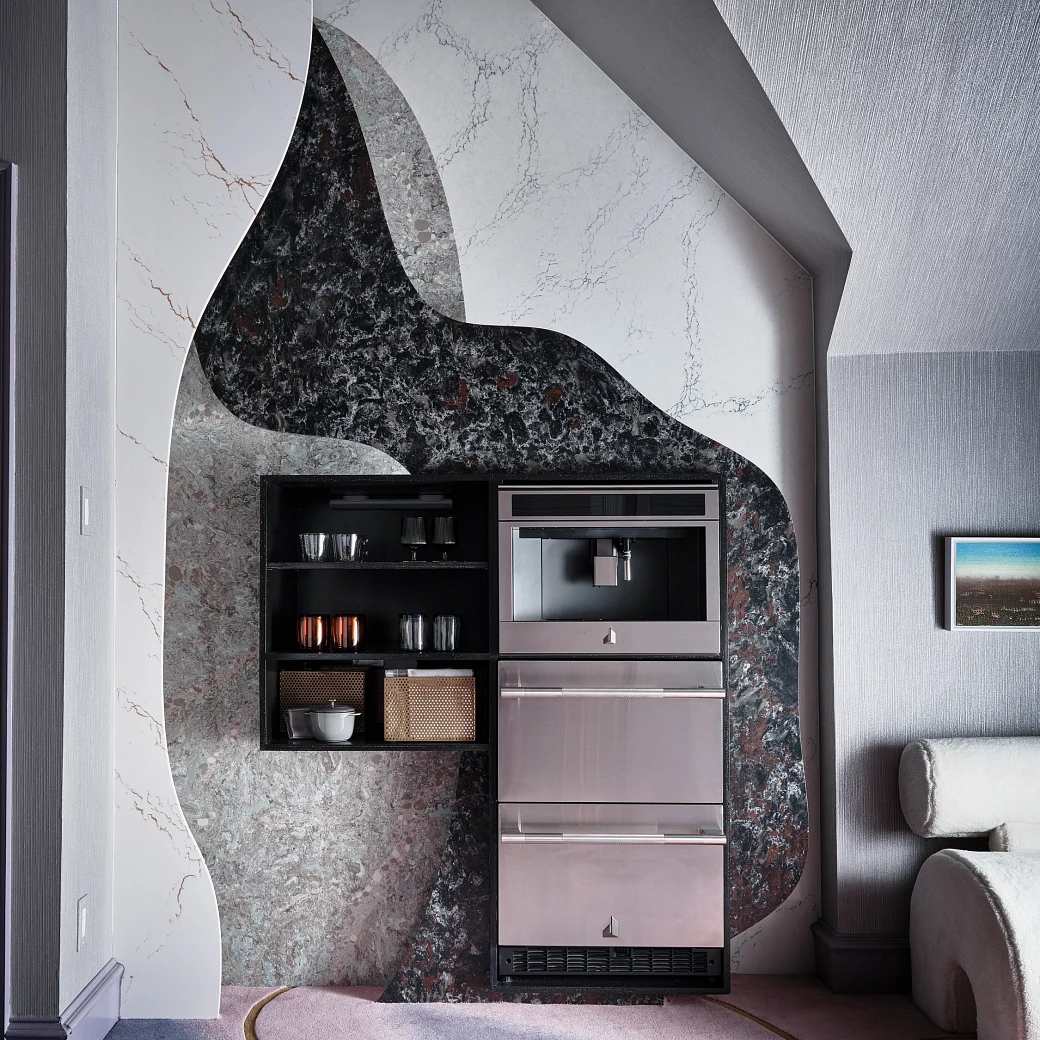 AbouZanat used an eclectic mix of colors and textures to create a modern aesthetic in the space.
See more on the Kips Bay Decorator Show House Dallas.
*Gensler Product Design Consultant
Cambria Fabrication Partner
Special shout-out to Stone Smith Inc. for their incredible craftsmanship on all the Cambria applications within the Kips Bay Decorator Show House Dallas.
Get the Look
Follow Cambria on social media with #MyCambria for more standout designs.
For more information on Cambria, including performance data, product specifications, and certifications, see our Professional Resources.
Interested in creating a showstopping design project with Cambria? Buy a sample, find a dealer, or call 1-866-CAMBRIA (1-866-226-2742) to be connected with a market representative in your region. Set up a virtual or in-person Cambria consultation.
Please call 1-866-CAMBRIA (1-866-226-2742) to confirm design availability.