Vibrant Color is Back in 2023
Picks for Pairing Cambria with the Benjamin Moore Color of the Year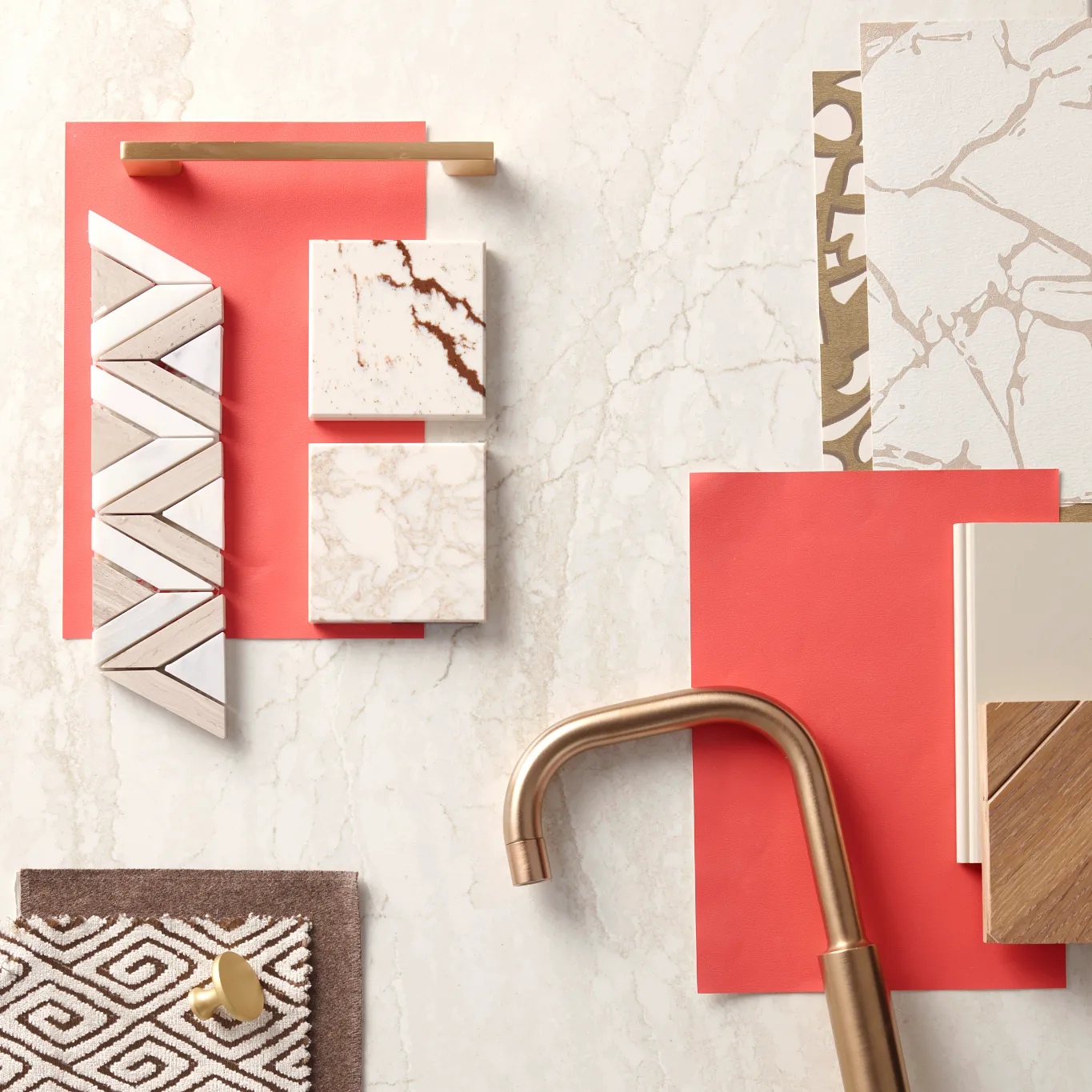 Benjamin Moore's Color of the Year pairs well with several Cambria designs.
An annual celebration of color, the BENJAMIN MOORE Color of the Year is the result of a yearlong exploration into design, art, fashion, cultural, and environmental influences around the globe. From its library of over 3,500 shades, Benjamin Moore carefully curates a Color Trends palette that balances modern-day relevance with long-lasting appeal. At the center is one special hue that defines the palette and the moment: THE COLOR OF THE YEAR 2023—Raspberry Blush.
Last year, Benjamin Moore selected October Mist, a gently shaded sage green that quietly anchors a space while encouraging individual expression.
This year, the brand found itself gravitating toward a vivacious shade of coral tinged with pink. Benjamin Moore Color of the Year 2023, Raspberry Blush enlivens the senses with an electric optimism. Never has it been clearer that the home is a place of comfort, restoration, revitalization, and rejuvenation, and the need to find simple moments of joy has become paramount.
According to the experts at Benjamin Moore, Raspberry Blush strikes the right chord, setting the stage for Color Trends 2023. Never a backdrop, Raspberry Blush is the definition of charismatic color. This unapologetic shade of red-orange had us thinking: bold, bolder, boldest. This sentiment flows through the rest of the palette as one envisions being immersed in hues that make a statement. Inspired by an artist's desire to communicate through color, shape, and sound, Color Trends 2023 was built to envelop you in vivacious color.
COLOR CRUSH
Pair Benjamin Moore Color of the Year, Raspberry Blush with the strong yet delicate beauty of Cambria's IRONSBRIDGE™. This intriguing design blends liquid honey accents with patchworks of grays, whites, and cream to beautifully merge warm and cool tones in delightful harmony. The subtle strength of Ironsbridge allows this bold paint selection to garner the spotlight it deserves while also creating a canvas for layering complementary fabrics, flooring, and hardware in all of today's most popular finishes.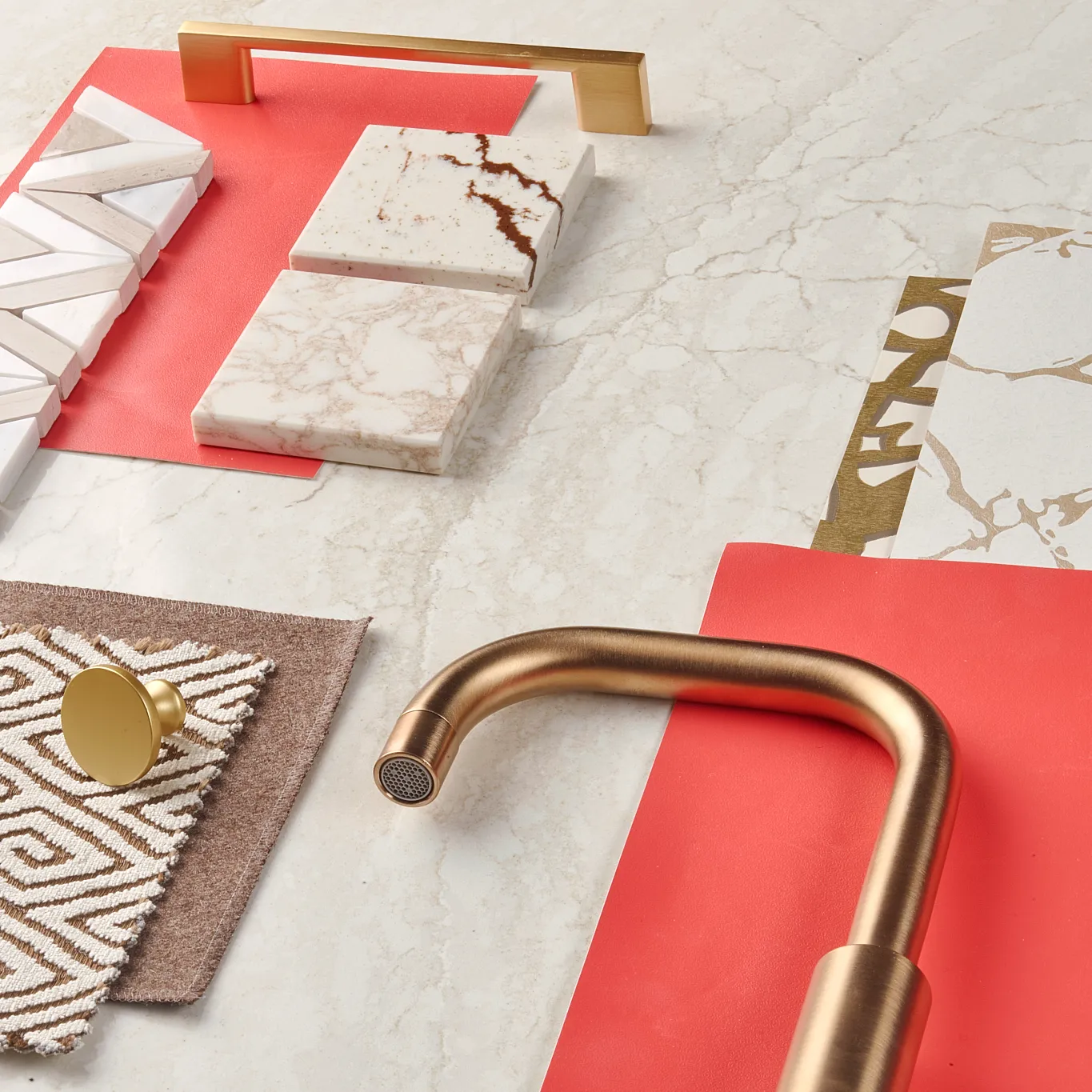 Cambria designs featured: Ironsbridge, Cashel, and Hermitage
The energetic burgundy veins of CASHEL™ fracture across a warm white background. And delicate shading of tan accents complements the veins, accentuating this design's undeniable warmth. Upon a closer look, a subtle shimmer will reveal itself in the bolder veins.
While HERMITAGE™ offers delicate gold veining swirls in tight and open patterns, creating lighter and darker pools of color. This elegant warm design glistens.
Cambria is often the go-to choice for designers and homeowners looking to create beautiful kitchens because its surfaces are made of pure, natural quartz and feature UNPARALLELED STRENGTH AND DURABILITY. Cambria is nonabsorbent and NSF-51 certified, so it's food safe, scratch and stain resistant, and maintenance free. And for everyday cleaning, you can wash with warm water, a soft cotton cloth, and mild soap, if desired. Plus, Cambria backs everything with a TRANSFERABLE FULL LIFETIME WARRANTY.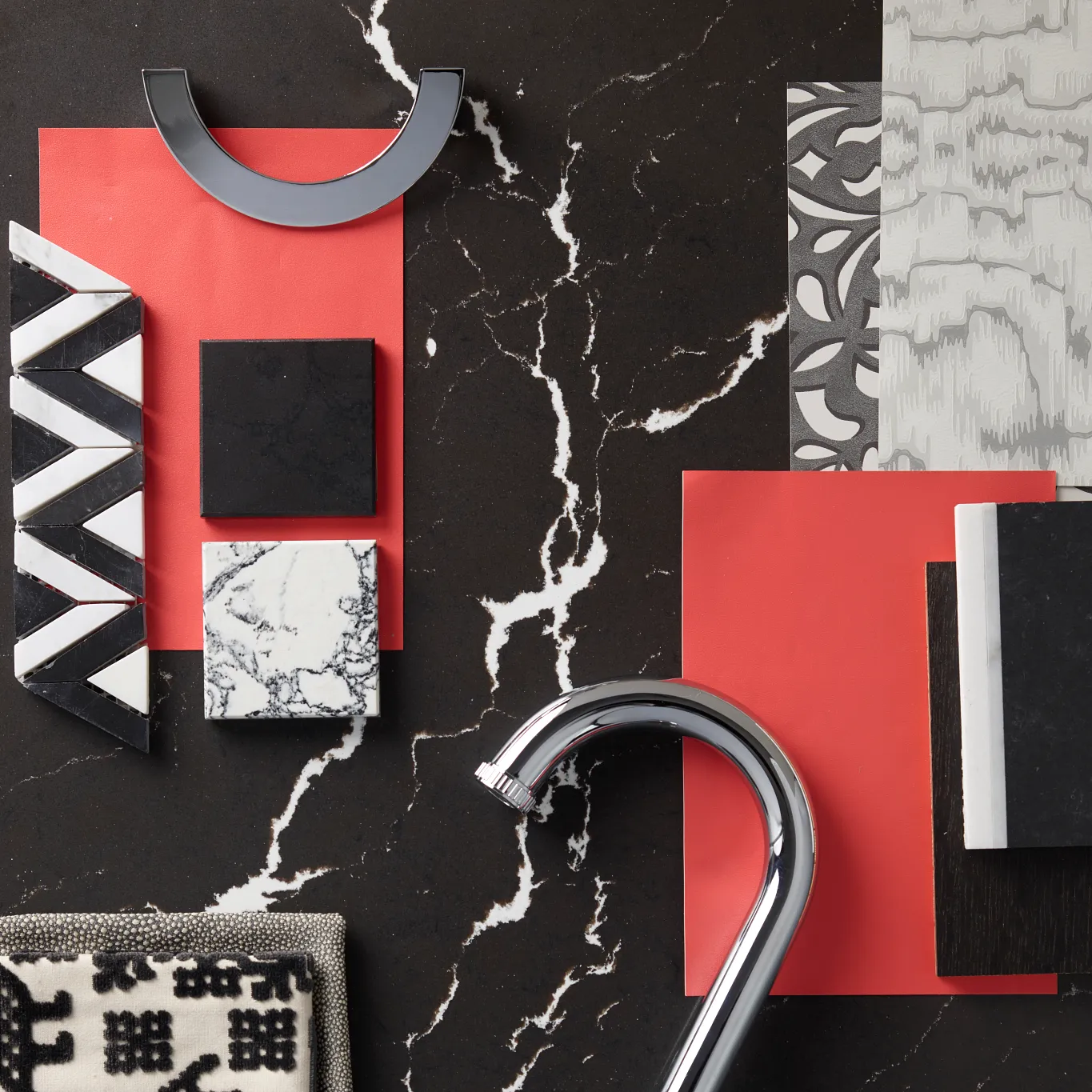 Cambria designs featured: Delamere, Black Rock*, and Rose Bay (*Gensler product design consultant)
Embrace more depth of color by pairing Benjamin Moore's Color of the Year 2023, Raspberry Blush with Cambria's DELAMERE™. The charcoal/chocolatey background of this neutral quartz design has contrasting white veins. Combined, the pairing elevates a black-and-white aesthetic with punches of color and chrome that are simultaneously modern and classic.
Or you could lean more into tone-on-tone with Cambria's BLACK ROCK™. Its charcoal veins form abstract shapes on a dense black background making it a solid foundation for pairing with either the bold or more neutral selections from Benjamin Moore.
ROSE BAY™ is created with a white foundation infused with robust black marble veining, creating a striking abstract effect where opposites definitely attract—a stunning complement to several selections on this year's Color Trends Palette.
As part of its Color Trends 2023 palette, Benjamin Moore curated 11 additional hues that push beyond traditional limits and offer inspiration and creativity like rich, warm CINNAMON, gentle pink CONCH SHELL, rich and balanced SAVANNAH GREEN, radiant and romantic STARRY NIGHT BLUE, and deep and soothing NORTH SEA GREEN.
Cambria offers an industry-leading catalog of quartz designs, all of which ensure that each of these saturated shades can fit seamlessly into any pairing with Cambria.
For more design inspiration, check out our favorite Cambria spaces.
GET THE LOOK
The richness and nuance of the Color of the Year and Color Trends 2023 palette can only be achieved with Benjamin Moore products. Benjamin Moore paint is available exclusively from 7,500 locally owned paint, decorating, and hardware retailers.
For more paint inspiration, try Cambria's paint match tool. To see Cambria in your space, order a sample of Cambria's designs.
Follow Cambria on social media with #MyCambria for more standout designs.
For more information on Cambria, including performance data, product specifications, and certifications, see our Professional Resources.
Interested in creating a showstopping design project with Cambria? Buy a sample, find a dealer, or call 1-866-CAMBRIA (1-866-226-2742) to be connected with a market representative in your region. Or visit our website to set up a DESIGN CONSULTATION.