Perfect Pairs: Matching Cambria Showers and Vanities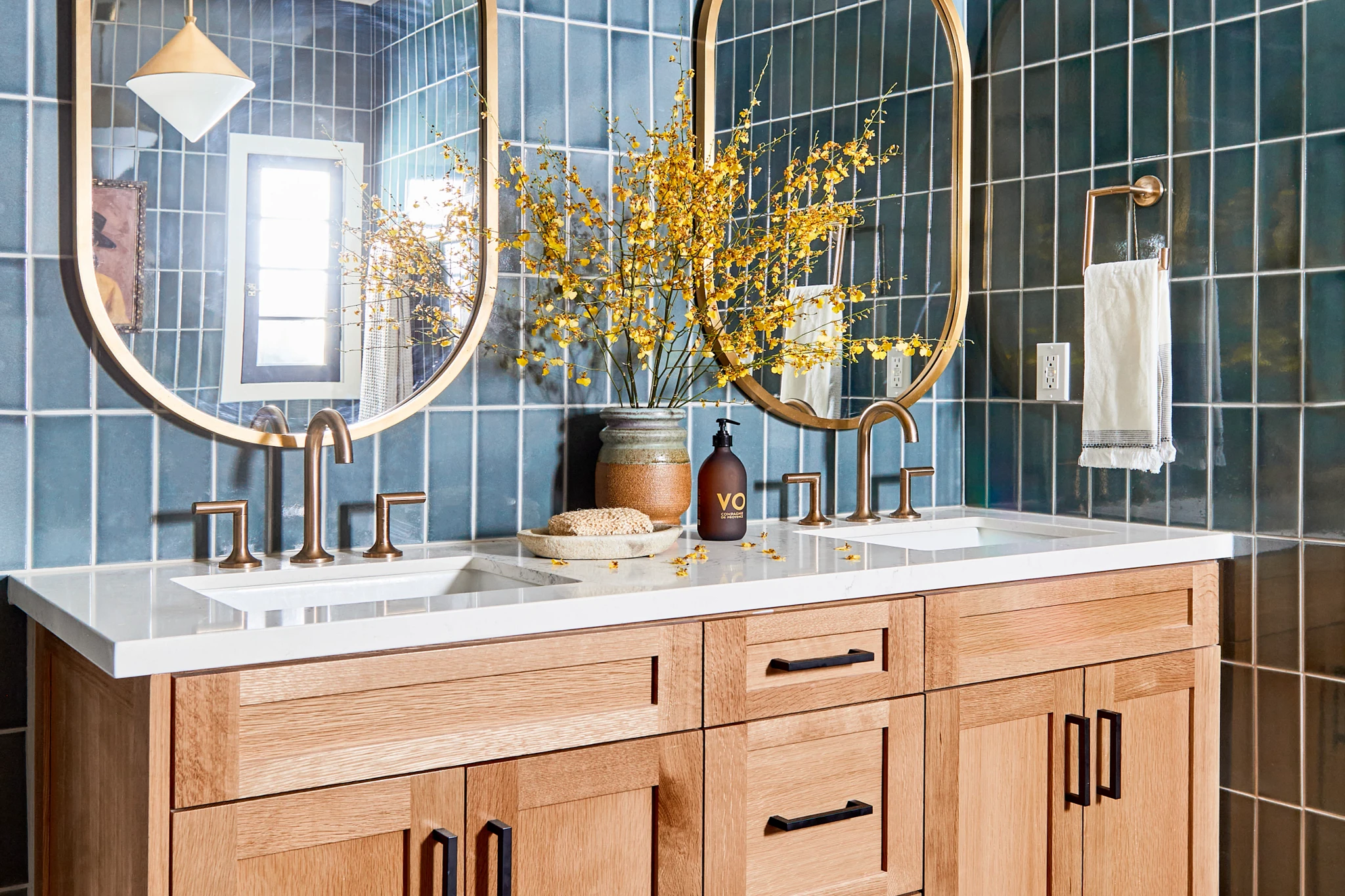 Choosing Cambria for your bathroom means your space will be durable, easy to clean, and hygienic. Because the quartz is full-slab, nonabsorbent material, rest assured absolutely no moisture or bacteria will ever seep through.
And there's no grout to clean, making it perfect for bathrooms. In fact, Cambria can actually be installed on bathroom vanities, flooring, countertops, shower walls, shower curbs, shower casings and jambs, along with in overhead applications.
Using Cambria throughout a bathroom space, rather than in just one moment, packs a major design punch. Here, we highlight five standout bathrooms with matching showers and vanities that are sure to inspire you in your next bathroom design.
Continual Colton
Entrepreneur JACLYN JOHNSON worked with British interior designer GINNY MACDONALD on the renovation of her Los Angeles–area home, which Architectural Digest describes as "inspired by the spirit and aesthetic of Napa, Palm Springs, and Tulum" with a "predominance of black, pink, beige, and white."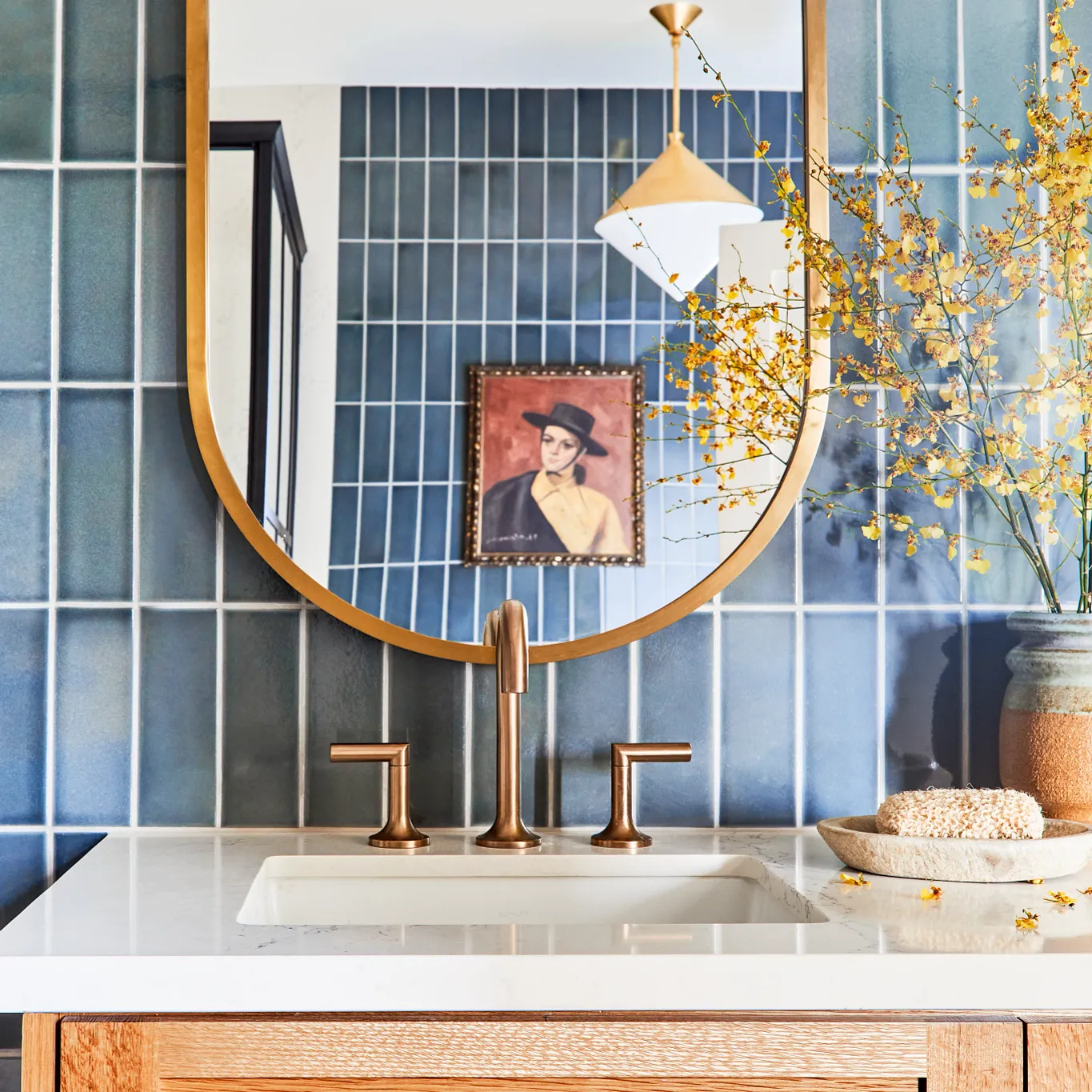 Cambria Colton countertops help ground this eclectic bathroom design.
In the primary bathroom, Johnson and Macdonald paired Cambria COLTON countertops with a Colton shower surround to ground the design scheme, which also features glass, tiles, concrete, terrazzo, leather, cane, wood, and an abundance of greenery. The effect is at once both subdued and eclectic.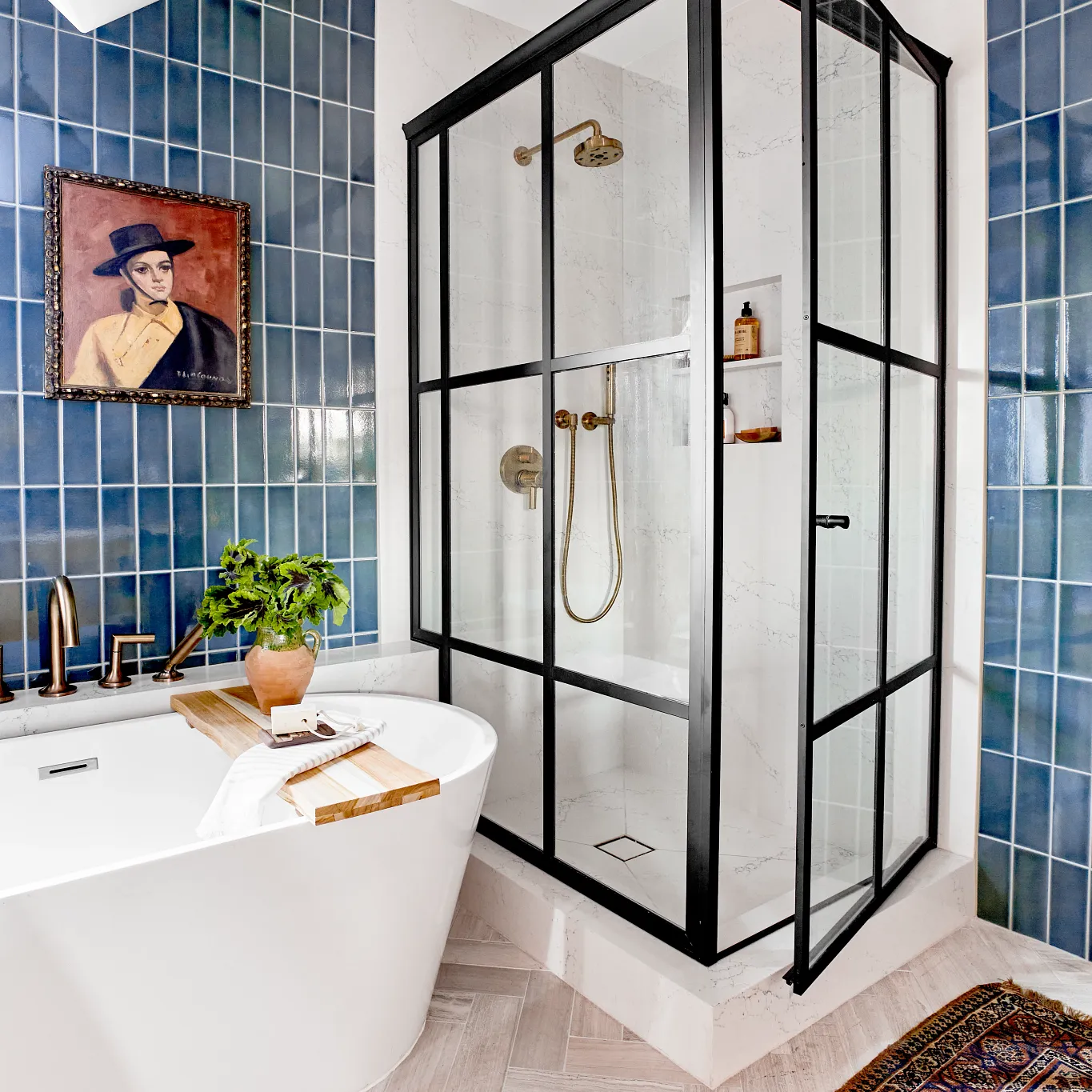 Cambria Colton is replicated again in the shower surround.
"Our house has a lot of 'moments,' a lot of distinct rooms with their own personalities, which I think reflects my style," says Johnson to Architectural Digest. "It brings a smile to my face!"
Brittanicca Bath
In this master bathroom, Cambria BRITTANICCA cladding on the walls and tub deck and in the shower draws the eye throughout the spacious room. And the full-height Brittanicca helps create a true spa-like oasis in the space.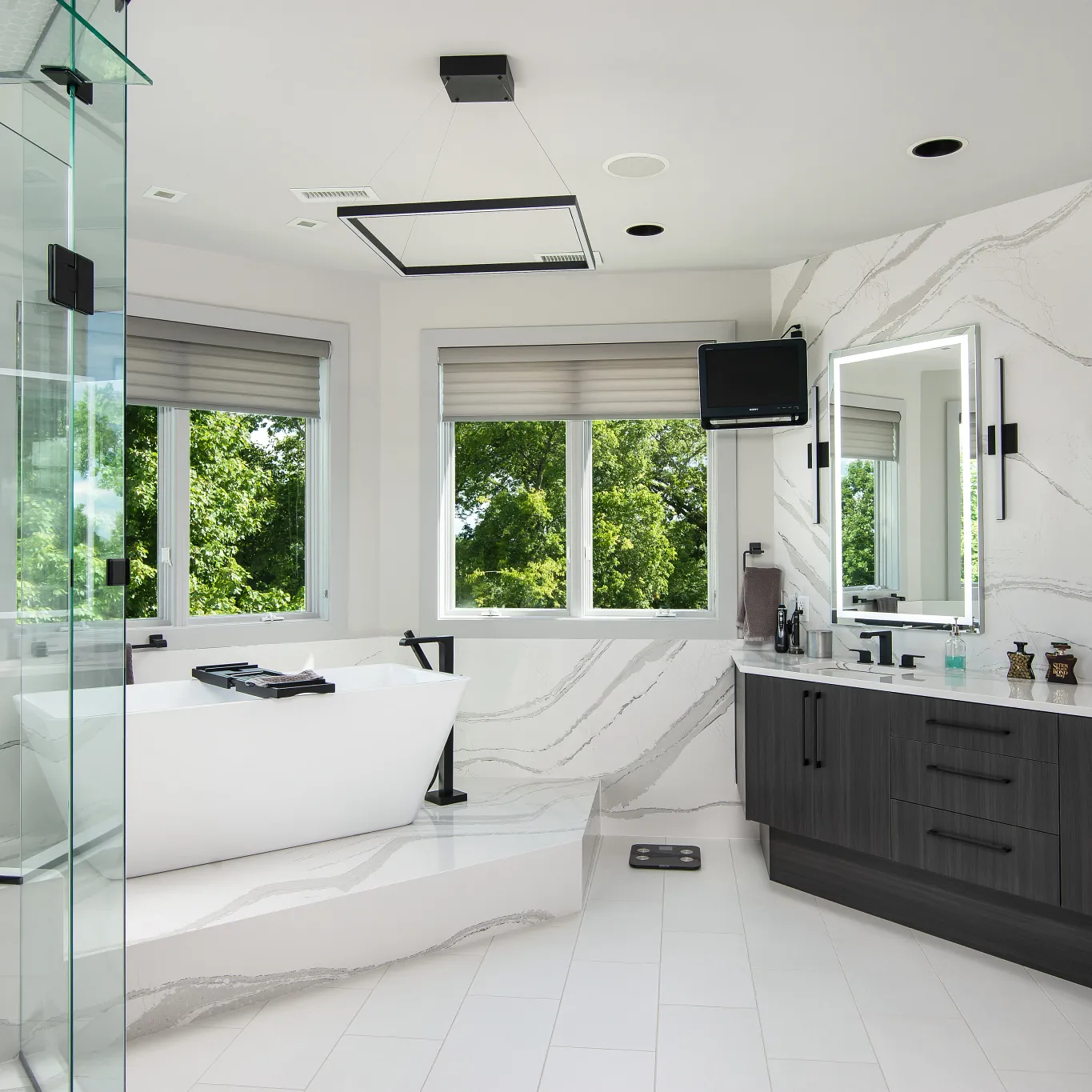 There are myriad moments of Cambria Brittanicca used throughout this bathroom space.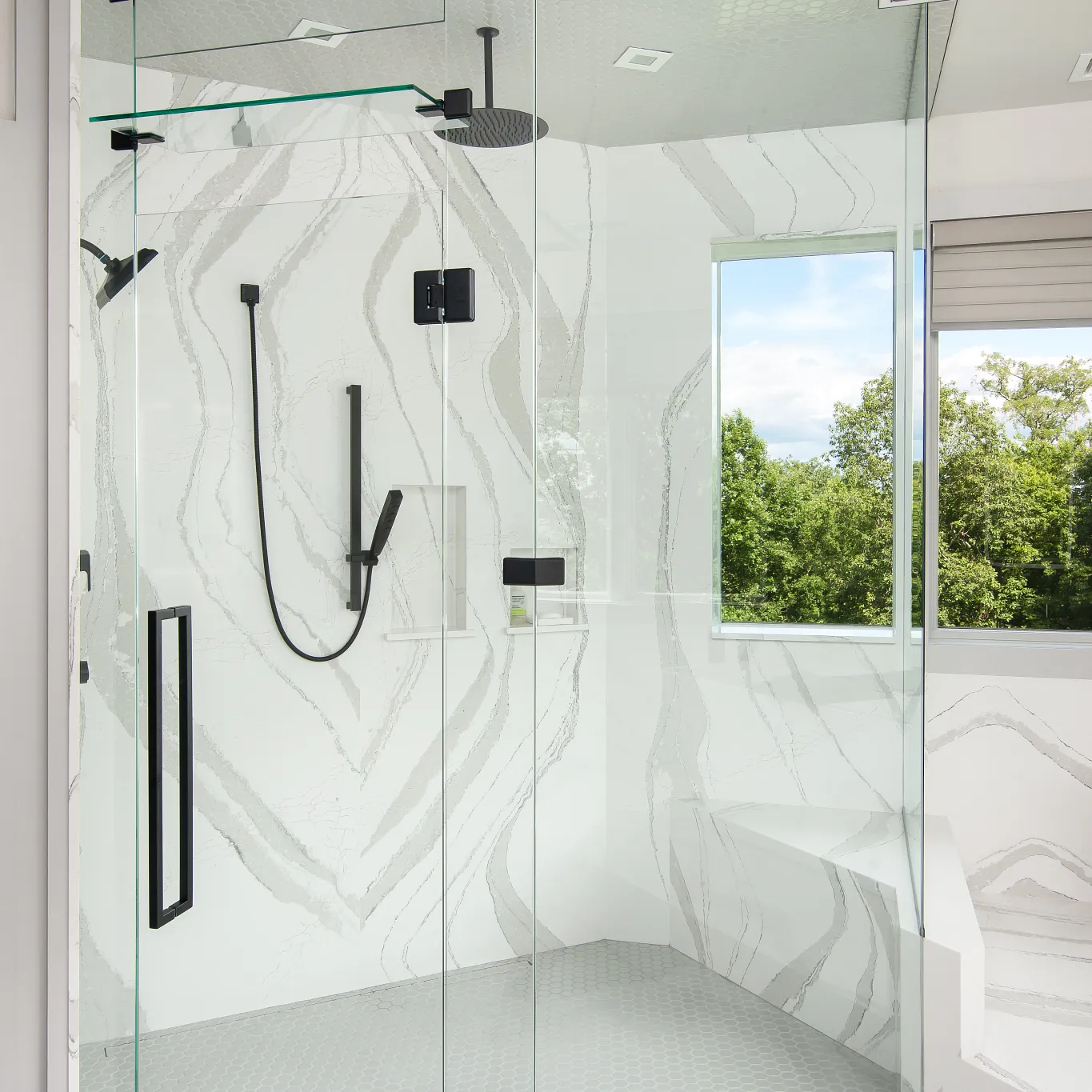 Full-height Cambria lends drama to this monochromatic bathroom.
Amazing Annicca
The pièce de résistance of this home renovation is in the MASTER BATH, where 300 square feet of Cambria's ANNICCA design is prominently featured in the standout walk-in steam shower, the size of which was increased to accommodate a bench.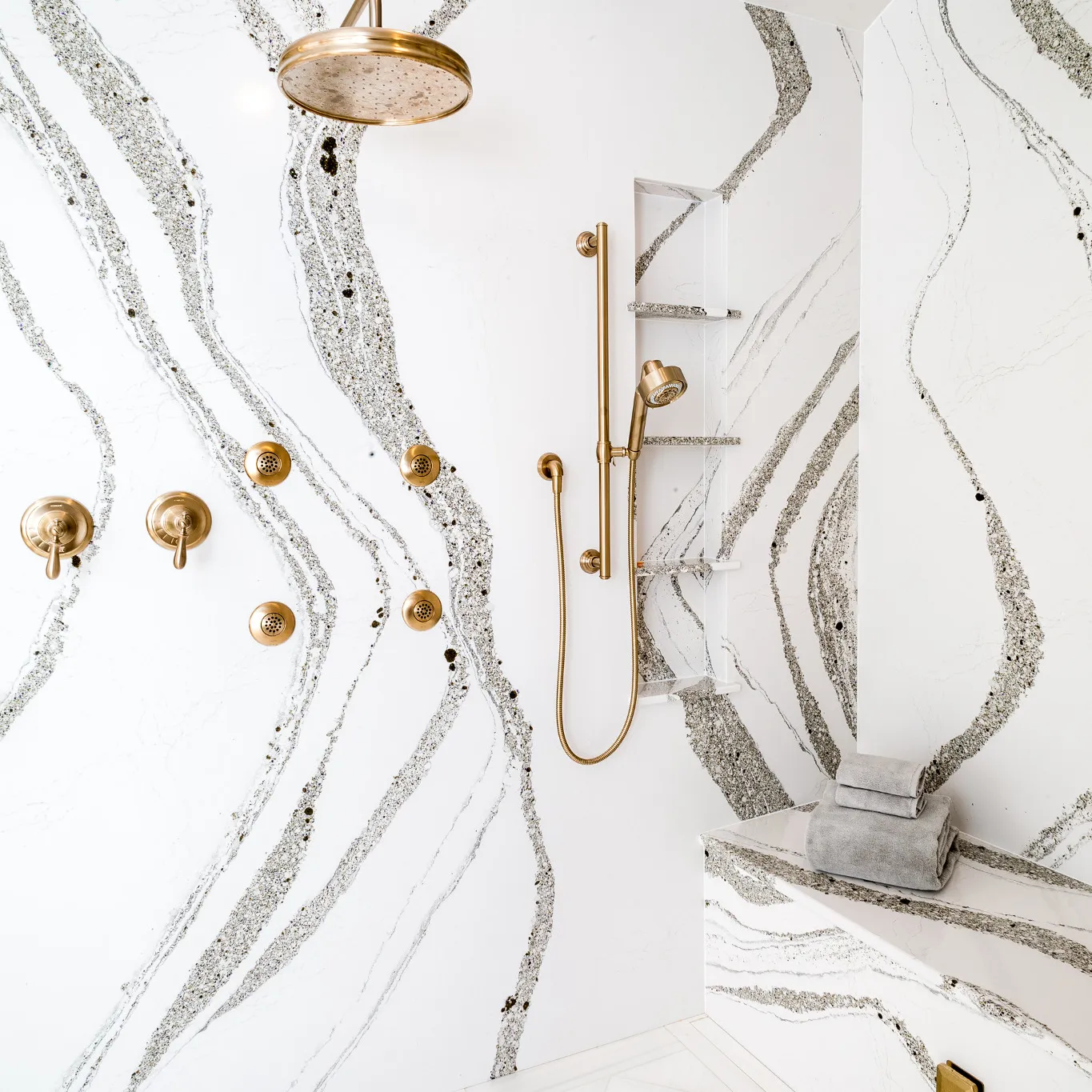 There are 300 square feet of Cambria Annicca featured in this shower.
"Annicca has gorgeous bold veining, so we knew it'd be a showstopper with the size of the shower," said interior decorator Abby Tallman, founder of HAPPY INTERIORS GROUP, who also used Annicca for the double sink and makeup vanities in the room.
"Annicca has gold flecks that tie in perfectly with the brushed bronze fixture choices, plus it has a lot of white to complement the white cabinetry and flooring. We wanted something American-made that would hold up well, be durable and that we wouldn't have to be careful about or continually care for, like with marble or granite."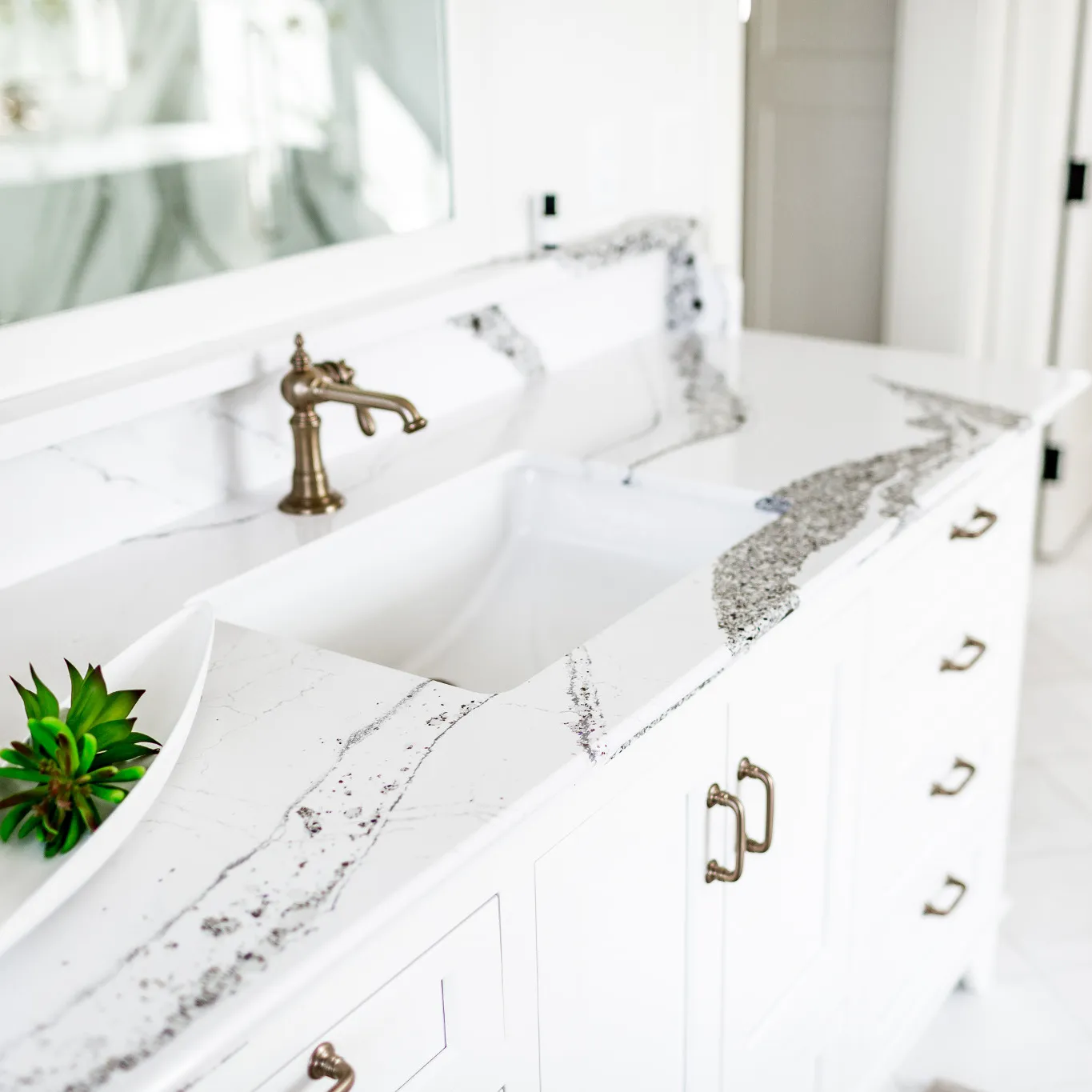 Designer Abby Tallman added even more Annicca in this bathroom on the vanity countertops.
Design Flow
In this modern bathroom, the light gray and cream tones of the Cambria BRIDPORT shower surround and countertop are complemented when paired with other shades of gray.
Whether in the dark herringbone tilework or in textiles, contrasting black hardware, light or dark stained wood, and neutral shades of paint allow the design to pop.
A Colton countertop, backsplash, and shower surround keep this blush pink bathroom from skewing overly feminine.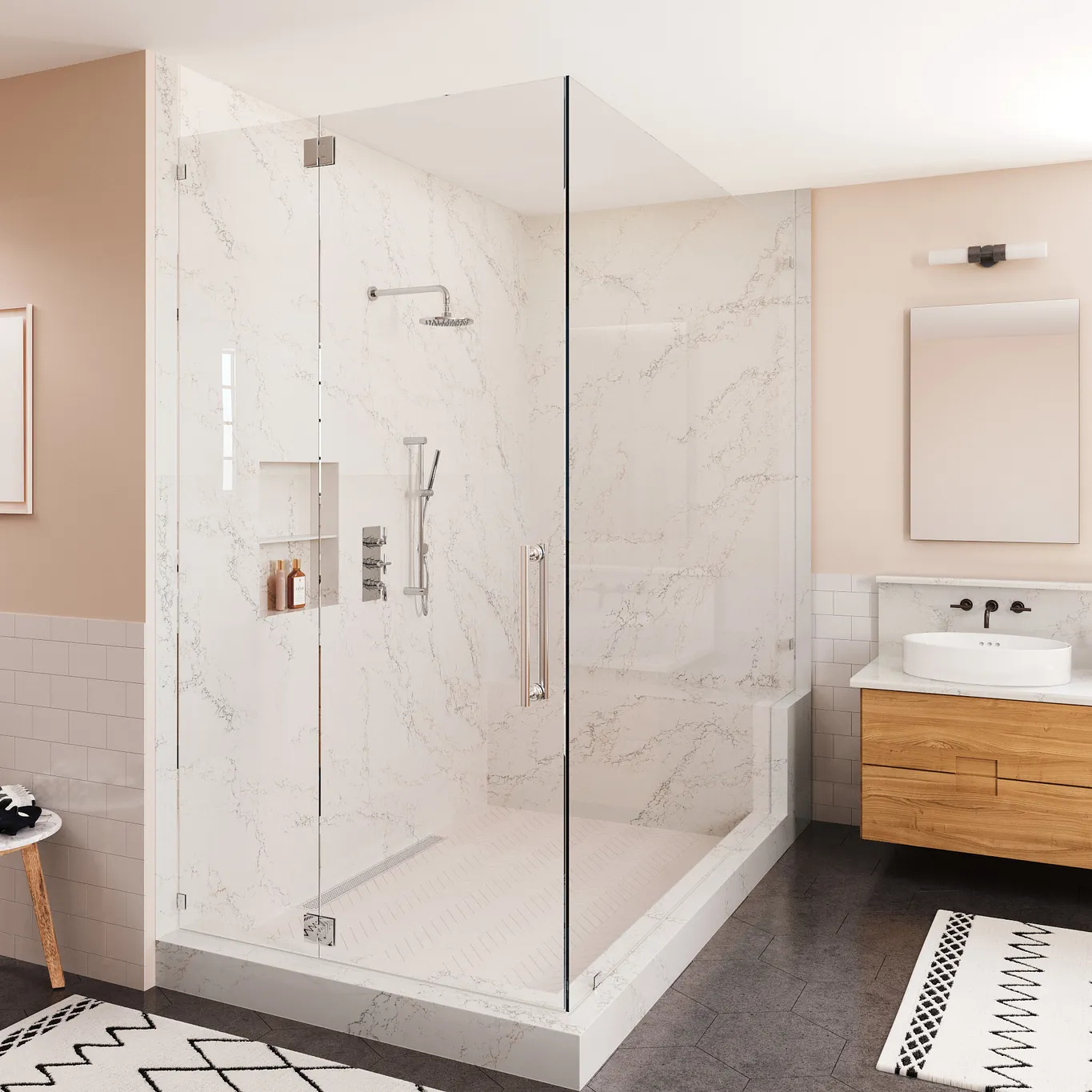 Cambria Colton elements subtly blend with masculine elements, like a modern vanity and graphic rug, in this bathroom design.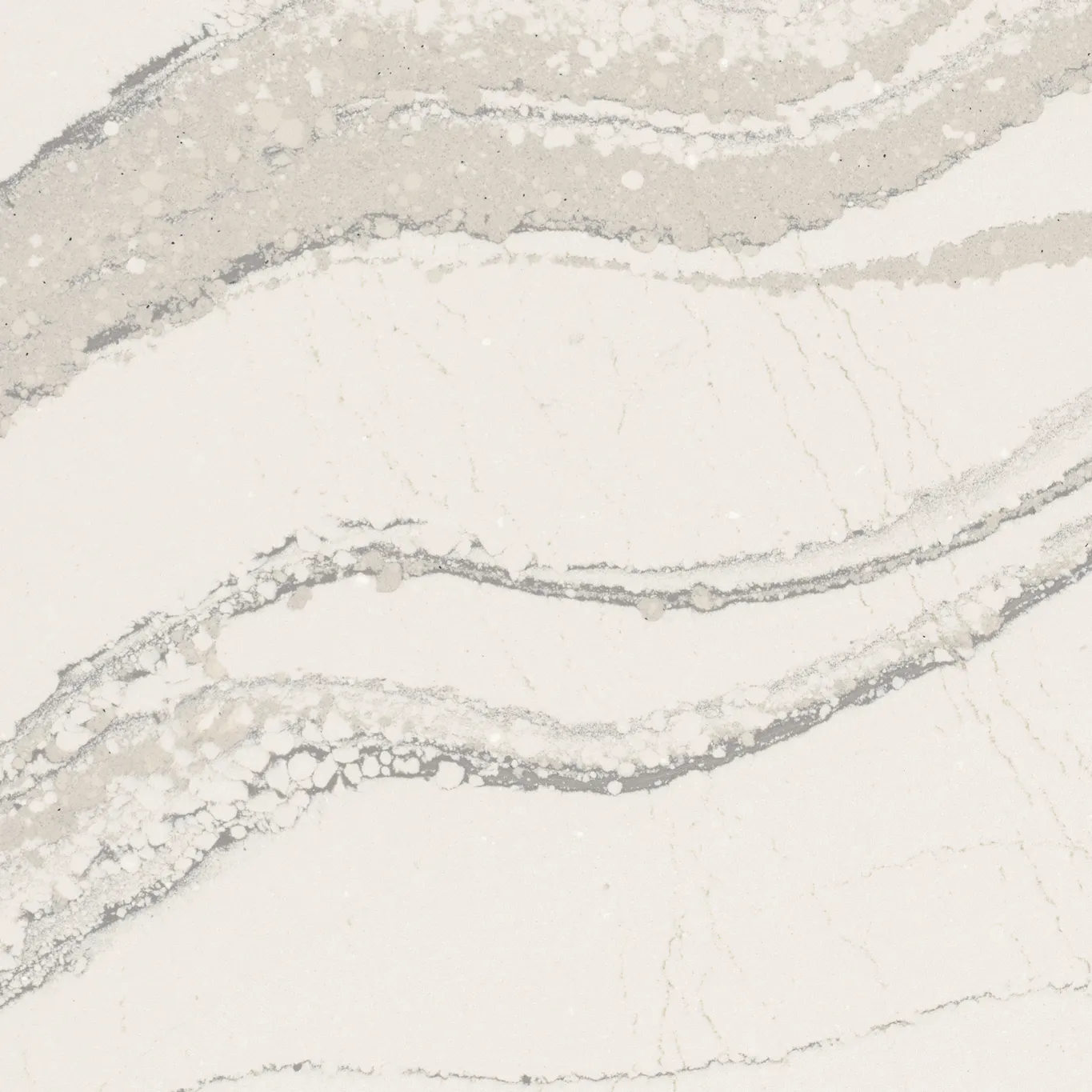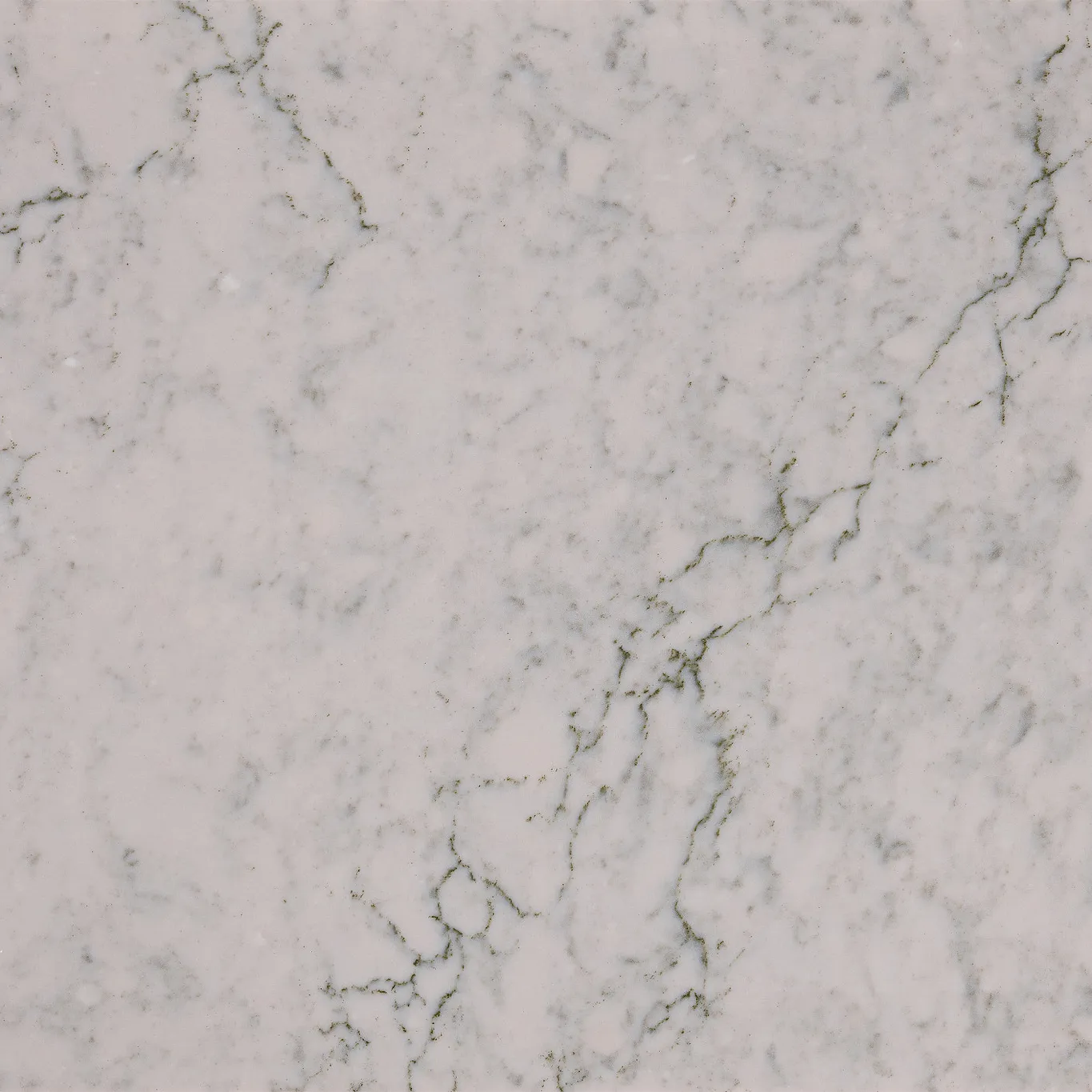 Get The Look
Follow Cambria on SOCIAL MEDIA with #MyCambria for more standout designs.
For more information on Cambria, including performance data, product specifications, and certifications, see our PROFESSIONAL RESOURCES.
Interested in creating a showstopping design project with Cambria? ORDER A SAMPLE, FIND A DEALER, schedule a VIRTUAL CONSULTATION with a Cambria expert, or call 1-866-CAMBRIA (1-866-226-2742) to be connected with a market representative in your region.